Hi! Some of the links in this post are affiliate links. This means that when you click on one of these links, I earn a small commission at no extra cost to you. Also, as an Amazon Affiliate, I earn from qualifying purchases. Thank you.
Feathered Friends Women's EOS Jacket Review
My Feathered Friends jackets have traveled every long-distance trail in the US with me and even summited Kilimanjaro. This is not a sponsored post, but just a "big fan of their products" post, and I really can't say enough good things about every item I have ever purchased from Feathered friends. This includes jackets and Sleeping Bags.
My most recent purchase was the Feathered Friend's EOS Women's Down Jacket, and once again, I have been impressed. The EOS has one of the warmest weight to temperature ratios in its category, and it performed like a champ on the Arizona, Colorado, and New England Trails in 2020.
The EOS performed as well or better than all of my other outerwear, keeping me warm in icy conditions. I've reviewed the jacket, and it's the performance in the review below.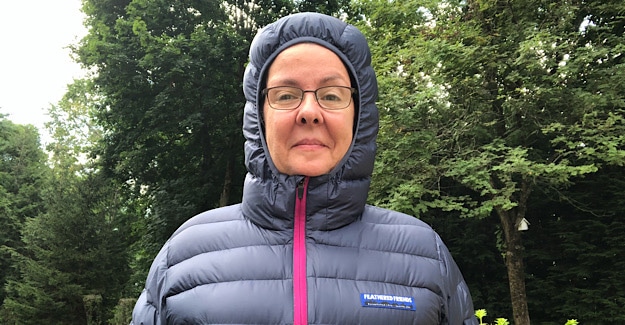 Table of Contents
My Jacket Requirements
My jacket requirements for long-distance hiking boil down to a few things, all falling under staying WARM. I'm used to sacrificing some comfort level for a light pack weight, but those sacrifices don't include a very warm jacket thanks to the EOS.
Light Weight – Lightweight is important on long-distance hikes. The days are long, so to combat fatigue and injury, I keep my backpack light. I want to keep my jacket's weight at around 12 ounces or less.
Compress-ability – I'm willing to give up a little durability on the shell and interior materials if I can compress the jacket to a small size. I don't have to give up anything with the EOS. The EOS will allow you to compress it over and over without losing its loft.
Fill – I would like a minimum of 850 Fill Down.
Shell – The shell should be made of water-resistant material.
Hood – I prefer a relatively deep hood with a drawstring for windy conditions.
Baffles – Larger baffles allow for the Down to loft better. If there is a sufficient amount of Down, you won't have cold spots. I don't like all the dead space in quilted jackets.
Jacket Review – Quick Specifications
Price: $339.00
Jacket Weight: 10 ounces
Fill Weight: 2.8 ounces
Size: XL
Chest: 43″
Waist: 36″
Sleeve: 35″
Hip: 45″
Down: Responsibly sourced and tracked – Allied Feather & Down
Fill Power: 900+ Goose Down
Exterior Shell: Pertex Quantum brushed nylon with DWR (37 g/m2)
The Feathered Friends Women's EOS Jacket Review – First Glance
The EOS jacket comes in a small nylon stuff sack that also makes a nice toiletry stuff sack. Right now, I'm using a Hyperlite Stuff Sack Pillow to hold my toiletries, electronics, etc.
My Down jacket gets stuffed into my compactor bag with my Katabatic Quilt or Feathered Friends Lark Sleeping Bag, so I don't really need the stuff sack, but it is nice to have since I can't ever have enough stuff sacks.
One of the impressive things about the jacket is how quickly the EOS lofts up once it is unpacked. This is one of my favorite things about this jacket. No matter how many times I have stuffed it into my backpack or used it as a pillow, it always fluffs up very quickly when I'm am ready to take it out and put it on.
FF Women's EOS Jacket Review – Components
Baffles
The baffles on most Feathered Friends Jackets are large. Large baffles are my preference. They allow the Down to spread out and loft, eliminating a lot of dead space caused by excessive stitching.
Others will tell you that quilt patterns eliminate cold spots by preventing the Down from shifting, but I've yet to have shifting be an issue in my FF products since they use more down than most of their competitors.
Most of my Down apparel loses its ability to keep me warm due to excessive compression over time, but this has not been the case with the EOS jacket. This jacket now has about 750 miles of backpacking on it, and after compressing it daily and using it for a pillow at night, it still looks as if I just pulled it out of the box!
Exterior Fabric
The exterior fabric is Pertex Quantum with a DWR finish. Pertex Quantum is a tightly woven fabric that is soft while also blocking wind and moisture. This material is perfect for Down, trapping still air and allowing the Down to loft easily.
The DWR finish will keep the fabric reasonably dry in a light mist, but it is not waterproof. I rarely wear the jacket anywhere but in camp when I'm hiking, and only in my shelter when it is raining. If it is cold enough that I have to wear it in bad weather, I wear it under my Precip Rain Jacket.
Hood/Draw String/Elastic
The EOS has a drawstring around the waist, which keeps out cold drafts. The drawstring is nice because it keeps the jacket in place and snug against my body, trapping much-needed warmth.
There is elastic around the cuffs and the face of the hood. I like the elastic around the cuffs but would prefer a drawstring for the hood. If I am wearing the jacket in very windy conditions, the elastic is not tight enough to hold the hood in place. For my purposes, though, there is rarely enough wind for this to be a problem and the other benefits of the jacket far outweigh this opportunity.
The hood with the soft but tight elastic, on the other hand, fits my large head perfectly. It would probably not fit over a climbing helmet, but it is roomy without a helmet while not being too big. My head, with long hair, is fairly large though, so it might fit a small or medium helmet.
Other Quality Features On the FF EOS
Small quality details attest to most gear's quality construction, and the Feathered Friends jacket is no exception. It is often little details that set products apart and you will find these on the EOS.
On the Feathered Friends EOS Jacket, all zippers have a solid plastic cap and small zipper ties making them easy to grab in gloved hands. The zippers are also quality YKK zippers that are high quality, durable zippers.
The front zipper has a small fabric flap over the top of it to keep it from rubbing your chin when it is completely zipped up.
The handwarmer pockets have zippers which are a must-have for me. I often put keys or gloves in my pockets on day hikes, and the last thing I want to realize 10 miles into a hike is that something has fallen out of my pocket.
EOS Jacket Performance
The Feathered Friends EOS Jacket is durable and warm. It is a great jacket for hiking in the backcountry or for just grabbing to run errands around town on a brisk Winter Day. I also think it is a good looking jacket and find myself constantly grabbing it as my go-to jacket for about any activity.
When it is above 40 degrees, I'm comfortable wearing my jacket over a lightweight or mid-weight base layer, and I generally stay cold, so this is an accomplishment for me in a light weight Down jacket. As a matter of fact, I find my EOS almost as warm as my mid-weight Feathered Friends Helium Jacket.
When it falls to freezing, I'll generally wear a mid-weight base layer followed by my 100 weight fleece pull-over and then the EOS Jacket. In these layers plus the EOS, I stay warm if I'm sitting around camp.
If it is windy, I'll throw on my Precip Rain Jacket to block some of the wind, although the Pertex Quantum material does a nice job in moderate breezes. I rarely find I need a wind-blocking jacket over the EOS.
Feathered Friends EOS Fit
The EOS is not as tapered as some of its competitors, but I like that better for layering. The jacket is slightly tapered at the waist, but the boxier fit makes it good for layering over other jackets in colder temperatures.
I typically hike about 4 miles every day with the dog and wear the EOS down into the '20s with only a mid-weight layer underneath it.
The hood on the jacket fits me perfectly! Although I would like a drawstring, the elastic around the hood's face keeps it adequately snug.
The jacket fits as if it was made for me. The jacket's length is good, and the sleeves drop exactly where they should on my wrists. Even when fully extended over my head or to my sides, there is minimal draw upon the sleeves, keeping them fully extended to my wrists.
FF Women's EOS Competitors
The Feathered Friends Women's EOS Jacket has several competitors. They are all quality jackets but don't have all of the features I want in a Down Jacket. The biggest, of course, is warmth, and the Feathered Friends EOS is one of the few that has the large baffles in a light/ultra-light jacket.

Feathered Friends Women's EOS Jacket Review – Final Thoughts
Pros:
Quality – Feathered Friends pays attention to the details and makes a quality jacket that will last for years.
Warmth – With its large baffles for loft, and 2.6 ounces of 900 Fill Down, no jacket is warmer in this lightweight category.
Fit – From the length of the arms to the hood size, this jacket fits me perfectly. As a tall female, I am pleased with the length of the jacket.
Durability – This jacket is made with fabrics and components that will last for years to come.
Cons:
Hood Drawstring – I would have liked a drawstring for windy conditions, but the elastic around the face provides a snug fit.
Expensive – The EOS is not inexpensive, but it is less expensive than some of its competitors.
Hydrophobic Down – The Feathered Friends EOS does not have water-resistant Down, and neither do most of the competitors on my list. I hope to see this soon.
Based on my needs, the Feathered Friends Women's EOS Jacket is the best Down jacket for me. The Down jacket is lightweight, warm, and a great run around the town layer on chilly days.
Feathered Friends is one of the best Down manufacturers in their niche. I have purchased from them for years and currently use their Helio mid-weight jacket and Ten Degree Lark Sleeping Bag. I'm actually on my second Lark.
FQA
Is the Feathered Friends EOS Waterproof?
The jacket is not waterproof, but the Pertex Quantum shell is water resistant.
Is the FF EOS Women's a snug fit?
The jacket is not snug, which is what I like about it. I can layer the jacket over other layers while still having a good fit that allows me the flexibility I need when hiking or climbing.
Is the Feathered Friends EOS warm?
The jacket has 900+, ethically sourced Down, and with almost 3 ounces of Down this jacket is very warm. I also like the large baffles much better than the quilted patterns. There is much less stitching and more Down to keep me warm.
What type of Warranty does Feathered Friends have?
All Feathered Friends products are guaranteed to the original owner with proof of purchase for the lifetime of the product against defects in workmanship or materials. I've also listed their link for additional Warranty Information.
Related Posts
Average Hiker purchased this jacket and does not write sponsored posts or receive compensation for reviews. When you purchase through links on this website, I receive a small commission at no additional cost to you. If you have found this review helpful, please consider purchasing through the link above. You can find further affiliate details on the Affiliates Page. Thank you
(Visited 1,569 times, 1 visits today)