I have used the Women's Feathered Friends EOS for several years, most recently on the Arizona Trail and the Superior Trail. This winter, I purchased the new EOS updated for 2022/2023. Much like my original FF EOS, the new updated EOS is a well-made jacket that will keep you warm in the coldest temperatures.
In the updated EOS, it is good to see that Feathered Friends incorporated feedback into the new design while still maintaining the quality I have come to expect from the company.
A few new features I appreciate.
It is slightly more fitted and does not look as bulky.
There is a front pocket where I can put my phone, leaving my side pockets for my hands.
A draw-string hood.
In this review, I'll discuss the features and performance. I'll also discuss some changes in the updated EOS and briefly review its competitors.
Table of Contents
My Jacket Requirements
Light Weight – I prefer a jacket that is 12 ounces or less. I like to stay warmer than many other hikers, so having a warm puffy is important. I use it regularly in camp and town and sleep in it when it is very cold.
Compression – I'm willing to give up a little durability on the shell if I can compress more.
Fill – I would like a minimum of 850 to 900 Fill Down. The higher the fill power, the more I can usually compress the jacket.
Shell – The shell should be water-resistant, preferably with a DWR coating.
Hood – I prefer a relatively deep hood with a drawstring for windy conditions.
Baffles – Larger baffles allow for the Down to loft better. If there is enough Down, you won't have cold spots. I find baffled jackets warmer than quilted jackets.
Feathered Friends EOS – Pros & Cons
Pros
Quality – This is a well-made, durable, lightweight jacket.
Warmth – With 3.7 ounces of 900 Fill Down in the medium jacket, almost no other jacket is warmer in its category.
Fit – The old EOS was a little boxy. The new, updated EOS is more fitted but not tight.
Durability – The Pertex quantum shell has not changed and is still one of the most durable ultra-light shells in this category
Cons
Price – The new, updated EOS has a hefty price, second to only the Montbell Plasma 1000.
Drawstring – The drawstring on the hood comes across the bottom of the collar and pulls it down when you need more protection. I'll explain more below.
Hood – The new, more sleek hood looks better but has significantly less Down, so it is not as warm as the prior version of the EOS.
Jacket Review – Quick Specifications
Price: $409.00
Jacket Weight: 11.4 ounces (Based on the actual weight of my XL)
Fill Weight: 3.7 ounces – FF only lists the Medium fill weight
Down: Responsibly sourced and tracked – Allied Feather & Down
Fill Power: 900+ Goose Down
Exterior Shell: Pertex Quantum brushed nylon with DWR (37 g/m2)
Feathered Friends Women's EOS Jacket Review – First Glance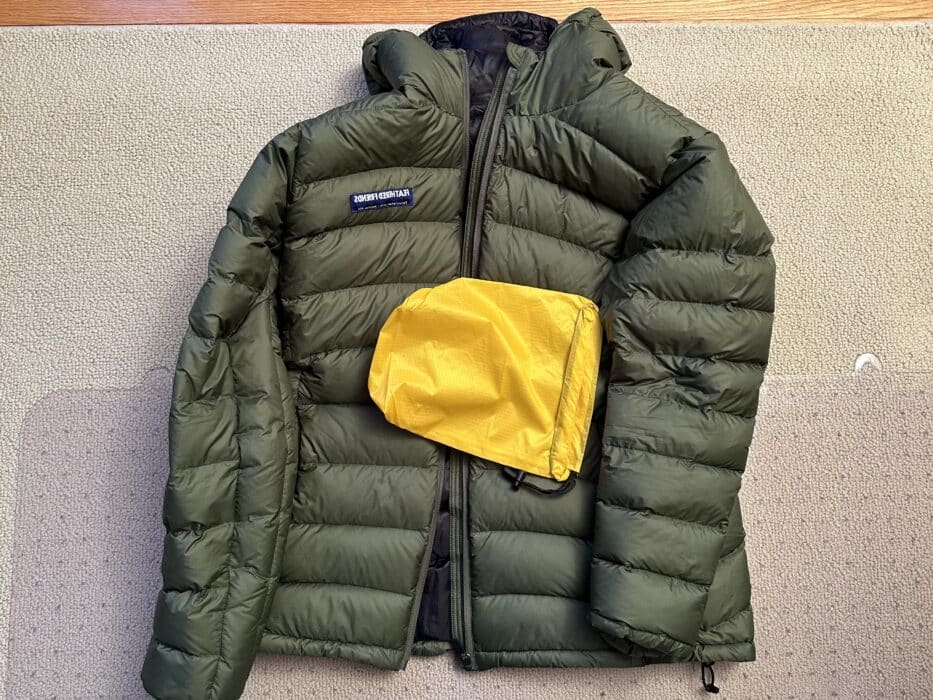 The Feathered Friends Women's EOS comes with a nylon stuff sack, but the jacket was packed in a box. I don't use the stuff sack since I pack mine in my compactor bag with my quilt.
The jacket was not tightly compressed and took no time to fully loft.
I immediately noticed the cinch cords on the hood and the new zippered chest pocket. I have been looking forward to these two features in the updated EOS.
Feathered Friend's Women's EOS Jacket Review – Components
The new, updated Feathered Friends EOS has improved features that continue to set it apart while retaining many features that make it such a great jacket in the first place. There are also some compromises with its new streamlined appearance.
Baffles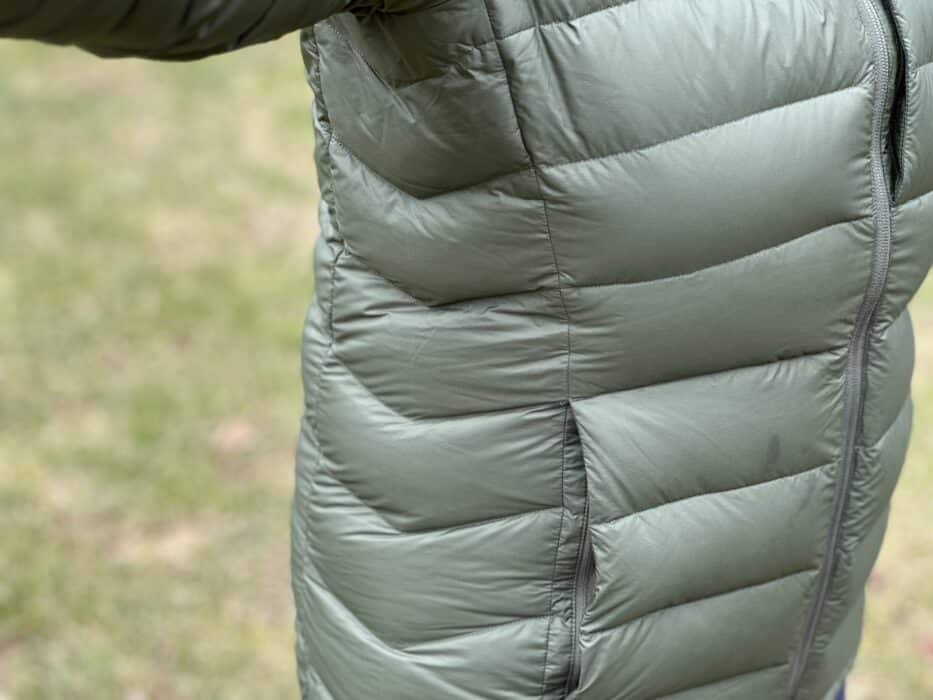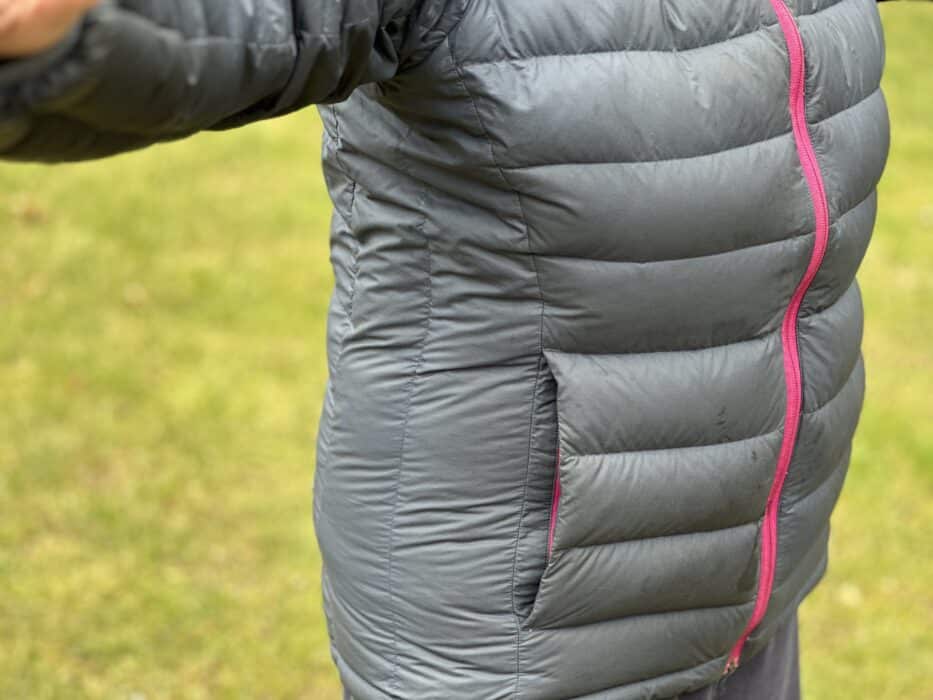 The baffles on the new updated EOS are still the large horizontal baffles that I like. They are sewn through and allow Down to loft well. The main difference in the baffles is the vertical baffles down the sides are now horizontal. This contributes to the slightly more fitted appearance of the new EOS. The previous EOS had two vertical baffles.
Some people will tell you quilt patterns eliminate cold spots by preventing the Down from shifting, but 4 ounces of shifting Down is not an issue with the EOS.
Exterior Fabric
The exterior fabric has not changed and is still Pertex Quantum DWR (37 g/m2). Pertex Quantum is a tightly woven fabric that is soft to the touch while blocking wind and moisture. This shell material is slightly thicker than its competitors and more durable. I find it warmer in wet conditions.
The DWR finish keeps the fabric reasonably dry in a light mist but is not waterproof. I wear the jacket at camp when temperatures drop below 40 degrees, and if it is very cold, I'll sleep in it at night and hike in it early in the morning.
The DWR is water-repellant and will keep the jacket dry in a light mist, but I have worn it in snow squalls and showers, and it did not take long for the exterior shell to wet through. This is not a jacket you want to wear in rain or very wet conditions.
I find that although it does not compress quite as well as some competitors, it lofts more quickly when I unpack it and put it on.
The sleeve cuffs still have the same lycra cuffs that fit snugly against my wrists.
Hood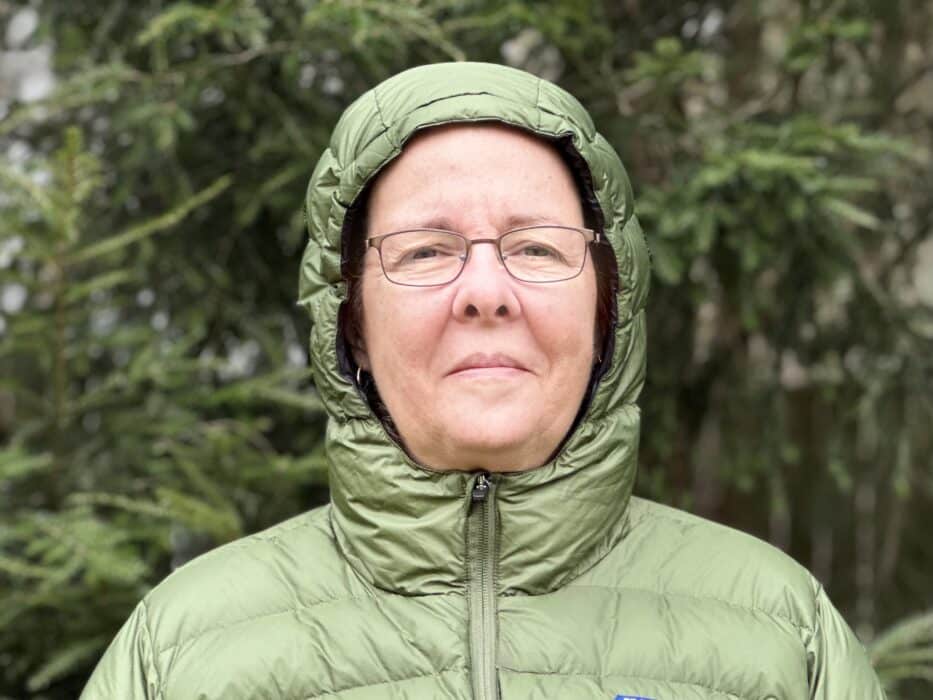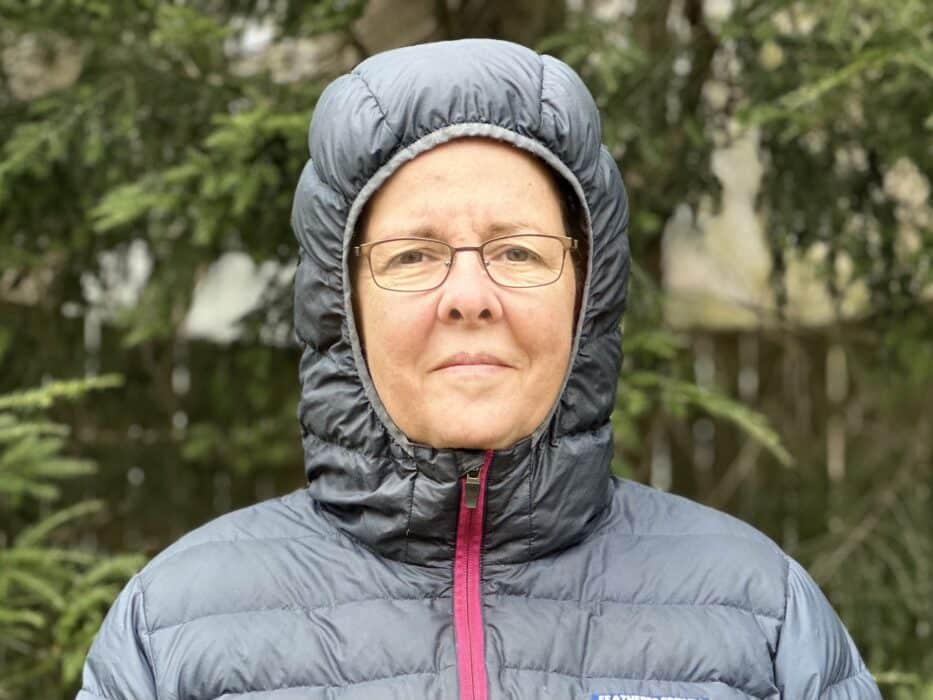 The Feathered Friends EOS now has a drawstring hood, which has always been a customer request. The string circles the face, and the ends come out on either side of the hood. The jacket has always needed a way to tighten around your face, but there are several reasons this is not a good design.
Lack of Down
No Lycra
Drawstrings
There is now significantly less Down in the hood. You can see the difference in the pictures above. The green jacket is the new, updated version, and the blue jacket is the previous version. The EOS was always my warmest jacket in this category and great for sleeping in my quilt when it was very cold. This is no longer the case.
Feathered Friends should have left the Lycra around the face. This gave it a smooth fit and a nicer look. It also limits gaps if wearing the hood over a hat or helmet, even with a drawstring.
The Drawstrings exit the hood halfway down the high collar on the front of the jacket. Pulling them tight pulls down the collar, exposing your chin and face. The high collar is already not very high, and this makes it almost nonexistent. If it is cold enough to pull the collar tight, then it is probably cold enough to need the lower section of your face protected. The drawstrings are also large and cumbersome, extending from the jacket.
Cinching down the hood keeps in additional heat, but my head is definitely colder now when I hike and sleep. I appreciate a good-looking jacket, but reducing most of the Down in the hood is a big change that reduces the jacket's functionality.
Pockets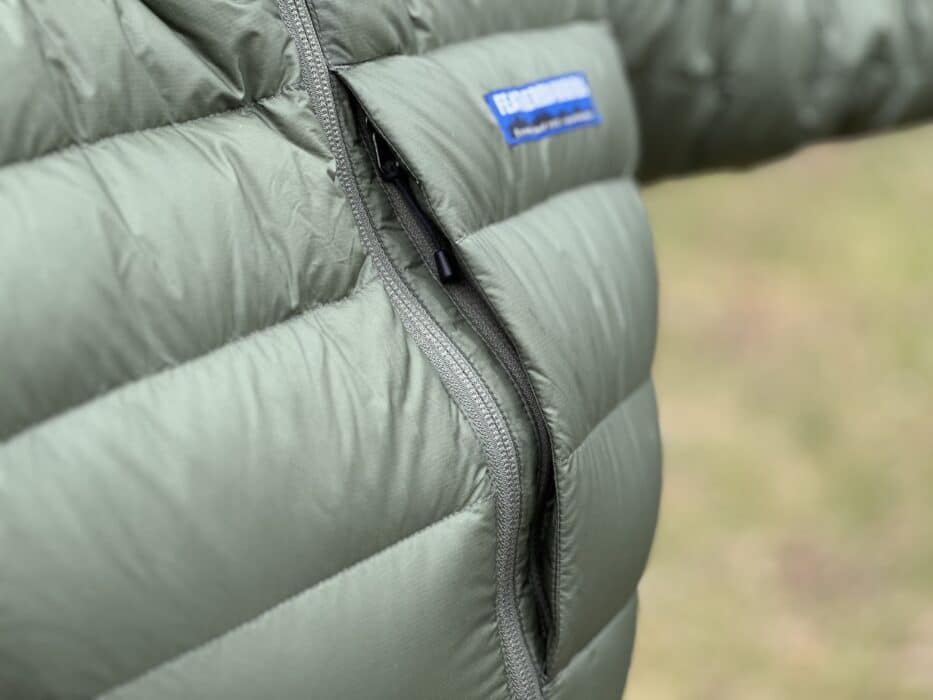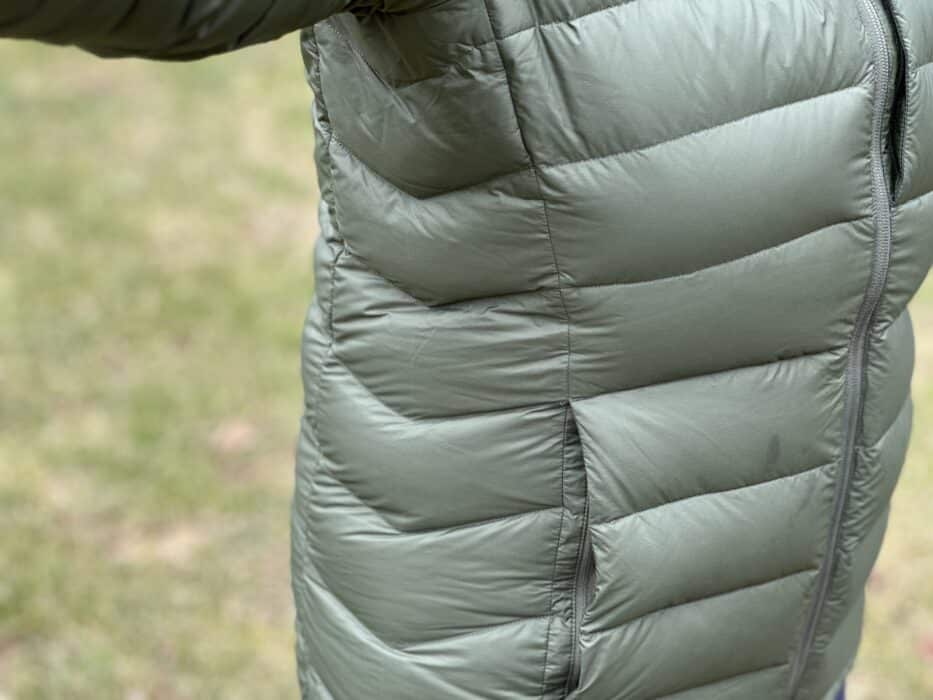 The roomy pockets on the sides of the jacket have not changed. They have plenty of Down on the outside to keep my hands warm and are low and near the front of the jacket. The bottom of the pocket falls 1.5 – 2 inches below the bottom of the zipper, so I don't have to worry about items falling out when I unzip them.
The big change is the left chest pocket. The pocket has plenty of room for my iPhone, and there is an edge over the zipper, so the pocket blends into the jacket and is barely noticed. This well-thought-out pocket is one of my favorite new features, leaving my side pocket free for my hands without worrying about moving my phone around or having it fall out as I hike.
Zippers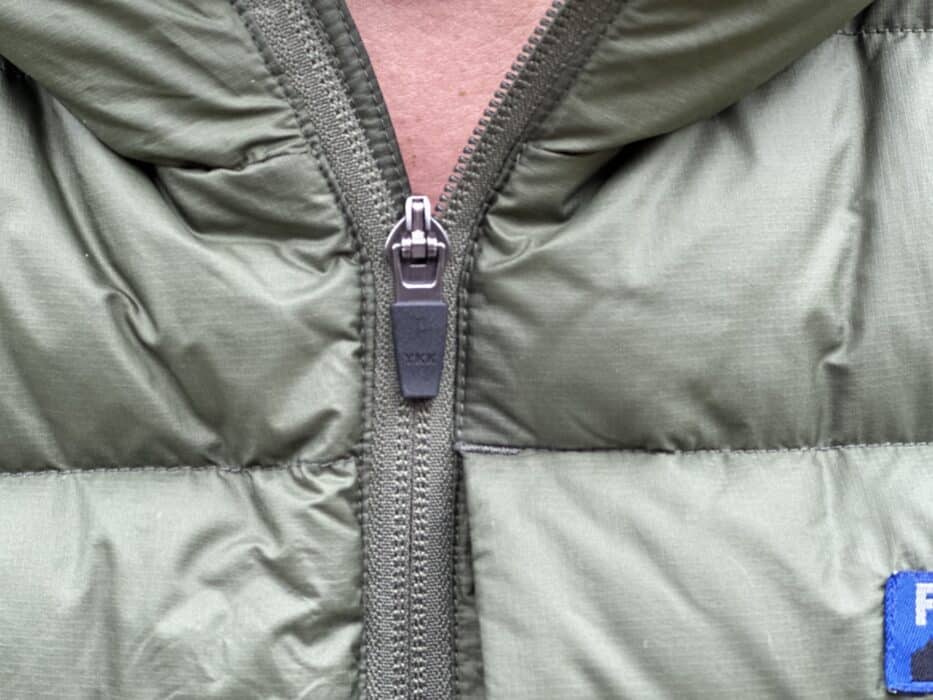 The zippers on the jacket are still high-quality, burnished YKK zippers, and the pocket zippers use small nylon ties, making them easy to grab with gloves. The front zipper has a sleek, hard plastic tab, making it easier to grab with gloves.
The front zipper on the new, updated EOS still has the small, sewn flap at the top. This keeps the zipper from rubbing my chin and keeps the zipper discreetly tucked away when zipped up.
The zippers are one of the features of this jacket that I appreciate. They don't snag and separate when you wear bulky layers under the jacket. Ultralight jackets often compromise on the zippers to lose weight, so they must be replaced more frequently and fail after hard use. Feathered Friends does not compromise on this feature.
FF EOS Jacket – Performance
This has always been the jacket I take on long-distance hikes when I know it may be cold and when I'm hiking off-trail. The jacket keeps me warm in camp, lofts quickly, and the exterior shell is resistant to snags and thorns when hiking in brushy areas.
Like the previous EOS, the new, updated EOS keeps me warm to 40 degrees with a single lightweight base layer. The only other jacket I have in this category that can do this is the Katabatic Tin Cup.
To stay warm below freezing and down into the lower 20s, I add a mid-weight layer and my 100-weight fleece underneath the jacket. I run cold, so these layers may not be needed if you run warm. If I hike in a Down jacket because it is very cold, I usually warm up quickly and take it off after a few minutes.
FF Women's EOS – Fit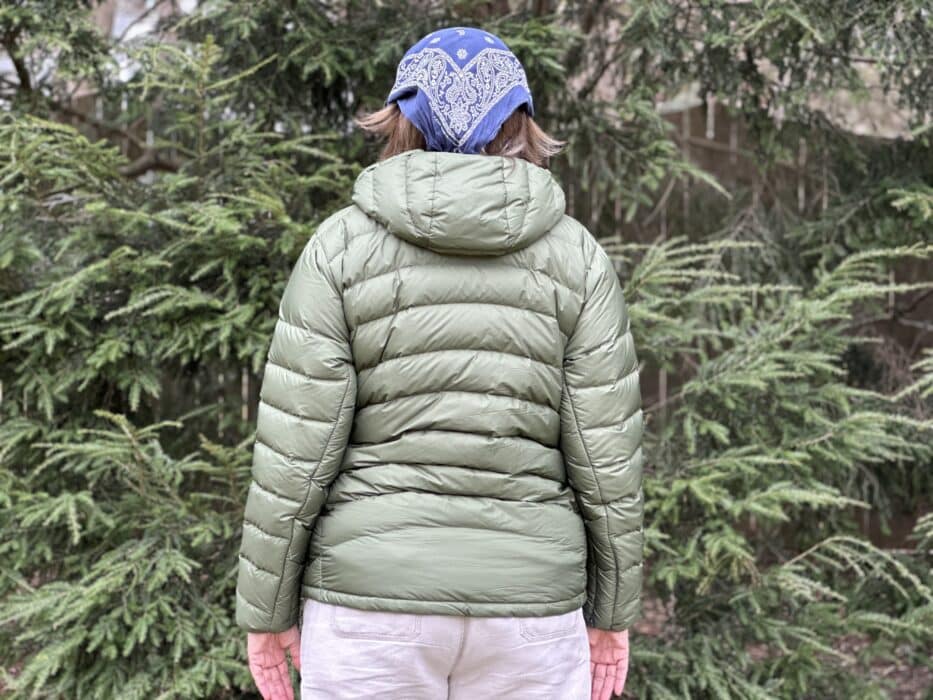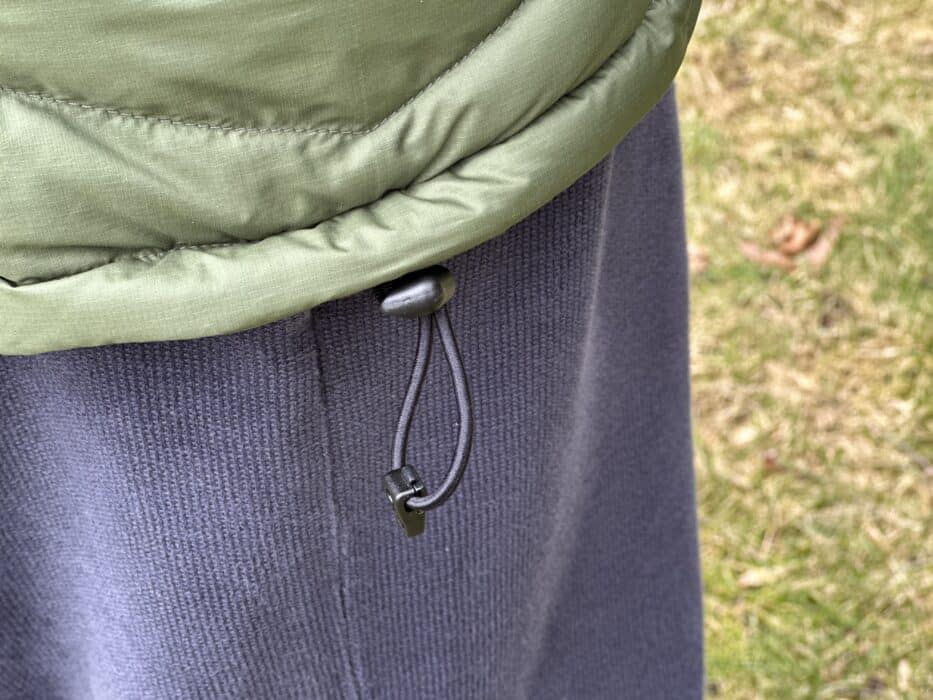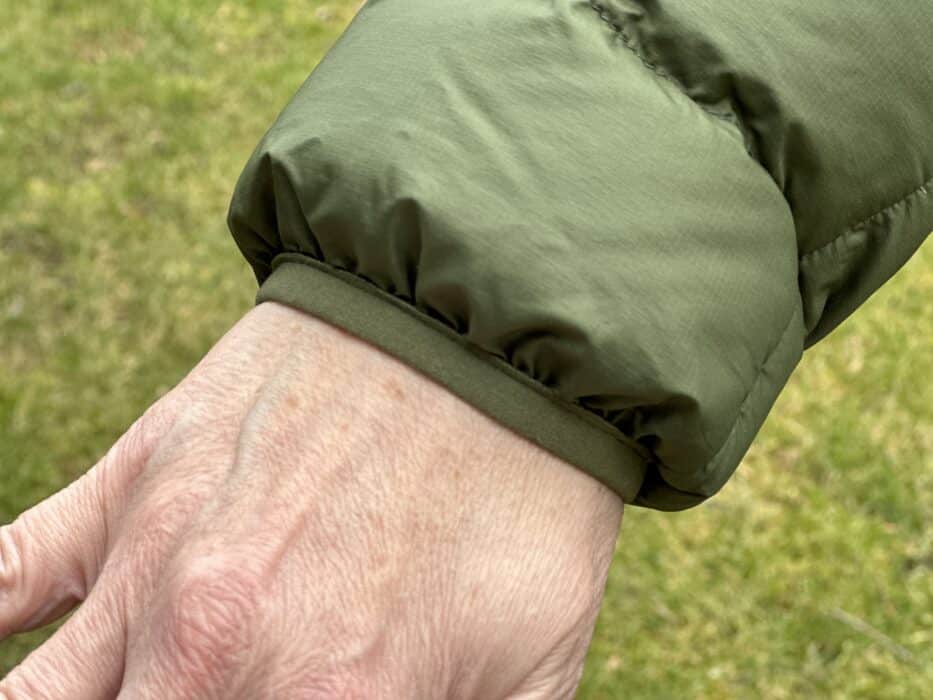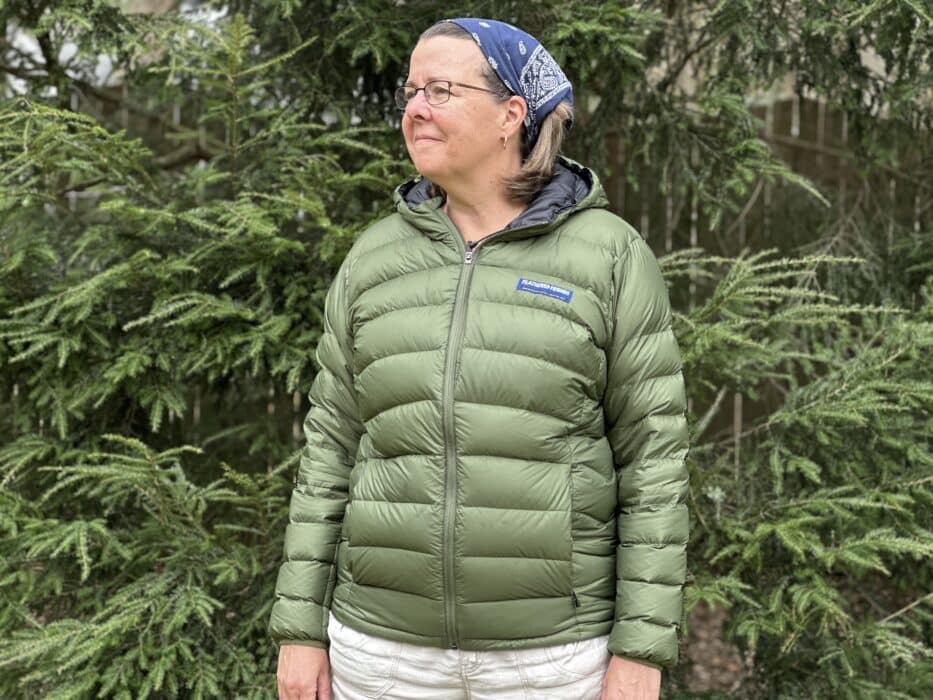 The new, updated EOS still has the durability, quality, and warmth I expect from Feathered Friends with a more fitted, sleek appearance. I am also tall (5'11), and the arms and length fit well. I also like the slightly longer back when I sit down, especially if I wear the jacket when backpacking and my pack pulls up the jacket.
The move from vertical to horizontal baffles on the sides provides a less boxy look. The jacket is not tight, but it is slightly more fitted.
The jacket still has a cinch cord at the bottom of the hem, so you can pull it tight to keep out drafts. This is nice to have when it is cold and windy.
In the next two weeks, I'll have a review of the Tin Cup and compare the two jackets.
Feathered Friends Women's EOS – Competitors
There are many Down hoodie jackets on the market. I've included what I currently think are the best choices.
Even though I don't often purchase Down jackets that don't include their Fill weights in their specifications, I've included several of these jackets. The jackets have good real-world reputations and are well-made jackets.
Often only the highest quality Down jackets or smaller companies list their Fill weights. They are proud of the extra Down they include and have quality controls that let them ensure these weights are correct.
Specifications below are based on size medium.
| Vendor | Jacket Weight | Fill Weight | Fill Power | DWR | Price |
| --- | --- | --- | --- | --- | --- |
| Montbell Plasma 1000 | 7.9 oz | 3.0 oz | 1000 | Yes | $479 |
| Mountain Hardware Ghost Whisperer 2 | 7.8 oz | Not Provided | 800 | Yes | $299 |
| Arcteryx Cerium Light | 10.2 oz | Not Provided | 850 | Yes | $379 |
| Patagonia Down Sweater Hoodie | 12.1 oz | Not Provided | 800 | Yes | $329 |
| Katabatic, Tin Cup | 10.4 oz | 5.0 oz | 850 | Yes | $299 |
I have not field tested all of the jackets above, but I own and have used the Patagonia Sweater, Mountain Hardware Ghost Whisperer 2, and the Katabatic Tin Cup. I have examined and worn the other two but have not field-tested them, although I have discussed them with other hikers that have field tested them.
Montbell Plasma 1,000 – This is one of the lightest weight jackets in this group, and with 1,000 fill power down, it is also highly compressible. I like everything Montbell makes and currently use their

Chameece jacket

as one of my primary layers. I also use their rain gear. I buy my gear, though, and $479 is a steep price tag, so it will be a little longer before I pull the trigger on this jacket.
Mountain Hardware Ghost Whisperer 2 – I bought this jacket four months ago because it was ranked #1 by Outdoor Gear Lab. The manufacturer does not list its fill weight, which I could easily locate. It is also a jacket that thru-hikers love, which is interesting. This jacket does not keep me warm and is not durable. If you want ultralight, this lightest-weight jacket in the group is for you, but it is not warm enough for me.
Arcteryx Cerium Light – I know hikers that swear by this jacket, and it appears well-made. Again, it does not list its fill weight, and at $379 for the jacket, I want to know how warm my jacket is going to be.
Patagonia Down Sweater – This jacket was given to me as a gift, and I use it as my "town jacket" when grabbing a jacket to run out with friends. This is the heaviest jacket in the group and the least compressible. It doesn't suit my hiking needs, but it is a good casual jacket.
Katabatic, Tin Cup – Katabatic came out with their line of jackets at the end of 2022, and this jacket is a definite contender! Katabatic builds quality gear, and this jacket is no exception. It has more Down than any other jacket in this group at five ounces, and $299 is hands down the best price for the features you get. I purchased this jacket as soon as it came out, and it is one of the warmest jackets I own. Stay tuned for a review.
One note on the RAB Neutrino Pro Down Jacket. The only reason I did not include it here is that it weighs almost 18 ounces. I don't consider it an ultralight jacket. If weight and compression are not considerations, then the RAB is this group's warmest, most durable jacket. It has 7.5 ounces of Down and is packed with features.
Feathered Friends Women's EOS Jacket Review – Final Thoughts
The Feathered Friends EOS has one of the best warmth-to-weight ratios available. This good-looking, durable, lightweight jacket will last you for years on the trail and look good in town. Feathered Friends has taken user feedback and incorporated it into the new Feathered Friends EOS Women's Jacket.
The jacket has lost functionality in the hood with less Down and cumbersome drawstrings, but the body of the jacket is still exceptionally warm. I also find the jacket's fit very comfortable, so this is worth considering – you may need a separate hat.
FQA
Is the EOS Waterproof?
The jacket is not waterproof, but the Pertex Quantum shell is water-resistant.
Is the FF EOS Women's a snug fit?
The previous EOS was less fitted than the new, updated EOS. The new, updated EOS is more fitted and less boxy than the previous version, but it is not a snug fit. It needed to be less boxy.
Is the EOS warm?
The jacket has 900+ ethically sourced Down, and with almost 4 ounces of Down, this jacket is warm. I like the large baffles better than the quilted patterns. There is less stitching and more Down to keep me warm.
What type of Warranty does Feathered Friends have?
All Feathered Friends products are guaranteed to the original owner with proof of purchase for the product's lifetime against defects in quality or materials. I've also listed their link for Additional Warranty Information.
This page has affiliate links for products and gear I purchase and use. If you click on one of these links, I receive a small commission at no extra cost to you. There may also be Amazon links and as an Amazon Associate I earn from qualifying purchases. You can read more about my thoughts on affiliate marketing.