Feathered Friends Women's EOS Jacket Review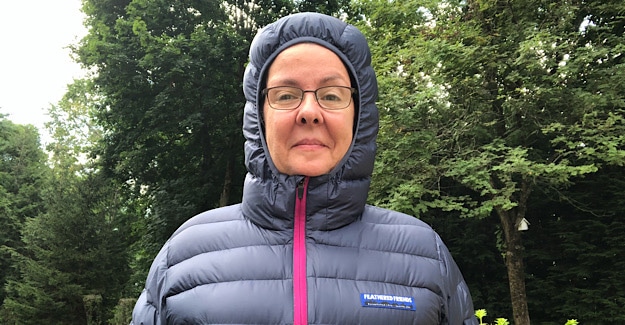 The Women's Feathered Friends EOS is a lightweight 9 oz jacket with 2.8 ounces of 900+ goose down that will keep you warm on even the chilliest mornings. The exterior shell is Pertex Quantum DWR treated nylon that holds up well on and off-trail and in damp conditions.
Two of my favorite things about the jacket.
It is a good looking jacket that I grab for trail and town.
The hood has more Down than any other puffy I've used, making it perfect for fridgid nighttime temperatures in my quilt.
Table of Contents
Feathered Friends EOS Updates
There are two updates for 2022 that I'm pretty excited about. Both of these options are practical and in response to consumer demand. I look forward to trying out the new jacket.
Drawstring Hood – This was one of my only complaints about the jacket and it has been added!
Exterior Zipper Pocket – This is definitely a nice to have for money, cards, phone, etc.
Feathered Friends EOS – Snapshot
Pros
Quality – Feathered Friends pays attention to detail.
Warmth – With 2.8 ounces of 900 Fill Down, no jacket is warmer in this lightweight category.
Fit – From the length to the hood, this jacket fits me perfectly.
Durability – The pertex quantum shell stands up to tough off-trail use.
Cons
Price – The EOS is not inexpensive, but it is less expensive than some of its competitors.
My Jacket Requirements
Light Weight – Lightweight is important for me when I backpack. Backpacking equipment can be heavy, so to combat fatigue and injury, I keep my pack weight light. I want to keep my jacket's weight at 12 ounces or less.
Compression – I'm willing to give up a little durability on the shell and interior materials if I can compress the jacket to a small size. I don't have to give up anything with the EOS. The EOS allows me to compress it repeatedly without it losing its loft.
Fill – I would like a minimum of 900 Fill Down.
Shell – The shell should be water-resistant.
Hood – I prefer a relatively deep hood with a drawstring for windy conditions.
Baffles – Larger baffles allow for the Down to loft better. If there is a sufficient amount of Down, you won't have cold spots. I find baffled jackets warmer than quilted jackets.
Jacket Review – Quick Specifications
Price: $389.00
Jacket Weight: 11 ounces (I have a XL)
Fill Weight: 2.8 ounces
Size: XL
Chest: 43″
Waist: 36″
Sleeve: 35″
Hip: 45″
Down: Responsibly sourced and tracked – Allied Feather & Down
Fill Power: 900+ Goose Down
Exterior Shell: Pertex Quantum brushed nylon with DWR (37 g/m2)
The Feathered Friends Women's EOS Jacket Review – First Glance
The EOS jacket comes in a small nylon stuff sack, and I have used it as a pillow in the past. I was using a Hyperlite Stuff Sack Pillow to hold my toiletries, electronics, etc., but recently switched to the Sea-to-Summit Premium Aeros Pillow, and I wish I had made this change years ago!
I do still use the Hyperlite Stuff Sack Pillow for toiletries. It is stronger than the Hyperlite PODS and makes an excellent backup pillow if needed.
One of the best things about the jacket is how quickly the EOS lofts up once it is unpacked. The jacket had fully lofted a few minutes after coming out of its original packaging.
FF Women's EOS Jacket Review – Components
Baffles
The baffles on most Feathered Friends Jackets are large. Large baffles are my preference. They allow the Down to spread out and loft, eliminating a lot of dead space caused by excessive stitching and compressed Down.
Some people will tell you quilt patterns eliminate cold spots by preventing the Down from shifting, but 2.8 ounces of Down shifting is not an issue with the EOS.
My current EOS now has about 1,000 miles of backpacking, and after compressing it daily and initially using it for a pillow at night, it still looks as if I just pulled it out of the box!
Exterior Fabric
The exterior fabric is Pertex Quantum with a DWR finish. Pertex Quantum is a tightly woven fabric that is soft while also blocking wind and moisture. This material is perfect for Down, trapping still air and allowing the Down to loft easily.
The DWR finish will keep the fabric reasonably dry in a light mist, but it is not waterproof. I wear the jacket in camp and when temps drop below 40 degrees. It sheds morning mist and fog quickly and keeps me warm.
Hood/Draw String/Elastic
The EOS has a drawstring around the waist, which keeps out cold drafts. The drawstring is nice because it keeps the jacket in place and snug against my body, trapping warm air.
There is elastic around the cuffs and the face of the hood. I like the elastic around the cuffs but prefer a drawstring for the hood.
If I wear the jacket in very windy conditions, the elastic is not tight enough to hold the hood. For my purposes, though, there is rarely enough wind for this to be a problem and the other benefits of the jacket far outweigh the lack of a drawstring.
The hood is deep and roomy, which I like. The more oversized hood allows me to pull it down over my eyes when I sleep in it.
Other Quality Features On the FF EOS
Small details indicate the jacket's quality construction. Often, details set products apart, and you will find these on the EOS.
On the Feathered Friends EOS Jacket, all zippers have a solid plastic cap and small zipper ties making them easy to grab in gloved hands. The zippers are also quality YKK zippers that are high quality, durable zippers.
The front zipper has a small fabric flap over the top of it to keep it from rubbing your chin when it is completely zipped up.
The handwarmer pockets have zippers which are a must-have for me. I often put keys or gloves in my pockets on day hikes, and the last thing I want is to realize 10 miles into a hike is that something has fallen out of my pocket.
EOS Jacket Performance
The Feathered Friends EOS Jacket is durable and warm. It is an excellent jacket for hiking in the backcountry or just grabbing to run errands around town on a brisk Winter Day.
When it is above 40 degrees, I'm comfortable wearing my EOS over a lightweight or mid-weight base layer, and I'm generally cold, so I find this impressive. This is the only lightweight puffy I have been able to wear below freezing before switching to my mid-weight Helios jacket.
When it falls to freezing, I'll generally wear a mid-weight base layer followed by my 100 weight fleece pullover and then the EOS. I stay warm in these layers, plus the EOS, sitting around camp.
I'll throw on my rain jacket to block some of the wind if it is windy, although the Pertex Quantum material does an excellent job in moderate breezes. I rarely find I need a wind-blocking jacket over the EOS.
Feathered Friends EOS Fit
The EOS is not as tapered as some of its competitors, but this allows me to add more layers while still having its tapered fit.
I typically hike about 4 miles every day with my dog and wear the EOS down into the '20s with only a mid-weight layer underneath it.
The jacket's length is good, and the sleeves drop precisely where they should on my wrists. Even when fully extended over my head or to my sides, there is minimal draw-up on the sleeves, keeping them fully extended to my wrists.
FF Women's EOS Competitors
There are a lot of Down hoodie jackets on the market. I've included the best ones that I have used or tested. These are all excellent choices.
You will notice that fill weight is not included on a couple of the less expensive jackets. Some less costly vendors don't always provide as much detail in their specifications.
| Vendor | Jacket Weight | Fill Weight | Fill Power | DWR | Price |
| --- | --- | --- | --- | --- | --- |
| | 4.1 oz | 1.3 oz | 1000 | Yes | $329 |
| | 6.9 oz | 2.2 oz | 800 | Yes | $299 |
| | 9.8 oz | 1.7 oz | 850 | Yes | $379 |
| | 15.1 | Not provided | 800 | Yes | $279 |
| | 14.6 | Not provided | 700 | Yes | $279 |
Feathered Friends Women's EOS Jacket Review – Final Thoughts
My Feathered Friends EOS keeps me warm and looks good. I always take this jacket on my long-distance hikes. It packs down small, is light, and keeps me warm down into much lower temperatures than any other lightweight Down jacket I own.
Feathered Friends is one of the best Down retail manufacturers on the market. They have been making their apparel and gear in Seattle for years. Some of the best Down gear I own comes from this manufacturer, and the EOS is no exception.
FQA
Is the Feathered Friends EOS Waterproof?
The jacket is not waterproof, but the Pertex Quantum shell is water-resistant.
Is the FF EOS Women's a snug fit?
The jacket is not snug, which is what I like about it. I can layer the jacket over other layers while still having a good fit that allows me the flexibility I need when hiking or climbing.
Is the Feathered Friends EOS warm?
The jacket has 900+ ethically sourced Down, and with almost 3 ounces of Down, this jacket is hot. I also like the large baffles much better than the quilted patterns. There is much less stitching and more Down to keep me warm.
What type of Warranty does Feathered Friends have?
All Feathered Friends products are guaranteed to the original owner with proof of purchase for the product's lifetime against defects in quality or materials. I've also listed their link for Additional Warranty Information.
Related Posts
Average Hiker purchased this jacket and does not write sponsored posts or receive compensation for reviews. When you buy through links on this website, I receive a small commission at no additional cost to you. Please consider purchasing through the links above if you have found this review helpful. Thank you
Hi! Some of the links in this post are affiliate links. This means that when you click on one of these links, I earn a small commission at no extra cost to you. Also, as an Amazon Affiliate, I earn from qualifying purchases. Thank you.