HOKA is currently my shoe of choice for long-distance hiking. Plantar Fasciitis has been a battle for me over the past few years, and I could not reduce the pain until I started using HOKA trail runners. The reduction in foot pain began with my transition to HOKA. The EVA foam combined with the Protalus inserts offers the support my foot needs.
This year I tried the Speedgoat 4 for Women and was pleased to find the same comfort level I had in my other HOKA shoes. The differences for me in the Speedgoat 4's were stability and fit; I'll go through these in the review below.
The Speedgoat EVO's are still my favorites, but they were discontinued. Fortunately, the Speedgoat 5's, which I now where for long distance hiking, were updated with some of their characteristics in a more durable upper and better grip.
Due to "EVO Discontinue fear," I bought six pairs of Women's Speedgoat 5's for 2023!
Speedgoat 4 Spec Summary
| | |
| --- | --- |
| Value | $145 |
| Drop | 4mm |
| Stack Height | 32mm/28mm |
| Weight | 10 oz |
| Lug | 5mm |
| Upper | Mesh with 3D Printed Overlays |
| Outsole | Vibram Megagrip Upper |
| Protection | 3D Overlay & 32mm of EVA Foam on Bottom |
| Pros | Comfort, Traction, Cushion |
| Cons | Stability, Fit |
Out of the Box
The Speedgoat 4 is a good-looking shoe. Aesthetics are not at the top of my priority list, but the current Speedgoat 4 line has my favorite color combinations compared to other brands. The shoe is a little heavy, but that is expected with 32mm of EVA Foam.
The collar of the shoe is well-padded, and the overall appearance of the upper reminds me of the EVO Speedgoat with a similar mesh, laminate overlays, and a thin, water-resistant tongue.
The Speedgoats have aggressive 5mm lugs combined with Vibram Megagrip outsoles to provide reliable traction in most terrain types. The opposing placement of the lugs also provides additional traction in challenging, technical terrain.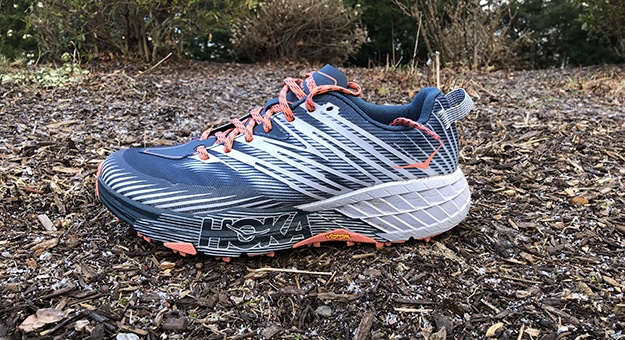 HOKA Speedgoat 4 – Comfort/Fit
The Speedgoat 4 fits me well. The heel is deep, even with my Protalus inserts, and the well-padded collar is comfortable while also blocking debris from getting inside my shoes. This, combined with the room in the forefoot, makes this a very comfortable fit.
Although comfortable, I have struggled with the tongue of the shoe. The tongue is thin, rubbery material with mesh on both sides. The mesh allows for more breathability in this area of the shoe. Initially, the tongue pinched my foot on steep inclines, and while the pinch has lessened as I have used the shoe, there is still a slight pinch.
The 32mm of EVA foam in the Speedgoat 4 makes this a very comfortable shoe, and on long road walks, the lack of soreness and fatigue has been noticeable. In this respect, the Speedgoat 4 is even more comfortable than my HOKA Challenger ATR 5's. This is an area in which HOKA excels in long-distance hiking.
The mesh uppers have laminate overlays, and I have found the uppers very durable. Along with this durability, though, I have found the Speedgoat 4's not quite as breathable as some other mesh uppers. The shoes are warm, and when my feet get wet, they take some time to dry out.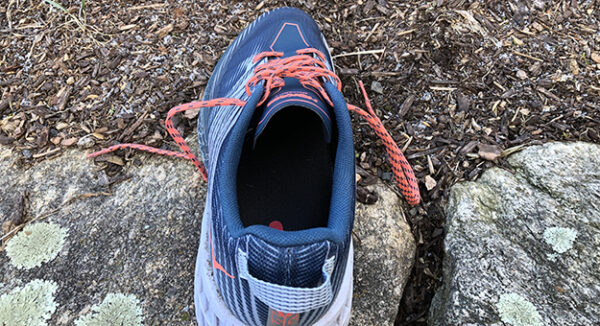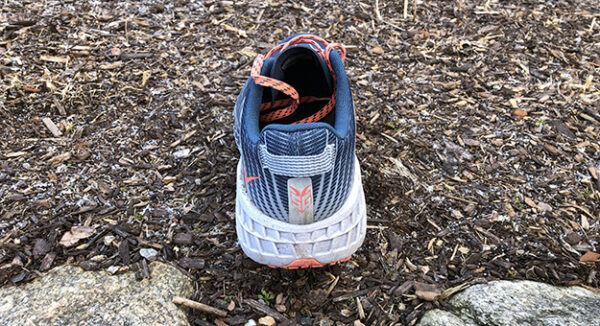 Speedgoat 4 – Performance
The Speedgoat 4 get's high marks for traction and grip. The Vibram Megagrip outsole and zonal rubber placement, combined with the 5mm lugs, handle just about any technical terrain. I've only had any slippage on a muddy trail with small, loose rocks. Mud will still pack into the treads, which results in less grip if there is also a lot of rock.
Other than the specific condition above, the traction is another high point for the Speedgoat 4 trail runners. Rock, dirt, roads, water – these shoes excel on almost any type of terrain, which aids in an off-setting lack of stability due to stack height.
HOKA states that improved, lighter foam makes the Speedgoat 4's more responsive, but I did not notice much difference from their predecessors or the Challengers. These shoes perform well in all conditions but are not made for speed.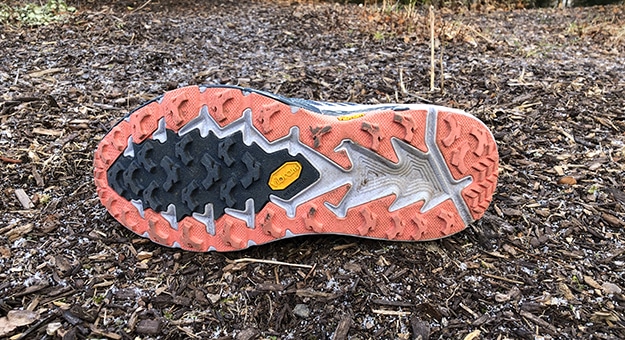 HOKA Speedgoat 4 – Protection
I think protection combines factors like cushion, toe protection, plates, etc. Several reviews state protection is one of the strengths of the Speedgoats, and while the EVA foam in the midsole and bottom of the shoe is superior to other shoes, there is no other protection.
The mesh uppers have laminate overlays, but there is no additional protection on the shoe's sides or toes. The thick EVA foam is adequate for me since it keeps my foot off the ground and provides so much cushion. An exception is especially rocky areas like traversing rock slides or small boulder fields out west. Having more side and toe protection in these instances would be good.
Stability is one area that I find challenging in the Speedgoat 4's. I enjoy wearing these shoes on the western trails and where there is more road walking or flatter terrain, but I don't enjoy wearing them on steep, rocky east coast trails or narrow, angled trails. I don't have enough stability in these conditions and find my ankles sore towards the end of a long day.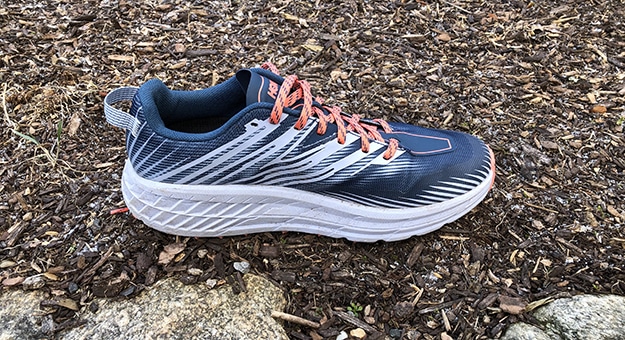 Speedgoat 4 – Final Thoughts
The HOKA Speedgoat 4 is a great long-distance hiking shoe. I have visions of road-walking the Continental Divide Trail through New Mexico in 2009. These shoes would have been a dream on that trail. My HOKA trail runners eliminate the soreness I experience on long, hard-packed trails.
*See my note on the HOKA Speedgoat 5's in the opening paragraphs. I'll have a review soon.
These shoes are great transition shoe that offers excellent traction in just about any type of technical terrain. The Vibram rubber is sticky and grips well on rock, wet conditions, and any traditional trail. Most importantly, no other shoe touches the HOKA in hard-packed conditions over long distances.
I have used the Speedgoat 4's on short multi-day hikes, and they currently have about 100 miles on them. I'm looking forward to testing them on longer hikes this summer, and I expect them to be durable and hold up well in any condition since, after 100 miles, they still appear brand new.
Select the button below for price comparisons, and consider purchasing through Average Hiker.
Pros
Comfort – HOKA makes one of the most comfortable shoes on the market for long-distance hiking and endurance running, and these shoes are no exception.
Traction – The tread on the Speedgoat 4's will handle any technical terrain with its deep 5mm lugs and transitions well across varied landscapes.
Protection – The 32mm of EVA foam protects the bottom of your feet.
Cons
Stability – the 28/32mm stack height makes this an inherently less stable shoe, but the traction and outsole help offset this.
Fit – the thin tongue pinches my foot on steep inclines. As the shoe loosens over time and I adjust the lacing, this has become less of an issue.
Protection – It would be good to have slightly thicker laminate or material on the shoes' sides.
FAQ
Is HOKA Speedgoat Waterproof?
HOKA also offers a waterproof Goretex version of the Speedgoat 4.
Are HOKA shoes good for your feet?
HOKA trail runners are the right shoe for my feet. They have all but eliminated my plantar fasciitis and extended my long-distance hiking.
Are HOKA shoes worth the money?
My answer would be yes. They are very comfortable, durable, and great on every terrain.
This page has affiliate links for products and gear I purchase and use. If you click on one of these links, I receive a small commission at no extra cost to you. There may also be Amazon links and as an Amazon Associate I earn from qualifying purchases.If this review has been helpful, please consider purchasing through the links above. Proceeds are used to purchase additional gear for review. Thank you. You can read more about my thoughts on affiliate marketing.