Zoar Trail Summary
The Zoar Trail is a 6.1-mile loop trail near Stevenson, CT. The trail can be found within Paugussett State Forest, running along the Housatonic River and Zoar Lake before looping inland.
This trail is well marked and popular and can become very busy on the weekends, so arrive early or hike during the week. The path has excellent water views and travels through classic New England terrain with glacial features and spruce and hardwood forest.
The trail is a moderate hike. There are many rocky little scrambles mixed with roots and a steep climb up to the ridge at the end of the shoreline section. The climb is short, but there are quite a few smaller ups and downs over rocky terrain along the shoreline route.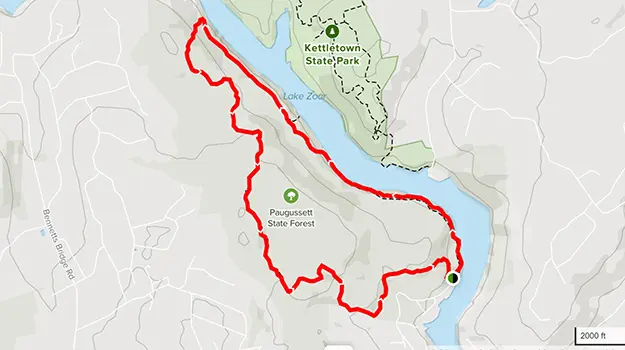 Trail Snapshot
| | |
| --- | --- |
| Trail: Zoar Trail | Length: 6.1 Miles |
| Paugussett State Forest: 41.40246,-73.18761 | Paugussett State Forest: Same as Previous |
| Difficulty: Moderate | Terrain: Trail, Hardwood, Spruce, Rocky, Roots |
| Location: Stevenson, CT | Trail Traverses: Paugussett State Forest |
| Highlights: Glacial Deposits, Water Views, Waterfalls | |
Trail Resources
There are several maps you can use for navigation. I used my GAIA GPS App and plotted out the trail using the Connecticut Walk Book – 20th Edition.
See additional maps below.
Zoar Trail Route
There is a large parking area at the end of Great Quarter Road, enough room for about 15 vehicles. If this parking area is full, there are other small parking areas on Great Quarter and Paugausett Road that you can use. These small parking areas provide connector trails to the main Zoar Trail.
As mentioned earlier, the Zoar Trail is a busy trail, and you should plan to arrive early if you want to avoid crowds and find parking. If you seek solitude, this may not be the ideal trail, but it is a nice trail, so try and find some off-peak time during the week. This hike is worth the effort.
Zoar Trail Water Views
If traveling counter-clockwise, you will travel along the Housatonic River and Zoar Lake at the beginning of your hike before reaching Praydden Brook Falls, one of the trail highlights. These are some of the more impressive waterfalls I've seen on a Connecticut trail.
The views out over the river and lake are beautiful, with very little "civilization" to break the landscape up, other than what looks like a very nice State Park Beach across the river.
Trail Terrain
As the Zoar Trail travels along the river, you will hike along a hard-packed trail interspersed with some very rocky and rooty sections, so take your time and step carefully while admiring the outstanding scenery. There is a small, steep side trail down to Prydden Falls, and it is worth the walk down.
The trail turns sharply at the end of the river section and climbs steeply up to the ridge above. The climb is not very long but quite steep, with a couple of rocky sections that may require you to step high!
Once you reach the top, you will traverse classic New England Terrain with glacial features, hard-wood, and spruce forests. The inland section of the trail has a few rock scrambles across well-marked trail as you climb up and over small washes and ravines before descending to the parking area.
Zoar Trail Bridges
The Zoar Trail crosses a couple of sizable creeks and some small brooks. If the water is high, Prydden Brook may be difficult to cross. In both instances where the creeks are deep, there are rough bridges to use.
Post Trail Thoughts
The Zoar Trail is a very popular trail for obvious reasons. This is a fun, challenging trail with great views. Prydden Falls is a great feature along this trail, and I always enjoy Connecticut's glacial features. This trail has some awesome boulders and rock formations!
Related Posts
This page has affiliate links for products and gear I purchase and use. If you click on one of these links, I receive a small commission at no extra cost to you. There may also be Amazon links and as an Amazon Associate I earn from qualifying purchases. You can read more about my thoughts on affiliate marketing.