Testone Boulder Loop Summary
The Testone Boulder Loop Trail is located in Sunny Brook State Park. The trail travels through conifer and hardwood forests, taking you past several glacial features.
The Testone Boulder Loop is about 1.8 miles, and the difficulty level is easy to moderate. While most of the trail traverses the forest floor, some moderate climbing and light scrambling over small rock sprays. The course is clearly marked, although there are a few sections where you will need to pay attention and look for the blazes.
Trail Snapshot
| | |
| --- | --- |
| Trail: Testone Boulder Loop | Length: 1.8 Miles |
| Sunny Brook State Park: 41.851267,-73.125882 | Sunny Brook State Park: Same as Previous |
| Difficulty: Easy to Moderate | Terrain: Trail, Hardwood, Spruce |
| Location: Torrington, CT | Trail Traverses: Sunny Brook State Park |
| Highlights: Glacial Deposits, Conifer Forest | |
Trail Resources
There are several maps you can use for navigation. I used my GAIA GPS App and plotted out the trail using the Connecticut Walk Book – 20th Edition.
See additional maps below.
Testone Boulder Loop Trail Route
Sunny Brook has a large parking area that will probably hold about 20 vehicles. I was the first one when I arrived, but there were about eight cars there when I left, so it is a reasonably busy park. I was surprised since it was well below freezing.
From the parking area, head south along Testone Boulder Loop Trail past a yellow service road gate. You will head straight across another old parking area about a half-mile down the old service road.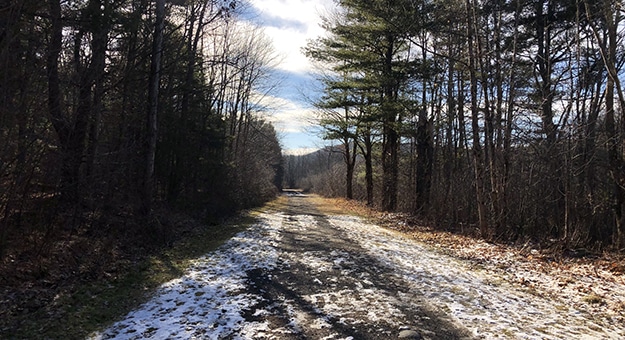 Into the Forest
The trail passes a beaver pond off to your left, and if you look out over a field before entering the woods, you will see a kiosk across the meadow. The Madden Wetlands Trail will take you out to the Kiosk.
Testone Boulder
Leaving the meadow's edge, the trail veers uphill to the right, entering a conifer and hardwood forest. The trail up to Testone Rock is wide and well-used. Testone Rock is part of several glacial features in the park, where you can see many cool boulders and glacial rock deposits.
After Testone Rock, the trail is less used, and in the snow may be difficult to find. The blue blazes are easily visible, but there are many instances where they are tough to find, so pay attention.
The trail is moderately difficult with a few climbs and some traverses through small glacial rock deposits. Watch out for ice if you are traveling in the winter.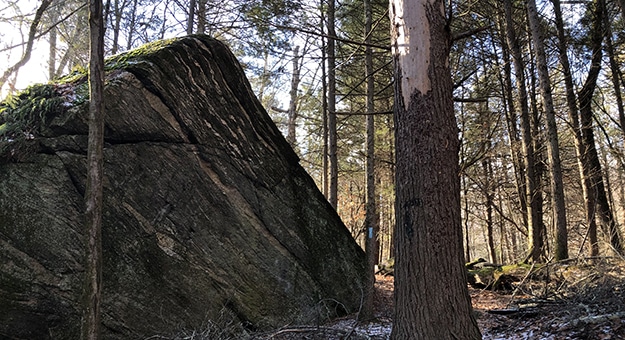 Second Half of the Loop
The second half of the Testone Boulder Loop takes you down through rocks and forest, where you rejoin the old service road before heading back to the parking area. The Connecticut Walk Book indicates two waterfalls along the route, but I did not see these features, maybe because they were frozen.
Post Trail Thoughts
The Testone Boulder Loop Trail's highlights include the large boulder and some smaller glacial rock deposits. The trail is a nice hike, but you probably want to combine it with some of the other trails in the area for a little more variety.
Related Posts
This page has affiliate links for products and gear I purchase and use. If you click on one of these links, I receive a small commission at no extra cost to you. There may also be Amazon links and as an Amazon Associate I earn from qualifying purchases. You can read more about my thoughts on affiliate marketing.