Fyler Pond Trail Summary
I hiked the Fyler Pond Trail in early January on a cold winter morning. The loops are only about a half-mile, and I knew it would go quickly, but sometimes the little side loop blue-blazed trails are some of the most interesting. Often, trails near water sources can hold some old surprises.
The Fyler Trail is located in Sunny Brook State Park. The trail passes through classic hardwood and spruce forest as it takes you by Fyler Pond, which was dug out by an old steam shovel in the 1900s.
Trail Snapshot
| | |
| --- | --- |
| Trail: Fyler Pond Trail | Length: .5 Miles |
| Sunny Brook State Park: 41.851267,-73.125882 | Sunny Brook State Park: Same as Previous |
| Difficulty: Easy | Terrain: Trail, Hardwood, Spruce |
| Location: Torrington, CT | Trail Traverses: Sunny Brook State Park |
| Highlights: Fyler Pond, Rock-Tree, Agricultural Equipment | |
Trail Resources
There are several maps you can use for navigation. I used my GAIA GPS App and plotted the trail using the Connecticut Walk Book – 20th Edition.
See additional maps below.
Fyler Trail Route
Sunny Brook's large parking area will probably hold about 20 vehicles. I was the first one when I arrived, but there were about eight cars there when I left, so it is a reasonably busy park. I was surprised since it was well below freezing.
Hiking southwest from the parking lot onto Boulder Testone Loop, I walked about .2 miles before turning north (right) onto Fyler Pond Trail. There was a dusting of snow, and a couple of ice-covered bridges, so the only real challenge was not busting my fanny on the little wooden bridges.
Agricultural Equipment
Just before Fyler Pond, there was an old piece of agricultural equipment to the trail's left. I took a couple of pictures to post on Twitter. My Twitter Gang always has fascinating perspectives on what I find, and this piece of equipment was no exception. They are nothing if not creative, as seen in the suggestions below.
Gravel Sifting Machine
Old Baler Pickup Head
Whangle-Wizzer 1898
Chicken Plucker – Continuous
Hay Rake
Space Junk
Header for Wheat Thrasher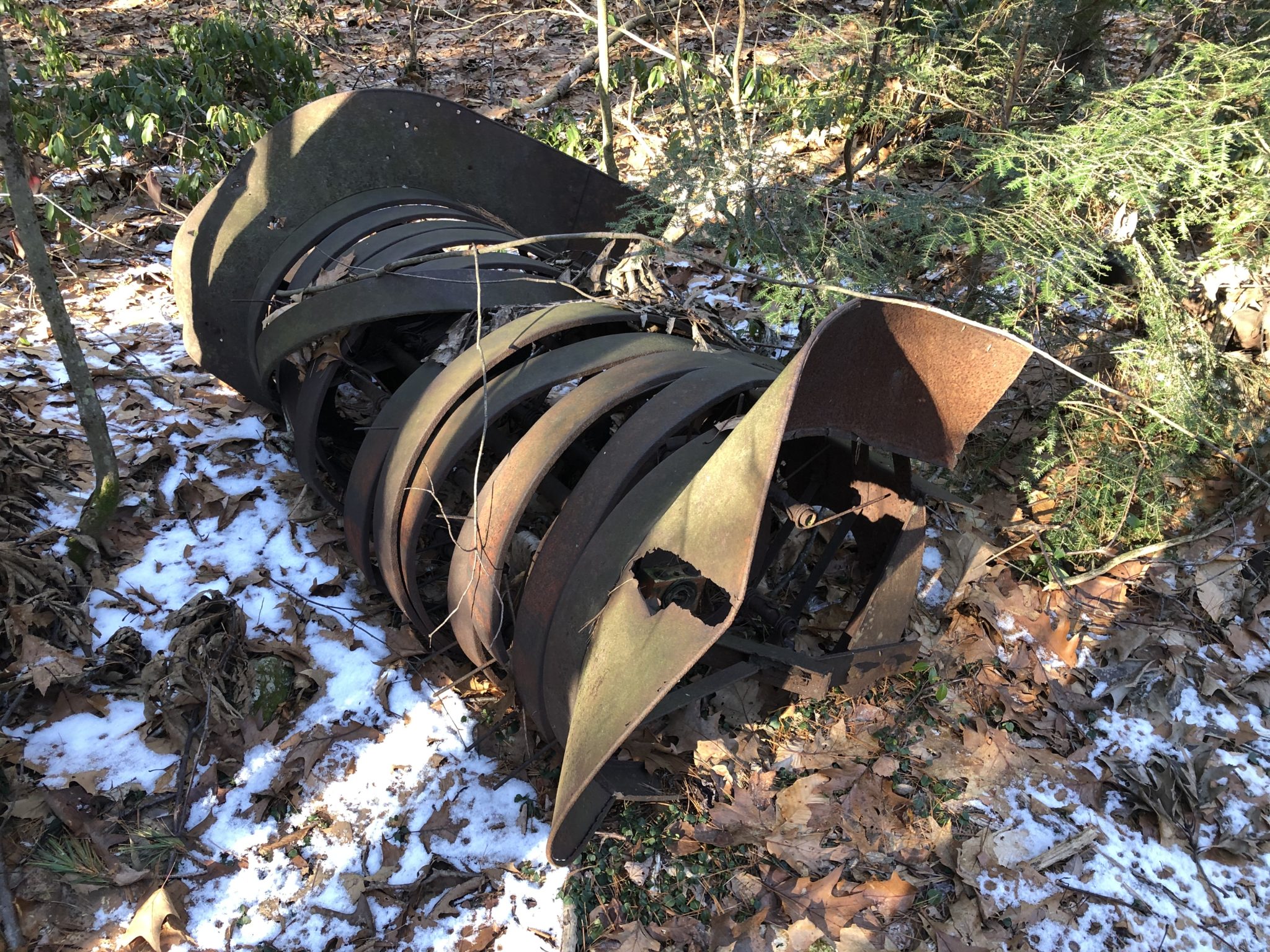 Fyler Pond
Fyler Pond was small, and although the ice did not appear thick, animal prints cris-crossed the snow on the frozen surface. Unfortunately, I did not stay long since I needed to keep moving to stay warm.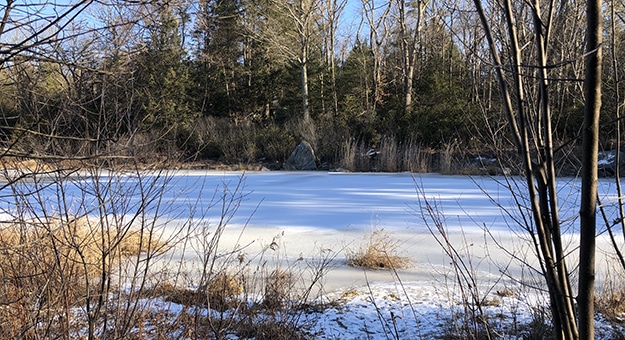 Embedded Rock
Leaving the pond, I climbed up through the woods past a prominent rock ridge. A very tenacious tree had grown up alongside and into the rock. Trees amaze me. The root system could have grown left with far less resistance; instead, the tree had chosen to embed itself in the rock.
I headed downhill through the open Spruce Forest and back to Testone Boulder Trail to take me back to the parking area.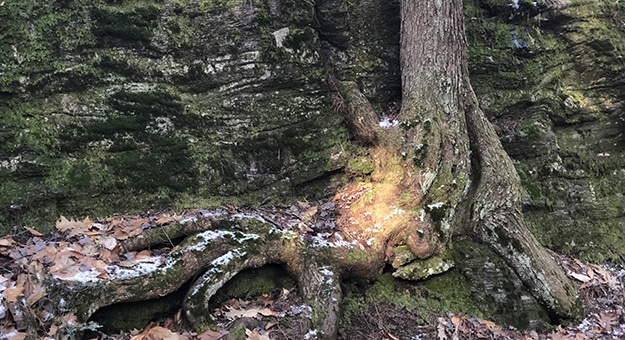 Post Trail Thoughts
This is a fun, easy trail that is easy to connect to other trails in Sunny Brook State Park and the Paugnut State Forest, like the Testone Loop Trail and the John Muir Trail.
Related Links
This page has affiliate links for products and gear I purchase and use. If you click on one of these links, I receive a small commission at no extra cost to you. There may also be Amazon links and as an Amazon Associate I earn from qualifying purchases.If this review has been helpful, please consider purchasing through the links above. Proceeds are used to purchase additional gear for review. Thank you. You can read more about my thoughts on affiliate marketing.