Hyperlite Stuff/Sack Pillow Overview
The Hyperlite Stuff Sack Pillow is a multi-purpose piece of gear that serves as my stuff sack and a backpacking pillow. I don't usually carry luxury items when long-distance hiking, and although it is a camping pillow, it is primarily a highly water-resistant stuff sack for my electronics and toiletries.
Pillows have always been a challenge for me, waking up throughout the night to restuff my stuff sacks with clothes or fluff up the flattened-out ball of brick-like clothing. The Hyperlite is a good solution for a better night's sleep, and proper sleep can't be stressed enough if you are hiking 10-15 hours a day. Like all of my other gear, the pillow is multi-functional and always gets a checkmark.
My current Hyperlite Backpacking Pillow has ended up being a great purchase, and after approximately 700 miles, it is still in excellent shape.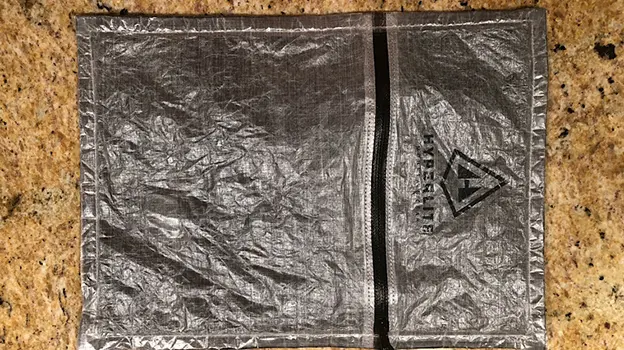 Hyperlite Stuff Sack Pillow Review – Requirements
My selection requirements are pretty straightforward.
Size to fit in sleeping bag hood and on Neoair pad
Lightweight
Waterproof or water-resistant
Roomy enough for all toiletries and electronic components
Reasonably soft against my skin
Different Types of Pillows
I am no stranger to backpacking pillows and have tried several pillow types over the years. In most cases, they were all just "another thing to carry," and I always returned to my jackets. I used stuff sacks, but the ones I used were either too small or too large for my jackets.
Compressible pillows take up too much room in my pack and are generally heavy.
Inflatable pillows are never comfortable for me, and I always seem to spend too much time adjusting the air to find that ever-elusive comfort level.
Down Pillows are comfortable, but they are not multi-use pillows, and although they can be compressed, they still take up valuable room in my backpack.
The Hyperlite Stuff Sack Pillow comes in the sizes I need and is a multi-use piece of gear.
Hyperlite Stuff Sack Pillow Review – Specification Summary
Size – Small (10×14)
Weight – 1.16 oz
Fabric – 100% waterproof Dyneema Composite Fabric (cuben fiber)
Polartec fleece lining
Taped seams
Water-resistant #5 zipper
Built by hand in Maine
Pillow Competitors
| | |
| --- | --- |
| Z-Packs Medium Dry Bag Pillow | $35.00 |
| Enlightened Equipment Minion | $60.00 |
| Aeros Ultralight Pillow | $39.95 |
| Therm-a-Rest Air Head Lite | $29.95 |
Hyperlite Stuff Sack Pillow Review – Materials
The Hyperlite pillow caught my attention because of the zipper. I've used many stuff sacks for pillows, and it always seems to break the drawstring connector. I often have to pull it tight because the sack is overstuffed, so the string connectors don't last long.
Thrashing around when I sleep is common, which is hard on the connector on the strings, so the zipper looked perfect. I like that the zipper is not on the fleece side of the pillow, and also water-resistant.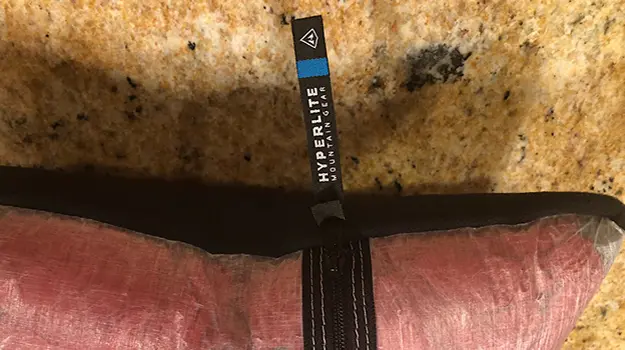 The highly water-resistant Dyneema fabric is great for the pillow, not only because of its protection from liquid but also because of its durability. The waterproof fabric and the water-resistant zipper keep my toiletries and electronics dry. One note – my electronics still go in ziplock bags no matter how "waterproof" the manufacturer claims any sack or pouch is supposed to be.
Finally, the fleece side is soft and warm. It is micro-fleece, so it does not provide much cushioning, but that is what the down jacket I use to stuff the pillow is used for in the case of this pillow.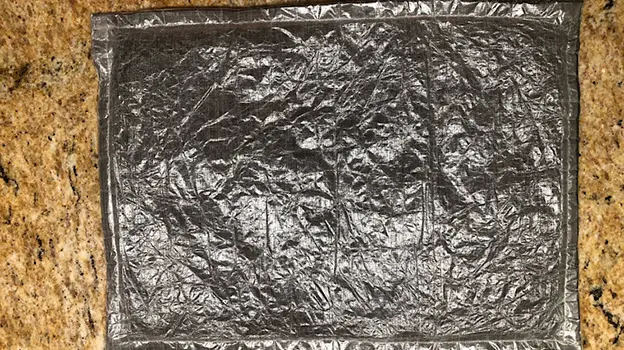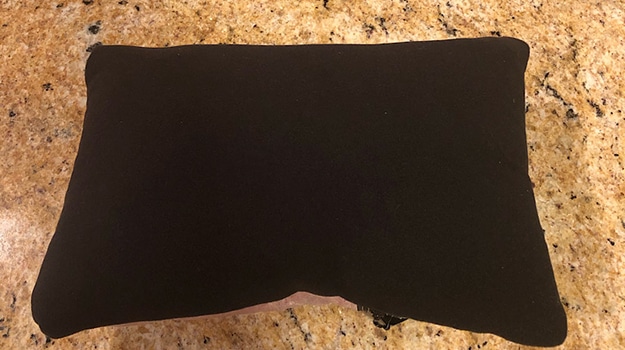 Pillow Fit
The pillow I use is a size small @ 10 x 14. I did not want a larger pillow because then I could not tuck it into the hood of my sleeping bag. Tucking it into the hood helps prevent the pillow from sliding around at night. Since I burrow, my sleeping bags are always long, and I can slide down and leave plenty of room for the pillow.
The pillow size is perfect for my Feathered Friends EOS Down Jacket. I don't like to sleep in many clothes, so I always carry a warm sleeping bag and use my puffy for a pillow. The EOS stuffs into the pillow and provides a pillow that needs no fluffing or rearranging during the night.
Hyperlite Stuff Sack Pillow Review – Post-Hike Summary
My Hyperlite Backpacking Pillow is one of my favorite pieces of gear. I've taken it on several hikes now, and it holds all of my toiletries and is a good fit for my Down jackets. My next pillow will probably be large. The large pillow is only a half-ounce heavier and about 2 inches longer. This will provide a slightly looser pillow, making it softer and not quite as firm.
The Hyperlite Stuff Sack Pillow is also very durable. As I mentioned earlier, I'm a thrasher, and the pillow gets tossed around quite a bit. After 700 miles, my current pillow has barely a scratch on it. This is a piece of gear I would recommend and will purchase again.
Pros
Versatility – I used it for both a pillow and a stuff sack.
Durability – The Dyneema material is tough, and my current pillow has 700 miles on it and is in great condition.
Comfortable – With my Down hoodie, and the micro-fleece material on one side, this is a very comfortable backpacking pillow.
Cons
Size – The small one is a good fit for my jackets, but I would like a slightly softer pillow, so I will purchase a large one for my next pillow.
FQA
Is the Hyperlite Stuff Sack Pillow waterproof?
The Dyneema material is waterproof, and the seams are taped, but there is always the risk of seepage around sewn points or zippers, so I always pack my electronics in Ziploc bags.
Should I purchase a small or large pillow?
I use a small pillow but would like a softer one, so I will purchase a large one next. The large is only 2 inches longer and a half ounce heavier than the small backpacking pillow.
Is the Hyperlite Backpacking Pillow Warm?
The pillow is as warm as what you stuff it with at night, but the micro-fleece on one side adds a layer of warmth and comfort.
This page has affiliate links for products and gear I purchase and use. If you click on one of these links, I receive a small commission at no extra cost to you. There may also be Amazon links and as an Amazon Associate I earn from qualifying purchases. You can read more about my thoughts on affiliate marketing.