This Sawyer Squeeze Water Filter Review describes a filter that is easy to use, reliable, and durable. After a lot of research, I decided to use this filter on my 2020 Colorado Trail hike.
Sawyer makes the Sawyer Squeeze and the Sawyer Mini. The Sawyer Mini is a lighter filter, but I need a durable filter that is not prone to clogging like the Sawyer Mini Filter. The Sawyer Squeeze is only one ounce more than the Mini.
Table of Contents
Different Types of Backpacking Water Filters & Treatments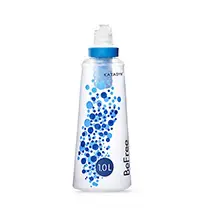 I have used most backpacking water filters or water treatments over the years, always searching for a lighter, better option. Most of them have worked well enough, but there are advantages and disadvantages to all of them.
Pump Filters (Katahdin & MSR Mini Filters) – When I first began hiking on the east coast and along the Appalachian Trail, these were the most common filters. With the canisters and hoses, mine had its section of my backpack. These are good filters that pump water fast and often have active carbon that improves water taste, but they are heavy and bulky.
Ultraviolet Filters (Steripen) – The Steripen filters are lightweight and easy to use, but mine was quirky. Battery life was not consistent, and it did not perform well in cold weather. These are good filters if I'm going on short hikes and not carrying much water.
Gravity Filters (Platypus Gravity Works, Katadyn Gravity Camp) – Gravity filters allow you to hang a bag of water and take care of other things around camp while the water filters through a single filter and hose. It is excellent for group camping or when you have time to hang out and wait for the water to filter. I used one on the CDT and liked it a lot. It was just a little frustrating when I had to wait for the water to filter.
Chemicals (Aqua Mira, Micropur) – Aqua Mira used to be my treatment choice when moving fast, although the Sawyer Squeeze is just about as easy. I am getting older, though, so I am a little more averse to putting chemicals in my body that are unnecessary. Note that Chlorine Dioxide also treats viruses.
Sawyer Water Filter Review – My Requirements
Bacteria & Protozoa Removal – I am not too concerned about virus removal since I mostly backpack and hike in the US. If this changes, then I will look at alternatives like pump filters or chemical treatments.
Ease of Use – When I filter, I do not want a lot of moving parts like hoses, batteries, canisters, etc.
Light Weight – Weight is essential. Filters and treatments are not that heavy, but a few extra ounces here and there eventually add up to a few extra pounds.
Sawyer Water Filter Review – Quick Specifications
Filter Material – Hollow Fiber
Weight – 3 oz
Removes – Bacteri, Protozoa, E. Coli, Giardia, Vibrio Cholera, Salmonella typhi, Microplastics
Sawyer Water Filter Review – First Glance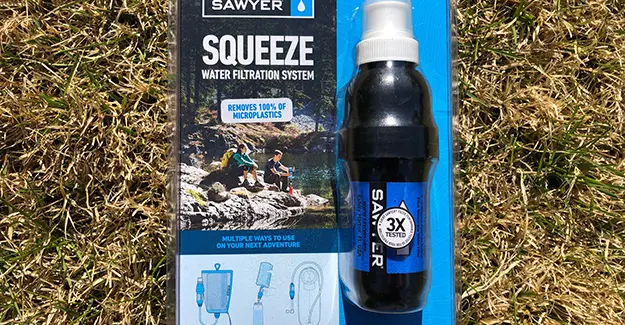 The Sawyer Water Filter comes in a compact package, and initially, I was a little taken aback by what seemed like a lot of components. As I unpacked the filter and reviewed the elements, I realized that many were optional – drinking straw, adapters, etc.
Sawyer Mini Components (S129)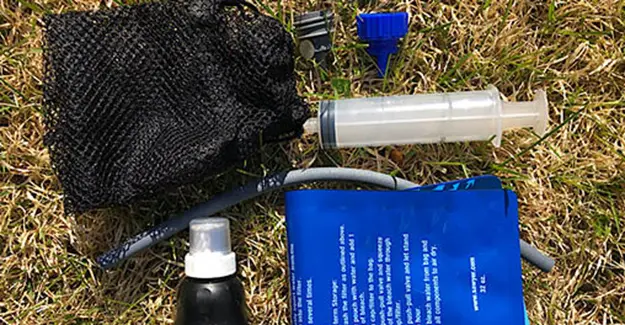 Squeeze Filter with Push/Pull Cap
(2) 32-ounce Collapsible Pouches
Back-washing Plunger
Inline Adapters
Drinking Straw or Gravity Tube
Mesh Carrying Pouch (also used for gravity water filtration system)
Sawyer Water Filter Review – Overall Performance
My current Sawyer Water Filter (Squeeze Version) has about 300 miles on it, and I have had no issues with it. The filter provides about 2-3 cups of water per minute, and I typically backflush it about once every 3-5 days. Clogging has not been a problem, but I have also not used it with water with a high amount of particulate matter.
Filter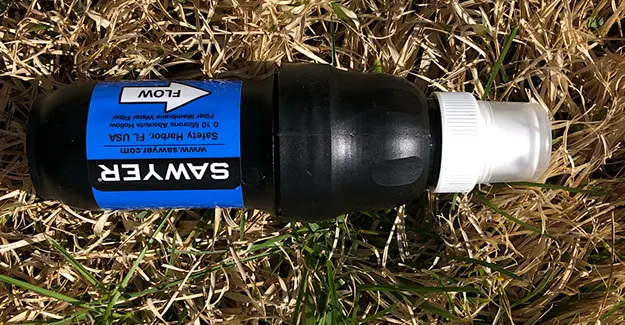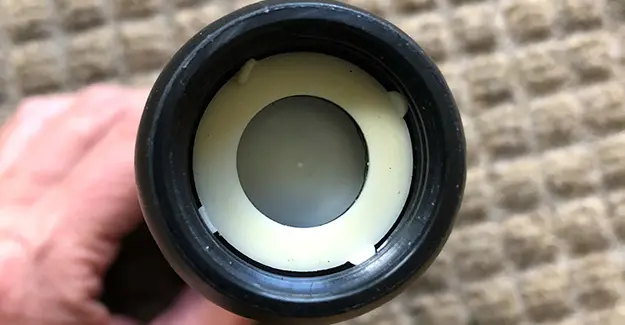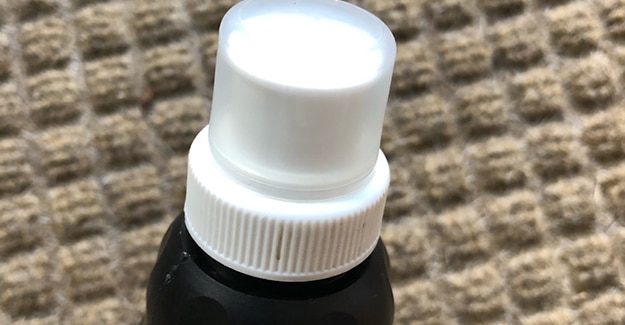 The Sawyer Water Filter itself is hard plastic. The inflow end screws onto a bottle or other compatible connection. The outflow end has a sports top that screws onto the filter. There is a small plastic cap that goes over the sport's top. This small-cap is easy to lose, so be careful with it.
Tip: I keep a small piece of cheesecloth over the inflow gasket. The cloth helps strain out large particulate matter, so the filter does not clog easily. If particles are especially large, then I will strain through a bandanna or coffee filter.
Collapsible Pouches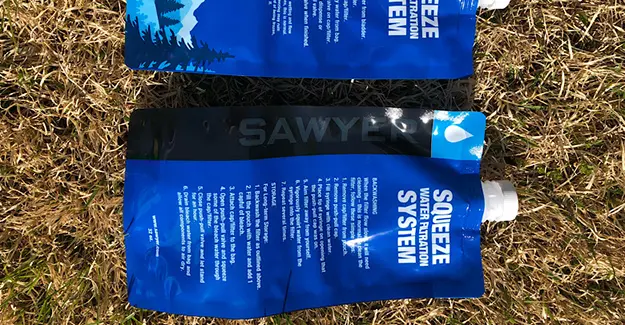 Two 32 ounces pouches can be used to squeeze water and for extra capacity. Some people choose to use one for dirty water and one for filtered water.
Tips: I don't use the Sawyer pouches due to a lack of durability. All my Sawyer pouches have sprung leaks at some point on every hike. If I need extra water capacity, I carry Platypus pouches, which I find much more durable.
I use Smart Water bottles to carry my water and do not drink from the sport's top. The Smart Water bottles are slightly more rigid plastic and the perfect size for the pockets on the sides of my backpacks.
One bottle holds my filtered bottle, and the other holds unfiltered water. I try to balance the water between the bottles, so I have the same amount of water weight on both sides of my backpack.
Backwash Plunger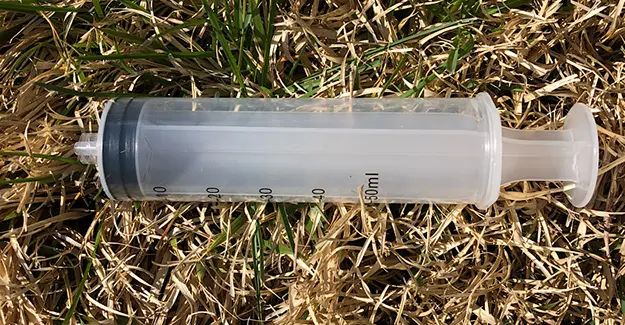 The backwash plunger is used to clean out the filter and prevent it from clogging. Sawyer says to backwash when the water flow slows. I backwash my filter every 3-5 days or when I am in town. If I am only going out for a few days, I backwash before leaving and returning home before putting it away.
Inline Adapters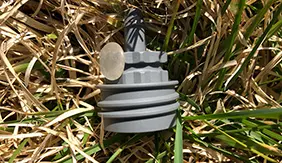 The inline adapters are great if you use a hydration sleeve. Since I no longer use a sleeve, I cannot comment on their performance. I can tell you that they appear well made and durable.
Drinking Straw or Gravity Tube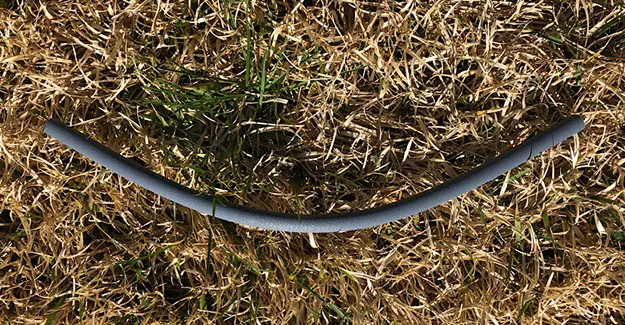 The Sawyer Water Filter also comes with a drinking tube, which you can either drink from (at least I've seen several comments saying this) or use to convert it to a gravity filter. I think a gravity filter would probably be the best use of the small tube.
Sawyer Water Filter Review – Final Thoughts
I have used many different types of water filters and chemical treatments. The Sawyer Water Filter (Squeeze) is the best filter I have used to date. The Sawyer Water Filter is lightweight, easy to use, and filters out 99.99% of all bacteria and protozoa. There are a lot of options on the market right now, but this is my go-to filter.
If you are looking for a lightweight filter that will not fail when you need it most, I suggest the Sawyer Squeeze Filter. For shorter hikes or a contingency option while day hiking, I would also recommend the Steripen.
The Steripen has become much more dependable over the last couple of years, and at 4 ounces, it is only 1 ounce heavier than the Sawyer Squeeze. Steripen also has a new 3-ounce ultralight, rechargeable device. I have not tried it out yet, but I look forward to reviewing the new Steripen.
Related Posts
Average Hiker purchased this filter and does not write sponsored posts or receive compensation for reviews. When you purchase through links on this website, I receive a small commission at no additional cost to you. If you have found this review helpful, please consider purchasing through the link above. You can find further affiliate details on the Affiliates Page. Thank you
Hi! Some of the links in this post are affiliate links. This means that when you click on one of these links, I earn a small commission at no extra cost to you. Also, as an Amazon Affiliate, I earn from qualifying purchases. Thank you.