September 28, 2022
Miles: 23.6
The morning was well below freezing as I poked my hand out from under my quilt to test just how far below. It was still dark, but I had been awake for a while after pulling my damp hiking clothes in with me to warm up. Putting on wet, cold hiking clothes was torture, so I always let them warm up for a bit before throwing off my quilt and putting them on very quickly.
Nobody else was up, so I packed as quickly and quietly as possible before putting on my headlamp and hiking out. My stomach was upset, and I jogged as far as possible from camp before leaning over and losing what little breakfast I had eaten. Frustrated, I continued hiking, hoping to walk off the nausea.
It was still early when I passed Caribou Pond campsite, and I heard no other hikers. This is where David (Retired Lawyer) said he was staying, and I think he was probably there when I passed. I never saw him again, but he signed a log book on his last day, where he exited the trail a couple of hours before I passed that trail junction. He appeared to have passed me when I stayed at Cascade Lodge.
I was feeling better by the time I reached North Carlson Pond. The terrain was easy to moderate, and the brisk morning air had cleared my head. It was colder than I expected. My stomach has always been sensitive and sometimes acts up for no good reason, although it probably considers being bombarded with freeze-dried food reason enough!
As I rounded a corner, a large dog moved quickly and silently toward me, glancing up as he passed. He briefly paused to say hi, but I could sense I was of no interest to him. His owners were behind him, and we paused to chat. I was in all my clothes and even my puffy. They were in a light base layer and a thin jacket. My tolerance for the cold was well below that of Minnesota hikers (this would become a theme throughout the hike). They were finishing up their last section of the Superior Trail and pretty excited about completing the whole trail, so we did not chat long. They were close to the finish.
Hazel campsite had initially been my destination for the day, but arriving there mid-morning, I realized the terrain was much more forgiving than I had anticipated, so I had a snack and moved on. Unfortunately, my next campsite would not be until Little Brule River, so this looked like it would be a long day.
Although I ended up hiking long miles, they were what I consider easy miles. The trail was well-maintained and wide since snowmobiles used sections and other stretches consisted of some dirt road walking. Even the single-track not used by vehicles was well kept. This was not what I had expected. I had read about how rugged the northern section of the trail would be, and so far, this was not the case.
The trail was beautiful as it traveled through Spruce, Maple, and Pine stands, crossing frosty bog bridges and eventually taking me down the Brule River past mighty Kettle Falls. I could feel the thundering water pounding in my chest as I looked down to see it raging over the Falls as it cut its way to Lake Superior.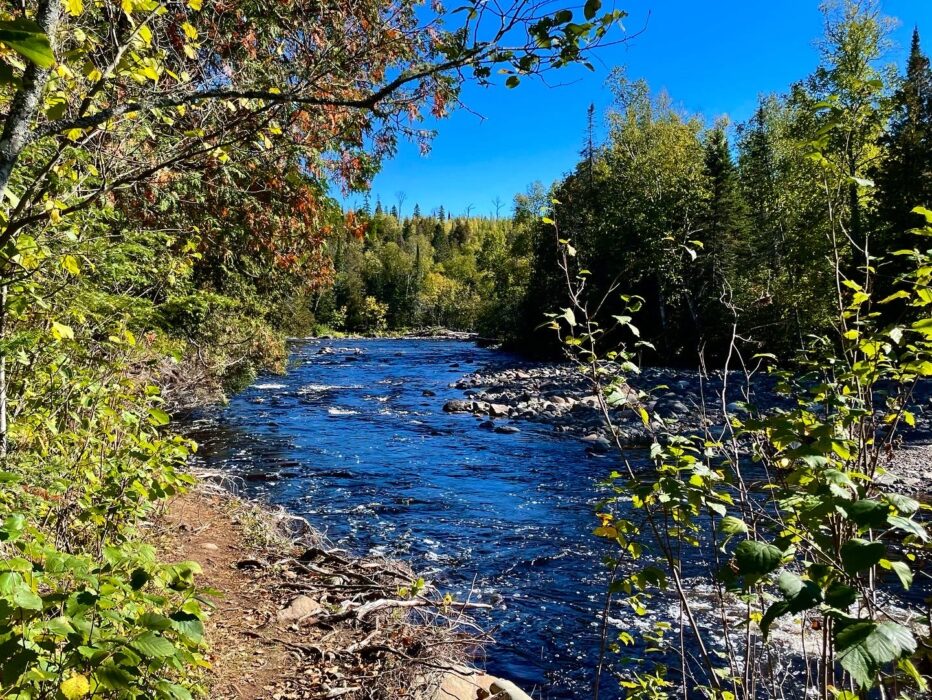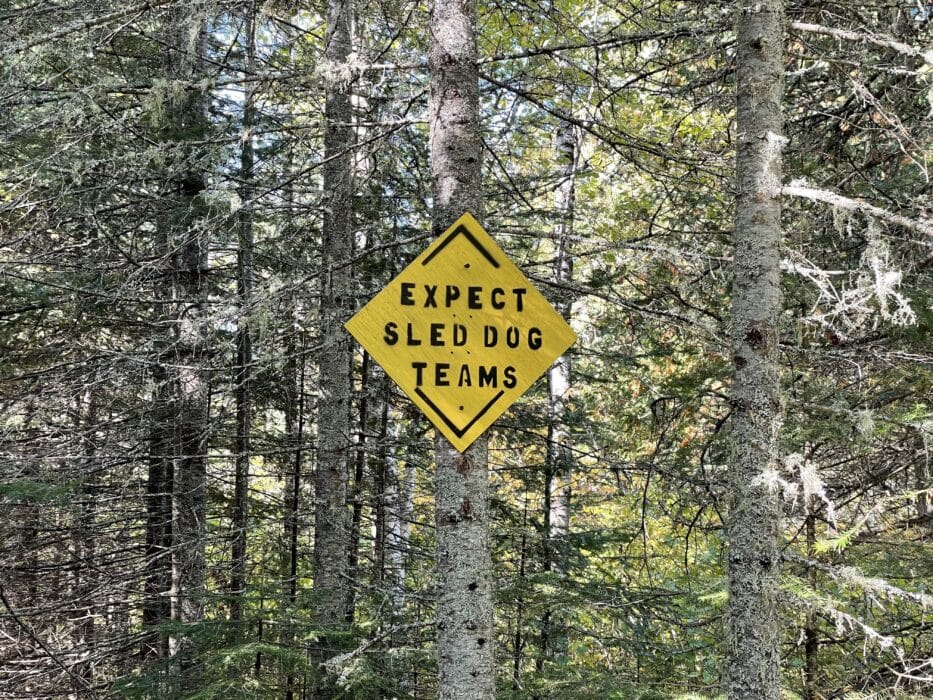 Once I reached Kettle Falls, there were plenty of day hikers snapping pictures with large cameras. Most of them had hiked up from Judge CR Magney State Park. The state parks in Minnesota are exceptional and popular for a good reason. They provide miles of beautiful trails and excellent camping facilities. Throughout the hike, I was always impressed by how clean the parks and trails were.
The Superior Trail skirted the edge of the state park camping areas before heading north and climbing up onto ridges along an old service road. The climb was nice and the tread moderate, and before long, I was hiking back down towards Little Brule River, where I would camp that night at the South Camp.
The campsite was decent, and I ended up camping alone for the night. There were not many nights where I did not camp alone along this trail. I did see other hikers on the weekends and near towns and parks, but I felt pretty remote most of the time.
As I settled into my tent for the night, I heard the long mournful howl of a wolf. I listened intently since there were not too many trails where I heard wolves that were this close. I hoped to see one before the hike was over.