October 4, 2022
The terrain had gotten harder; I noted as I hiked away from West Poplar in the cold, dark morning. My goal for the day was West Cross River because of the spacing of campsites, but that would make for a long day of hiking if I made the miles, and the current landscape was not very forgiving.
I hiked to Poplar River and crossed before heading up and over the flank of Moose Mountain. There was a side trail to the Summit of Moose with a cafe that served lunch, but I was too early to consider a detour. The elevation gain and loss continued to be tough as I traveled across the ski resort hills, but I expected no less since the Lutsen ski resort had chosen to locate in this area. They would probably not choose flat terrain!
I had been looking forward to climbing Oberg Mountain, but I could hear the people far before I saw them. So finally, rounding the corner, I stepped out onto the junction that took me up to Oberg and was shocked at the number of people streaming past me. This was probably the most popular side trail I had come across yet.
I sat on a bench near the trail junction to look at my maps and was immediately approached by people with many questions. Why was I carrying such a large backpack? Where was I going? Was I hiking the whole trail by myself? The questions did not stop, and within a few minutes, I decided that Oberg would have to wait for another time, and I continued down the SHT.
I stopped for a snack break on the other side of the Oberg parking lot, which was full. Sometimes people watching was a nice change of pace, and I watched as people politely competed for open parking spaces as others left. The techniques were definitely less aggressive than those in CT, NY, and NJ, where I lived.
My break did not last long before I got chilly and continued to Leveux mountain. Since I had not taken the loop around Oberg Moutain, I decided to take the side trail up to the Leveux Loop. There were some decent views about a quarter of a mile into the loop, but Oberg was probably much better.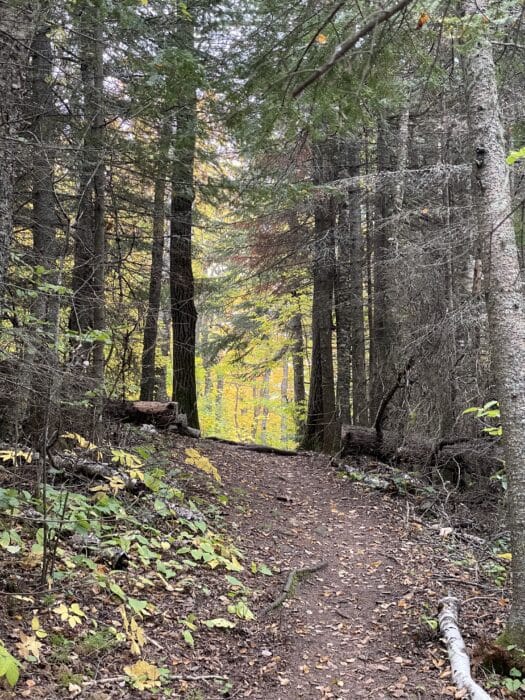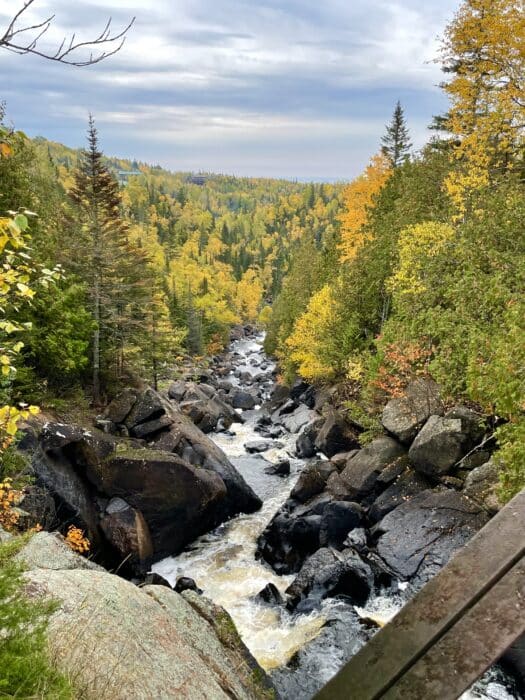 After leaving the Leveux, I traveled on over to Britton Peak Trailhead, hiking through more spectacular Fall foliage. The forests were beginning to darken with clouds, and I did not see any people until I reached the trailhead parking area. Crossing the parking lot, I saw a picnic table beside the trail and stopped for an earlier dinner. I was stopping to eat before camp is really ideal for me. I prefer to eat where I sleep. It really did not matter on this trail, though, since most hikers made dinner at the campsites, and I was supposed to camp at designated sites.
After eating, I hiked over to Ted Tofte Overlook and Carlton Peak. They both had lovely views, and I would like to have stayed longer, but it had started to rain, and the night was falling fast. At this point, I knew I would not get through Temperance State Park before dark and did not want to risk getting lost in the dark since numerous intersections around the State Park could get confusing.
I put on my headlamp and hiked into the Park, looking for someplace to tuck into the woods and set up my tent. I felt better that I was on state land, not private property.
The bad thing about the northern woods was how dense they were. There were some hardwoods, but there seemed to be mostly Spruce and Pine where I was hiking. Unless it were designated camping or on the trail, I would have difficulty finding a camping spot.
Eventually, I saw a faint trail off to my right. It was mainly overgrown, but I pushed through until I reached a large Spruce on the banks of the Temperance River. Unfortunately, the river bank was pretty eroded, and I had visions of being part of a landslide, so I pushed back to another group of Spruce and found a small clear spot under the trees to set up. I felt a little guilty about not making it to a campsite, but my maps indicated I was still on State land and not on private property.