October 6, 2023
I'm glad I moved my tent last night. Wind and rain raged along the Superior Trail last night as a front moved down from the north, plummeting temperatures! I had awoken to my tent snapping in the wind as sheets of rain pummeled it for several hours. The tent held up like a champ, and I had no leaks or flying tent stakes. I was pretty impressed with its performance.
It was freezing and still drizzling when I dashed out of my tent in the dark and climbed the steep hill to the toilet seat. Sitting on a freezing wet toilet seat is almost as bad as putting on freezing, damp hiking clothes. The only reason the toilet seat is not first is that my fanny heats up more quickly!
I was moving fast as I started hiking, working to warm up without my puffy. Since it was raining, I did not want to wear it, and I knew I had enough climbing to warm me up. It took longer than I expected, but I eventually felt the heat radiate through my limbs and warm up my frigid digits. The skies had also cleared, and even if it was not any warmer, the site of the sun tricked my mind into thinking it was warmer. I turned my face to the skies and basked in the golden glow of a beautiful day.
Since I would be resupplying in Finland, MN, tomorrow, I wanted to get as close to the road as possible. Roads out here are pretty desolate, and I knew I would probably not get a hitch on the 3-mile walk into town, so I wanted to get close for breakfast. My priorities always revolve around my stomach – a powerful force when hiking!
Hiking was relatively moderate through dense wet forests with the occasional glimpse of Lake Superior. Still, once I passed Horseshoe Ridge, it got a little more rugged as I dropped down towards George Crosby Manitou State Park. I passed several backcountry campsites but was targeting a day shelter that appeared on my maps to take a mid-morning break.
I came around a bend in the trail and let out a deep sigh of disappointment. But unfortunately, there was not much left of what looked like an old burned-out shelter, so I kept hiking, wishing I had stopped at a small bench I had passed earlier.
My goal for the day was to camp at North Egge Lake Campsite. This would put me right outside the town of Finland, where I planned to walk in and resupply, get a hot meal, and hike back out. This plan changed, though, when I passed two section hikers camped at Blesener Creek campsite. They were packing up camp at around noon and wanted to know where I was staying.
I had seen the two guys once a few days earlier, and they were friendly, but I wanted to get to bed early since it was cold, and I also wanted to get up early for breakfast in Finland. I told them I wasn't sure, and they announced they were shooting for North Egge. This meant I would probably camp at South Egge.
The afternoon passed quickly; I stopped at Sonju Lake, which was beautiful. There was a narrow boardwalk to a small rock outcropping, and I stopped to take pictures. Foliage made the views striking with the clear blue body of water surrounded by fiery trees on a clear Fall day. Sonju Lake is the featured image in this post.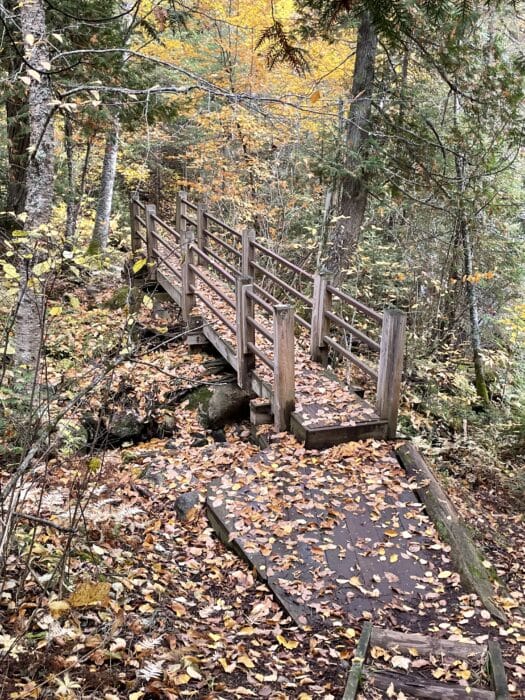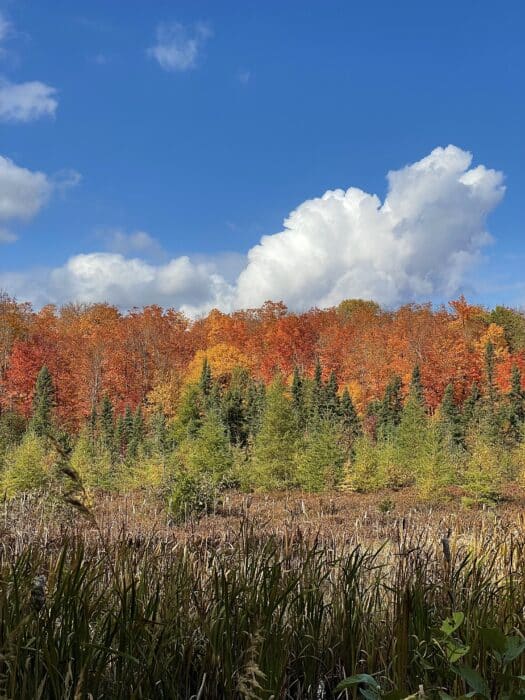 I spent about a half hour at the lake before moving on through vibrant Fall colored forests. The foliage was amazing! Cold kept me moving; I had arrived at South Egge campsite before long. Halfway down the spur trail to the campsite, I was startled by a male voice yelling, "I know you!" Peering through the trees, I saw Mike grinning back at me.
Mike was the young man I had met at the northern terminus, and he had also camped at the campsite where I stopped the first night. He had a large fire next to the lake, and we chatted as I set up my tent on the other side of the campsite from his up on the edge of the trees out of the cold wind.
After setting up, I went and made dinner by the fire. The highlight of the time spent by the shore was a fly-by of three huge white swans. We heard them coming and ran to the water's edge to watch them pass us and land in the water. They were beautiful birds.
We talked for over an hour until the cold wind chased me back to my tent. Mike was from Minnesota and had that mutant cold gene, I noted as he kicked back by the fire in sandals, pants, and a light jacket. I looked like a giant blimp with everything I owned wrapped around me, still not warm!
It was so cold. Even under my 15-degree quilt with all my clothes on, I was freezing. It was amazing how tolerant everybody I met in MN was to the cold temperatures. I burrowed down under my quilt in all my layers. I was glad I had my little tent. It did not necessarily keep me that much warmer, but it kept the cold wind from blowing through the shelter like my tarp tent allowed.
Mike was still hanging out by the fire, reading as I drifted asleep. He was a mellow guy enjoying his two or three weeks on this trail. He usually started hiking reasonably early in the morning but was finished by early afternoon or whenever he came to a nice spot to read. Just taking it all in…