October 3, 2023
I came back inside from sleeping on the front porch before the morning sky began to lighten. My neighbors were early risers, and their car had startled me awake. I took one last shower and packed up my food and gear while I waited for the restaurant to open. One last breakfast and a sandwich meant I would not need anything but dinner today.
I was surprised not to see any other hikers, but it was peak season, and I knew the cabins and rooms had probably been booked at least a month in advance. I had made my reservation about two months earlier since it was my first stop. It is usually easy to determine the miles I'll hike for the first handful of days. I had thought I would at least see some for breakfast, but I had seen very few thru-hikers on this trail.
I was hiking by about 9:30 AM, and the climb up from Cascade Lodge was moderate and well-marked. Using my maps, it was easy to find my way back to the SHT. Before long, I had reached a small backpack shelter and overlook with views that offered a hint of the foliage I would encounter on the trail throughout the day.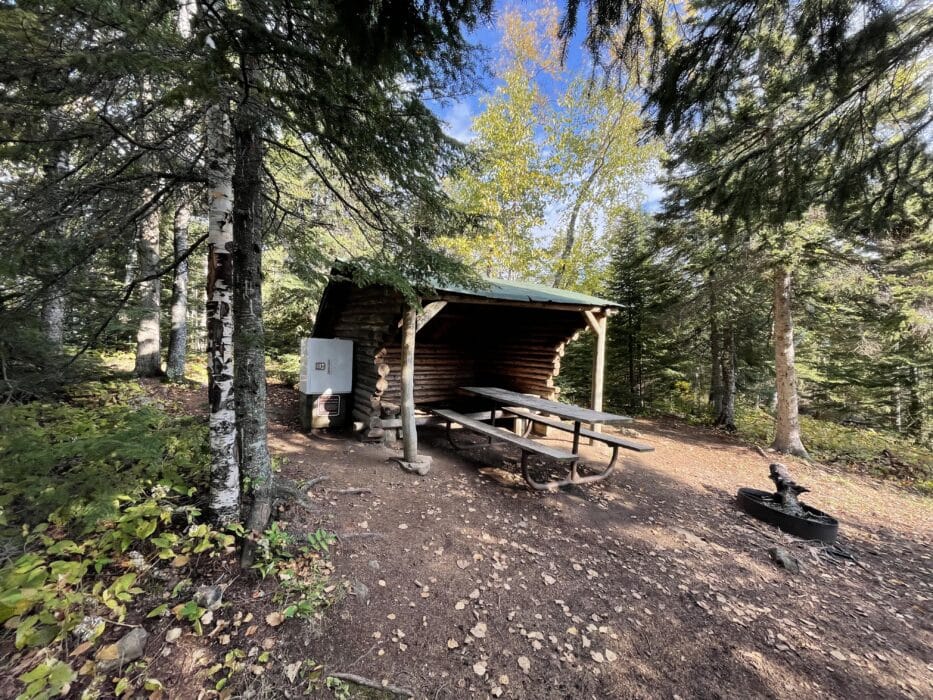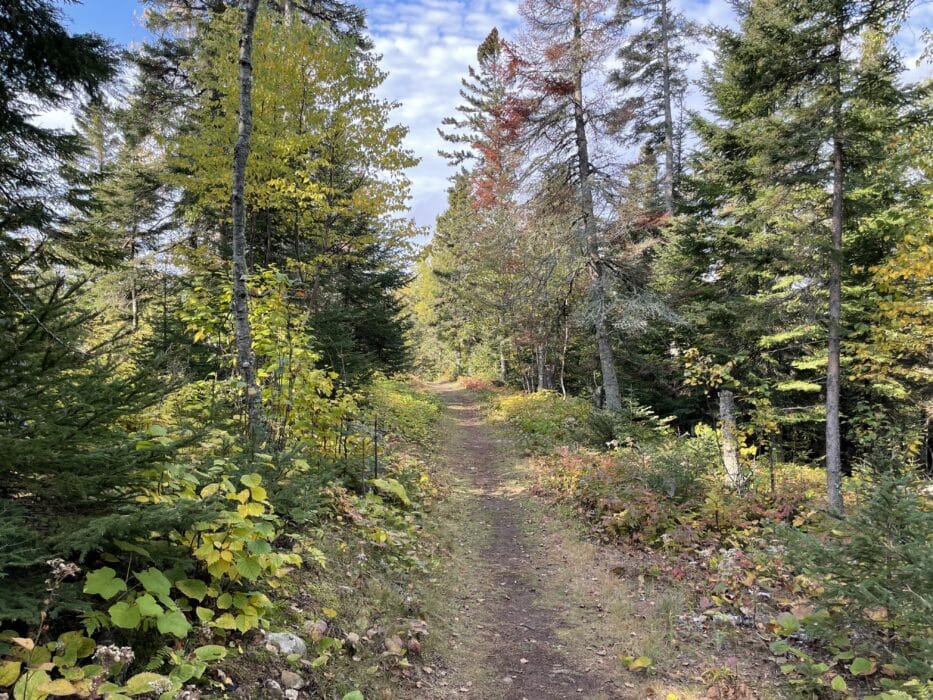 The foliage along the section of the trail between Cascade Lodge and Big Agnes Lake was stunning! This is a section I would recommend for anyone wanting a taste of the Fall foliage along the Superior Trail, and clearly, the local hikers knew this. I passed many day hikers and section hikers, and at one overlook, I came around the corner to find a group of backpackers lined up along the trail in their Helinox chairs, just soaking in the views.
The views from the ridge walk over hills blanketed in layers of color were breathtaking, and at one point, I came upon a series of benches positioned for a view out over a foliage-ringed lake below. The benches looked like pews in a place of worship. I could not think of a more spectacular spot to sing your praise to whatever god you worship.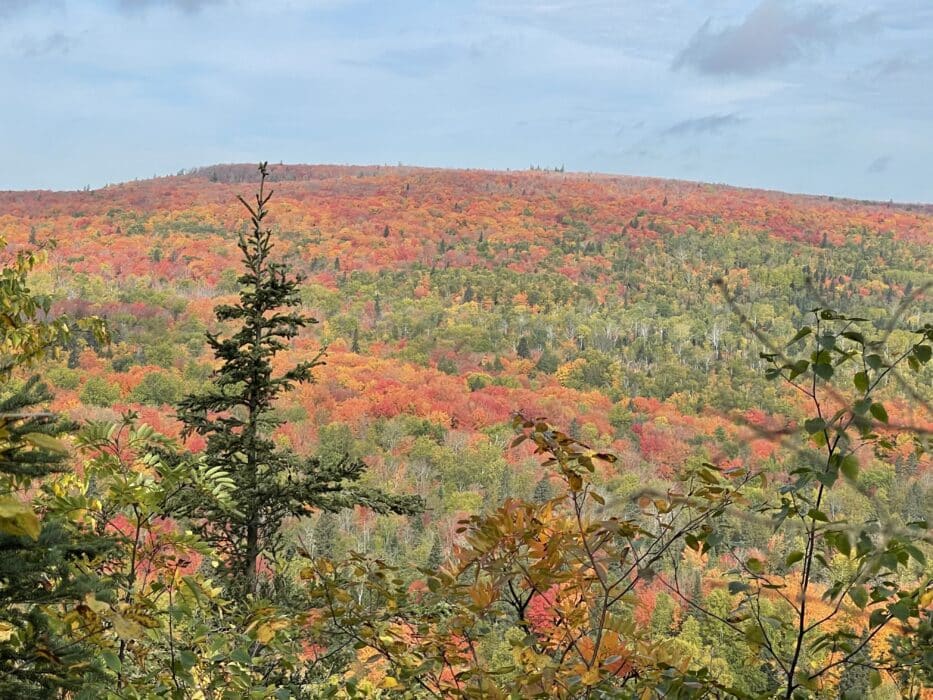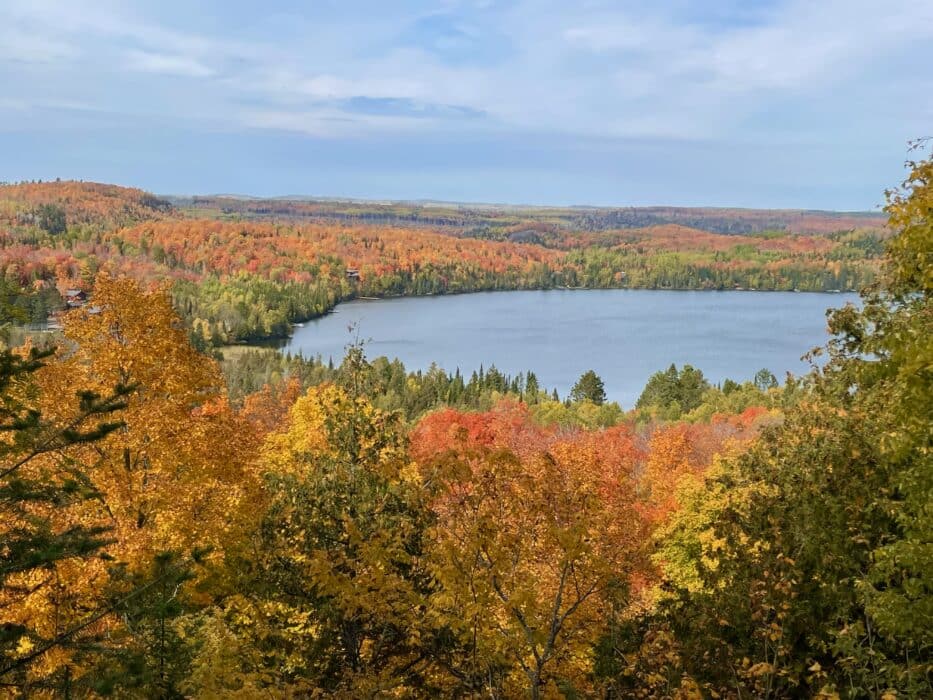 Lake Agnes was one of my favorite locations of the day, with a small, brightly colored island in the middle of the lake. The campsites looked well-used and quite popular, and I ran into a few other day hikers wandering along the shores of the gorgeous little lake. The shoreline was ringed by dark spruce trees that appeared to be tipped with fringes of fire from the hardwoods layered behind them. This trail section made me fall in love with the Minnesota North Woods.
Leaving Lake Agnes, I hiked down to the Poplar River and noted that it was later than I had expected. I had lost track of time immersed in the Spectacular Fall foliage along the trail, stopping to admire breathtaking views and vistas laid out in waves of color. Looking back, this would probably be one of my favorite days on the trail.
Since it was getting late, I decided to stop at either East Poplar or West Poplar campsite. East Poplar was on the back end of Poplar Lake and right down along the water's edge. There was a man set up, but he said there was room for another tent and I was welcome to stay. We chatted for a bit, and I told him I would move on another half mile and check out West Poplar. I think he was a little relieved since it was a small site. I completely understood.
I saw a lone hammock set up at West Poplar, but it was a much larger campsite. Nate was a young guy out for a couple of weeks and seemed to welcome company. I found a fairly flat spot on the other side of the campsite, set up my tent, and then returned to the fire ring to make dinner and chat with Nate while I ate.
Nate and I ended up talking until just about dark. We had a fun conversation with the usual topics – trails, gear, etc. As we were finishing up, it started drizzling, and I hurried back to my tent to tuck in for the night and listen to the patter of rain on my tent fly. I loved the sound of rain on my shelter and always slept best in rain storms.