Women's Voormi River Run Hoodie
Recently, I decided to get a new "sleeping shirt" for backpacking, and the Voormi Women's River Run Hoodie was my choice. I loved the look of the hoodie and the loose, comfortable fit. I also wanted a hoodie with no dangling drawstrings, zippers, or big buttons since I would be sleeping in it.
In addition to comfort, my sleeping shirt is also my "town shirt," so it needs to repel odor. I often throw it on before getting into town so I'm more presentable for hitchhiking and don't instantly repel those I meet. It also helps if I want to grab some food on my way to wherever I'm staying.
The requirements for this hoodie were simple.
Wool blend, thin, soft, and lightweight
Deep hood
No zippers, drawstrings, big buttons
Loose, so it does not constrict me, as I'm a "tosser" at night.
Attractive
I had been searching for the right hoodie when an ad for Voormi popped up on Facebook.
I had been looking for months, and the River Run Hoodie checked all the boxes. Although I had never heard of "Voormi," I decided to check them out. The hoodie was pricey @ $129, but my last sleeping shirt lasted ten years, and I was willing to pay for quality.
Benefits of Wool
Retains Warmth – wool retains its insulating characteristics and keeps you warm even when wet. This hoodie was a good extra layer to have.
Odor/Stain Resistant – wool is both odor and stain-resistant, making it a very good layer for backpacking.
Repels Moisture – the weave of the fiber makes it naturally water resistant.
Comfort – while pure wool can be a little scratchy or itchy, it is very comfortable for extended use if you find a good wool blend layer.
Initial Testing of the Women's Voormi River Run Hoodie
My quality control specialist, and clothing model, tested it out first and passing that gauntlet, it was my turn to take a spin in the hoodie. Lu is Stafford-shire Terrier. She has very short hair and loves wearing clothes since she gets cold easily. I had trouble retrieving the hoodie from her.
After a day and a half of wearing it around the house, I was pleased with the lightweight hoodie. It met all of my criteria and was a good-looking layer (always a plus).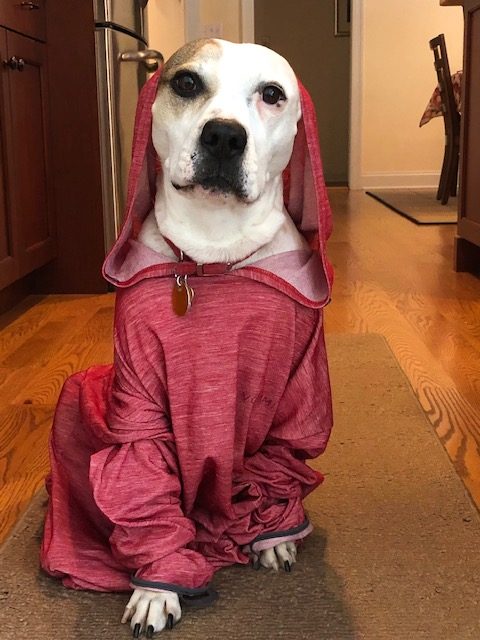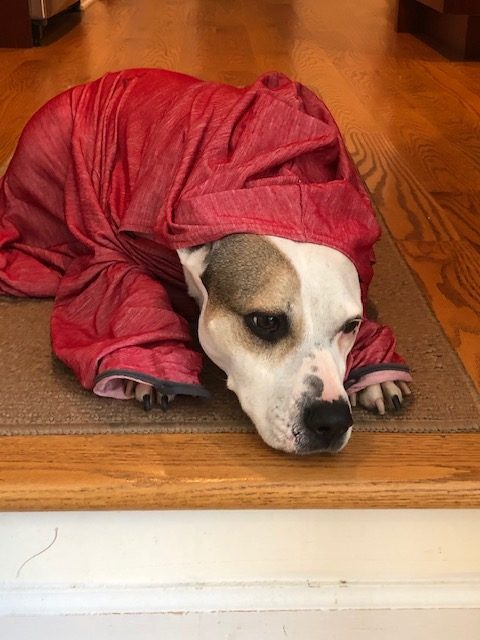 Quick Specs
Fabric – DUAL SURFACE Blended Wool 52% Wool / 48% Polyester
Weight – Women's Medium 5 oz.
Color – Rose
Cut – Relaxed
Competitors
Woolx – $144
Icebreaker – $180
Woolly – $99.99
Smartwool – $140
Women's Voormi River Run Hoodie Material
The Women's Voormi River Run Hoodie is made of a wool blend – 52% wool and 48% polyester. I had hoped this meant the hoodie would not be itchy, and I was correct. I wore this hoodie for nine days on the Arizona Trail without washing it. The garment was never itchy.
When I arrived at camp at the end of the day, I would immediately put on the hoodie and my Feathered Friends Helios Down Jacket, so I had warm, dry clothes. I HATE being cold. I would also sleep in the very comfortable hoodie, and there were a couple of times I hiked in it when the mornings were colder than I had anticipated.
By the 9th day, the hoodie had almost NO ODOR. I was pretty impressed with its odor-resistant performance.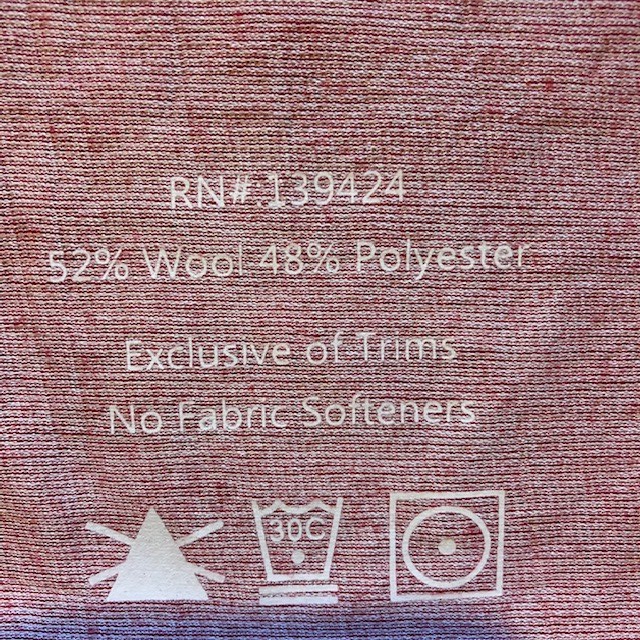 Appearance and Fit
Besides being lightweight, the hoodie has a relaxed fit. This is a plus for me when sleeping. I do not want a fitted garment. The rose color is also a solid color I like. Voormi offers four different colors, unlike a lot of performance hoodies. The initial relaxed fit also led me to believe the hoodie would have a deep hood, which is good to layer over hats or beanies. This is the case.
The hoodie met my expectations. The material is a little thinner than I had expected, which makes it great for sleeping and warmer desert temperatures. The size I chose was an XL since I would layer it over other shirts. The looser fit makes this the perfect choice.
The color is a rose red, just like its picture, which is not always the case. I like more natural, slightly muted colors. Finally, and certainly of importance, is the deep hood.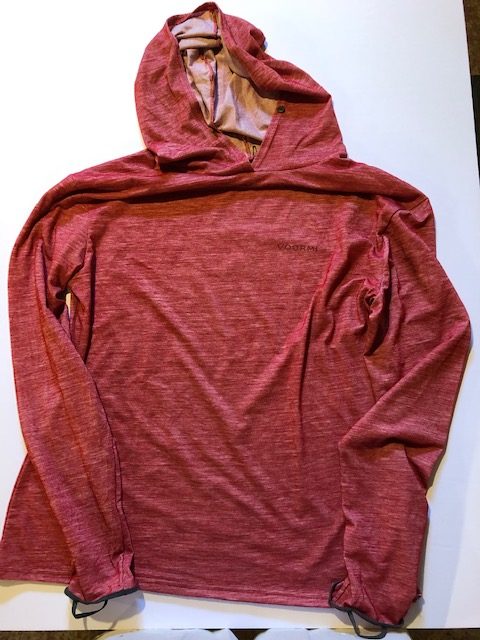 Hoodie Extras
There are a few little extras on the hoodie. Some I like, and others I could do without.
There is a small button above the neck. I like this because I can tighten the hood when I sleep or in windy conditions, but it does not choke me.
Thumb loops – It does not need these, and I don't care that much for the elastic material, but if you're using it for more of a performance hoodie, when climbing, skiing, etc., these are nice to have. They are so small that I don't notice them.
I like the brand name on the front. It is a darker shade of red and is subtle. The same goes for the "V" on the back shoulder of the garment.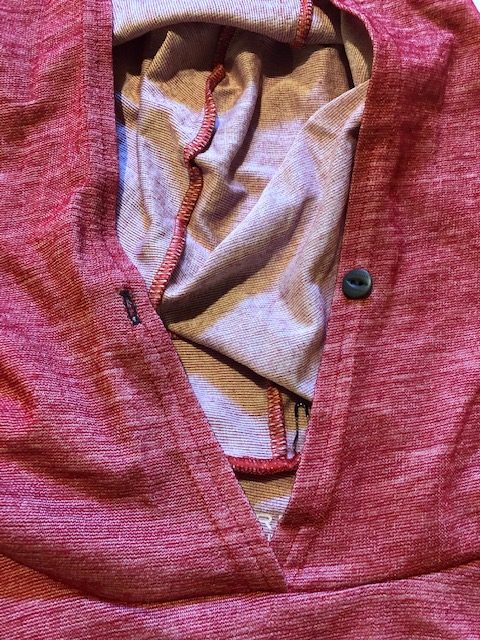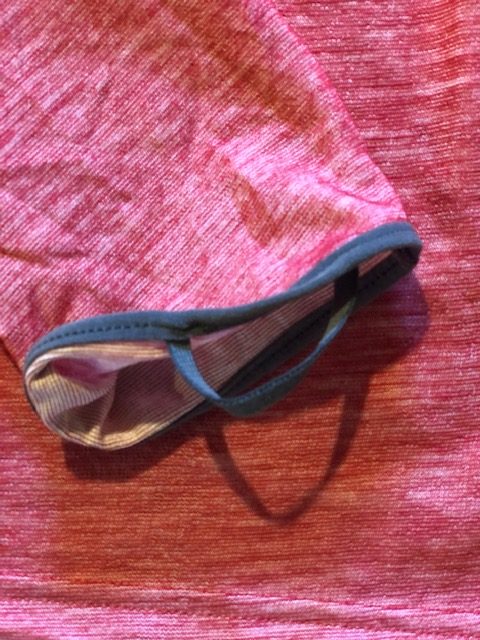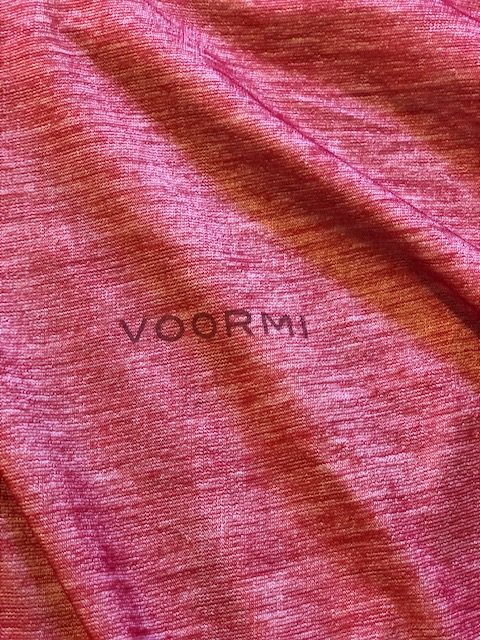 Women's Voormi River Run Hoodie Post-Hike Thoughts
Before taking this hoodie on my Arizona Trail hike, it became my "go-to" hoodie at home. I wore it around the house, to the store, walking, and anywhere that required, I throw on a quick, comfortable, casual layer. I like the loose fit, and it is a good-looking hoodie.
The 151 miles hiked on the Arizona Trail did not phase this hoodie, making it a great sleeping layer. I slept in it every night with my Kora Beanie, hiked in it some mornings, and always wore it when in town. The hoodie never itched and was very comfortable. My favorite thing was how "fresh" it remained. Not only did it not smell, but it resisted my repeated attempts to stain it.
I had a few questions about the hoodie when I first purchased it. The layer was lighter than I had anticipated, and I was unsure how well it would hold up under hard hiking conditions. Needless to say, the garment squashed any doubts pretty fast. I would purchase this hoodie again.
This page has affiliate links for products and gear I purchase and use. If you click on one of these links, I receive a small commission at no extra cost to you. There may also be Amazon links and as an Amazon Associate I earn from qualifying purchases.If this review has been helpful, please consider purchasing through the links above. Proceeds are used to purchase additional gear for review. Thank you. You can read more about my thoughts on affiliate marketing.