Housatonic Ridge Trail Overview
The Housatonic Ridge Trail to Candlewood Mountain was a frustrating hike. This was partially due to my own lack of preparedness, and partially due to confusing placards. I did not finish the 6.2 mile point to point trail, but plan to return soon.
The Housatonic Ridge Trail is located near New Milford, CT. The trail is 6.2 miles from point to point, and guides list it as "difficult." Elevation Gain is approximately 1,950 feet, some of the gain relatively steep near the beginning of the hike.
This trail travels above the Housatonic River, through the Northwest Highlands, paralleling Route 7. The Trail traverses Boardman Mountain and Pine Knob before ending at Candlewood Mountain. There is also a short blue blaze to Kelly's Slide on Candlewood Mountain.
Related Posts: Mount Egbert Day Hike, Sages Ravine and Race Mountain, Bear Mountain and Lions Head, Appalachian Trail RR Stop
Logistics
Trail Length – 6.2 Miles Point to Point
Difficulty – Moderate to Difficult
Start Location – 50 Gaylord Road – 41.631500, -73.483420
Trail Head – 2-3 cars
Maps – CFPA Maps
Day Pack
Nike Day Pack
Men's Precip Rain Jacket
Marmot Wind Shirt
Petzl Headlamp
Kora Beanie
Feathered Friends Helios Down Jacket
First Aid Kit
Smart Water Bottles (2)
Sawyer Filter
Gerber Knife
Montbell Women's Versalite Rain Pants
Gloves
Phone Battery
Trailhead
The trailhead was actually about a quarter of a mile past the address in my GPS, after the Gaylord School built in 1740. There was a new kiosk that made the trail head easy to spot though, along with a fairly new gate. The property was maintained by the Weantinogue Heritage Land Trust.
There is very little parking provided since the gate to the road is locked. At most maybe 2-3 cars can fit in the trailhead parking area. The main road is fairly narrow and curvy, so I would not suggest parking along the side of it. This trailhead definitely does not have the best parking.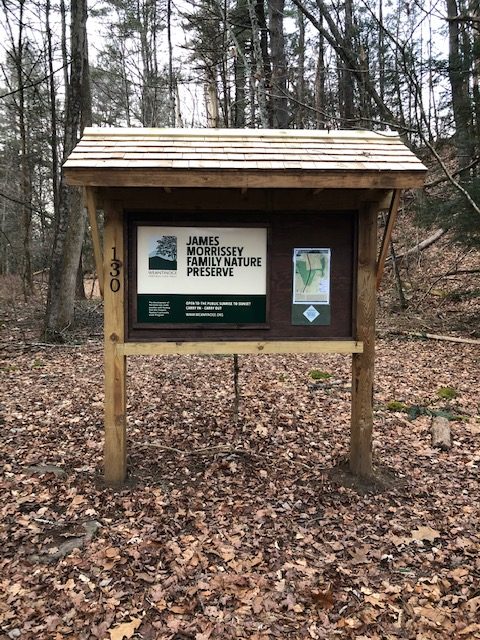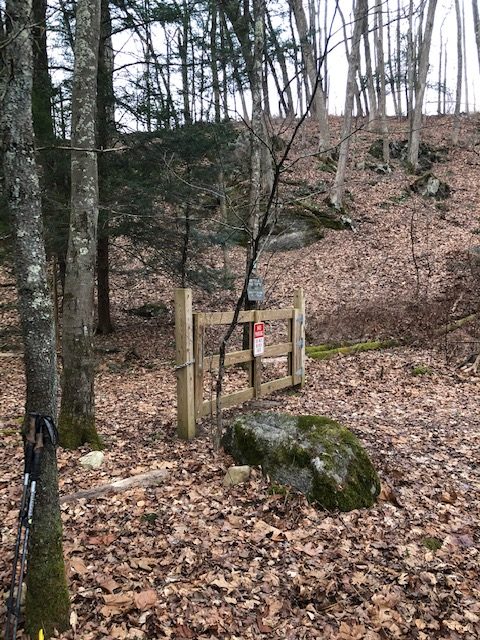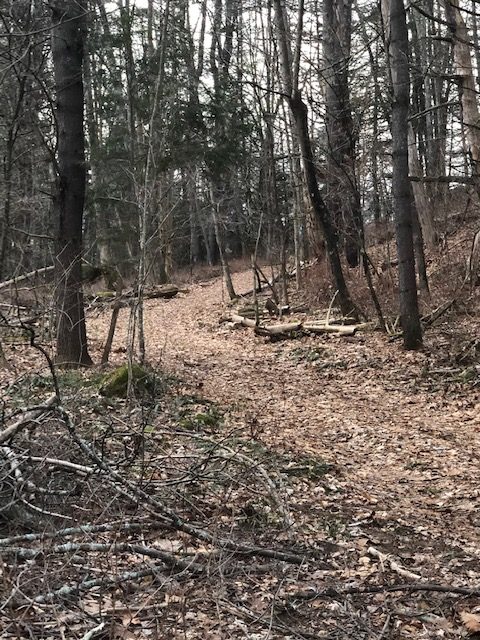 Ridge Climb
The trail left the trailhead, following an old woods road for about 100 yards before coming to a very clear turnoff for the blue blaze trail. I grinned broadly – "OK, I thought, this will be a clear route." Jinx!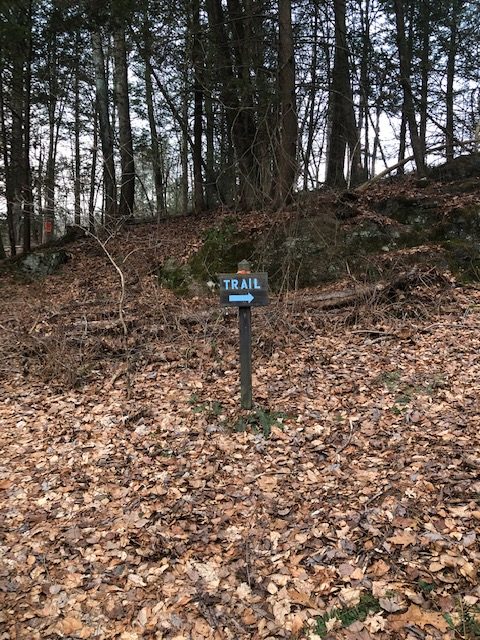 New bridges seemed to indicate the trail was well maintained, although lightly used by other than the maintainers. The first mile was clearly marked with a combination of blue blazes and small green and white arrow placards. The trail skirted a few homes, and what appeared to be a horse farm, before turning north and heading straight up the ridge to Boardman Mountain.
Red Flags
My first red flag was the pink tape that replaced the placards. Once I had finished the climb up to Stats Rock, I came out of the woods into an old field. At this point there was pink tape, which I followed until i came to a stone wall. It was obvious the trail traveled through the wall, and placards with green arrows clearly pointed to the left, down an old Woods Road. There was also a kiosk in the distance, which is usually a good sign.
I glanced right after the wall and saw no placards in that direction, where the road continued down the ridge. Glancing at my map, the directions appeared correct (I later realized I was holding the map upside down – no comments please).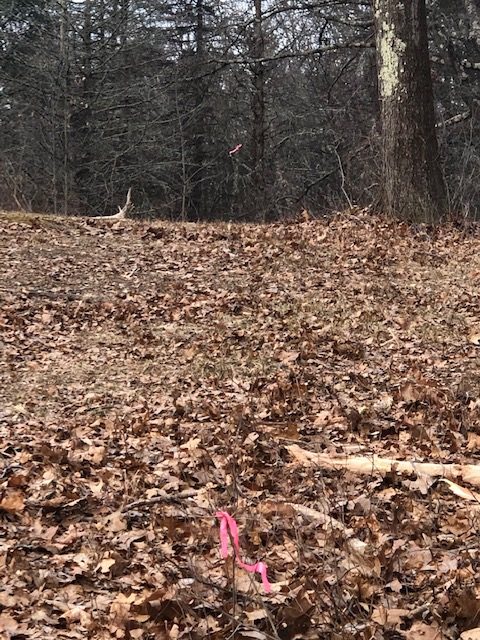 Wrong Way
Like a dog on point, I aimed for the kiosk, and glanced at it as I marched right past it and down a more frequently used dirt road. I walked down the dirt road, past a boundary sign, and continued onto a paved road. I began to slow down about a half mile past the kiosk, as I noted a private drive sign and began passing residential homes.
It was at this point that I decided to take a better look at the map. Flipping the map in the other direction, I realized I had gone the wrong way, and turned to head back up the hill to where I had taken a left at the stone wall. Peering down the woods road, I saw a small white placard. Ah ha…..
Trail Placards
I was frustrated with myself at this point. Instead of using the map, I had lazily followed placards that clearly pointed in the opposite direction of the trail. In addition, the placards were confusing. Once I reached the edge of the woods, and loop trail, there were two sets of placards – one with slightly darker green arrows than the other. It would have been nice to have two different colors. Again though, I just needed to use my map.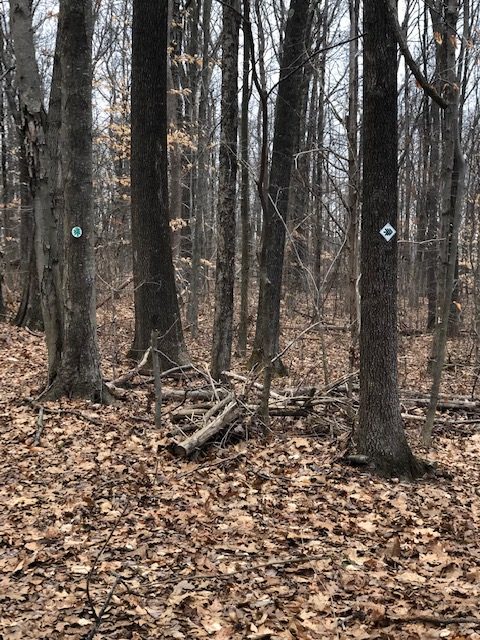 Loop Trail
The Housatonic Ridge Trail turnoff led to a small loop that rejoined the main trail. There was a dark green arrow pointing right, and a lighter green arrow that pointed down the main trail. I took the loop, assuming there must be something of note. I should have stayed on the main trail.
Lost Trail
Rejoining the main trail, I headed down off the ridge and down past a wooden fence line. The trail climbed back up over a small ridge before dropping down to a small creek and into a low lying area. Two white tail deer were bedded down in the leaves, and leaped up with a flash of their white flag tails as they headed over a small hill. They were big girls, and clearly eating well.
After crossing the creek, I spent at least 15 minutes searching for the trail, placards, blazes, etc. – anything indicating I was going in the right direction. My maps indicated I was on the right path, but I did not trust this new trail, so I turned around and headed back to the car.
Better Prepared
The one thing I should have brought was my GPS. There was good cell service in this area, so I would have to experiment with the GAIA GPS app I have downloaded. I did not want to carry both a phone and GPS if not needed.
I'll be back soon to get this trail ironed out.
Hi. Average Hiker purchased this product and does not write sponsored posts or receive compensation for reviews. Some of the links in this post are affiliate links which means that when you click on one of these links, I earn a small commission at no extra cost to you. Also, as an Amazon Affiliate, I earn from qualifying purchases. If this review has been helpful, I appreciate you considering your purchase through one of the product links. Thank you.