Spring in My Step
I started the morning with a spring in my step! I'd eaten extra tuna fish the night before, and was about two days out of Cumbres Pass! Cumbres Pass was the end of New Mexico and the beginning of Colorado – the first state behind me on my walk north.
I was looking forward to a zero day in Chama, New Mexico. This Gateway town was where I would prepare for my journey into Colorado, and the San Juan Mountains. Trail news had filtered south, and snow was supposedly still making the southern San Juan's impassable, so I had sent home for my snow shoes and ice ax. They should be waiting for me in Chama. I was going to give the snow a go!
I will admit that the southern girl in me was beginning to get a little nervous, and I could feel the anxiety as I glimpsed what appeared to be the San Juans in the distance. I had grown up in the southeast, and although I had experienced some snow on the PCT, I was not all that familiar with snow travel.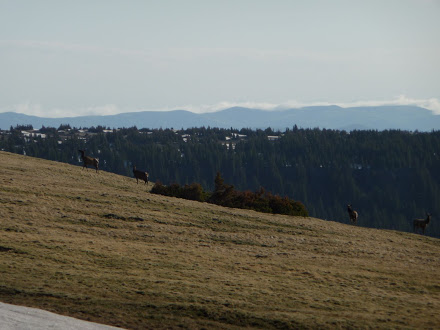 Missed Turn
About an hour into the morning, I stopped to take a look at my maps. At this point I was still using my GPS as a back up. Being stubborn, I was still determined to try and use a map and compass where possible. This kept those tedious days interesting, and added a little more challenge.
As I stood looking at my map, I realized I had missed a turn. I looked up to see Mike had caught up with me, having missed the same turn. I would trespass on ranch property if I maintained my current course, so I studied my map and headed cross country with Mike following behind me.
Water Crossing
About a half hour later we hiked down a ridge towards a fairly swift water crossing. On the other side I could see what looked like new trail. I was pretty excited to see the trail after my cross-country trek. My map skills were improving. Being comfortable with water, I barely paused before marching into the icy snow melt.
The shock of the cold water made me break out into laughter and let out a loud WHOOP as the water rose to mid-thigh. The current was stronger than I had expected, and suddenly I was pin wheeling my arms as I lost my balance. This water would be brutal to take a swim in right now! Finally gaining my balance, I slowed down and turned slightly against the current. I began using my hiking poles to more carefully feel my way across.
Mike watched as I exited the stream on the other side, and then moved further down to where the water was more shallow. He was clearly the brighter of the two of us.
New Trail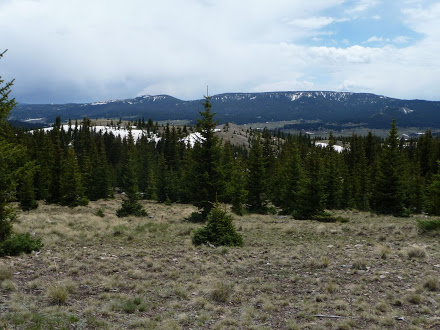 We picked up the new trail on the other side of the stream, and ended up following it all morning. It was lightly used, and I suspect many hikers were still using the alternate road walks on Ley's maps since they were easier.
This would change in time as these "official alternates," as people referred to them, were removed from maps. In time there would also probably be one "official" trail, just like the AT and PCT. That was too bad I realized. I enjoyed the "wildness" of this trail, and determining my own route.
Campground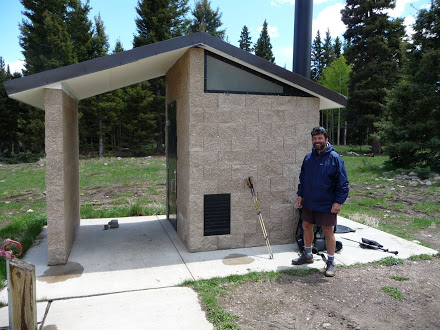 The two real memorable things that happened that day were meeting mountain bikers and finding running water. The mountain bikers were a father and son team riding the Divide. They were a little frustrated with the rain and mud, and making about the same time as the hikers. They passed me, but I would catch up with them the next day as they mucked their way up a forest road, grumbling profanities in the sloppy concrete mud.
Bathrooms were the other high point of the day – finding a campground with pit toilets and actual running water. I yelped in glee as I came out of the treeline and spotted the little campground. The site of a pit toilet made me grin from ear to ear, and finding running water left me speechless with excitement! I exploded my pack around this little oasis and hung out for two hours, enjoying this tiny piece of civilization.
Solo Again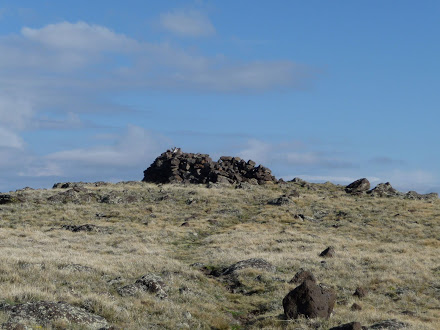 I had seen other hikers regularly since leaving Ghost Ranch, and was beginning to feel restless. Most recently I had been hiking around Mike. We would run into each other when one of us took a break, and he would wait on me periodically to discuss map related questions. He was a nice guy, but I preferred hiking solo.
I've always hiked alone, meeting other hikers occasionally, or in towns. Humans naturally group together, and in the last couple of years I've heard long distance hikers refer to their "Tramilies." Hikers have grouped up on most every trail I've hiked, as long as there are enough hikers on the trail. I've not really been one of those hikers.
There have been times that I hike around other hikers, but for me, especially on the CDT, it changed the hike. Wildlife encounters decreased, as animals avoid groups of humans. Meeting locals was not as frequent, as it is harder for people to approach groups or clicks, and meeting locals is something I enjoy.
Finally, on the CDT I enjoyed the 'wandering" aspect of the trail, or determining my own path. I did not want to be reliant on others or have others dependent on me. The "exploring" was one of the things I enjoyed the most about this trail. Going where and when I wanted, while discovering, was one of the appeals for me.
Day's End
Most of my days were averaging about 20 miles at this point, and today was no different. Mike and I hiked until about dusk before setting up camp in a grove of spruce. The nights were definitely getting colder as we approached Colorado and the San Juan Mountains, and I was looking forward to a hot meal before burrowing down into my warm down sleeping bag.