Multi-purpose Thinlight Pad
I'm a Gossamer Gear fan. I like their Mariposa Backpack a lot and even have a review on it.
I'm also a cheerleader for the Lightrek Umbrella (yeah, I'm an umbrella person), but the Thinlight 1/8 Pad is hands down my favorite piece of gear from Gossamer Gear.
The Gossamer Gear 1/8 Thinlight Pad is lightweight and barely noticeable strapped onto the top of my backpack. It is one of the most useful and durable pieces of gear I carry.
Gossamer Gear Thinlight Foam Pad Uses
Below are a few of its uses. I use and abuse this piece of gear more than any other.
Traditional Sleeping Pad
Bandage
Umbrella Handle Anchor
Hot Pot Holder
Sitting Pad
Shoe Insole
Pillow
Anti-sliding Sleeping Bag Pad
Pot Cozy
Glissading Sleigh
Gossamer Gear Thinlight Foam Pad – My Most Common Uses
The two most common uses for me include an anti-sliding sleeping bag pad and a sitting pad.
As an Anti-sliding Sleeping Bag Pad, it is excellent, stopping my Neoair from sliding around on my tarp-tent floor while I sleep. It also provides a little bit of insulation if I'm camped on icy ground.
Sitting pads are usually small. I can fold the Thinlight pad for a traditional sleeping pad or unfold it for a more reclined position. It's pretty versatile.
Pros
Weight – almost non-existent
Versatile – it has A LOT of uses
Durability – pretty tough for such a thin pad
Cons
Thin – not sure this is a negative
Cons – I really don't have many for something so simple
Gossamer Gear Thinlight Foam Pad – 1/8 – Quick Specifications
Weight – 2.5 ounces
Material – Closed cell cross-linked Evazote foam
Dimensions – 19 x 59 1/8 x 1/8 in
Gossamer Gear Thinlight Foam Pad – 1/8 – Performance
The Thinlight Pad is not too expensive, so I usually purchase one about every 1,000 – 2,000 miles. I cut it in half or to whatever size I need, so one lasts me at least two seasons.
Below is some additional detail on some of Thinlight's more common uses.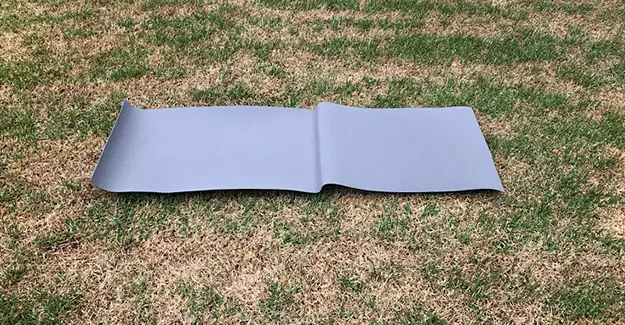 Sliding
The Thinlight Pad does do a nice job of preventing your sleeping pad from creeping across a Silnylon or Dyneema floor while you sleep. Even a small piece does the job.
Body Support
The Thinlight is not thick enough for a comfortable sleeping pad, at least not for me, but it does provide some other support options.
Seat – folded or spread in a reclined position.
Backpacking Pad – additional back support for a frameless backpack
Pillow – it makes a good pillow, especially when covered with a puffy jacket
First Aid
I've used the Thinlight Pad for pain prevention.
Moleskin Replacement – I've cut a hole in it to protect blisters and abscesses.
Insole – Cut to use as a temporary insole until I could replace my ragged one.
Insulation
I have been told the Thinlight 1/8 provides no insulative qualities, but I have to disagree. Even if psychological, I do feel warmer when I use it under my inflatable sleeping pad.
Sleeping Pad – Under my sleeping pad on frozen ground, I am definitely warmer after I put the Thinlight under my Neoair inflatable pad.
Cozy – I have now had the opportunity to use both it and my Store-Bought Cozy, and my Thinlight pad insulated my pot just as well as the cozy.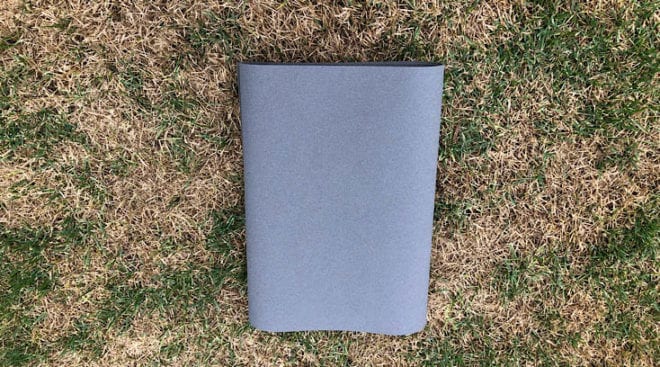 Gossamer Gear Thinlight Pad – Final Thoughts…
The Thinlight Pad is becoming more common, and I'm seeing it more and more on the trails I hike, which is no surprise. It has definitely become one of my favorite pieces of gear over time.
You can purchase the Gossamer Gear 1/8 Thinlight below, and also check out some more Gossamer Gear Items.
More Gossamer Gear Items
Related Links
Average Hiker purchased this pad and does not write sponsored posts or receive compensation for reviews. When you purchase through links on this website, I receive a small commission at no additional cost to you. If you have found this review helpful, please consider purchasing through the link above.
Hi! Some of the links in this post are affiliate links. This means that when you click on one of these links, I earn a small commission at no extra cost to you. Also, as an Amazon Affiliate, I earn from qualifying purchases. Thank you.