New England Trail Hike – Brief Summary
The New England Trail (NET) is a 215-mile-long trail that travels across Massachusetts and Connecticut. It is comprised of the Mattabesett, Metacomet, and Monadnock trail systems. The NET is also one of 11 National Scenic Trails in the United States.
This is the trail I have chosen for my Fall hike this year. I hiked the first half this summer before I headed out to hike the Colorado Trail in August, and I want to finish up the northern half with the colors of Fall.
New England Trail Hike – Challenges
The most challenging part of this hike will be camping, resupplying, and water.
Camping is only allowed in designated areas. Over the 215 miles, there are five shelters or campsites in Massachusetts and 4 in Connecticut.
The NET website states that thru-hikers are expected to get off the trail where there are no designated sites and get other accommodations. This is not practical for long-distance hiking, and if I can't use these sites, I'll take stealth camps on public lands.
Resupply is not difficult on the NET. Because the trail is so close to urban areas, there are plenty of places to resupply in the towns along the route. New Englanders are cautious, so I imagine hitchhiking won't be easy.
One plus about this trail is the number of restaurants and Diners immediately adjacent to the course. This means I won't be carrying a lot of food. I also won't be cooking since this is a short hike.
Water is a question mark since New England Trail Conditions are still a bit of an unknown. Maps indicate where there are ponds, streams, and lakes, but there is nothing to validate these sources or show where there might be other sources of water. Because of this, I will cache some water along the route.
New England Trail Hike – Northern Terminus
Today was a little crazy as I tore around the basement, throwing things into my backpack! I had been a little nonchalant about this trail in my backyard. It is easy to travel a couple of hours to grab anything forgotten.
The drive up was about 2.5 hours, and we had started late, so Maria dropped me off around 3:30. Time had not changed, so I would still have a few hours to hike.
It was a rainy, chilly day, but it was above 40 degrees, so I wore shorts. My legs don't get cold quickly; when they do, they warm up fast.
We arrived at the Royalston, MA, parking area (which holds about eight cars) at the northern terminus of the NET, and I checked out the old cemetery before beginning the descent down through Falls Brook Valley to the shelter at the bottom of the gorge by the creek.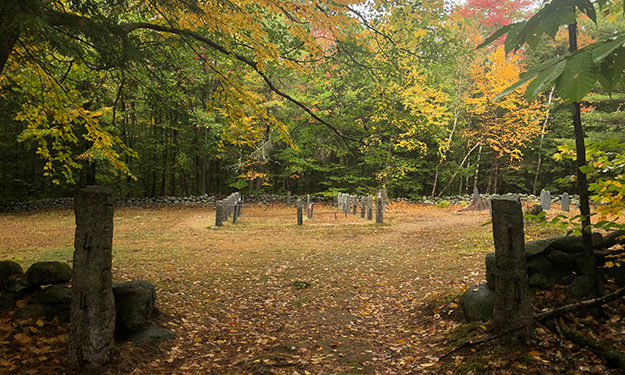 Royalston Shelter & Massachusets Border
Besides light rain dripping through the bright Fall leaves, the old hardwood forest was silent. The humidity felt like a thin wet sheen on my skin as I hiked, but it was cool, so it did not bother me.
Reaching the shelter at the bottom of the gorge, I paused before hiking over the bridge. I wanted to check out the shelter, but clothes were hanging under the overhang, and the silence of the area was a little eerie. Whoever was staying there was either asleep or out wandering the woods.
I moved quickly to reach the Mass. border about a half mile North. The trail slowly faded as it wound through the old moss-covered hardwoods in the dark, damp forest. My mind wandered as I walked through a scene from "Lord of the Rings," glad for the blazes on the trees that guided my steps.
The Massachusets border sign was easy to miss, nailed high up on a tree, but I had pulled out my GAIA App. and knew I was close. Reaching the sign, I snapped a quick photo and turned to make my way back up to the parking lot where I had started.
Fellow Travelers
There was a couple at the parking lot when I arrived. They looked a little ragged and explained they were traveling throughout the Northeast, living out of their car.
A lot has changed with Covid, including meeting more of these wandering nomads. They are out of work and don't want to stay in motels and hotels, so they find parking areas off back roads and make their way around the country visiting less frequented places.
We chatted for a few minutes before I told them I needed to move before it got too late.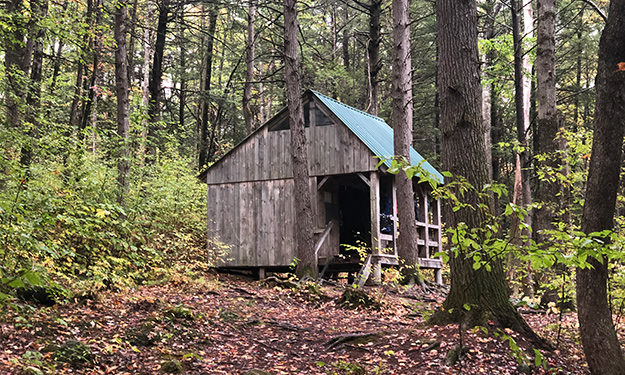 Camp for the night
I crossed Route 32 before heading back into the silent woods. There was almost no birdcall, and I only crossed Bliss Road over the next 4-5 miles before reaching Mayo Hill. The quiet I had experienced earlier followed me until I made camp.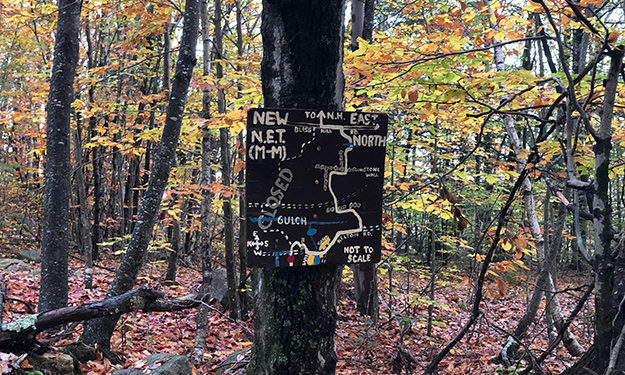 Leaving the trail at the top of Mayo Hill, I made my way into the trees to find a place to set up my Big Agnes Copper Spur UL1 (Review). It's a great little free-standing tent with a small footprint, so it is easy to find places to set it up.
These woods were dense, so I carefully noted my path as I returned to the trees. I finally found two tall spruce trees and an old log. This would make a good spot for the evening.
As I ate dinner on my log seat, I watched the sun setting for the evening. There was a lovely sunset display just as the clouds cleared. Mother Nature was welcoming me home.
This page has affiliate links for products and gear I purchase and use. If you click on one of these links, I receive a small commission at no extra cost to you. There may also be Amazon links and as an Amazon Associate I earn from qualifying purchases. You can read more about my thoughts on affiliate marketing.