Temperature Changes
It was noticeably warmer when I woke up this morning, which can be good and bad. Higher temperatures in October are nice, but this much of a temperature swing usually meant a front was moving through, and the weather was about to change.
I pulled out my phone, not having studied the weather in a few days. My hikes had begun to be dictated by the weather as I tried to dodge weather events, so I had stopped checking the weather so frequently. I now hiked through rain, sun, storms, etc. Backing off technology reintroduced some of the unknown and challenge I enjoyed in backpacking.
Sure enough, there was rain in the upcoming days, so I would hike longer today before heading into Amherst to clean up this afternoon. The weather was beautiful, and I wanted to take advantage of it. I would hike out in the rain tomorrow, but it would be forest hiking, which I enjoyed under my umbrella.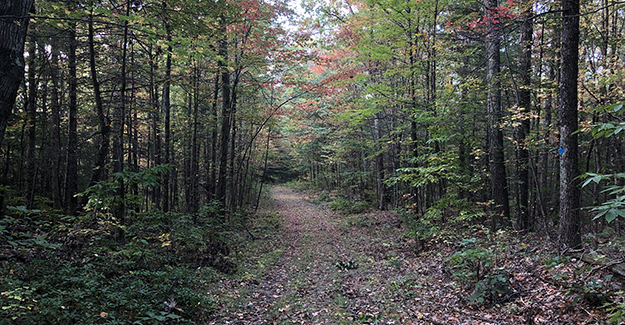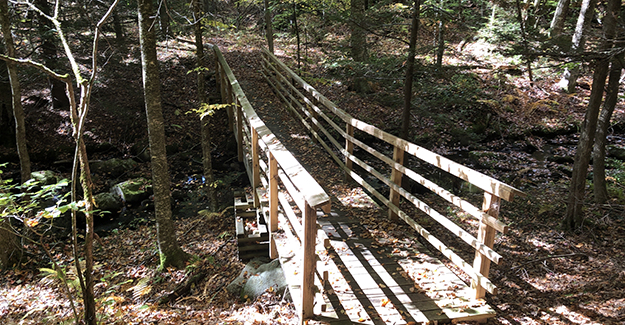 Remote Hiking
I spent the morning alternating between old logging roads and low-lying wet areas before finally dropping down into watershed lands near Amherst. The forests were beautiful, and it was cool to pass old structures that were still in place.
In one instance, I crossed a stone bridge that looked like it had probably been rebuilt several times over the last 100 years. The bridge crossed a small creek draining from nearby Sibley Swamp, and I stopped to filter some tannish water and study the stone bridge before climbing up out of the dark, wet forest.
This section of the New England Trail, along old logging roads, felt so remote. I rarely saw another person on this trail when I was not near a town, and there were a couple of times I felt sections of this trail would make an excellent backdrop for horror movies. I even thought I saw a small child in a white dress watching from the other end of a faint side trail!
More than the remoteness and occasional spookiness of today's hiking, though, I felt as if I was passing through history. There was an abundance of old structures, basement remnants, stone walls, and numerous unused side roads and trails to who knows where. I wish I lived closer and could spend time wandering the pathways.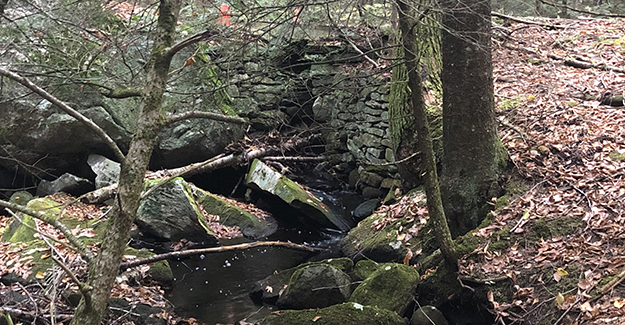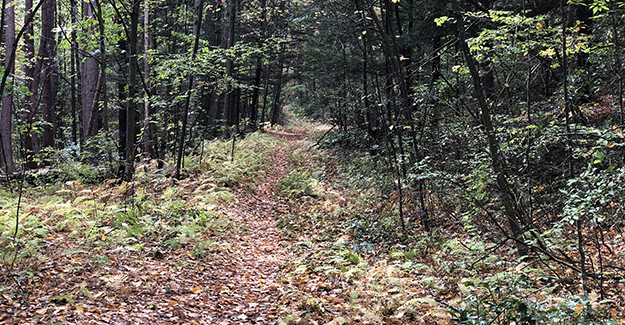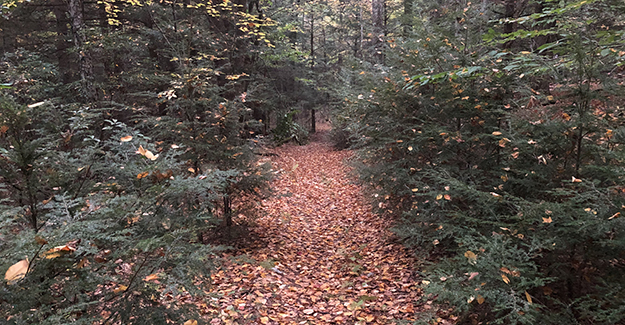 Mushroom Monday!
At the beginning of this year, I set up and began using a Twitter account. I mostly did it because our President would often make comments that moved the markets. I needed to stay on top of the craziness so I did not get caught in a sudden swing.
Since I had an account, I set up Average Hiker, which now has about 2,100 followers. I posted hiking pictures, and in the process, I picked up some "Fungi Followers." Well, my new obsession is now "Fungi Foraging!" I don't forage and eat any of the mushrooms since I would likely poison myself, but "the hunt" has made the swampy areas much more enjoyable.
Today was a fantastic mushroom day. I discovered many mushrooms I could not name but would research later or send out to "Twittersphere" to be identified. I would also share pictures on #MushroomMonday. It was fun, and my mind wandered back to past Easter Egg hunts from my youth.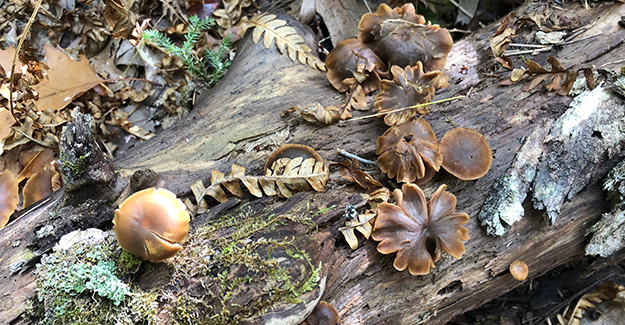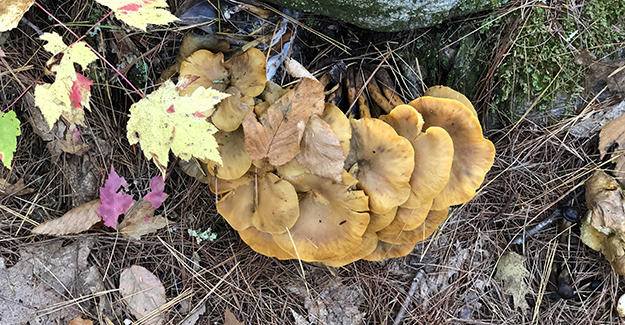 Amherst
I had decided to head into Amherst overnight to clean up and catch up on a little work, and the trail spit me out into a small neighborhood where I walked up side streets to Amherst Road.
It was a beautiful Fall afternoon, and people were out working in their yards. A few of them paused to ask if I was hiking the New England Trail, and I tried to use my passive Yogi powers to see if I could get a ride, mentioning I was going into town, and how far was it? Was it easy to hitch?
None of the fish took the hook, though, and eventually, I made my way out to the road where I called a cab. The ride into town was about 4 miles, and I spent the bulk of the ride talking to the young lady driving about how Covid had impacted the area.
She and her father owned the cab company and had laid off all of their drivers. They were the only two working now. Most of the area colleges and universities were either not open or on a minimal basis, and business had dried up. They had owned the company for years and were hoping to hold out until the schools reopened.
I wished her well as I hopped out of the cab at the hotel. There were a lot of chores to get done before heading back into the woods.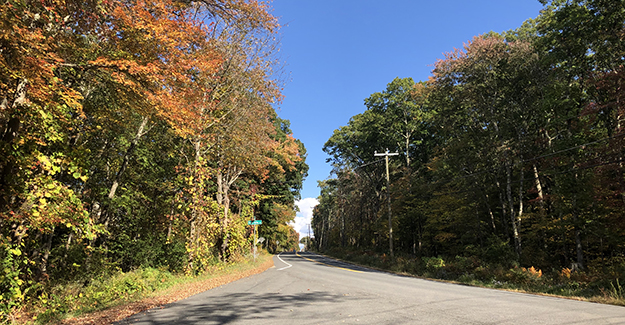 Related Links
This page has affiliate links for products and gear I purchase and use. If you click on one of these links, I receive a small commission at no extra cost to you. There may also be Amazon links and as an Amazon Associate I earn from qualifying purchases.If this review has been helpful, please consider purchasing through the links above. Proceeds are used to purchase additional gear for review. Thank you. You can read more about my thoughts on affiliate marketing.