Mattabesett Trail – Section 3
The New England Trail, or NET Mattabesett Trail – Section 3 included a lot of road walking, nice views, and gentle forest hiking, interspersed with a few rocky outlooks and some gurgling brooks. I'm not normally a fan of road walking, but enjoyed the old New England homes and farms on Sections 3 and 4.
The day was made even better by the fantastic weather. I did see a good bit of standing water, and could almost see the mosquito and Black Fly hatch-lings. If hiking in warmer weather, bring bug spray!
Related Posts: My Hiking Day Pack Has My Essential Items; Mattabesett Trail – Section 2
Section 2 – Quick Shot
Miles: 5.10
Region: Middletown, Haddam
Start: Trail Head & Coordinates: Rt 154/Seven Falls Roadside Park – 41.507143, -72.582580
End: Trail Head & Coordinates: Millers Pond State Park – 41.480071, -72.629080
Additional Planning Information: Planning Page
NET Mattabesett Section 3 – Signage & Markers
The New England Trail is fairly well marked along this section. It has the usual assortment of trail head maps and kiosks, occasional New England Trail signs, and blazes and rock cairns. The blazes include those painted on the trees, and colored or fiberglass blazes that have been attached to trees. I prefer the paint, as it does less damage to the trees.
Like other sections of this trail, you will still need to carry maps, or a GPS device, and watch the blazes closely. Many of the roads have no markings at intersections, so you won't know you need to turn unless you have a map. Blazes along the road are also well spaced, and in some instances are faded or even painted over.
There were a few times I began to get that "lost" feeling, only to look back over my shoulder to see a blaze on the other side of the power pole!
Don't assume the trail most traveled is the NET Mattabesett. There are a few tricky turns, so watch the intersections, and remember that multi-colored blazes indicate you are on a connector trail. The blue blazed trail is the NET.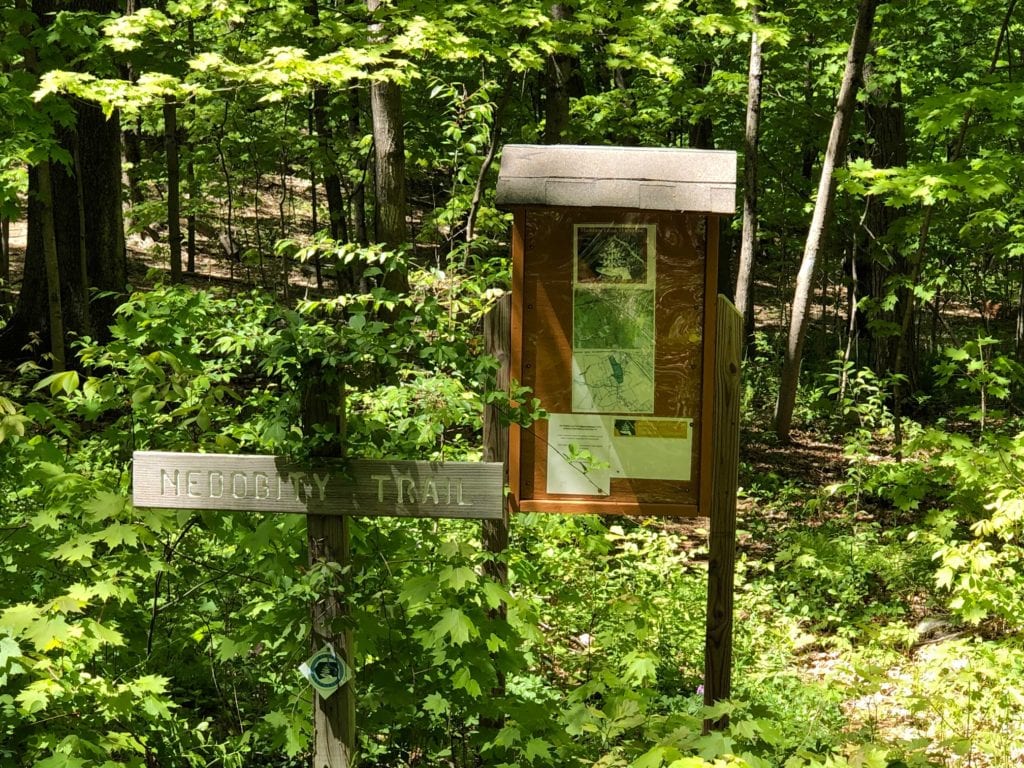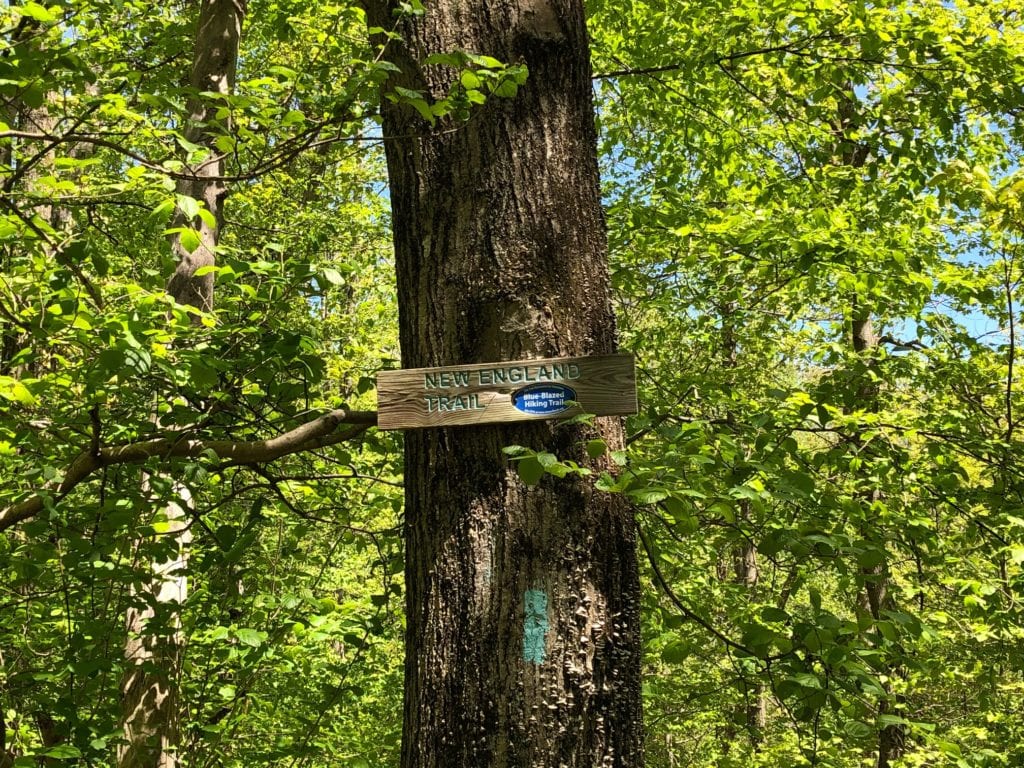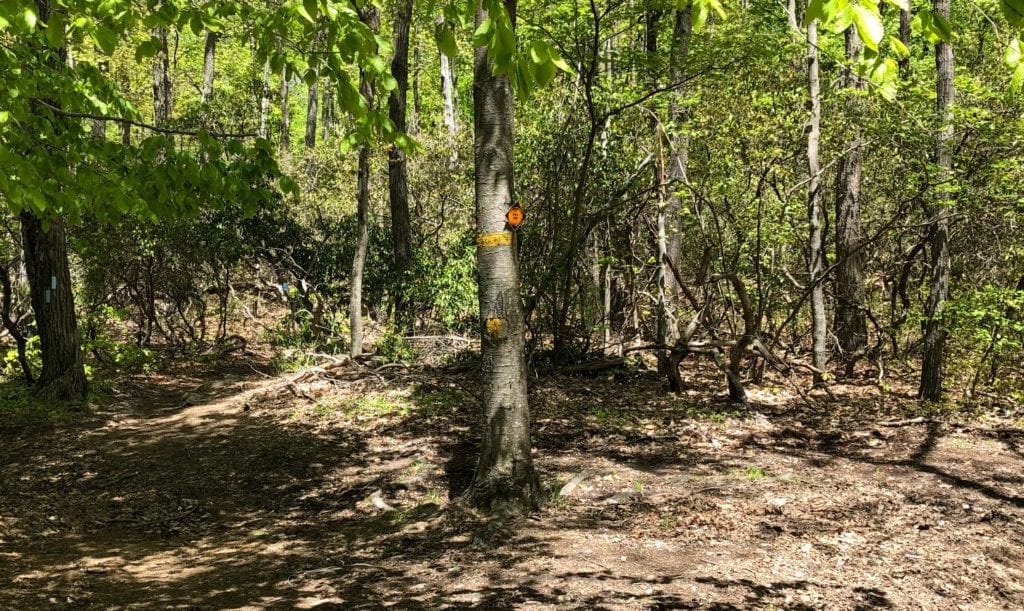 NET Mattabesett Section 3 – Difficulty
There was really no difficult section on this trail. Most of the hike was an easy wooded stroll with a view and a couple of water features to break it up. What made today's hike so nice, as mentioned above, was exceptional weather – low 60's, breeze, sunny, and zero bugs!
This would be a great hike for first time hikers or kids. There are a couple of nice creeks, and a cool rock formation with great views. Watch the rock slab though, the other side is a steep long drop off!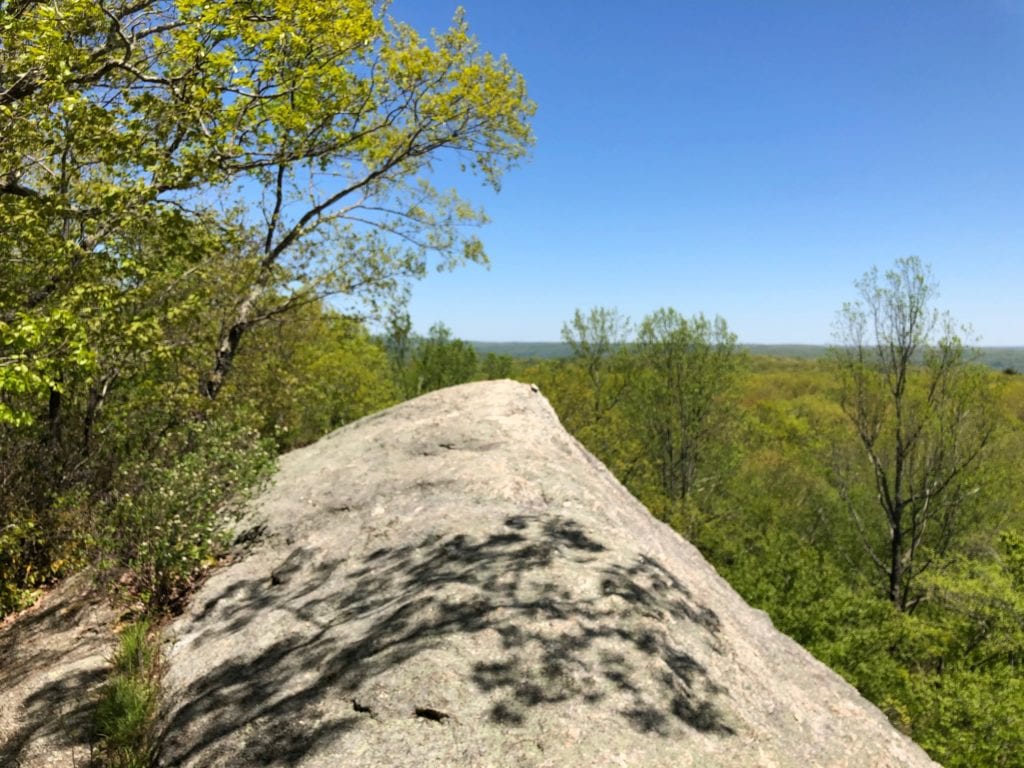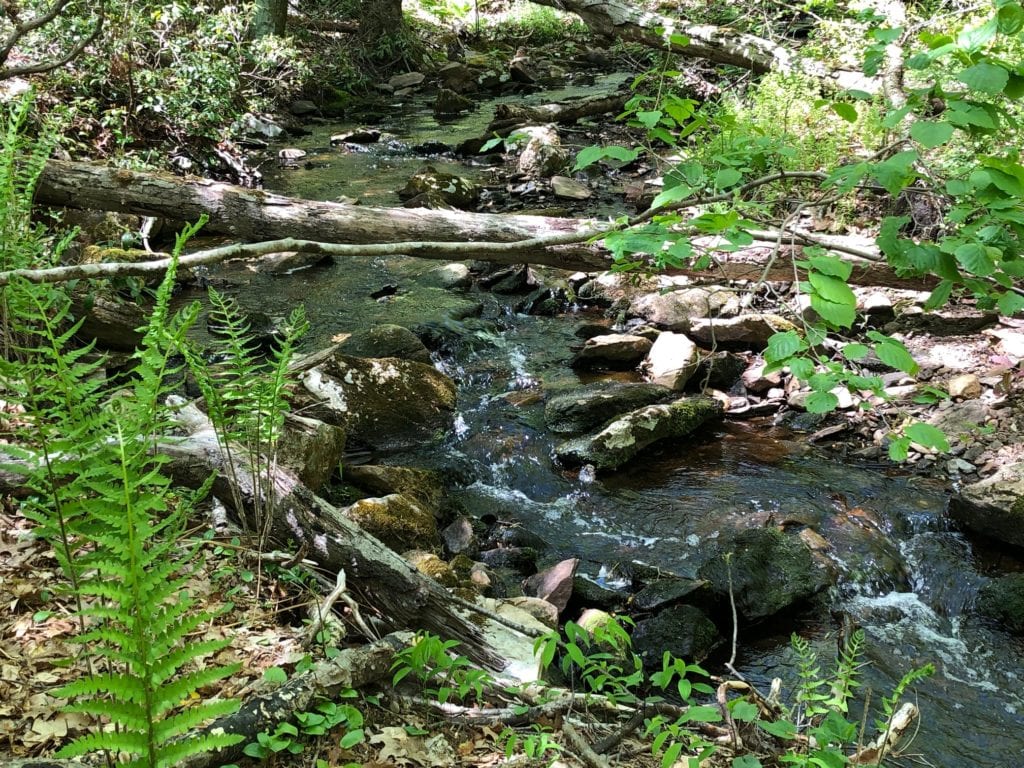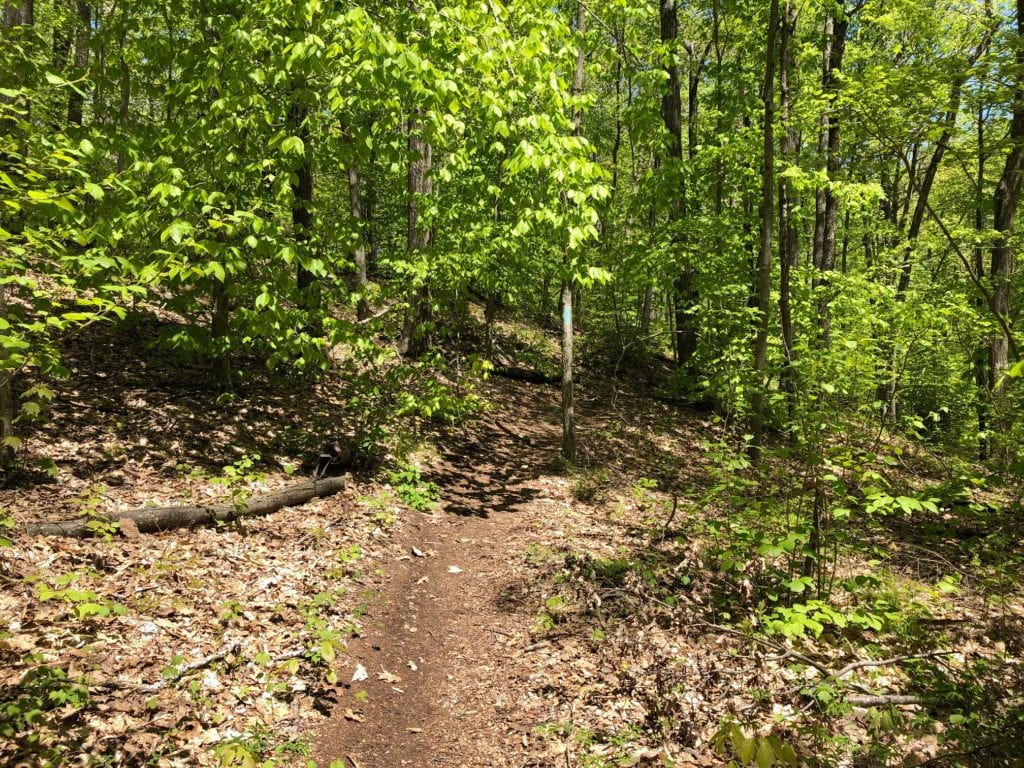 NeT Mattabesett Section 3 – Highlights
Today's highlights were definitely the weather (Have a I mentioned the weather?), lack of crowds, and the New England countryside. Other than the view and brooks already mentioned, there was also the "sidewalk." This was an interesting slab of rock on the way up to the views. This type of feature helped break of the forest stroll a little more.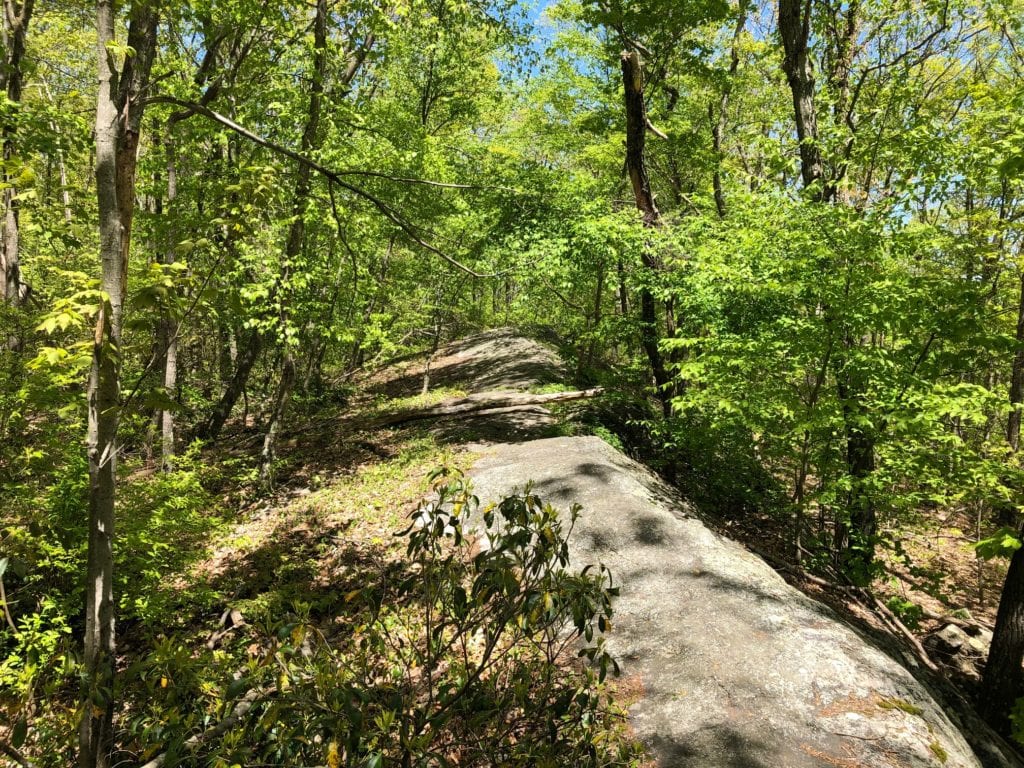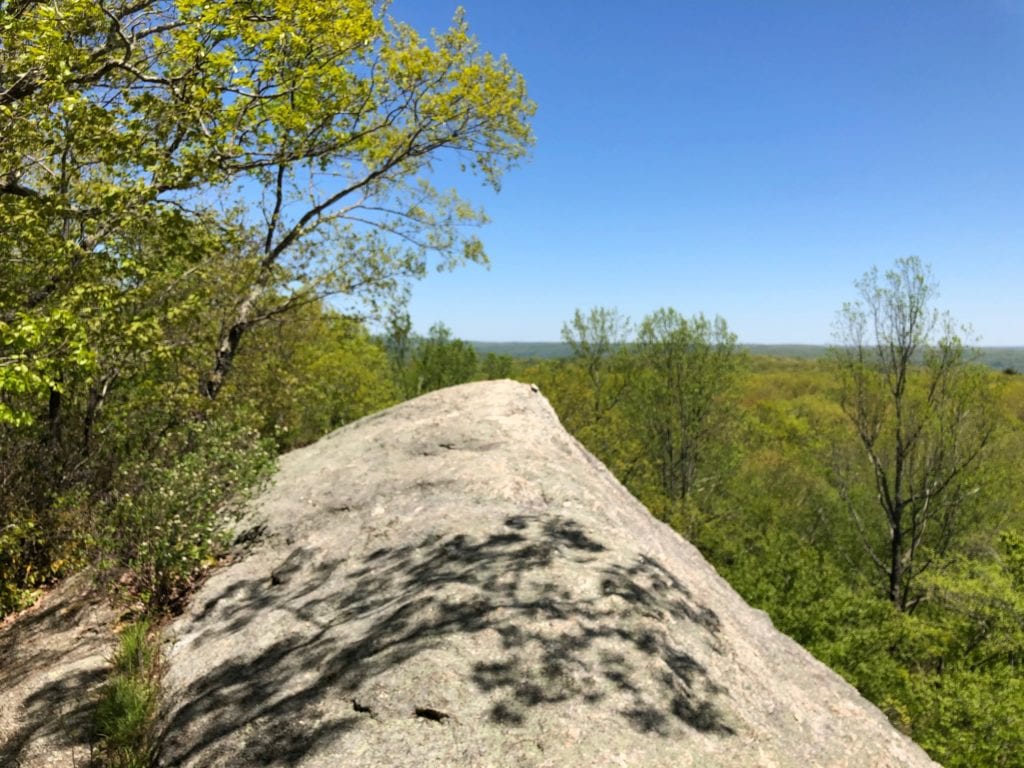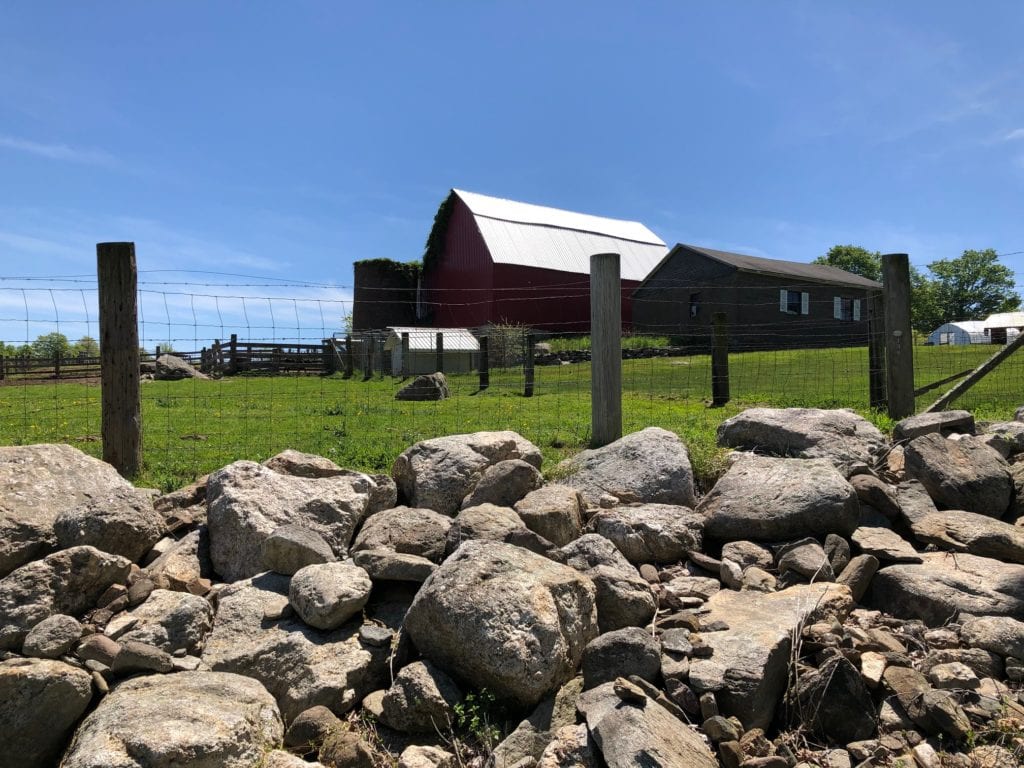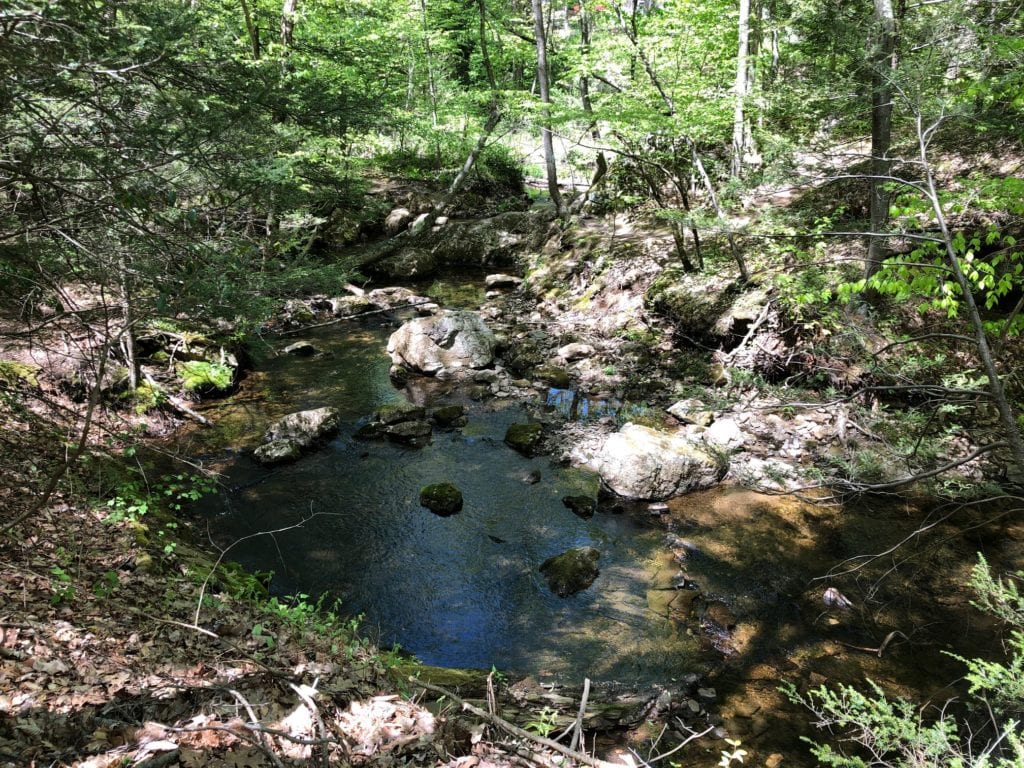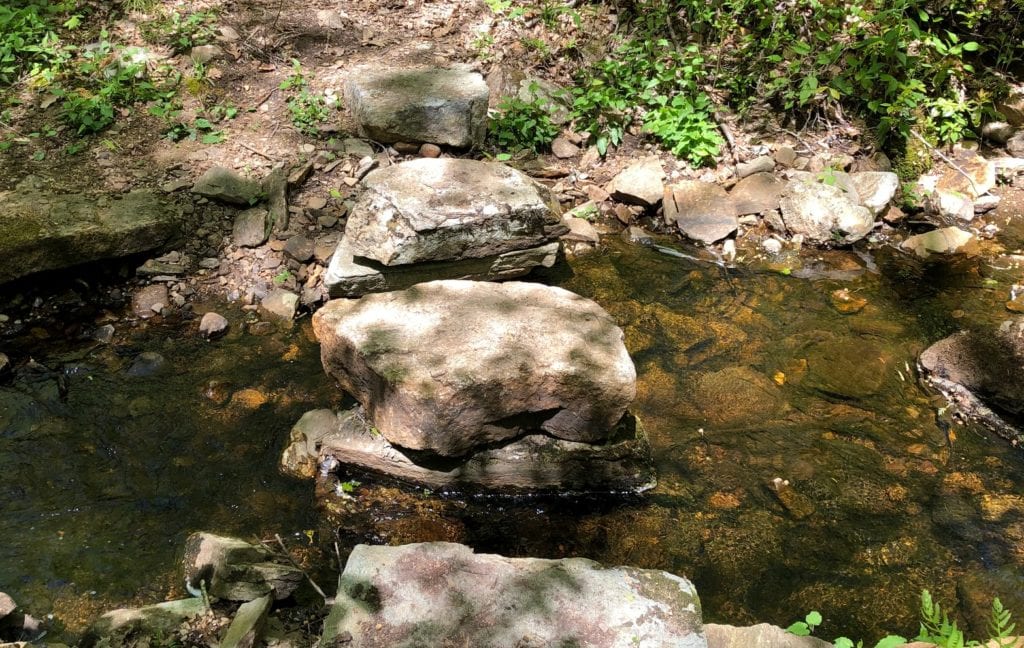 NET Mattabesett Section 3 – Trail Summary
Parking
If hiking southbound on Section 3, leaving your car @ Seven Falls on Old Saybrook Road is probably your best best. If hiking northbound, then park your car @ Millers Pond. Both of these locations have large areas for vehicles, and there is enough traffic that they should be safe.
Road Walking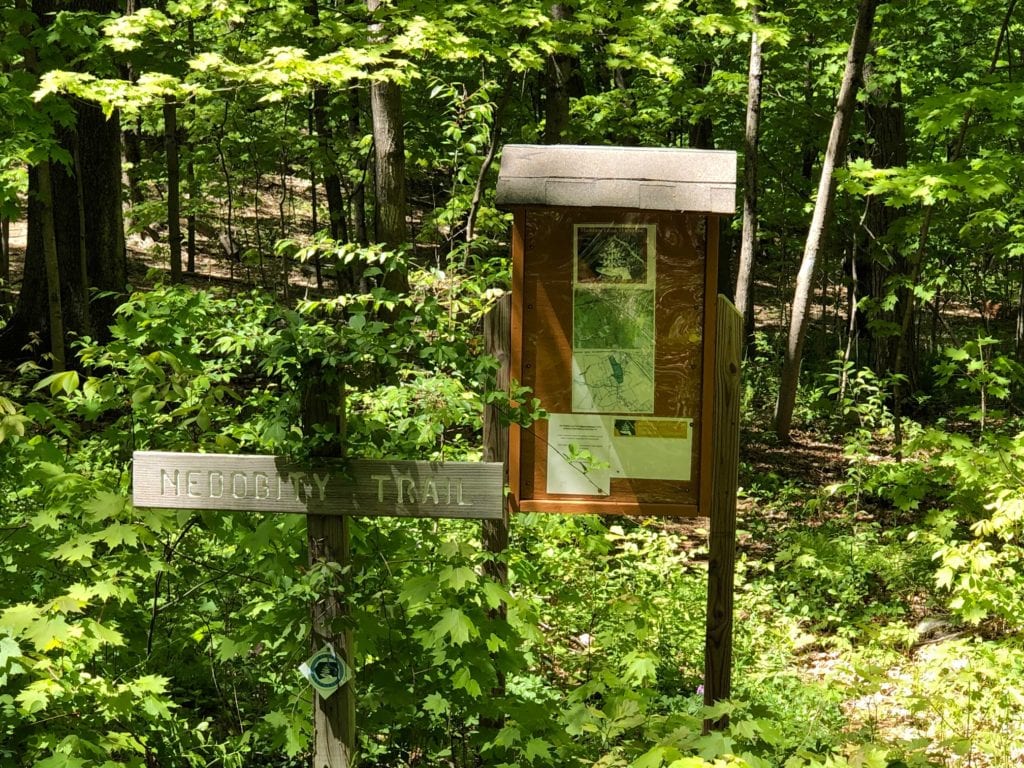 Leaving the Seven Falls parking area, I crossed Old Saybrook Road and headed down Thayer Road for about a tenth of a mile before turning onto Nedobity Road. Nedobity was a longer walk, passing under Route 9, and winding past Nedobity Trail.
Nedobity was a quiet road with some nice New England Architecture and farm buildings. Nedobity Trail is part of the Haddam Land Trust, and based on the condition of the trail, it does not appear to get much use. I might have to go back and check out some of these trails.
Taking a right off Nedobity, I headed down Brainard Hill Road – a pretty, rural road that winds it's way through farmland. It's a pleasant walk, but watch for traffic on the narrow curves.
Surprise Views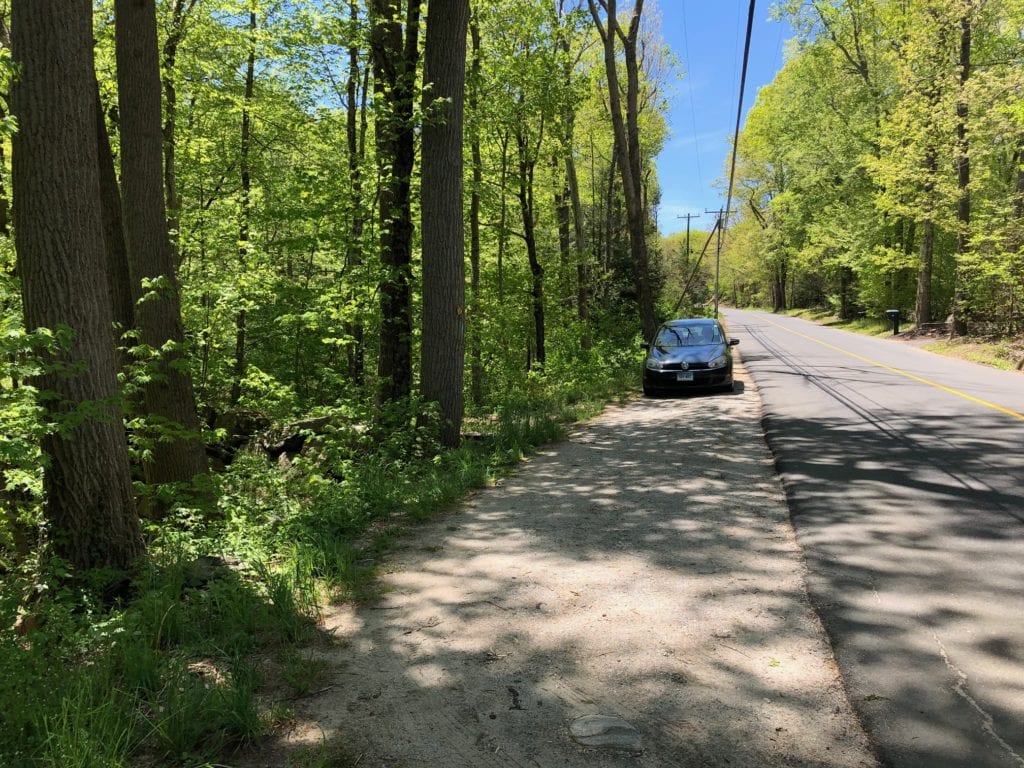 Brainard Hill was at least a mile, before I rejoined the NET @ Brush Mill Trail Road. There is probably room for 2 cars at this trail head.
Many of the trail turn offs are not obvious, so keep your eyes peeled!
About a half mile in, I headed across a cool slab of rock (sidewalk), and then climbed up a small hill before coming to an abrupt stop at a giant slab of stone. Climbing to the top, I marveled at some fantastic views while sitting to munch on a yummy Nature's Harvest bar. Peanut Butter is my favorite!
I relaxed on the rock and played Lizard for about a half hour before taking back off. Things were a little chilly since I was too lazy to put on a jacket, so I needed to keep moving.
Powerlines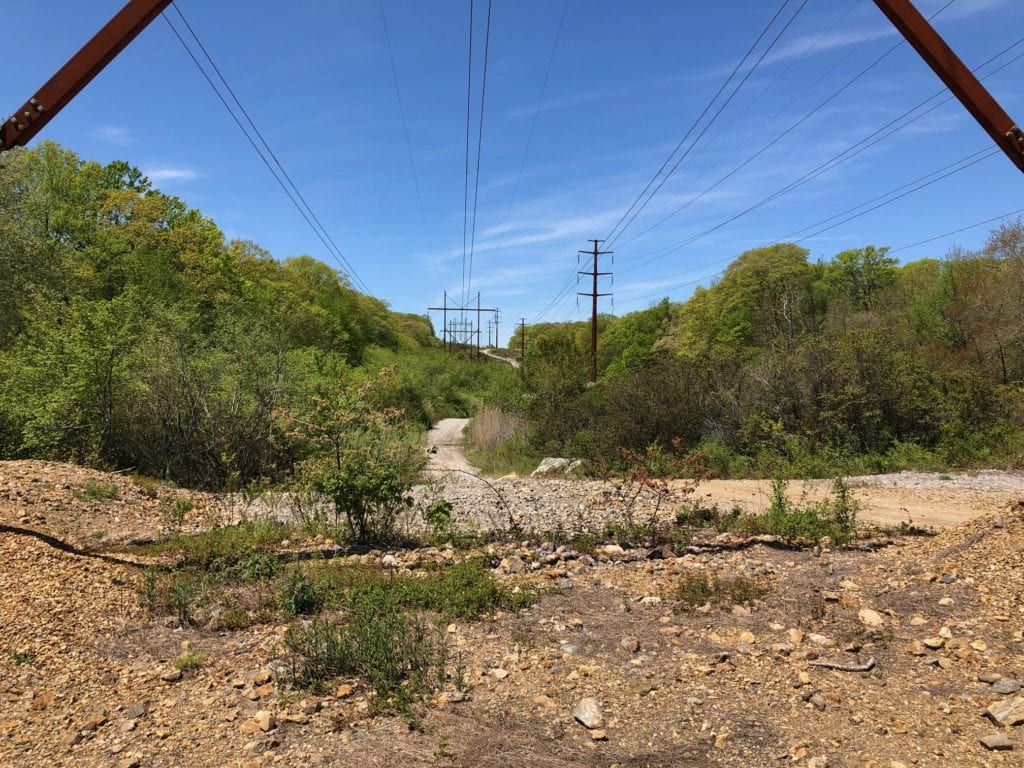 Power lines were the only landmark before reaching Foot Hills Road. Unlike the power lines in Sections 1 & 2 they provided no views, just a long rocky dirt road. Looking back over my shoulder I saw an old pick up down in the bushes, but it was a little creepy so I did not go check it out. It reminded me of a scene from "The Walking Dead."
Foot Loose!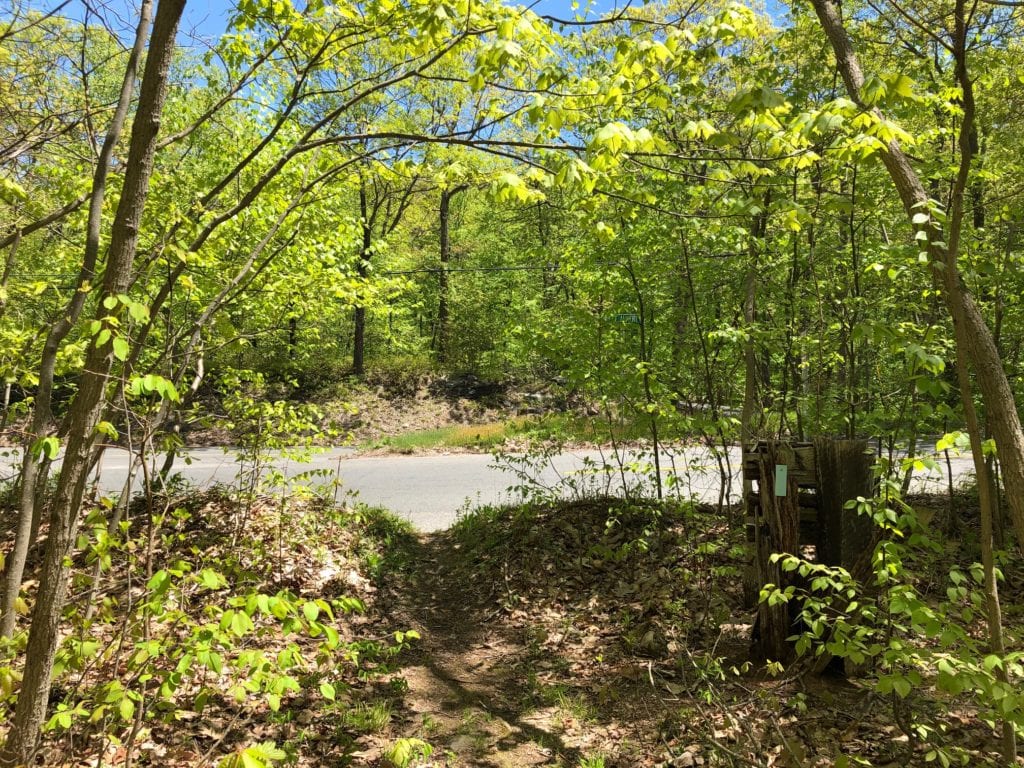 The trail came out on Foot Hills Road, where there is nowhere to park. Foot Hills was another quiet, rural road with narrow shoulders and tight curves at times, and I zigzagged my way down it listening for cars and trucks. I felt like I was in a version of Frogger!
Reaching the end of Foot Hills road, where it intersected with Wiese Albert Road, I took a sharp left and headed across Wiese Albert to where the trail entered the forest. There is also nowhere to park here, but there is good parking at Miller's Pond, not far away.
Miller's Pond was gorgeous, but I'll save that for Section 4. There is a maze of side trails around Miller's Pond, so pay attention to your maps.
Tip: If you are using the GAIA App., click on the dotted trail. You will get a small pop-up that states "Unnamed Path." Click on the circled i next to this and a map with the Mattabesett Trail will come up if you are on the correct trail.
This page has affiliate links for products and gear I purchase and use. If you click on one of these links, I receive a small commission at no extra cost to you. There may also be Amazon links and as an Amazon Associate I earn from qualifying purchases.If this review has been helpful, please consider purchasing through the links above. Proceeds are used to purchase additional gear for review. Thank you. You can read more about my thoughts on affiliate marketing.