If you are looking for one of the lightest free-standing single-person tents on the market, the Copper Spur UL1 should be on your shortlist.
This tent is thoughtfully constructed, with strategically located pockets, and has all the room I need for me and my gear. This would be my favorite single-person tent if not for the awning (a personal preference).
In this review, I'll describe the tent and what I like and dislike about it.
Pros
Weather Resistant and durable
Organized, useable space
Sets up easily – small footprint
Large Vestibule
Cons
Awning – Not needed for me
Color – I prefer olive green
Shelter Requirements
My general shelter requirements are listed below. They only change during the winter.
Light Weight – Lightweight is essential on long-distance hikes, but not as much for section hikes. I try to reduce weight to combat fatigue.
Ease of Set-Up – I usually hike up until dusk and want to set up quickly before dark. Setting up quickly in bad weather is also important. Being picky about my site is not always an option, so I want a smaller footprint.
Reduced Condensation – Condensation is aggravating in Dyneema shelters. This should not be an issue in the BA Copper Spur UL1.
Copper Spur UL1 Review – Quick Specifications
Weight
2lbs, 6oz
The weight above is the packed weight, tent body, fly, poles, stakes, guy lines, stuff sacks, and accessories such as pole repair sleeves or patch kits.
Dimensions
Peak height: 38″ (97 cm)
Width at head: 38″ (97 cm)
Width including vestibule: 56″ (142 cm)
Vestibule space: 28″ (71 cm)
Length: 88″ (224 cm)
Floor Area: 20 ft² / 1.9 m²
Vestibule Area: 9 ft² / 0.8 m²
Packed Size: 17.5″ x 5.5″ / 44 x 14cm
Copper Spur UL1 Review – First Glance
Out of the box, this tent provided everything I needed to begin camping immediately – tent, fly, poles, stakes, tie-out lines, and a pole repair sleeve. The only thing I replaced was the aluminum stakes. They were heavier than my titanium stakes and more difficult to use on rocky, hard-packed ground.
The packed tent itself was small. Compressibility is one of the things I have always appreciated about silnylon. It packs up small and is easy to stuff into my backpack. Silnylon packs more quickly than Dyneema, which is a stiffer material.
Tip: I use a lighter-weight titanium tent stake. Purchase stakes with bright colors on the head, or paint them yourself. This makes it easier to find the stakes in high grass or thick undergrowth.
Copper Spur UL1 Set Up/Pack Up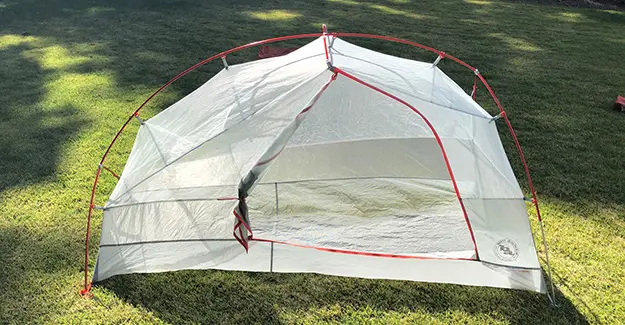 The tent is easy to set up with its color-coded poles and clips. The pole tips clip quickly into the keyholes on the corners. The same mechanisms for setting up the tent and fly are all combined in one location, so locking in the poles, attaching the fly, and staking out the corners all happen together at each corner.
There are several things to keep in mind when packing up the tent. The opposite pole might pop back when detaching the poles and may pop you in the face or eye. I disconnect all clips before taking out the corner poles one at a time. I also start with the back poles since there is less tension.
Pre-tied Lines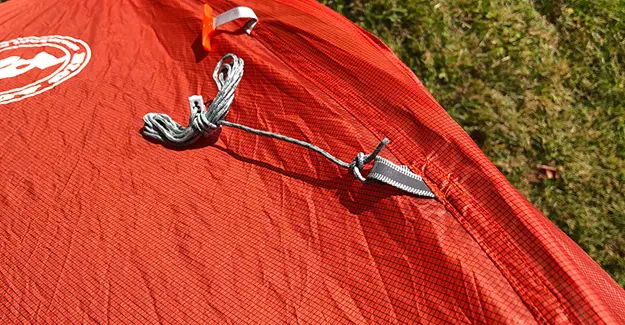 There are two tie lines on the front of the tent fly, but I never have any reason to use them. On windy nights I stake down the tent's corners, four tie-outs on each end, and the sides of the fly itself. These tie-outs are more than sufficient for gusty winds.
If camping at high altitudes or in the high deserts of California and Arizona, the extra tie-outs will come in handy. There are also Velcro loops inside the fly that you can attach to the tent poles. Between these and the ties, you should be well anchored and eliminate fly flapping that can make for a poor night's sleep.
Zipper Pulls
There are zipper pulls on the tent with rubber covers. I don't find these necessary because Big Agnes uses durable cords, but they are easy to find in the dark. Florescent ties on the zippers would be more practical for use at night.
Tent Clips/Pole Tip Keyholes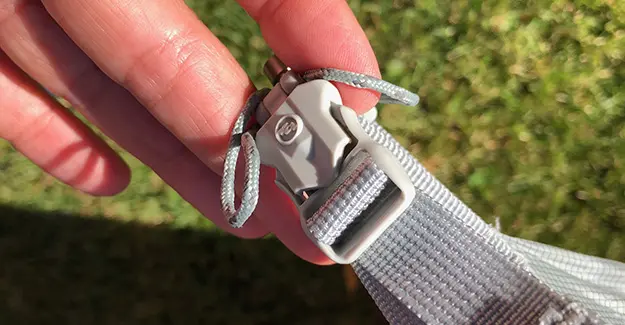 Big Agnes claims a proprietary construction that makes tent setup easy, and I agree that this structure is straightforward. As mentioned above, having all mechanisms in one location is nice – tent buckle, tension strap, pole tip keyhole lock, and stake out the loop. All four are very easy and quick to use.
Copper Spur UL1 Review – Materials/Construction
The Copper Spur UL1 is a silnylon tent. The tent kept me dry in heavy rains, and I had no splash or condensation issues due to the double-wall construction.
When packing, I quickly stuff the tent into the pocket outside my backpack or stuff sack if my backpack has no large pocket.
I pack the tent Fly on top of the tent after shaking out the tent Fly well. I take out the Fly to dry when I stop for a mid-morning break. The tent does not always need to dry out.
Tips: 1) I always dry my Fly or shelter as soon as the sun comes. This is part of my regular daily routine. 2) If packing the Fly and tent in a stuff sack, I place the stuff sack upside down in the outside pocket of my backpack. This prevents rain from running into the opening of the stuff sack if it's raining while I'm hiking.
Rain Fly/Vestibule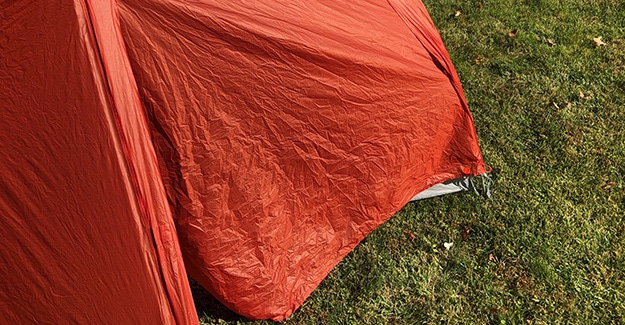 The tent Fly is a silicone-treated ultralight double rip-stop mixed denier nylon with 1200mm waterproof polyurethane coating. The tent has kept me dry through numerous downpours and constant steady rain. All seams and zippers are taped, and nothing needs to be sealed.
The rainfly vestibule has two doors that zip shut. If you face the tent, the right half of the vestibule has another zipper on the right side. This zipper is included, so you can set up this half of the vestibule as a small awning.
If I were doing more camping and less hiking, the awning would be convenient in either sunny or rainy weather. It would also make it easier to pack up my gear and cook more safely during rainy weather.
Tent/Floor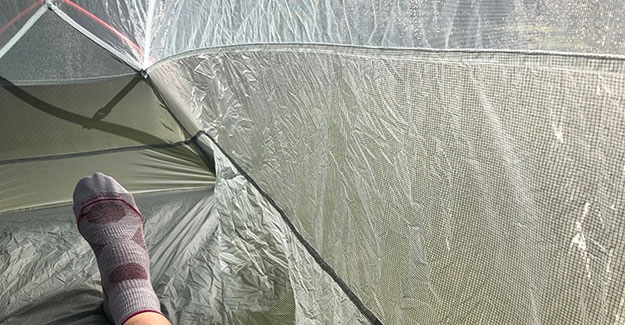 High walls have no issue with splashback from hard rains, and I've had no condensation on the tent's interior.
The floor is the same proprietary silnylon as the tent Fly. Silnylon is not as durable as Dyneema, and this floor is no exception. Stains and tears can easily damage this floor, so I suggest a thin piece of plastic or Tyvek be used as a footprint.
In addition, the floor is slippery, so I use a small piece of 1/8 Thinlight Pad from Gossamer Gear.
Tent/Interior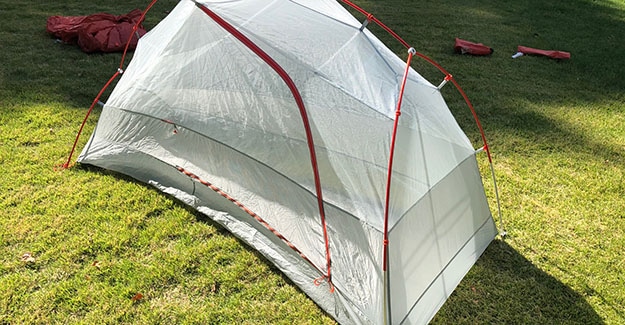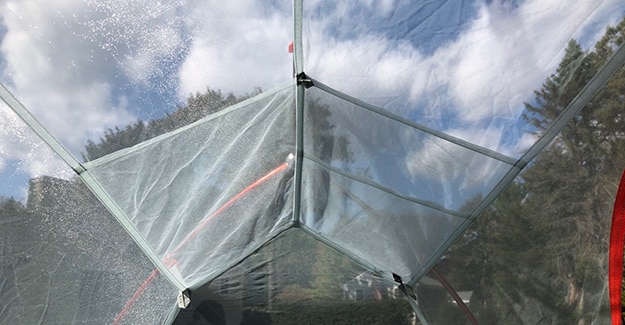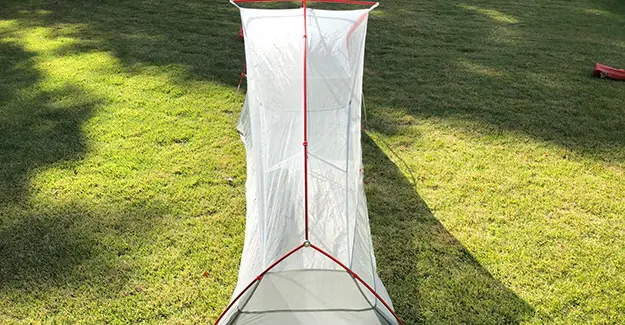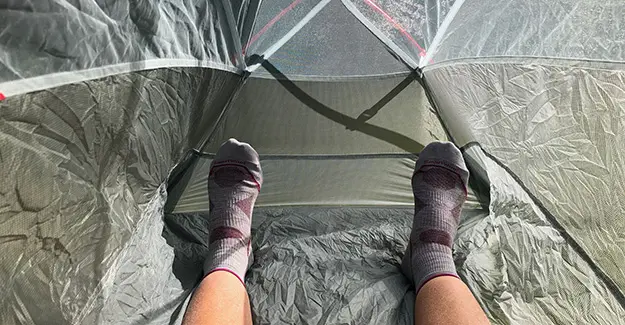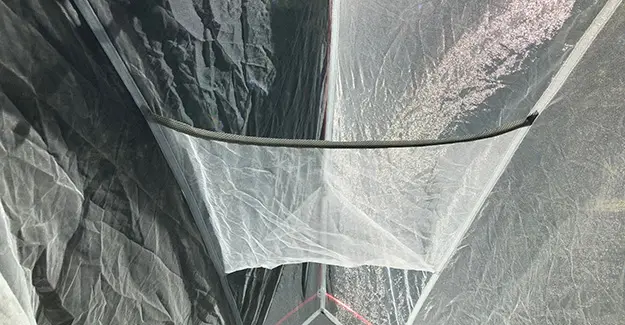 The Copper Spur UL1 is a one-person tent. I'm 5'11" and had enough room for me and my gear. Another person would not have fit, and a medium-sized dog would have been tight.
I'll add that I hiked with another hiker recently for about ten days on the Colorado Trail. She used this tent and seemed very comfortable sleeping with Her Blue Heeler in the tent with her.
I noted that although the length was much less than my Altaplex, it felt like the UL1 had more "useable space." I could put my backpack at the foot of the tent and have my quilt and head brushed up against the other end without worrying about condensation. The walls were also almost vertical, and that added additional room.
I've already mentioned the pockets in the tent, and this was a feature I appreciated. I counted five, all large and within easy reach. This helped organize my gear and made finding things in the dark easier. There were also gear loops to hang a line to dry sweaty clothes if needed.
Tent Poles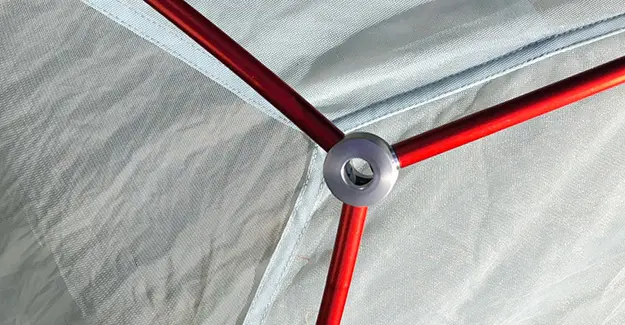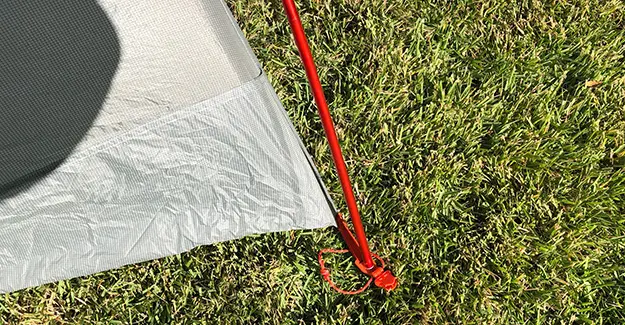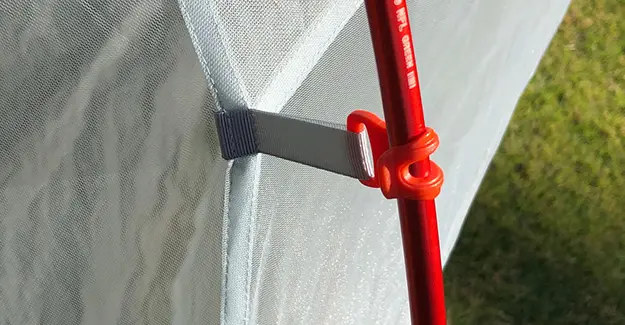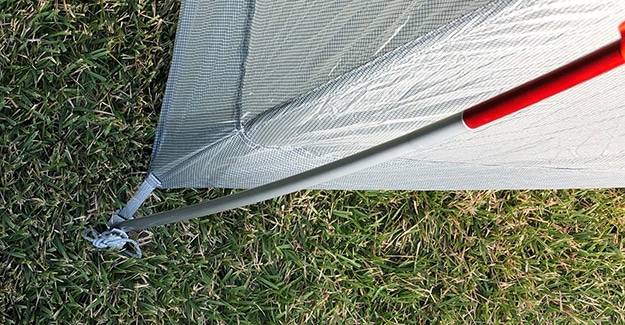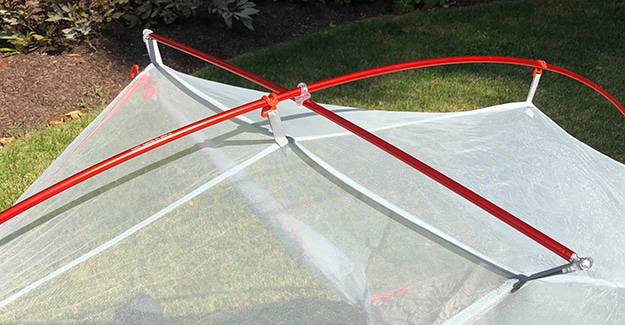 The pole system for the Copper Spur UL1 Tent is the commonly found hub and spoke system. This pole system is easy to use, with the poles quickly snapping together and into the keyhole locks near the fly clips.
The tent itself easily clips to the poles. There is also a small extension bar at the top of the tent whose tips clip into the same type of keyhole locks found at the tent's corners.
One convenience of Big Agnes tents is that they color code the poles and corner clips. The front hooks and tension cords are grey and match the poles' extensions that clip into place. The poles and clips at the foot of the tent are orange. These colors are convenient if you are trying to set up fast in the rain or in the dark.
Copper Spur UL1 Review – Final Thoughts
I've used a lot of tents, but this is still my favorite free-standing tent, minus the awning. It is durable and has held well in snow, wind, rain, and hail. This is a tough little tent, especially for its weight.
What I like is how easy the tent is to use. It is well-built, organized, fast to set up, and has a small footprint. I can put the little tent almost anywhere.
If you have any other questions, please email me at "contactaveragehiker@gmail.com."
This page has affiliate links for products and gear I purchase and use. If you click on one of these links, I receive a small commission at no extra cost to you. There may also be Amazon links and as an Amazon Associate I earn from qualifying purchases. You can read more about my thoughts on affiliate marketing.