Appalachian Trail – August 5, 2013
I lay in bed listening as doors slammed around 4 AM, dozing fitfully between jarring noise cracks. I was usually the first crazy hiker up in the morning.
At 5:00 AM, loud voices followed another slamming door. Throwing off my covers with a loud huff, I tumbled from my bed and padded across the cool floor to the lacey window curtains. Pulling the sheer curtains apart, I watch a hiker throw his pack into a car and climb in behind it. No way it was a thru-hiker missing out on Shaw's famous breakfast!
Instead of returning to bed, I headed for another shower to remove any remaining dirt and grime. It usually took a couple of good scrubs with a stiff washcloth to scrape off the dirt worn into my skin. I wanted to beat any early birds that might use up the hot water, so I grabbed my clothes and moved quickly down the hall.
It was still early when I finished getting dressed, so I quietly left the house and headed off through town, hobbling along on my stiff, blistered feet. I needed some more band-aids and tape before the next leg of the hike, but unfortunately, it was too early for most stores to be open.
I walked through town, down the main street, looking for any store that might be open for business. Finally, off in the distance, I saw the harsh neon light of a gas station and convenience store. The store was open, and I purchased their last two boxes of band-aids. There were about eight band-aids in each small box – enough for two days with my current blisters.
I frowned as I contemplated this upcoming section, trying to figure out how to convert my duct tape to band-aids without taking off the first four layers of skin on my feet. I would use paper.
The breakfast was fantastic! I had four of everything – eggs, bacon, pancakes, and toast. The NOBO hikers marveled at my appetite. They had been out for months, and I only had six days. I grinned and called them lightweights as I snatched a piece of toast off one of their plates.
I enjoyed chatting with the other travelers at the long communal table while I ate, but I did not linger after finishing. It had been announced an early shuttle was leaving, so I stuffed down one last pancake and ran upstairs to grab my pack and head out to the car.
After getting dropped off at the trailhead parking lot where I had been picked up, I took a few minutes to get my pack. Finally, my body was ready to move, having reached 20 hours of weightless, walkless rest. My tailbone was the only family member irritated to be hiking again.
I tried to take pictures of the three massive bruises on my fanny. Still, they were not in optimal snapshot locations, and I hesitated to ask others to assist in the picture taking, but finally, I managed the right awkward angle.
US 15 provided a delineation for trail conditions. To the north of the road was the brutal 100-mile wilderness, with its dark middle earth forests and eternal dampness, filled with mosquitoes, roots, rocks, and a constant covering of moss.
South of US 15, I picked up a new leafy, dry, park-like trail I had not seen before. I wound my way along it thanking the powers that be for this dry, flat trail.
I passed a lean, pale NOBO rounding the corner a few miles in. He looked familiar, and I suddenly realized it was "White Out," a NOBO I had met at the RPH shelter in CT when hiking earlier in the year. I had shared some pizza and soda with him and another hiker. It was great to see him finishing up the trail.
Throughout the day, I saw 10 NOBOs. Some blurred past with a quick hello, but a few stopped to speak. Monkey, Sweat, Bunny, and Dundee were the only dwarves I recall.
About an hour later, I saw two Golden Retrievers charging toward me. A woman called back the female, but the male ignored her and barked loudly as he established an aggressive stance in the middle of the trail. I stopped and waited for the woman to approach, giving him no reason to press his position further.
They were beautiful dogs, and they were very friendly once the woman arrived and said hello. I love almost any animal, so they both got a good rub as they bounced around me joyfully.
The woman's name was Meg. We chatted for about 20 minutes. She had a book coming out on ten female thru-hikers. She had followed them down the trail the prior year, conducting interviews before consolidating them into a book.
She had also left incredible trail magic (my first of this hike) at the next road crossing….beef sticks, the best fresh blueberries I've ever eaten, cookies, etc. Down south, it is common to see what long-distance hikers call "trail magic." It can be as simple as a cooler of sodas or as elaborate as a complete cookout that lasts for several days. When I hiked NOBO in 2005, I would come across it for the first 2 to 3 weeks at every road crossing, but SOBO was rare.
There were two river crossings throughout the afternoon, neither especially difficult. I wear trail runners and wade across, letting my shoes dry as I continue walking. Often I'll take out the inserts and then put them back in after I've crossed. As a result, my shoes and socks dry faster.
I wear Salomon trail runners. I love the one-pull laces, larger toe box, and ruggedness of the shoe. I've tried almost every trail runner, and this is my favorite.
The last stream crossing had a rope stretched across it. A note in my guide said the river could be dangerous when it rained. The rope crossed at a clear place along the bank, but I followed the AT around the corner, crossed a small channel, climbed up over a small spit of land, pushed through some brush, and finished by wading across a second channel. It seemed much more straightforward than wading across the deep river, using a sagging, loose rope to hold me above what might be a swift current.
I continued across several bogs and followed what appeared to be a dry creek bed for several miles, hopping from rock to rock. This was strenuous, and my legs got tired, so I stopped to rest on a fallen tree after a bit of hopping. The break did not last long, though, as my tailbone would have none of that sitting stuff.
I had planned to stop at Moxie Bald Lean-to, but a few people were already there, so I said hi and headed down towards the lake and campsites. Out here, I'm more comfortable away from groups of people. I prefer to camp on my own and put around camp in peace and silence before settling in for the night.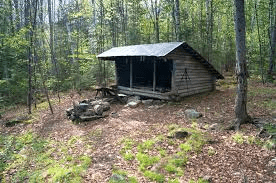 The lakes here in Maine, or ponds as they call them, are gorgeous and virtually empty. I walked down to the lake and found rocks to crawl up on to make dinner. They were flat enough to sit on comfortably as long as I leaned to the side and did not put pressure on my tailbone.
I stayed for about an hour, looking out at the beautiful lake with no movement. I scanned the banks around the lake's edges as far as I could see. There was no evidence of man, other than the laughter I heard behind me at the shelter.
The temperature dropped quickly, so an hour was about it for me. I headed back to my Hexamid shelter to settle down under my Nunatak quilt for the evening. As the light slowly left the sky, I listened to the soft, mournful call of the loons I loved so much.
Related Posts