The Hidden Valley Preserve in Connecticut includes approximately 17 miles of trail through various terrain. This was a summer hike for me on the first of August, and if you are not hiking near the river, bring your bug spray!
This trail is quite varied, with meadows, rivers, overlooks, and a reasonably gentle trail. The trail is also well-used, so it is wide and maintained.
Summary
Location – Main parking area is off Route 47 near Washington Depot, CT
Trail – 9-mile loop
Parking – 41.65646,-73.31777 – This is the main parking area with plenty of parking. I parked in a small space at the south end of the preserve on Sabbaday Lane (41.64993,-73.30227)
Getting to the Trail – There is a large kiosk at the end of the parking area where you can also get maps for the trail system.
Highlights – Quartz Mine, Thoreau Bridge, Pinnacle Lookout, Shepaug River, Meadows, Pine, Spruce, and Hemlock forests
Dogs – They have to be kept on a leash
Resources
Gaiagps – I used Gaiagps to create a route and synced it with my iPhone. I also used Gaiagps to determine the coordinates for parking.
Hidden Valley Map – This map highlights all the trails and points of interest.
Difficulty
Easy to Moderate – The trails in the preserve are very nice and well-maintained. I'm not sure there is any moderate section. Occasionally, you will do small climbs as you climb up from the river, over a ridge, and down to it.
Terrain – Smooth side trails weave through stands of Pine, Oak, Spruce, and occasionally Hemlock. There are not a lot of rocks or roots, and the trails are surprisingly smooth down by the river.
Clothing
Temperatures ranged from 75-80 degrees. It was overcast and sprinkled a little in the afternoon.
Socks – Ultra-light Smartwool (running socks).
Pants – REI Cargo Shorts.
Top – I took a new short-sleeved shirt that I bought on sale from Woolx. It is my first Woolx shirt, and I love it! I stayed cool, though I was sweaty, and there was zero odor when I finished! This is my first layer from Woolx.
Hat & Gloves – I did not use either for this hike.
Northface Daypack – This article describes what I carry in a daypack.
Shoes –

Speedgoat 5s

. These are relatively new to me, and I greatly like them! I recently bought five pairs, so I have them for next year's trial. I rarely do this, but they are that good.
Hiking Poles – Black Diamond Alpine Carbon Cork Poles (Review) – This is my second set.
The Hike
My time was limited on this hike, so I did not hit all the points of interest. I followed a series of orange, white, and yellow hiking trails. I also followed horse trails in the northeast and western sections of the trail.
Starting at the southernmost parking area on Sabbaday Road, where you can park 2-4 cars, I hiked north along the park's eastern perimeter. This hike section primarily follows orange and yellow markers and passes the Hidden Valley Lookout. This is probably an especially lovely view in the Fall.
I then followed green and yellow markers up into the northeast corner of the park, hiking through shaded forests of spruce, pine, hemlock, and oak trees. Then, looping back around, I dropped down on a green and yellow marked trail to follow the Shepaug River.
Shepaug River
The Shepaug River was an incredibly nice, easy hike as the multi-use hiker/horse trail wound alongside the river. There were a few spots leading down to small beaches, a picnic table, and a privy at one location.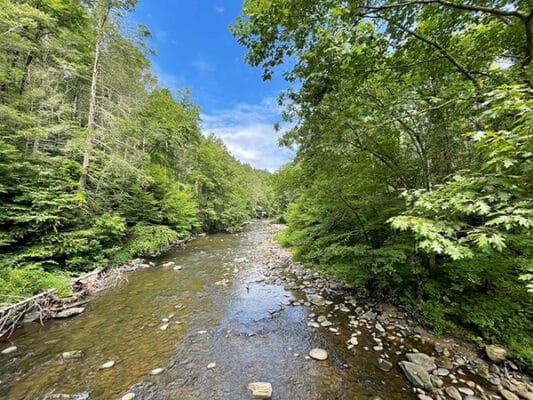 This river is ideal if you want a nice location to picnic and swim. The river was shallow on the day I visited, and there were large rocks to lounge on with very few bugs close to the water.
Last Section of Hiking
After crossing the Shepaug River, I climbed up to the western perimeter of the preserve and followed the trail around a hill along a marked white trail, through shady coniferous forest, ending near the main parking area.
Passing the large parking area, I followed the yellow, blue, and orange marked trail southeast and back down to where I had parked.
Final Thoughts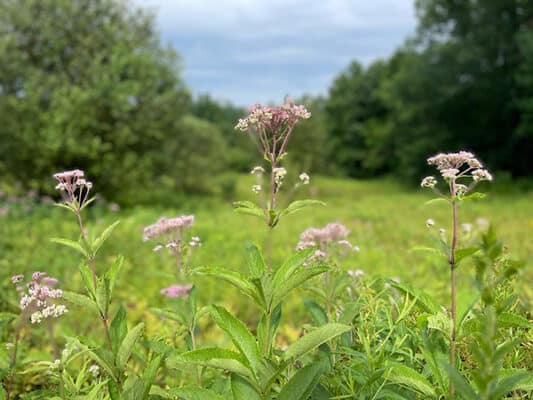 The Hidden Valley Preserve is a very nice area to spend the day. The Shepaug River is ideal for picnics, wading, and hanging out on large sunning rocks. There is plenty of easy-to-moderate trail through the surrounding forests and a few cool highlights like the quartz mine, Thoreau bridge, and numerous lookouts.
This is an excellent location to take family, kids, or anyone new to hiking.