Tarpgent Aeon Li Review
I hiked the Benton Mackaye Trail in March/April this year and tested new gear. The Aeon Li by Tarptent was the shelter I brought on my hike through the southern Appalachian Mountains.
The Aeon Li is a single-wall Dyneema shelter constructed in a similar shape to other shelters I have owned from Zpacks and Six Moon Designs – Altaplex, Hexamid and Wild Oasis.
I purchased the Aeon Li to try and reduce concentration. This tarp tent uses small struts at the corners and the back of the shelter. This raises the walls 12 inches vertically before beginning the pyramid slope up to the peak of the Aeon Li.
I'm a little over 5'11 and found the tarp tent provided good length and improved ventilation over other Dyneema shelters. It is a well-made tarp tent, but the width is a little narrow (about 6 inches more narrow than my other similar shelters), and I had to fuss with the PitchLoc corners in the evenings.
Aeon Li Article Summary
| | |
| --- | --- |
| Weight: 17.3 oz | Interior Height: 47″ |
| Floor Width: 30″ | Width w/Vestibule: 55″ |
| Floor Length: 88″ | Vestibule Space: 25″ |
| Shelter Length: 100″ | Zipper Entry Height: Not Provided |
| Packed Size: 14″ x 4″ | Fabric: .51 vestibule/1 floor |
| Pros: Air-flow, Weather, Ease of Set-up | Cons: Narrow, Fussy Corners |
Table of Contents
My Shelter Requirements
Below are my shelter requirements.
Light Weight – Lightweight to reduce fatigue and injury is important on long-distance hikes.
Ease of Set-Up – I usually hike until dusk, and I want to set up quickly when I stop. Setting up quickly in bad weather is also important.
Reduced Condensation – Condensation is irritating and can be dangerous in cold weather if water gets your Down gear (Sleeping Bag, Jacket) wet.
Tent Stakes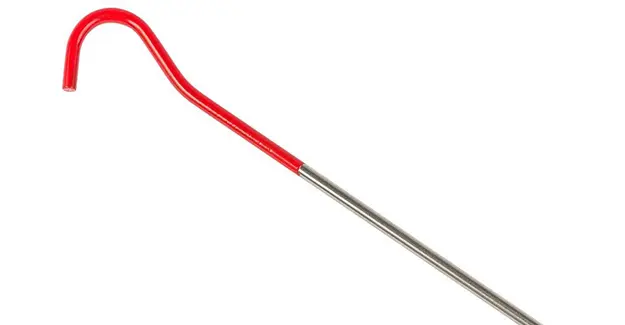 The Aeon Li comes with 6 Easton Aluminum Stakes. Many tent manufacturers include this type of stake, and I always switch to Titanium stakes from Zpacks.
I like Zpack's red-topped stakes because I can find them at dusk or dawn when tent stakes like to hide in any vegetation.
Zpacks has several types of tent stakes. If purchasing their stakes, I get the "6.5 Red Tough Titanium Tent Stake." It is a little larger than the 6.0 and works well on rocky ground.
Tarptent Aeon Li Review – First Glance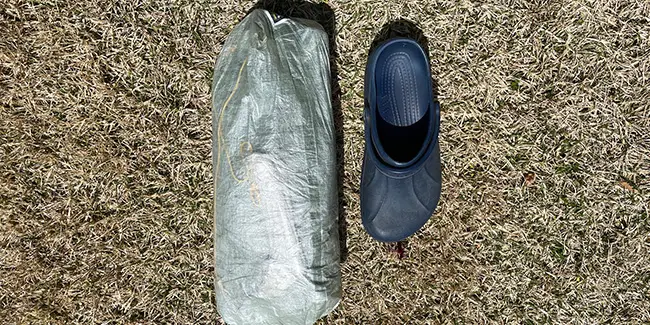 Out of the box, the Aeon Li is a long tent (14 inches) packed. In the picture above, I have a size 9 crock next to the packed shelter to provide some perspective.
This might be an issue for those that pack their shelter in their backpack horizontally, but I always store my shelters in the outside mesh pockets on my backpacks. My current pack is a ULA Ohm, and it has a long mesh pocket. The Aeon Li is a good fit.
Aeon Li Easy To Set Up/Pack Up
The Aeon Li is easy to set up. There are 6 main lines, and a long line from the peak is available if needed. I never use it because I always leave one side of the vestibule down, so the vestibule tie-out is fine.
The only thing I find a little irritating is the PitchLoc corners. They become tangled when packed, and I have to mess with them a little bit when setting up the tarp tent. This is frustrating in the dark or when it was raining.
Honestly, though, the PitchLoc corners are worth minimizing condensation inside the shelter.
Tarptent states you can set up the shelter without tying out the front line, and it stays erect. This is true, but you better grab it if a strong wind comes along!
Pre-tied Lines
Lines and locs come pre-tied on the Aeon Lie, which is nice to have. I take some extra line, though. If you are in brushy or uneven ground, you may need a longer peek tie-out line.
I would also probably switch out the lines on the Aeon Li. They are much thicker than they need to be on this shelter.
Pitch Loc Corners
I'm a little on the fence in regards to the PitchLoc corners. The positives are that they definitely lift the tent wall off the foot of my sleeping bag, but the shelter's wall above my face is the same as all my other shelters.
I like the ventilation the PitchLocs offer. There are small covers inside the shelter that you can cinch up if there is rain or release to allow airflow. This definitely improves the airflow.
On the other hand, I did get soaked one night, untangling the PitchLoc as I set up in the rain, and if the ground is not level, they don't set very flat.
Aeon Li Pack Up
Packing up the Aeon Li is much easier than I expected. I was concerned the PitchLoc poles and the small pole in the top of the tent and on the back would make packing it awkward.
This is just the opposite!
I have no problem lying the small poles over the folded tent and quickly rolling it up to pack in the stuff sack.
One thing I will mention is the stuff sack. The Dyneema fabric is fragile. It is not going to last long before it gets a hole.
Vestibule
The vestibule on the Aeon Li is 25 inches wide and zips shut, which I prefer over an overlapping closure with a hook. You will be able to get your gear under the vestibule, but if there is rain, there will be splashback, and gear will get wet.
The zipper on the vestibule itself is robust and waterproof. No rain is dripping through THIS zipper, but don't think you can lazily stretch out at an awkward angle and zip it shut. You will do a little work – like get up on your knees, lean out, and zip it!
Interior Pocket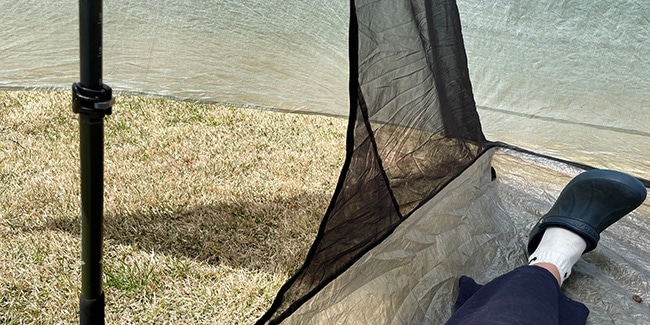 There is an interior pouch inside the door, but the opening is on the side. Most things of any weight I put in this pocket eventually end up on the floor. I prefer a top-loading pocket and don't use it.
Aeon Li Review – Materials/Construction
The Aeon Li is a well-constructed tarp tent. All of the seams are sealed, and it uses .51 Dyneema on the body of the shelter and 1 on the bottom. I don't use footprints with my Dyneema shelters and don't with this one either.
The Aeon Li is a snug fit. It is about 6 inches more narrow than my Altaplex, and with a square sleeping pad like the Nemo Tensor I used at the beginning of the hike, it was too narrow to comfortably place my gear around my feet.
Tarptent proclaims more space due to the sides being raised off the ground, but I did not find this usable space except at the foot of the shelter. I prefer a wider floor.
Shelter Walls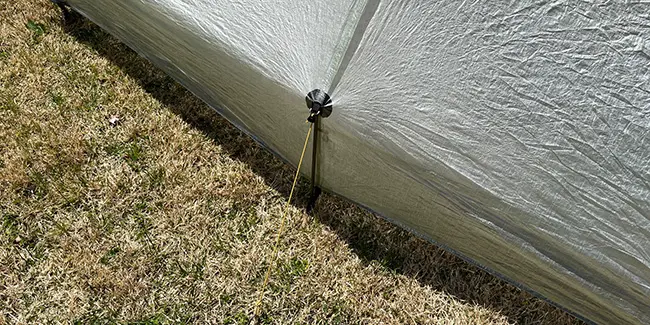 I mentioned the PitchLoc corners above. The use of the PitchLocs, and a small pole on the back of the shelter, lift the walls about 12 inches vertically before the slope of the wall begins.
This construction is intended to keep the walls off you and your gear. It works well and is one of the things that prompted me to purchase the shelter.
While there is ample foot room, my face was still about 2 inches from the tent's wall. I also noticed the walls were not taught and sagged a little. I repitched the Aeon Li several times, trying to get a tighter pitch, but there was always a little slack.
Aeon Li Review – Additional Observations
Durability
The Aeon Li has about 200 miles on it and has held up well in some pretty tough storms. Of all my Dyneema shelters with this shape, it has held up the best in heavy wind storms, keeping me dry through some hard, steady rain.
The walls are slightly thinner (.51) than my other Dyneema shelters (.55), but this has not mattered. It is still tough, Dyneema, and I've had no issues with any wearing or tears.
Trekking Pole Length
I used my Black Diamond Alpine Carbon Cork Poles for the shelter and did not have to use a Jack as I did with my Altaplex. I set the pole at about 120 cm, and this worked well.
Tarptent Aeon Li – Post Hike Review
Pros
Set-up – a stable tent, more stable than some of my other Dyneema shelters. The back walls are not quite as taut as I would like, but it is not a show stopper.
Construction – well made, quality construction and high-end components
Airflow – good airflow with a vent at the peak, and the ability to open the PitchLocs at each corner
Walls – I definitely like the 12-inch vertical lift that keeps gear drier.
Cons
PitchLocs – They became tangled when packed up, and it took a little more time to untangle them and set up the tarp tent. They were also not setting flat if not on level ground.
Zippers – A little hard to zip closed.
Vestibule – I prefer a zipper, but that would add weight.
Width – the tarp tent is about six inches too narrow. I could not store all of my gear with a square pad. I switched to my Neoair X-lite, which worked much better, narrower, and tapered at the bottom.
Aeon Li Altaplex Review – Would I Buy One Again?
I would purchase the Aeon Li again. It is is a solid, well-made Dyneema Shelter.
This is a popular shelter, and at only 17.3 ounces, you will be hard-pressed to find many other shelters as light as this one.
Related Posts
FAQ
How is Aeon Li for tall people?
I'm 5'11 1/2, and had about 5 inches of usable space below my feet. I would probably want a longer tart tent if I was over about 6'2″.
Can the Aeon Li be set up quickly in the rain?
Like all tarp tents it is basically a tarp with a body attached underneath. You can definitely set it up while keeping your gear dry.
Does the tarp tent have a large footprint?
The Aeon Li has a smaller footprint than some of it's competitors, making it attractive for dense forests or tight campsites.
---
Average Hiker purchased this tarp tent to review. When you buy through links on this website, I receive a small commission at no additional cost to you. If you have found this review helpful, please consider purchasing through any of the links above. You can find further affiliate details on the Affiliates Page. Thank you
Hi! Some of the links in this post are affiliate links. This means that when you click on one of these links, I earn a small commission at no extra cost to you. Also, as an Amazon Affiliate, I earn from qualifying purchases. Thank you.