The Appalachian Trail was rerouted west of the Housatonic in 1988, creating the blue-blazed Mohawk Trail. As you travel along this lightly used trail you will see remnants of the AT. Pay attention and you will see National Scenic markers, the occasional old white blaze, and even three older AT shelters.
Table of contents
Logistics
Trail:  The Mohawk Trail
Total Miles:  24 Miles
Location:  Falls Church, CT
Northern Terminus:  41.93901,-73.36165  (Warren Turnpike Road off Route 7)
Southern Terminus:  41.81273,-73.36538  (Dark Entry Road off Route 7)
Today's Hike:  Housatonic Regional Valley Highschool to Wickwire Road
Today's Miles:  8-9
Hike Summary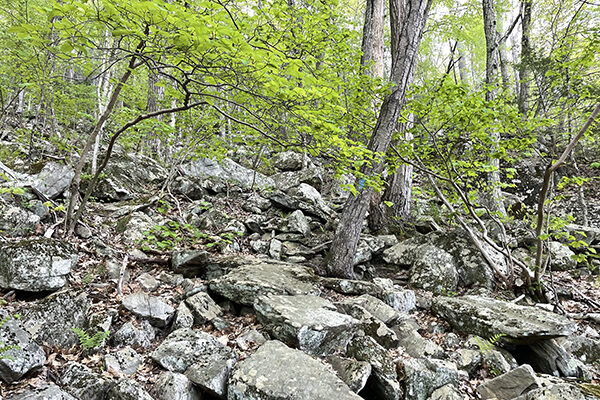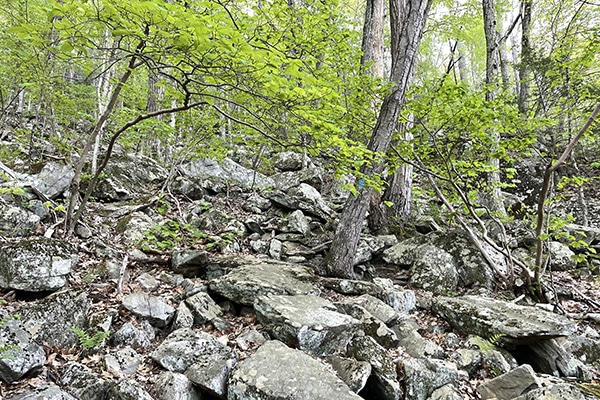 I was up and moving early this morning since I only had a few hours to hike and a long drive to the trail. The Mohawk is a trail I've always wanted to hike since it was the Appalachian Trail until the AT was rerouted in 1988.
The school was in session (Housatonic Valley High School), so I drove down about 100 yards further and parked on this side of the road leading to the public tennis courts on the left.
The early morning temperature was in the 50's, and there was zero humidity – perfect hiking weather!
Breakfast Cafe
Bright morning sun flickered through bright Spring green leaves as I climbed up over the railroad tracks and through a residential area before coming out on Lime Rock Road about a quarter-mile away.
If I were an AT thru-hiker, I would definitely take this short detour. There was a breakfast cafe across the street!
Overlook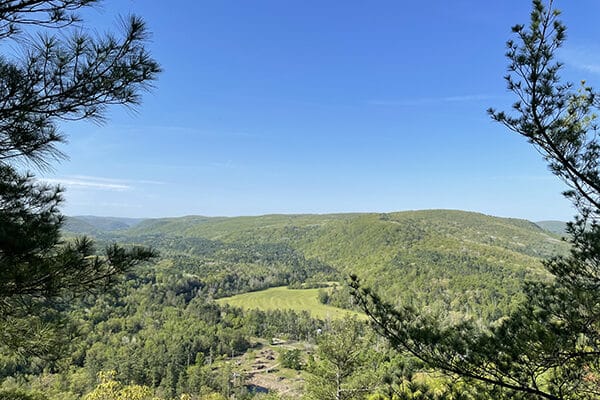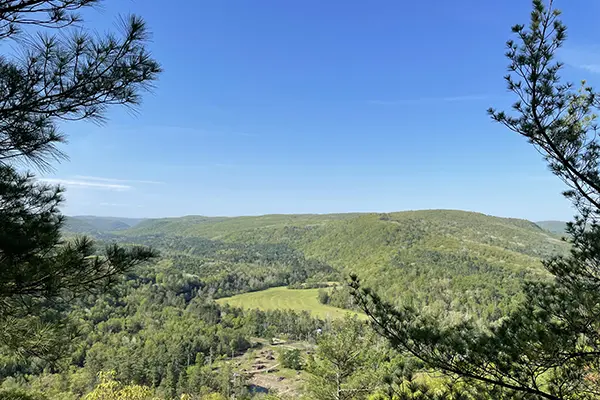 The climb up from Lime Rock Road was steep and rocky. I even found myself using my hands a couple of times as I wound my way through choppy granite, switchbacking once or twice.
Views were superb, though, as I gazed down through the Housatonic Valley. There was a slight haze over the valley, and I could tell it would be a warm day.
Music Mountain Road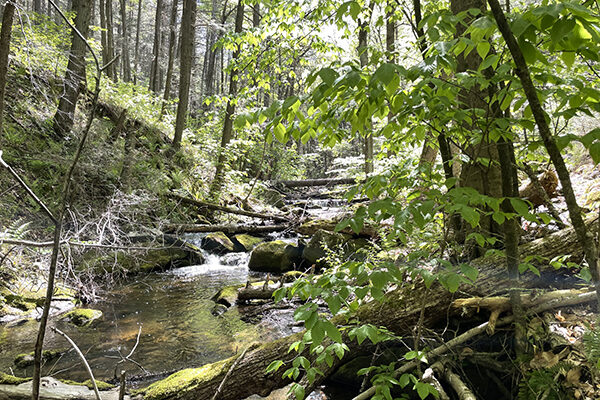 The first half mile after the overlook was just as steep as the climb up, and I transitioned from hands to butt a couple of times as I made my way down.
About a mile and a half later, I arrived at Music Mountain Road, where I took a left and headed down the road before hooking another left back into the woods.
100 yards brought me to Dean's Ravine, and I spent the next half mile traveling along a fast-flowing creek before arriving at a beautiful set of falls.
Pine Hill Shelter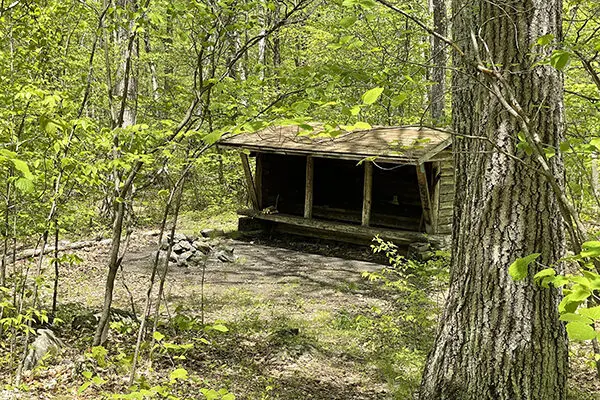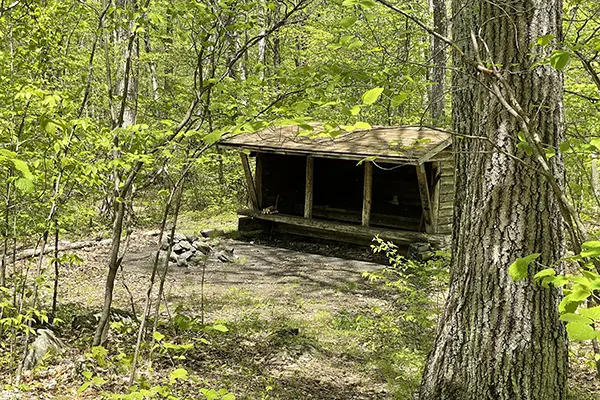 Leaving the Falls, I hiked the next three or so miles over to Pine Hill Shelter. The trail was easy to moderate, climbing up past Music Mountain before winding its way through oak, pine, and the occasional hemlock.
Crossing an old forest service road, I walked about 100 feet and looked up to see the back of Pine Hill Shelter. I always love it when the shelters pop up unexpectedly.
The shelter was constructed in 1988, the same year the trail was rerouted oddly enough, and was a traditional AT-style shelter. It appeared to get used fairly often with a big fire pit out front. This was not surprising as close as Wickwire Road was to the shelter.
Hike's End
I reversed course and made my way back down to Dean's Ravine where I took a right onto Music Mountain Road and picked up my pace. I needed to get back to the car so I took roads back.
The road walks are almost as interesting as the trail sometimes. I passed an old Volkswagen that looked as if it had not moved from its spot in decades. It was very nostalgic. Bugs had been a family car for me a few times.
A couple in a truck stopped to ask me if there was live music on Music Mountain, but I told them I had only seen many rocks and trees. The woman looked a little disappointed while her husband just laughed.
Final Thoughts
The first half mile's climb up from the terminus was tough and rocky, but the trail was easy to moderate hiking after that. The first Overlook and Dean's Ravine and Falls were the highlights, along with Pine Hill Shelter, of course.
Related Posts
This page has affiliate links for products and gear I purchase and use. If you click on one of these links, I receive a small commission at no extra cost to you. There may also be Amazon links and as an Amazon Associate I earn from qualifying purchases. You can read more about my thoughts on affiliate marketing.