RightOnTrek asked me to review their meals a few weeks ago, and I happily agreed. I'm always on board with any process that makes food logistics easier on backpacking trips!
In a nutshell, the innovative meal planning concept definitely made "food logistics" more manageable, and the food tasted good – at a reasonable price. There are a few things that I'm sure will continue to evolve, and as this young company continues to grow, I'm sure they will knock the cookpot (argh, argh) out of the park.
RightOnTrek Updates
RightOnTrek is still growing and has a few updates I want to mention since this last post was written.
Sixteen new meals include vegan, keto, vegetarian, gluten-free, and other dietary preferences.
You can order them for one, two, or four people.
A new a la carte store for ordering.
Company Highlights
| | |
| --- | --- |
| Air Dried Food | Biodegradable Packaging |
| 100 Calories = $1 | Meal Planning |
| Saved Meal Plans | Dietary Choices |
| Ships to Resupply Points | Made Fresh Each Season |
Table of contents
RightOnTrek Website
For this review, I ordered my food from RightOnTrek, which allowed me to check out their website. The website is good-looking and offers some nice features.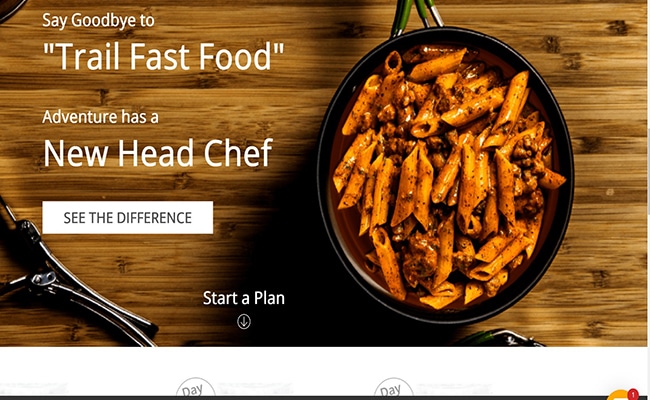 Trails
Under "Trails," they only need the "Find a Hike" subcategory, but they also have to Find a Trail and Find a New Trail, which is all a little confusing. I was only interested in "Find a Hike" since the rest were similar to "AllTrails" and Gaia, which I already use.
"Find a Hike" allows you to choose a trail and then plan to go with it. The plan lays out the hike by day and sums up the days so you know how many meals to order.
It would be nice if "Find A Hike" allowed users to enter their daily mileage to update the plan and THEN provided a link to order each day's meals within the tool itself, but all in good time.
Sign Up/Login
Signing up allows you to set up a profile to save your orders. This is a nice feature if you are doing a longer hike and want to use the plan to reorder.
Tastes will change on long hikes, so being able to choose your meals and switch out certain items before having them shipped to the location you choose is an excellent convenience.
Blog
RightOnTrek has a blog, mostly about their user's trips and general news. This feature can drive traffic for any website, so topics will expand with their growth.
Ordering Food
Ordering food on RightOnTrek is easy. You choose the number of days you are hiking, whether alone or in a group, personalize your meal plan, and you are off to the races. The ease of ordering is one of the strengths of this sight.
The customizations include things like whether you're vegetarian, want dairy, etc., and what condiments you like.
I initially tried to order a few meals to try, but you can't do this on RightOnTrek – no "a la carte" allowed right now, but based on feedback from RightOnTrek, this may change in the future.
Once you have your meal plan, you can make changes to each day's meals. Within the plan, you can substitute and delete those options you don't like and check them before adding them to that day's meal. You can even swap breakfasts and dinners, which is good since I'm not a big breakfast food person.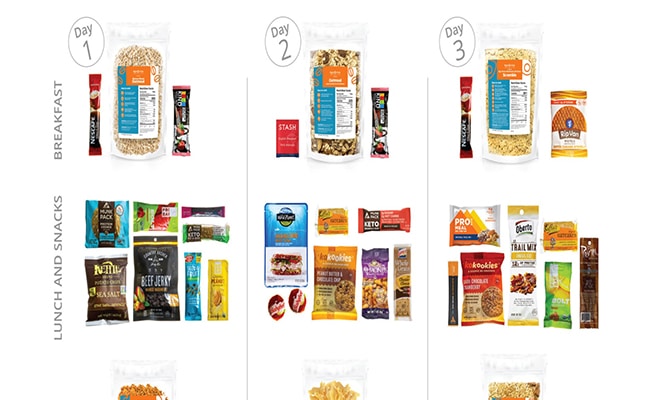 Foods I Sampled
It took some time to order the meals I wanted since I had to order plans and then delete all the meal options daily. There was a lot of clicking, but I finally chose what I wanted to take on my next backpacking trip.
Mac & Cheese
Oatmeal w/Cranberries & Walnuts
Wheat Porridge
Chicken Alfredo Pasta
The meals arrived packaged and ready to go. I appreciated that the spices and condiments were all in their own separate packaging by day. I often keep a day's food in a large gallon Ziploc bag, which appealed to my OCD food organization tendencies.
After I received my meals, RightOnTrek and I went for an icy 2-day backpacking trip. They did not offer many snacks I eat, so I ended up ordering only breakfasts and dinners.
Mac & Cheese
The Mac & Cheese was good, similar to other mac and cheese meals I have eaten. The noodles required boiling, and then you added the powdered cheese and spices. The cheese sauce was a little sharper than I expected, which was good, and I enjoyed the meal. Although 542 calories, the portion size was small at the end of a long day.
Chicken Alfredo Pasta
The RightOnTrek Chicken Alfredo was flavorful but a little salty for my taste. The noodles required boiling, and then simmering was needed after the spices and powdered sauce were added. Like the Mac & Cheese, the portion size was a little small for me, but that means I wanted more!
Oatmeal w/Cranberries and Walnuts
This breakfast was good. I tried it cold-soaked, but I preferred it cooked. I don't eat much at breakfast, so the portion was perfect for me. There were plenty of cranberries and nuts, and I stayed full for the first few hours of the hike.
Cream of Wheat Porridge
The Cream of Wheat Porridge is what it says, Cream of Wheat. I always have liked Cream of Wheat, and this breakfast was also the right portion size. I added some powdered NIDO and brown sugar to give it a little more flavor.
RightOnTrek Review Conclusion
RightOnTrek introduces an innovative and convenient concept, creating meal plans for a full day's meals – breakfast, snacks, drinks, lunches, and dinners. This makes "food logistics" very easy. Pick what you want, and have it sent to your resupply points if you are on a long hike.
RightOnTrek checks all the boxes – convenience, environmentally friendly, price, taste, and with 50 percent off on the first order, there is really no reason not to try their meals.
If interested, RightOn Trek offers a 25% discount for first-time orders using code Revolution25.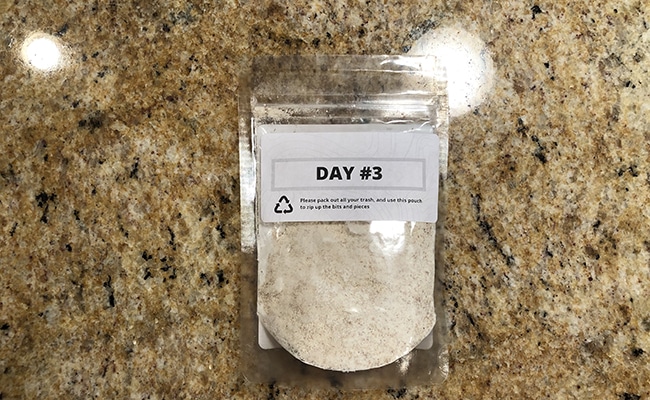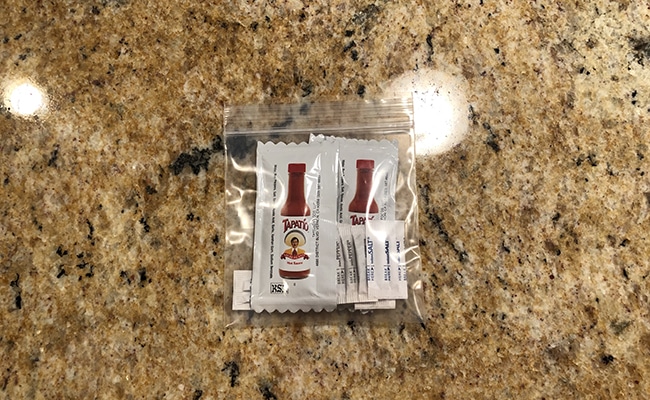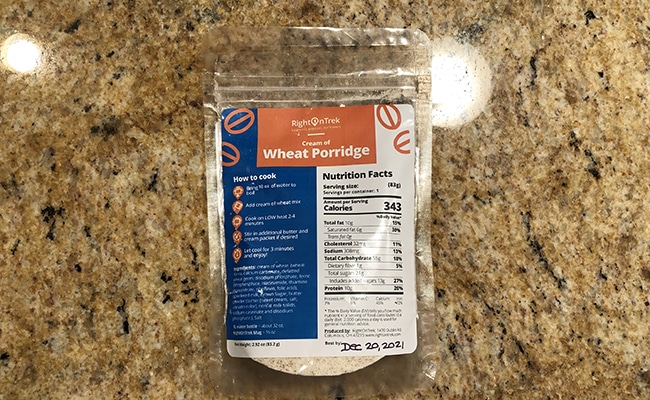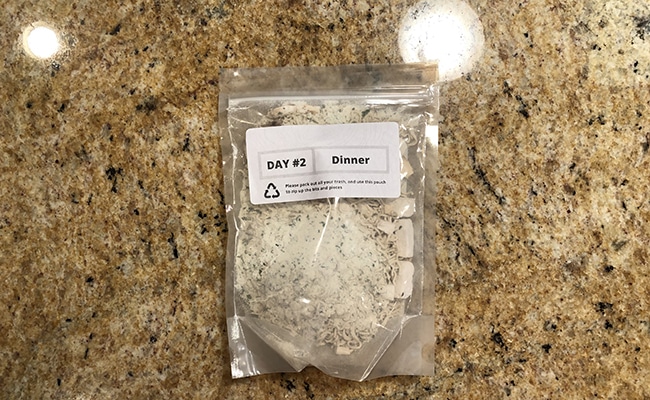 Pros
Taste – their meals taste good, with plenty of spices and condiments to add additional flavors.
Website – Well developed and easy to use and navigate.
Price – $1 for 100 calories is reasonable, but I would rather have larger meals and fewer snacks.
Chat – You can ask questions via the Chat function while ordering.
Cons
Portions – I'm not nearly as hungry on shorter or section hikes, so these meals are fine. These are not large enough for long-distance hiking unless I carry two of each dinner.
Meal Ordering – Allow "a la carte" ordering. I don't eat many snacks and rarely have hot beverages. I don't eat bars anymore, and there are many of these.
Variety – Variety is limited, but this will increase over time.
Cook Time – These are air-dried meals, so you have to boil the food, and in many cases, you have to simmer it. On short hikes, this is ok, but I want to boil and soak in a Ziploc on a long hike and not worry about cleaning a pot.
This page has affiliate links for products and gear I purchase and use. If you click on one of these links, I receive a small commission at no extra cost to you. There may also be Amazon links and as an Amazon Associate I earn from qualifying purchases. You can read more about my thoughts on affiliate marketing.