Nemo Hornet 1P Tent – Review
The Nemo Hornet 1P Tent is a lightweight double-sided tent that, at two pounds, makes it one of the lightest in its category. This is a well-made backpacking tent that holds up well in bad weather, with a tall bathtub floor and waterproof 10D Silnylon Fly.
Innovation is the name of the game with Nemo. Several innovations, like an overhead Flybar, triangular guy-out lines, and tent body Fly attachments, allow for a surprising amount of interior room in this one-person tent.
I used the Nemo on my New England Trail thru-hike.
Nemo Hornet 1P Tent – Summary
| | |
| --- | --- |
| Door: 1 | Vestibule: 1 |
| Seasons: 3 | Capacity: 1 |
| Packed Weight: 2lbs. | Minimum Weight: 1lb, 10oz |
| Packed Size: 19.5 x 4.5 | Peak Height: 39″ |
| Floor Area: 22.3 sq ft. | Floor Dimensions: 87/43/31 |
| Vestibule Area: 7.3 sq ft. | Frame: Aluminum DAC Featherlite |
| Canopy: 10D Nyl/No-see-um Mesh | Fly: 10D Silnylon |
| Floor: 15D Silnylon | Price: $329.95 |
| Pros: Weight, Room, Weather Resistant | Cons: Floor, Fabric, Semi-Freestanding, Room |
Nemo Hornet 1P Tent – Update
Nemo now sells the new Hornet Elite OSMO 1P tent. It is three ounces lighter than the regular Nemo Hornet 1P tent and twice as expensive.
Nemo states that the OSMO is 4x more water repellent and has 3x less stretch. Unfortunately, it is still semi-free standing. It also has .5 fewer square feet of livable space, offset by .4 more square feet of vestibule space. I would personally rather have more livable space. Finally, the OSMO is three inches more narrow at the head.
I'll probably stick with the original NEMO 1P for half the price based on the specifications
Competitors
| Tent | Price | Weight | Peak Height | Length | Floor | Vestibule | Packed Size |
| --- | --- | --- | --- | --- | --- | --- | --- |
| Nemo Hornet 1P | $329.95 | 2lbs. | 39″ | 87″ | 21.3 ft. | 8 ft. | 19.5 x 4.5 |
| BA Copper Spur UL1 | $379.95 | 2lbs., 6oz. | 38″ | 88″ | 20 ft. | 9 ft. | 17.5 x 5.5 |
| MSR Hubba NX 1P | $379.95 | 2lbs., 15oz. | 36″ | 85″ | 18 ft. | 9 ft. | 18 x 6 |
| BA Tiger Wall UL1 | $349.95 | 2lbs., 3oz. | 39″ | 84″ | 19ft. | 8 ft. | 17 x 5.5 |
| REI Flash Air 1 | $249 | 1lb., 10.5oz. | 42″ | 88″ | 21.3 ft. | 8.4 ft. | 16 x 6 |
| MSR Carbon Reflex | $449.95 | 1lb., 10oz. | 34″ | 84″ | 17 ft. | 7 ft. | 17 x 5 |
| Slingfin Portal | $485 | 3lbs., 5oz. | 44″ | 85″ | NP | 8.4 ft. | 5 x 14 |
| Marmot Tungsten | $319 | 2lbs., 9.5 oz. | 36″ | 84″ | 20 ft. | 8.75 ft. | 20.5 x 6.5 |
| BA Fly Creek UL1 | $329.95 | 2lbs., 1oz. | 22″ | 86″ | 20 ft. | 5 ft. | 19 x 4 |
My Shelter Requirements
Below are my shelter requirements.
Light Weight is essential for me on long-distance hikes to reduce fatigue and injury.
Set-up Ease – Setting up just before dark or in bad weather is expected; therefore, being able to set up my shelter quickly is essential.
Reduced Condensation – Condensation is irritating and can be dangerous in cold weather if it gets your Down gear (Sleeping Bag, Jacket) wet. I try to minimize condensation by choosing the proper shelter and carefully

choosing a campsite

to pitch my shelter.
Nemo Hornet 1P Review – First Glance
The lightweight of the Nemo Hornet is noticeable when I take it out of the box, and although the packed size of 19.5 x 4.5 is not the smallest in its category, it is one of the lightest one-person tents.
The Nemo has details I always like to see included with new tents.
Neon zipper ties
Interior pockets
Loop ties for the doors
Extra guy-out line
Extra tie-out loops
Extension lines for the tent body
The Nemo Tent includes the guy-out cord, stakes, a stuff sack, and a repair kit.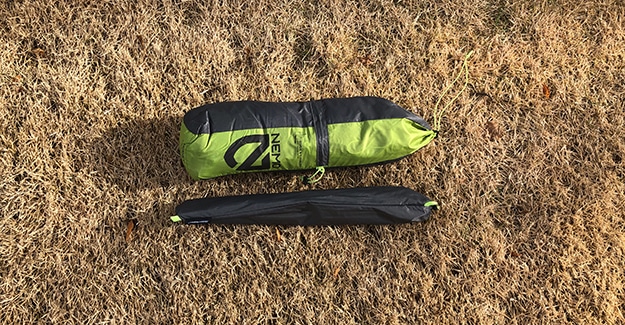 Nemo Hornet 1P Set Up/Take Down
Tent Body
The Nemo is described in some reviews as "Free-Standing," but the tent's manufacturer describes it as "Semi-Freestanding," I agree with this description. Although it is not free-standing, it can stand alone with its three pole points.
The tent uses a hub and spoke tent pole structure, which is easy to set up and takedown. A "Flybar" attaches to the top pole's center, spreading the tent and allowing more headroom while spreading out the tent fly evenly.
The tent poles are color-coordinated; two poles attach to the tent loops in front, and one connects at the back center of the Nemo. When setting the tent up, stake down the two front loops and attach the tent and Flybar to the tent poles.
The front corners use triangulated guy-out lines that keep the front of the tent tight while standing up the wall, so it does not sag. The Nemo Fly attaches to the same loops and stakes used for the tent, which is convenient.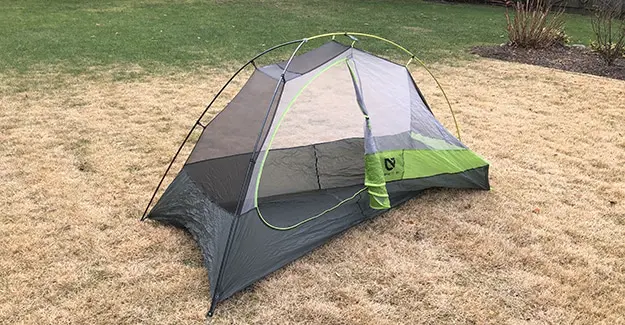 Tent Fly
Extra tie-out loops on the tent Fly's front and back allow you to secure the tent structure further. Additional guy-out lines on the Fly's sides also secure it and provide adequate ventilation.
One nice touch on the Nemo is the attachment lines that allow the tent's body to be attached to the tent Fly's underside. These extension lines pull out the tent's body, providing more interior space.
The Nemo has an adequately sized vestibule with room for cooking and storing gear. The zipper is covered with a silnylon flap that uses Velcro for attachment points.
Finally, the Nemo tent and Fly are easy to take down and Pack. The Silnylon compresses into a small package, and although the Flybar is a little cumbersome, you can turn it and continue rolling the fabric.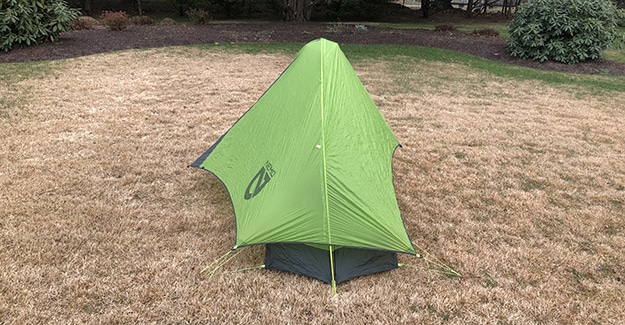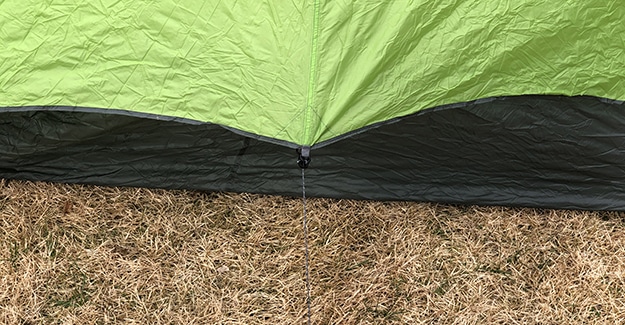 Nemo Hornet 1P Review – Materials/Construction
Tent Body
The Nemo Hornet tent is made of no-see-um mesh. Light-colored mesh on the sides provides more privacy than the black mesh on the top, but the darker mesh on top of the canopy allows you to see the night skies, making for excellent stargazing.
A large front door provides good access to the tent, and all zippers have neon ties making the zippers easy to find and use.
The interior of the tent has two pockets. One pocket is beside the door and is ideal for holding small items. The light-colored pocket overhead claims to disperse the light from your headlamp at night. I tested my headlamp in the pocket but ended up taking it out and wearing it while working in the tent. My Fenix HM50R is a bright light, but I found that not enough light was "dispersed" to be useful in lighting the area around me.
The tent floor is made from 15D Silnylon. One of the nice things about this tent is the tall bathtub floor. You won't have to worry about splashback; the taller sides block the wind. This is not a thick floor; I suggest using Tyvek or a thin piece of plastic as a footprint. I would not pay for the expensive footprint.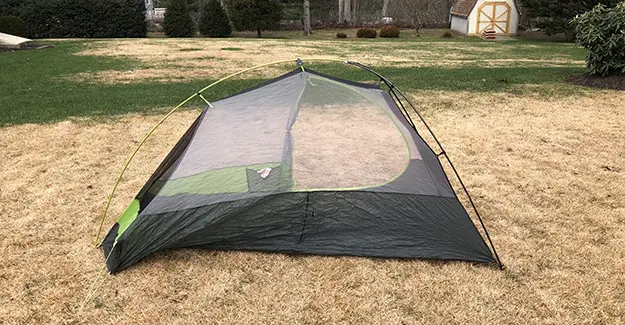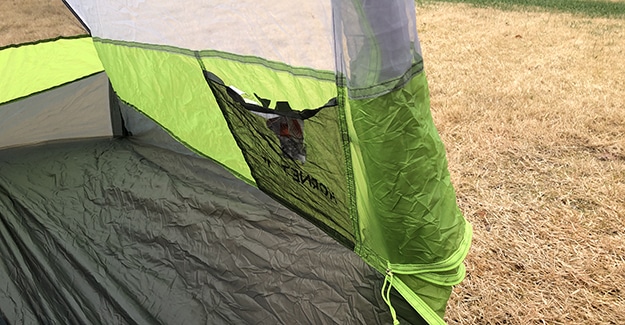 Tent Fly
The Fly on the Nemo tent is 10D Silnylon, and the floor is 15D Silnylon. I would not call the fabric tough, but it will hold up on extended backpacking trips if you take care of your gear.
The tent Fly's seams are sealed, and the Fly, combined with the high bathtub floor, makes this tent pretty weather resistant. I have used it in constant, steady rain and thunderstorms, and it has kept me dry, even during high winds.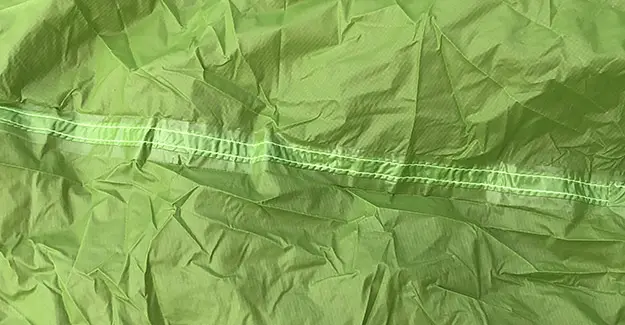 Tent Poles
Tent poles are made from Aluminum DAC Featherlite components, and I appreciate the tight elastic cords, which is not always the case in today's tents. The tent frame uses a hub and spoke structure, and the ends of the poles have small round nubs that clip into two clips on the back of the tent and through a small grommet hole on the front ground loop.
Nemo Hornet P1 – Summary
The Nemo Hornet P1 is an innovative, lightweight tent with a roomy interior. The Nemo is easy to set up and provides a weatherproof shelter. The Silnylon is a lightweight fabric, though, and you will need to be careful with the tent and use a footprint under the thin tent floor.
Pros
Weight: Two pounds makes it one of the lightest semi-freestanding tents.
Room: Innovative touches like the Flybar and body extension attachment lines to its Fly make it a roomy one-person tent.
Weather Resistant: Taped Fly seams and a high bathtub floor contribute to its weatherproof features.
Cons
Floor: The thin floor will require a footprint to protect it from abrasions and punctures.
Fabric: The 10D Silnylon fabric will require care. Ensure you don't snag it during setup or set up in a very brushy area.
Semi-Freestanding: The tent will stand alone, but it is not a Free-Standing tent. This tent is a Semi-Freestanding tent with two poles in the front and one in the back.
Room: Even though the sides of the Nemo tent attach to the Fly and open up the tent for more room, the sides of the tent still sag higher up. The Nemo offers more floor space, but the overall tent feels tighter than other one-person shelters I have used, like the Big Agnes Copper Spur.
This page has affiliate links for products and gear I purchase and use. If you click on one of these links, I receive a small commission at no extra cost to you. There may also be Amazon links and as an Amazon Associate I earn from qualifying purchases.If this review has been helpful, please consider purchasing through the links above. Proceeds are used to purchase additional gear for review. Thank you. You can read more about my thoughts on affiliate marketing.