The Aspetuck Trail is a 6.9-mile blue blaze trail located in the Aspetuck River Valley in Fairfield County, Connecticut. Before joining Huntington State Park, the trail meanders through the Centennial Watershed State Forest.
If you want to hike longer distances, the Aspetuck connects with the 11.8-mile Saugatuck Trail and a series of trails in Huntington State Park.
I hiked the entire trail out and back, completing approximately 14 miles of hiking. The terrain was varied, and the trail itself was well maintained. Sections of the trail were quite worn, and this is probably a very popular trail on the weekends.
Summary
Location – Centennial Watershed State Forest
Trail – 6.9 miles one-way trail
Parking – 41.27989,-73.34064 – There is no parking at the northern terminus, and parking at the southern terminus is on the busy Blackrock Turnpike, where I parked.
Getting to the Trail – Once you park, walk out to the Blackrock Turnpike and take a left. The trailhead is on the right, about a tenth mile down the road. It is marked.
Highlights – Old stone walls, creeks, wide wooded trails, nice ridge views, old Connecticut homes, Tonka truck tree.
Resources
Connecticut Walk Book – 20th Edition by the Connecticut Forest & Park Association – American Legion and Peoples State Forest Trail – Pages 35-37.
Gaiagps – GPA App used to create a trail, determine driving directions and parking, and send the track to my iPhone
Difficulty
Easy to Moderate– This is a nice trail for beginner hikers. There is a lot of easy trail with a few small climbs. The creeks all have bridges, and there are multiple trailheads to access the trail.
Terrain – The terrain was wooded with some mild rocky sections. There were quite a few leaves covering the trail, so some hills were slippery. Down in the watershed, the trails were quite flat and packed down.
Clothing
Temperatures ranged from 33 – 48 degrees, so it was a little chilly when I started, but I warmed up quickly.
Socks – Mid-weight Darn Tough hiking socks. My feet stayed warm and never got wet.
Pants – Generic light-weight hiking pants
Top – Mid-weight Smartwool base layer, Kora Xenolith Sweater, Feathered Friends EOS Hooded Puffy Jacket (Review). I took off my jacket after a couple of hours.
Hat & Gloves – I did not need a hat. My hands started out cold, but I just put them in my pockets, and they were fine.
Northface Daypack – This article describes what I carry in a daypack.
Shoes – Speedgoat 4's (Review). These worked well in this terrain. They are very comfortable on roads and hard-packed trails.
Hiking Poles – Black Diamond Alpine Carbon Cork Poles (Review) – This is my second set. Unfortunately, I left my first set in a town along the Northville-Placid Trail.
The Hike
This was close to home, and it only took me about 30 minutes to reach the parking area. There was plenty of room to park – probably room for about ten cars. I felt like my car was safe because the Blackrock Turnpike is very busy and in a residential neighborhood.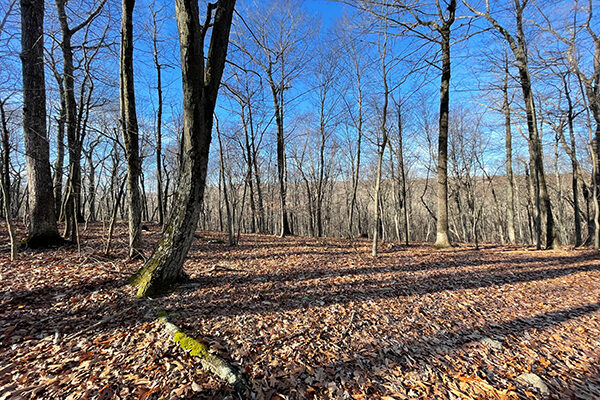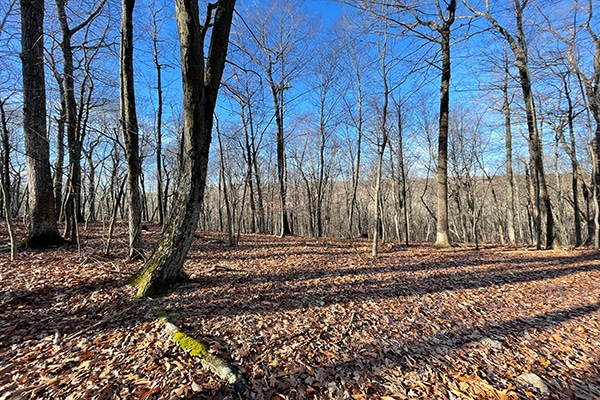 The disadvantage of the Blackrock Turnpike is the traffic. There is not a good shoulder to walk down the road, so I ended up cutting through the woods to the trail, where I came across a small cemetery down in the woods. Gravestones were from the late 1700s and early 1800s, and it did not look like they had been visited in years. I wonder if anyone even remembers they are there.
Crossing a wide creek after the cemetery, I climbed up to the trail and headed left. The trail was not difficult to find since I was paralleling the road and could see the blue Aspetuck Trail sign out on the road.
One of the coolest parts of the trail was the first mile. I passed two old foundations next to a creek with a small waterfall. There may have been home there long ago. The trail traveled through the hardwood forest with scattered Spruce and Hemlock, and several old stone walls cut across the hills in several directions.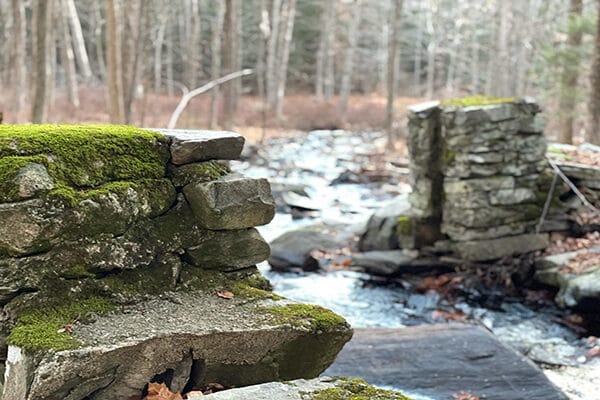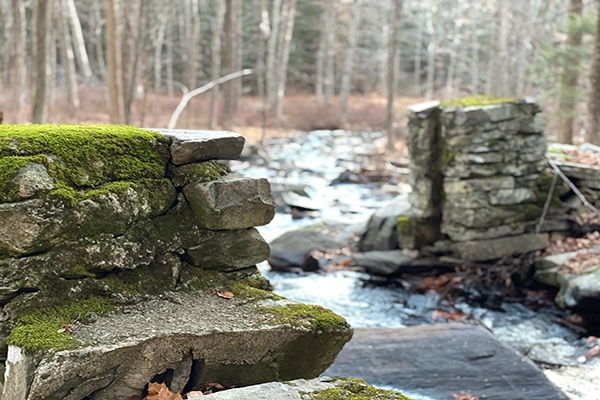 I dropped down through a small, frosty meadow before reaching Rock House Road, taking a right and walking about 100 yards down the road to a small parking area and trailhead on the left side of the road.
Leaving Rock House Road, the trail traveled along Aspetuck River, where I saw an old stone Dam. This section of the trail was nice, and this and Poverty Hollow Road was probably the trail's most used parts. Poverty Hollow Road had parked at the end, and this flat mile of trail was where I saw numerous people out walking their dogs. Poverty Hollow Road may have been an old road at one point, but it is now just a wide flat wooded trail.
Poverty Hollow Road switched to asphalt just before Stepney Road, where I saw the very interesting "Tonka Tree." This was a tree covered in Tonka Trucks and Christmas lights. I'm sure there is a story, and I don't judge the creativeness of others.:-)
I walked about a hundred yards up Stepney before taking a left onto Foundry, which turned into an old, lightly used gravel road. There were some neat old Connecticut homes back down the road, and probably one of the more interesting parts of the hike for me.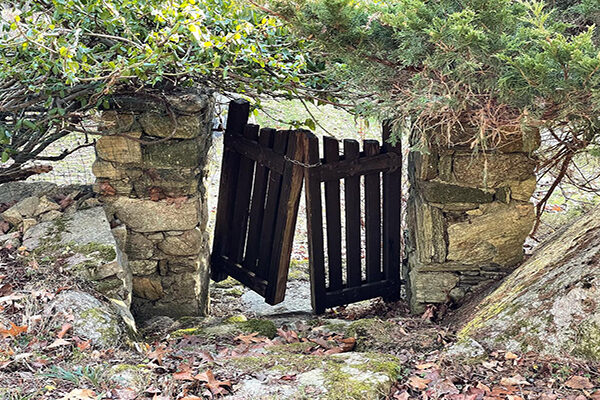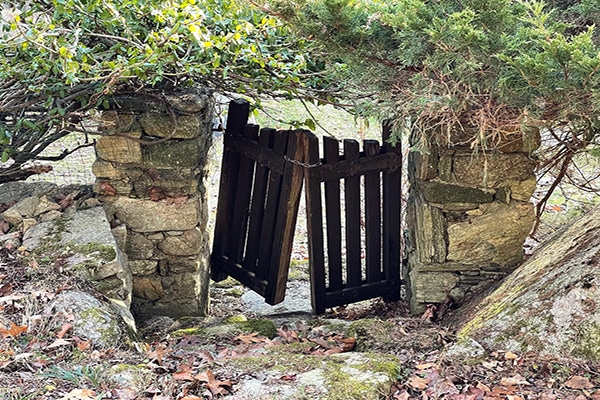 Foundry Road ended at Goodridge Road, where I crossed back over to the wooded trail. This section of trail the rest of the way to Huntington Park was lightly used but well-maintained and blazed. The trail was also a moderate hike with more hills, elevation, and rocks.
The trail crosses over Towns End Road before reaching paved Poverty Hollow Road. This road has the best parking on the trail. There is probably room for 20 cars on a quiet side street. There is also a relatively clean port-a-toilet.
After crossing the road, I climbed up to the next ridge and then dropped down about a half-mile to Huntington State park and the trail's end before turning around and heading back to the car.
Final Thoughts
The Aspetuck Trail is a relatively easy trail. I enjoyed the varied terrain, interesting homes, and "sculpture" along the way.
Related Posts