Peoples State Forest is located in Connecticut in the Farmington River Valley. This forest, combined with the American Legion State Forest, was established in 1923 and comprises 213 acres. This land is located along the Farmington River, a top-rated park.
The state forest includes a nature museum, old mill ruins, a soapstone quarry, and the Barkhamsted Lighthouse. There are also several campsites available.
This post provides an overview of my hike and the resources you will need to locate and hike the seven-mile loop I hiked.
Summary
Location – Peoples State Forest
Trail – Seven Mile Loop clockwise – Robert Ross Trail, Jessie Gerard Trail, Charles Pack Trail, Agnes Bowen Trail
Parking – 42.92317,-72.99629 – Fisherman's Parking on East River Road near Farmington River. There is plenty of parking and even heated restrooms!
Getting to the Trail – Take a left after you enter the park. Drive down to the end of the parking area and park. Walk across East River Road, then take a sharp left back up the Forest Service Road.
Highlights – Waterfalls off Robert Ross Trail, Views and rock formations on Jessie Gerard Trail, CCC Fire Suppression Pond on Charles Pack Trail, Beautiful forest hiking.
Resources
Connecticut Walk Book – 20th Edition by the Connecticut Forest & Park Association – American Legion and Peoples State Forest Trail – Pages 8-13
Gaiagps – GPA App used to create a trail, determine driving directions and parking, and send the track to my iPhone
Difficulty
Moderate to Easy – This is a fun trail with varied terrain and great views. My loop clockwise started with some steady, moderate climbing, but after Veeder's Rocks, it was primarily downhill and flat with some small climbs.
Terrain – Snow (2-3 inches) made some of the climbs and descents a little slippery, but the snow was light and fluffy, so I did not need the micro-spikes I carried. The terrain is primarily forested with rocky outcroppings. There are also some low-lying boggy areas.
Clothing
Temperatures ranged from 27 – 32 degrees, so it was a little chilly when I started, but I warmed up quickly.
Socks – Mid-weight Darn Tough hiking socks. My feet were damp but stayed warm in the wool blend socks.
Pants – Generic light-weight hiking pants
Top – Mid-weight Smartwool base layer, Kora Xenolith Sweater, Feathered Friends EOS Hooded Puffy Jacket (Review). I was able to zip and unzip the sweater and jacket as needed.
Hat & Gloves – My puffy hood was more than enough. I did not take gloves, but I hiked until I warmed up and no longer needed gloves.
Northface Daypack – This article describes what I carry in a daypack.
Shoes – Speedgoat 4's (Review). These were fine for the small amount of light, fluffy snow. They are not waterproof, so my socks were damp, but my feet stayed warm.
Hiking Poles – Black Diamond Alpine Carbon Cork Poles (Review) – This is my second set. Unfortunately, I left my first set in a town along the Northville-Placid Trail.
The Hike
I have not hiked much in the Farmington River Valley and had heard many good things about People's State Forest, so I was looking forward to today's hike.
The weather was crisp and cold, with about a two-inch dusting of snow on the ground. The climate was changing this early Winter morning, and fat, heavy rain clouds raced across the blue sky. It was a perfect day for hiking!
I parked and walked over to the restrooms, expecting to find them locked and closed for the season. Instead, they were open, lit up, and WARM. People's State Park leaves them available for the winter season. AWESOME!
I had planned a seven-mile loop for the day, so I crossed East River Road, hooked a sharp left, and began my climb up Greenwoods Road to Robert Ross Trail.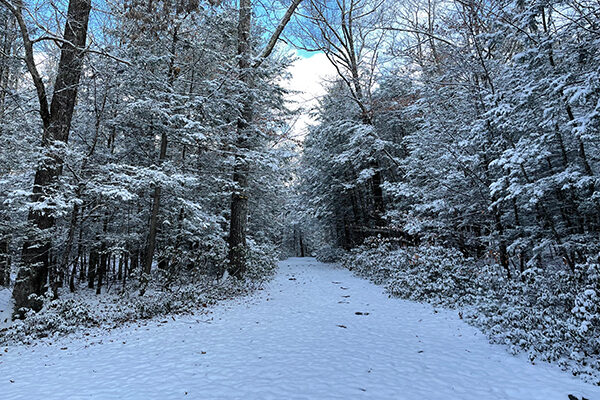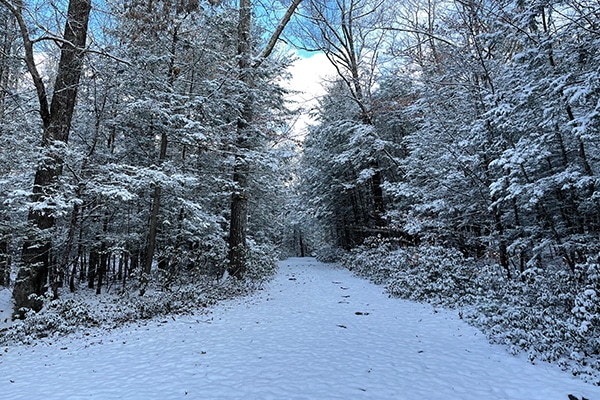 The steepest section of the hike was Robert Ross Trail as I wound my way up through laurel, pine, and spruce forests, crunching through a layer of newly fallen snow. It was a well-maintained and beautiful section of trail.
Shortly before the Falls cut-off, I crossed King's road before reaching the intersection with Jessie Girard Trail.
The climb was relatively steep and rocky after the cut-off for Warner Road, but the views made it worthwhile. I followed the ridge to Veeder's rocks, stopping to look down the valley across Farmington River. The barren grey ridges covered with their dusting of snow, with moisture swollen grey clouds hanging overhead, were beautiful and peaceful.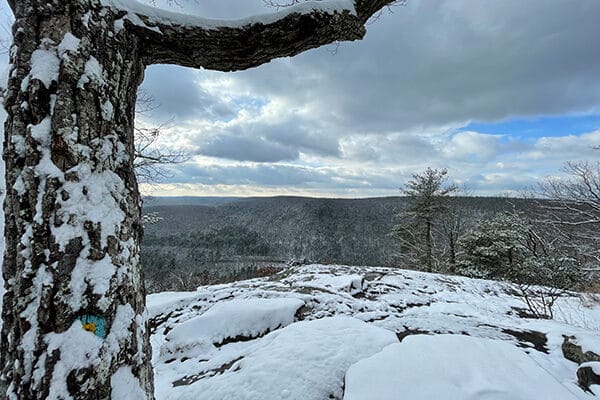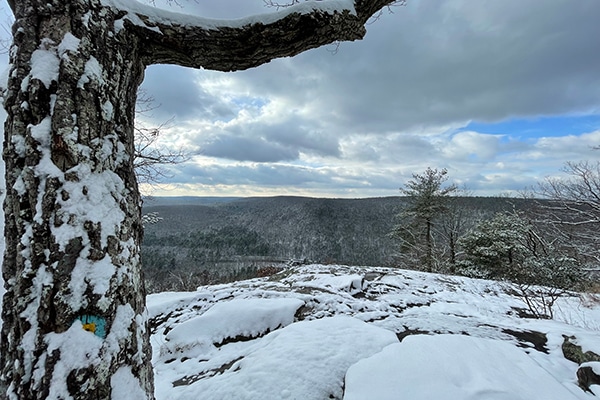 I continued across the ridge, passing a youth campground and intersecting with Charles Pack Trail after crossing Greenwoods Road again. Charles Pack took me down through some lower-lying areas and past the neat fire suppression pond built by the CCC. I only know this because there was a placard by the pond.
Continuing along the Charles Pack Trail, I intersected and turned off onto the Agnes Bowen trail and the final leg of the hike. This trail was not as maintained as the other trails but was still pretty and peaceful.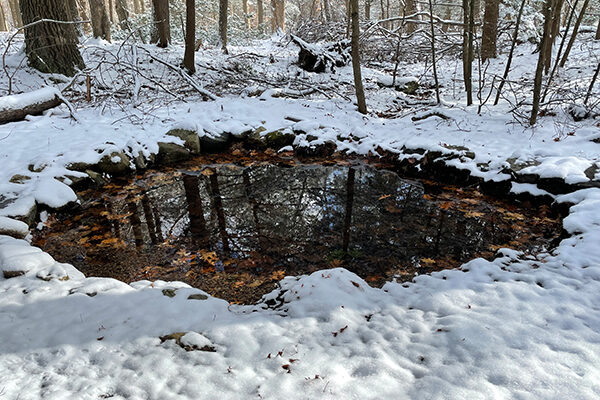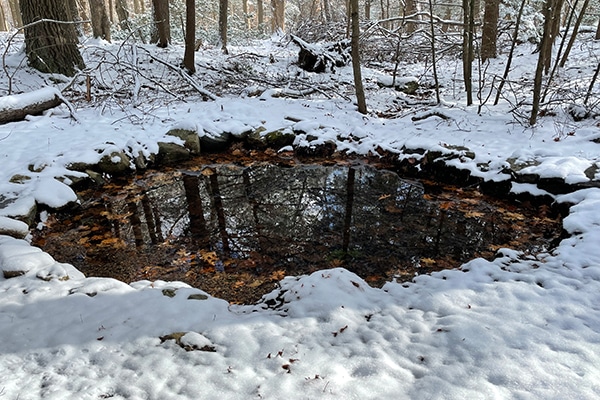 Following the Agnes Bowen Trail, I rejoined Greenwoods Road and returned to my car.
Related Posts
This page has affiliate links for products and gear I purchase and use. If you click on one of these links, I receive a small commission at no extra cost to you. There may also be Amazon links and as an Amazon Associate I earn from qualifying purchases. You can read more about my thoughts on affiliate marketing.