The Salomon Sense Ride 3 rules on Big Mile Days with its comfort, traction, and versatility. The Sense Ride may not have the cushion of a HOKA, but the excellent traction and Optivibe System means my feet don't have to work as hard, and they take less of a pounding. Less of a shock and vibration results in less muscle fatigue and reduced foot soreness. Fresh feet from Salomon at the end of 20 miles was a pleasant surprise for a dedicated HOKA user.
About Me: I'm an avid backpacker and long-distance hiker that does a little running on the side. I have about 15,000 long-distance hikes under my feet, so my reviews may lean towards the long-distance path at times.
Sense Ride 3 Spec Summary
| | |
| --- | --- |
| Value | $120 – Good Value |
| Drop | 8mm |
| Stack Height | 17mm/25mm |
| Weight | 10.2 oz |
| Lug | 4mm |
| Upper | Single, anti-debris mesh, Endofit, Sensifit Overlay |
| Outsole | Contagrip |
| Protection | Profeel Film (Welded Overlay) |
| Pros | Comfort, Traction, Versatility |
| Cons | Slightly Rigid, Lace Pocket, Not narrow but less wide |
Out of the Box
Out of the box I was pleased to feel how light the Sense Ride 3 felt in my hands. My last few experiences with Salomon's Trail Shoes have been clunky and heavy. The clunky, narrow attributes are one of the reasons I have not worn Salomon's consistently for the last few years.
The Sense Ride appeared durable with its single mesh, anti-debris upper, supported by the Sensifit Overlay and Profeel Film that encircled the Upper and toe box. I also appreciated the Quick-lace system and, snug heel cup, and Endofit internal sleeve.
The diamond-shaped 4MM lugs and Contagrip suggested a shoe that would do well on all types of terrain from hard-packed dirt and pavement to more technical, rocky terrain. Traction combined with the Optivibe System should produce a comfortable shoe over long distances and on technical trails.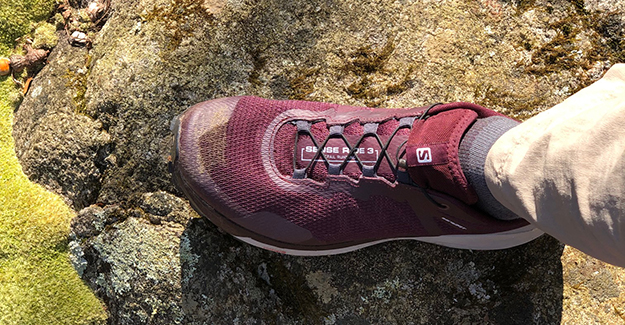 Salomon Sense Ride 3 – Comfort/Fit
The heel cup on the Sense Ride provides a snug, firm fit. This fit, combined with the internal Endofit Sleeve, prevents slippage or rubbing without producing hot spots. The padded heel collar, long shoe tongue, and anti-debris single mesh keep debris out of my shoes but are not so snug that my feet overheat on warmer runs or hikes.
The Sense Ride uses Salomon's Optivibe System. This technology provides more cushion in your heel, reducing shock and vibration when your foot strikes. For heel strikers like me, this is a plus. Combine the Optivibe System with generous EVA foam, and I found this a dynamic, comfortable shoe that was less "mushy" than some of my thicker foam trail runners.
One note on foot soreness. The shoe is firm, which I expected from Solomon so it took a few uses before it began to break in and become more comfortable. The shoes have become progressively more comfortable on each use.
The Quick-lace system has no pinch points and is easy to use, allowing me to quickly tighten up the shoes throughout the day if needed. The only slight annoyance is the lace garage. When tightening the laces they cross the sleeve and this makes tucking the laces a little clumsy.
Salomons have been narrow for years, and while the heel cup provided a snug fit, as did the Endofit Sleeve in the midsole, I did not find it tight or uncomfortable. The forefoot/toe box were some of the roomiest I've worn in a Salomon trail runner in some time.
I used Salomons on my Pacific Crest Trail hike in 2008 and fell in love, but of course, they completely changed the shoe in 2009. It is nice to see the Sense Ride moving back in that direction.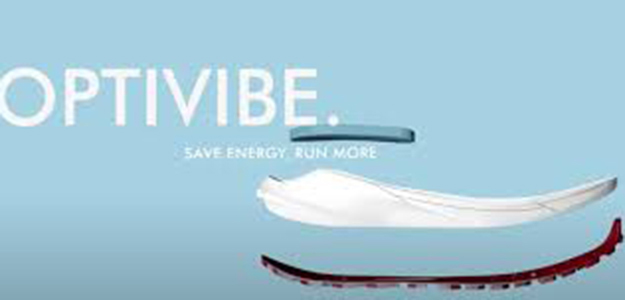 Sense Ride – Performance
The Sense Ride 3 provides stability and grip over technical trail with its sticky Contagrip outersole and 4mm diamond-shaped lugs. The trail runner performed well on hard-packed trail, technical rocky trail, and in muddy, slick conditions. The grip was excellent, combined with the Endofit sleeve and Snug fit; I found it a stable shoe.
There has been a little slipping on smooth, very wet rock, and the foot platform is slightly for me, but this just means I pay more attention to foot placement, and it has not caused stability or overall traction problems.
Cushion is not an issue in the Sense Ride with it's 17/25mm stack height, so I was surprised I could feel the trail as much as I felt it. Cushion in the midsole provides the support I like, but there is less cushion in the forefoot. This was not an issue for me since I strike near the mid to back part of my foot, and the 8mm drop made the transition to my forefoot, where I felt more trail, a smooth change.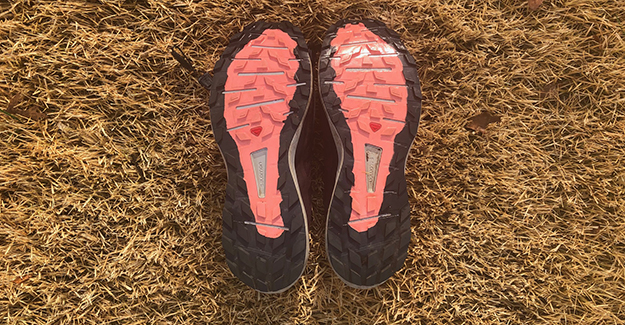 Salomon Sense Ride 3 – Protection
The Sense Ride does not have the most robust protection, but the Profeel Film and welded overlay are sufficient for my use. Even on the rocky ground, the shoe provided adequate protection to prevent bruising and I don't feel hard blows or jabs through the mesh.
There is less protection on the upper mesh, so again I'm more careful with foot placement and don't typically go off-trail with these shoes. They are not shoes I would use for bushwhacking or kicking steps into snow and ice!
The EVA foam under the midsole and the Optivibe Structure prevented me from feeling any rocks or sharp objects through the shoe's underside, and on road sections, my feet did not feel as battered as they often do on long road walks with weight on my back.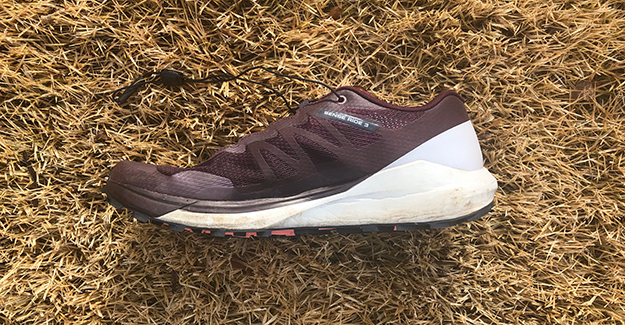 Sense Ride – Final Thoughts
The Salomon Sense Ride 3 is a perfect transition shoe for mixed terrain. The shoe is equally at home and comfortable on hard blacktop roads and rocky, wet mountain trails. The innovative Optivibe system absorbs shock and reduces fatigue while not reducing the shoe's performance.
The shoes are firm and may require a short breaking-in period, but they are not overly rigid and many people wear them on long runs straight out of the box. You should also keep in mind that while my average feet think these shoes are roomy in the forefoot, those with wide feet might want to consider the wide version.
Most of my trail runners have thick mid-soles and foam, so I had forgotten how enjoyable it was to "feel the trail." The Salomon Sense Ride 3's will undoubtedly become some of my go-to trail shoes.
Consider shopping via the button below for best price comparisons. Thank you.
FAQ
Are Salomon Trail Running Shoes Good?
I have used Salomon Shoes for years for long-distance hiking. They are some of the best trail runners made. After 2008 I stopped wearing them as they became too narrow for my feet. Recently, they have become wider and are the same great quality they have always been. I'm excited to be wearing them again.
Are Salomon Shoes Good For Wide Feet?
I like the Sense Ride 3 because it is already a roomy shoes for my slightly wider feet. The good news is that Salomon also makes a wide size of the Sense Ride 3.
Is the Salomon Sense Ride 3 Waterproof?
Salomon makes the Sense Ride 3 GTX Invis. Fit that has a Gore-tex waterproof upper.
Related Links
Average Hiker purchased these trail runners and does not write sponsored posts or receive compensation for reviews. When you purchase through links on this website, I receive a small commission at no additional cost to you. If you have found this review helpful, please consider purchasing through the link above. You can find further affiliate details on the Affiliates Page. Thank you
Hi. Average Hiker purchased this product and does not write sponsored posts or receive compensation for reviews. Some of the links in this post are affiliate links which means that when you click on one of these links, I earn a small commission at no extra cost to you. Also, as an Amazon Affiliate, I earn from qualifying purchases. If this review has been helpful, I appreciate you considering your purchase through one of the product links. Thank you.