Gossamer Gear Mariposa – Review
The Gossamer Gear Mariposa is a 60-liter backpack for those who like to stay organized. This comfortable backpack carries like a larger pack, equipped with an ergonomic harness that has been progressively designed, with seven exterior pockets and a well-padded hip belt and shoulder straps.
Even with all its pockets, the Mariposa only weighs 30.5 ounces. The lightweight aluminum frame provides good structure, and like all good ultralight equipment, it has a Sitlight Pad that serves dual roles as a back cushion or sit-pad on breaks.
Gossamer Gear Review – Specifications
Size: Medium Pack & Hipbelt
Total Weight: 30.5 ounces
Volume: 60L
Pack Body: 18.4 ounces
Pack Frame: 3 ounces
Max Carry Capacity: 35 Pounds
Sitlight Pad: 2.1 ounces
Add-Ons: Roll-top Closure, Shoulder Pouch
Material: 100/200 Denier Robic, 70 Denier Ripstop, Darlington & Supreme Air Mesh
Additional Specifications: Gossamer Site
Backpack Requirements
Below are my requirements when purchasing a backpack.
Light Weight – I keep my backpack's weight around 2 pounds or less to combat fatigue and injury on long hikes.
Durability – A tough pack is critical. My pack has been run over, fallen down mountains, stepped on by horses, and is often used as a seat.
Size – The backpacks I use are 55L-65L. I sleep cold, so I carry a warmer sleeping bag or quilt. I also cook, so I have fuel and a stove.
Water Resistant – I use a compactor bag and not a pack cover. I like water-resistant fabrics and taped seams in my backpacks.
Mesh Pouch – A large mesh pocket on the rear of my backpack is a "must-have." I use it for my tarp/tent and put wet items in it to dry.
Frame – I don't need a frame pack in the summer, but I use one for three Season hiking where my pack weight is 20-25 pounds.
Water Bottle Pockets – I need water bottle pockets since I don't use hydration sleeves.
Mariposa Competitors
I have used all the backpacks below, and you can check out the reviews below. Selecting any backpack will provide a more detailed review.
Mariposa – First Glance
I'll be honest; I never considered a Mariposa when purchasing a backpack. The backpack material never looked tough enough for long distances and off-trail conditions, and I was not impressed with all of the pockets.
On my last trip, the Mariposa changed my mind.
Out of the box, the Mariposa did have an impressive number of pockets, and the material looked lightweight compared to packs like the ULA Ohm, but over the next few days, I found out that the lightweight backpack was more rugged than I expected.
Gossamer Gear Mariposa – Fit
Frame
Over the three days I wore the Mariposa, I was pleasantly surprised by the backpack's comfort. The frame comprises a rigid aluminum stay that is slightly curved and can be slid out of its nylon sheaths if you prefer to carry a frameless pack.
The backpack uses a unique external Sitlight pad, which provides plenty of cushions and can easily be removed from its two elastic pockets. Versatility is one of the things I appreciate about the backpack, and I quickly removed and used my Sitlight Pad on breaks or at camp as a comfortable seat.
Throughout the backpacking trip, I carried 23-25 lbs in the Mariposa. The weight was not noticeable, and the Mariposa carried it effortlessly. I loaded the backpack up to 30 pounds with additional water to test it. Over a day, I carried the extra weight with no discomfort.
The comfort of the Mariposa was a stand out in this review. This included the overall fit and ability to carry heavy loads. In addition, the aluminum stay and Sitlight pad make this one of the most comfortable lightweight backpacks I have worn.
Although comfortable, the foam pad was warm. There was some serious roller coastering on the hike, and as I built up heat climbing, the pad absorbed it, making it one of the warmer packs I have worn. This is not a big deal for me, but if you are used to the mesh on Zpacks or Osprey backpacks, you may find the Mariposa a little uncomfortable in warmer climates.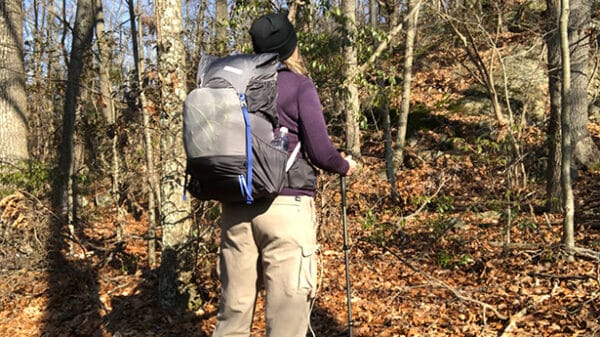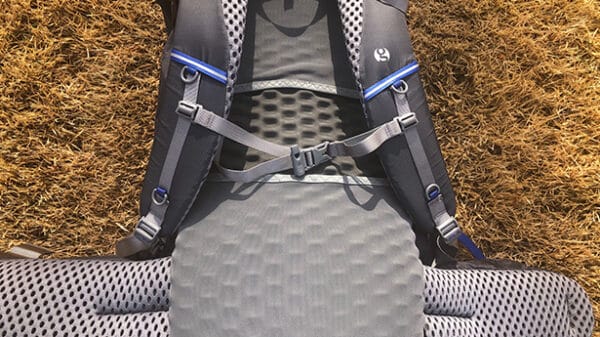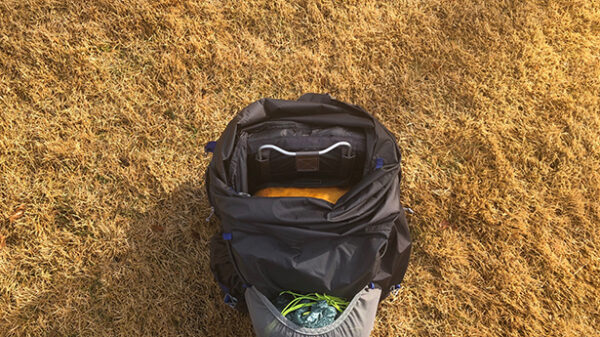 Shoulder Straps & Hipbelt
The Mariposa boasts a unisex, ergonomic harness. However, I prefer S-shaped shoulder straps, so I was slightly ambivalent. When I initially put on the backpack, the straps seemed too wide, but once I added weight, adjusted the straps, and began hiking, the pack fit me well.
The shoulder straps are very well padded and covered in an "Airmesh" material. The padded shoulder straps are an advantage when carrying heavy loads.
Like other lightweight backpack hip belts, the Mariposa hip belt attaches with Velcro. The belt slides in under the Sitlight pad and can easily be removed. There are two large pockets on the well-padded hip belt, and the inside of the belt is covered with the same "Airmesh" material as the shoulder straps.
The belt clasp is a single wide buckle that I prefer, and there is a small elastic sliding loop on each side of the belt to secure the ends of the extra Strap. The hanging belt straps always bother me as I lose weight and cinch in the belt, so I appreciate this small extra touch.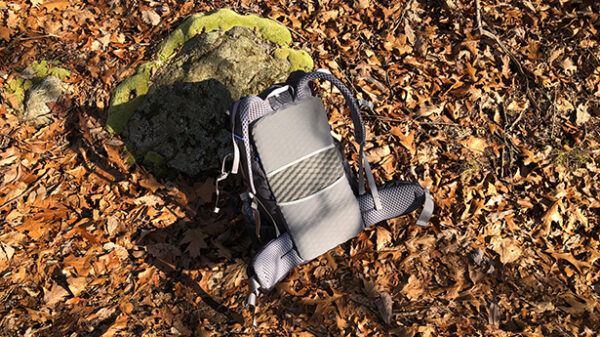 Additional Pack Straps
The sternum strap on the Gossamer Gear Mariposa 60 is long and has elastic on one side. The Strap slides up and down the shoulder straps, so there is plenty of flexibility with this Strap.
The load lifters are sturdy on this lightweight pack, allowing you to adjust the backpack's fit. The shoulder straps also contain plastic attachment loops in two locations, which support the pack's overall versatility if you need to attach additional gear.
The Mariposa does not have side compression straps due to the pocket locations, but it has an abundance of attachment loops that allow you to create your attachment or compression system with lines and locs or small bungee cords.
There is an ice ax loop and two clips at the bottom of the pack, but you must add your straps or cord to use these. There are also two side clips for the OTT (Over-The-Top) closure system. The lack of straps or cords does not allow you to compress the Mariposa unless you rig your system using the loops provided.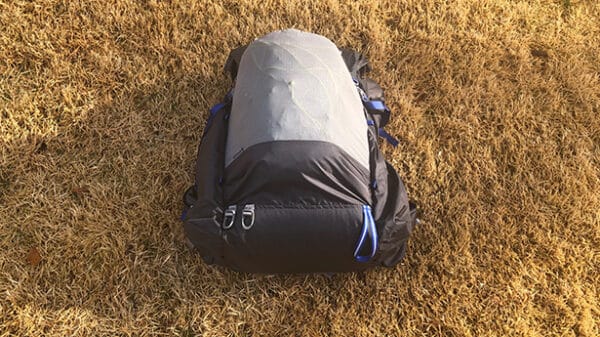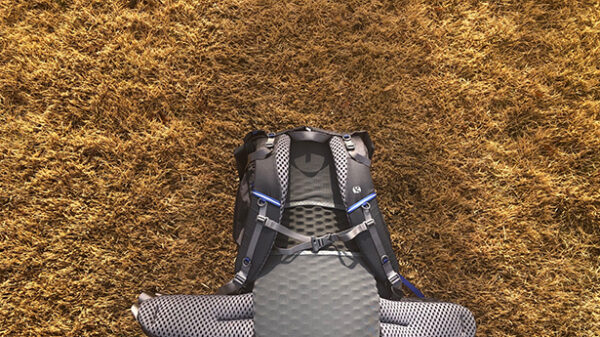 Gossamer Gear Mariposa Review – Storage
There is a lot of room in the Gossamer Gear Mariposa 60 backpack, and I initially thought all of the pockets would not be used, but the old saying that if there is space, it will get used holds true.
Main Pack Body: 36L
7 Exterior Pockets: 24L
How I Packed My Mariposa
Main Compartment (Lined with Compactor Bag): Dry Sleep Clothes, Sleeping Bag, Down Jacket, Food Bag, Stove/Fuel, Hyperlite Stuff Sack/Pillow with toiletries, Neoair X-Lite Pad
Long Side Pocket: Smart Water Bottle, Umbrella, Hiking Poles
Bottom Side Pocket: Smart Water Bottle
Top Side Pocket: Rain Jacket, Pants, Sawyer Filter
Zipper Pocket on OTT: Car Keys and Maps
Back Mesh Pocket: Altaplex Tarp-tent
Hipbelt Pockets: Snacks, InReach Mini, Chapstick
The main storage compartment is large and has a fixed hydration sleeve that I wish I could remove. However, there is more than enough room, and because I kept some gear in the external pockets, I had more space than needed. I consolidated as much as possible with the OTT system and side straps but preferred a roll-top to cinch tight.
The large exterior mesh pocket on the Mariposa was the perfect size for my Altaplex shelter, and I could also keep a small tripod in the pocket next to the shelter. I say it was a perfect size because the pocket was tight enough not to snag on anything while also easily holding my shelter without me having to fight to stuff in the Dyneema Fabri shelter.
The side pockets allowed me to store my rain gear and filter outside the backpack, making them easier to retrieve, but I would rather have had two smaller pockets with cinch cords for my water bottles rather than the long pocket. This makes it easier to balance my load by drinking from two bottles. Unfortunately, I could not retrieve a water bottle from the long pocket.
The long pocket held my umbrella and hiking poles, but side straps would have secured them better (these can be added). Also, the elastic on the small pockets was not tight enough to hold my Smart Water Bottles when leaning over or doing rough scrambling. If I bent over to pick up anything, whatever was in the shorter pockets, especially the water bottle, fell out.
The Hip-belt pockets on the Mariposa are nice and roomy, and I kept all of my snacks and small miscellaneous items in these pockets. I kept my car keys and maps in the zippered pocket on the top of the pack, but if using the maps a lot, I would have moved them to the hip belt.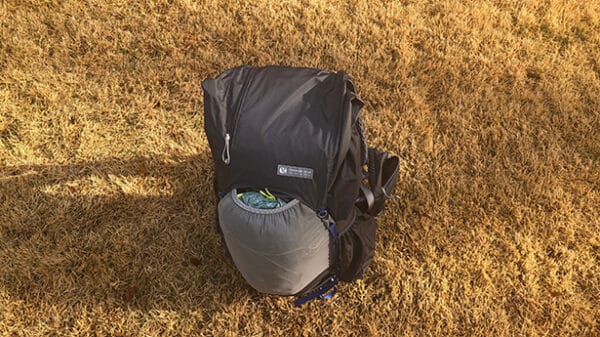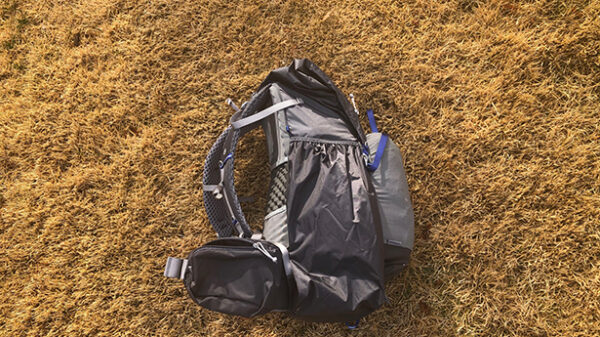 Mariposa Review – Materials
The Gossamer Gear Mariposa 60 is made with 100 & 200 Denier, Robic fabric, and nylon fabric. The material held up well on my last trip, and that was after bushwhacking through some dense, thorny undergrowth with no ill effects. Again, I was impressed with the abrasion resistance of the Mariposa fabric.
Seams are not sealed or taped on the Mariposa, but the backpack material is adequately water-resistant. I was only caught in one rainstorm, and very little moisture seeped through the fabric. The pack is water-resistant and not water-proof and was fine with a compactor bag.
Gossamer Gear Mariposa – Add-Ons
I purchased a large Shoulder Strap Pocket with my Mariposa Backpack. I use these to hold my phone and InReach Mini. The Gossamer Gear Shoulder Strap Pocket has a main compartment and a net pocket on the front, my favorite configuration on these types of shoulder strap pockets.
The material used for the pouch is DWR-treated nylon, but I suggest putting any electronics in a plastic baggie if you expect rain. Although DWR-treated materials are highly water-resistant, the seams on the pouch are not sealed or taped.
The pouch uses velcro straps and can easily attach to any backpack's shoulder straps. There is also padding inside the pocket, protecting a phone or sunglasses.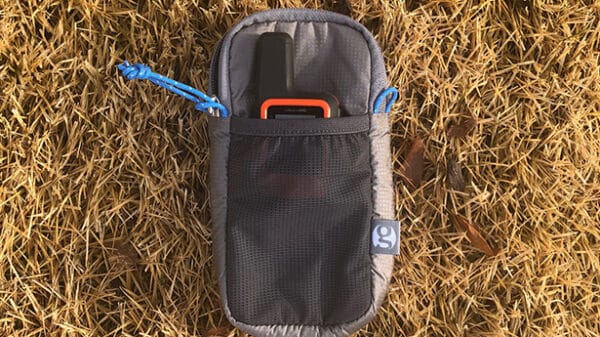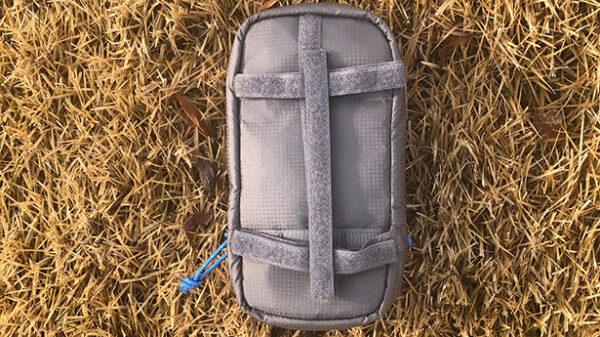 Gossamer Gear Mariposa – Final Thoughts
The Gossamer Gear Mariposa 60 is a lightweight backpack at a reasonable price point. The pack is comfortable and will carry heavy loads more comfortably than many competitors. The backpack has versatile storage compartments that allow you to stay organized and easily access your gear. If you are looking to downsize, the Mariposa is an excellent choice.
I wish there were more methods for compressing loads, such as cords or straps, but these can be easily added to the lash loops. Cinch cords would make the pockets more functional, allowing me to secure items in these pockets since no compression straps or webbing are supplied on the backpack's sides. The Over-The-Top (OTT) lid is convenient, but I prefer roll-top packs for compressing loads.
Pros:
Comfort: Very comfortable with an adjustable aluminum frame and Sitlight Pad.
Storage: There is more than enough storage in the large main compartment and the seven external pockets.
Padding: Related to comfort, the shoulder straps, and hip belt are very well padded. This pack can carry 30-35 pounds easily.
Durability – The Robic Nylon used on the Mariposa is resistant to abrasion and normal wear and tear, making it a good backpack for multi-day or longer hikes.
Weight – A very lightweight backpack considering heavyweight carry volume and comfort level.
Cons:
Top Strap: I prefer a roll-top pack to the OTT system.
Pockets: Cinch strings on the pockets instead of elastic. No long pockets but two shorter pockets.
Compression lines/straps: One or two of these on the side of the pack would allow you to attach your ax and hiking poles.
Shoulder Strap Pocket: Taped seams for more water resistance.
Hydration Sleeve – Removable sleeve.
Seam Taping – The Robic material is water-resistant, but it would be nice to have the backpack's interior seams taped.
This page has affiliate links for products and gear I purchase and use. If you click on one of these links, I receive a small commission at no extra cost to you. There may also be Amazon links and as an Amazon Associate I earn from qualifying purchases. You can read more about my thoughts on affiliate marketing.