Granite Gear Crown2 60 Review
I completed the Crown2 60 Backpack Review on my annual Fall Foliage backpacking trip along the New England Trail. Using two new backpacks were included in the NET Planning for this hike, and the Crown2 was the first one I used.
I used the Crown2 60 Women's Fit and was pleasantly surprised at how comfortable I found this pack while hiking over the first five days of the trip. The polypropylene frame sheet combined with the backpack's molded back foam panel and well-padded Re-Fit adjustable hip belt provided structure and comfort in this lightweight backpack.
The Crown2 60 Backpack was a little heavier than other backpacks I have hiked with, but it offered enough flexibility to remove what I did not need. These components included the hip belt, removable lid, and polypropylene Frame sheet.
The Granite Gear Crown2 60 was more backpack than I needed for a trip of this length, and in this season, removing some of these components brought its weight and size down to a more manageable size.
Table of Contents
Backpack Requirements
Light Weight – Being lightweight is essential on long-distance hikes. The days are long, so I keep my backpack light to combat fatigue. I like to keep the backpack's weight under 2 pounds when hiking.
Durability – There is no trail where my backpack has not fallen down a mountain. Luckily, the pack has rarely been on me at the time. I even had my Osprey run over on the CDT by a truck. The ability to hold up to rough conditions is crucial to me.
Size – I want my pack to be between 55L – 65L, preferably closer to the high end on more relaxed hikes. I usually go into town about every 3-5 days but carry a warmer sleeping bag or quilt and cook on my hikes. I did not cook on this particular hike, mostly because I needed to be more stealthy and hike until dark on a fairly crowded trail.
Water Resistant – I don't use a pack cover anymore. The contents of my pack are in waterproof stuff sacks and a compactor bag. It is nice to have a backpack that at least repels rain and dries quickly.
Mesh Pouch – A large mesh pocket on the exterior of my pack is essential. I carry my tarp tent in this pocket to hold wet gear.
Frame – Because there may be times when I carry 25 lbs or more, I want a pack with a frame due to large amounts of water. Having 25+ lbs on my shoulders for 10 hours or more is uncomfortable.
Water Bottle Pockets – I need a bottle pocket on each side of the pack since I no longer use a hydration bladder and sleeve.
Crown2 60 Backpack Review – Quick Specifications
Weight/Volume
Pack: 2.2 pounds w/out lid
Lid Weight: .16 pounds
Pack with add-ons: There were no add-ons
60L or 3660 cubic inches
Load Capacity: 35 pounds
Dimensions
Fit: Regular
Torso Fit: 18″ – 21″
Price: $199.95
Hip Belt (Adjustable): 24″ – 40″
Add-ons
Materials
100D High-tenacity nylon with NeverWet liquid-repelling treatment
100D High-tenacity nylon with NeverWet liquid repelling treatment with NeverWet liquid-repelling treatment
Crown2 60 Backpack Review – First Glance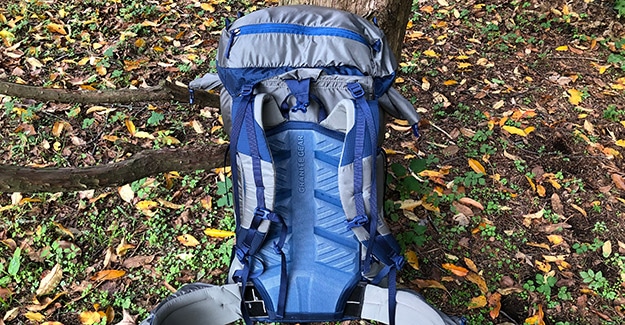 If you want to start hiking immediately, there is not much you need to change with the Crown2 60 Women's Fit straight out of the box. Adjust the pack to your body size and start hiking. This pack has everything you need for a lightweight backpack at its price point.
The durability of the lightweight backpack was apparent as I pulled the pack out of its box. There appeared to be a few more "pieces" than I expected, but as I moved around the healthy number of straps, I realized that they had not skimped on the material.
Crown2 60 Backpack Review – Components
Frame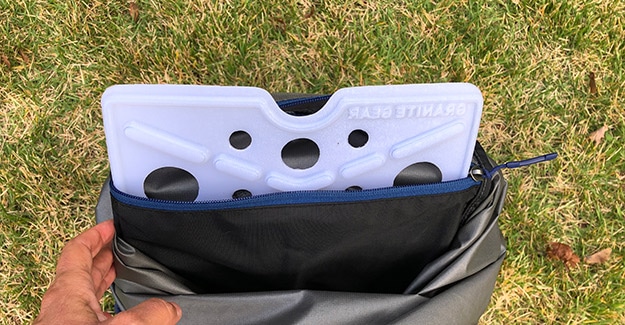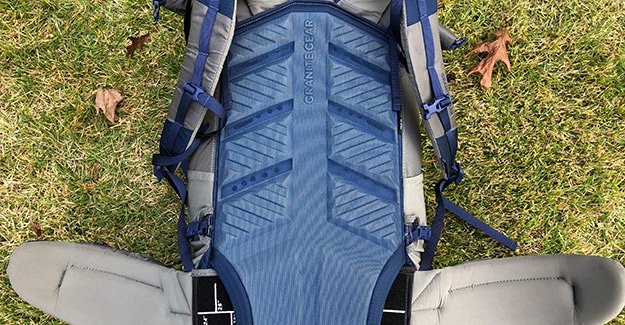 The Crown2 60 frame is Granite Gear's Air-Current Mark 2 compression molded polypropylene Sheet. The Sheet can be removed from the backpack to reduce the pack's weight, and the Sheet has strategically placed holes to reduce the weight even further.
The backpack carries comfortably without the frame sheet but not at the stated load capacity of 35 pounds. Without the sheet, I keep the load at 20 pounds or less. This weight is usually my target for frameless backpacks.
The Crown2 60 also uses a molded foam back panel with channels to increase airflow and reduce heat build-up. When I first tried on the backpack, I felt like a large brick was lying against my back. The foam was relatively rigid. Throughout the trip, the molded foam conformed to my back, and the pack fit well.
I will note that I did not find the back foam panel any cooler than my Ohm or Osprey packs that lay against my back. The coolest (airflow) backpack I've used is still the Zpacks Arc Haul with its mesh panel.
Top Lid
The top lid on the Crown2 60 floats, so you can raise or lower it as needed. The lid has a DWR-treated zipper and is excellent for added capacity if carrying a large load. A lid is convenient if you want to store small items or snacks, you can quickly reach.
This pack would be a good winter pack for large loads. It would also be useful for longer multi-day hikes, as I usually take more "stuff." I added weight via water and still found the backpack comfortable at around 30 pounds.
Shoulder Straps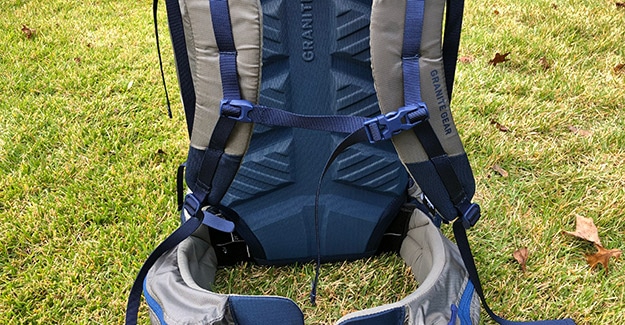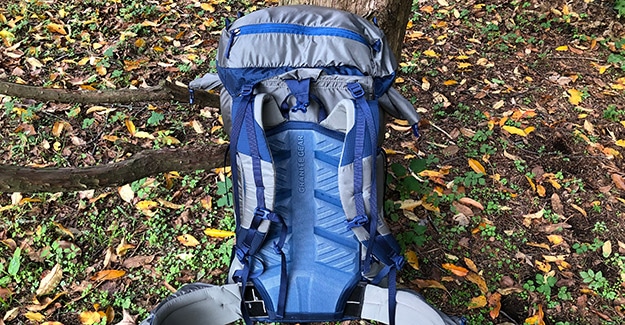 The shoulder straps are what I appreciated the most about the Women's Fit. I have narrow shoulders, and I found the S shape, close at the top and exaggerated in the middle, very comfortable. There was also plenty of padding in the shoulder straps, making it comfortable under heavy loads.
The load adjuster straps are attached to reinforced strips on the back of the backpack and are durable. They are also easy to use when wearing the pack if I need to make adjustments.
The one thing I'll mention concerning the shoulder straps was the sternum strap. I found it hard to clip. The clip was difficult to attach unless I had it lined up correctly.
Hip Belt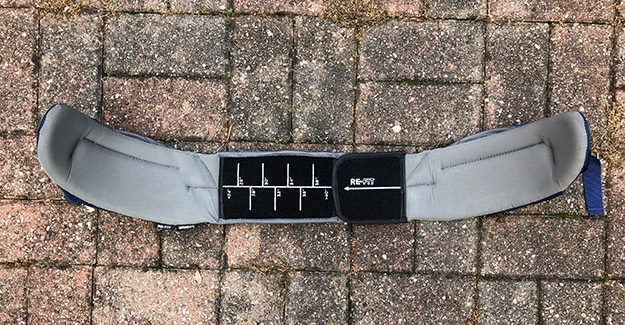 The hip belt on the Crown2 60 is what Granite Gear refers to as their "patent-pending, fully adjustable RE-FIT hip belt." It is probably patent pending because it is such a simple idea that other backpack manufacturers should consider.
The hip belt locks into place with Velcro and is easily adjusted by sliding the belt out and adjusting it to the size you need, also with Velcro. I found the belt easy to change, and once I attached the Velcro to both the belt and backpack, there were no issues with either coming loss.
The hip belt is very comfortable and has plenty of padding for heavy loads. The belt also has one strap and belt, which I prefer. I've yet to have an instance where I have needed to adjust a hip belt with two straps and clips/belts.
Side Pockets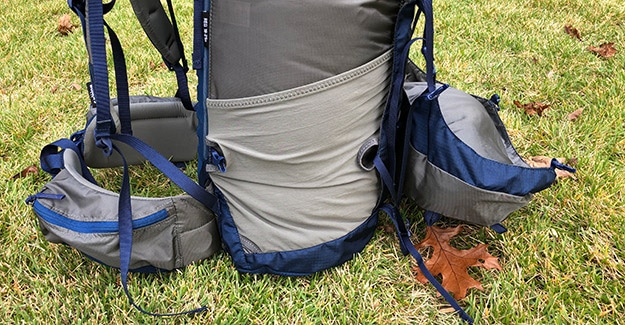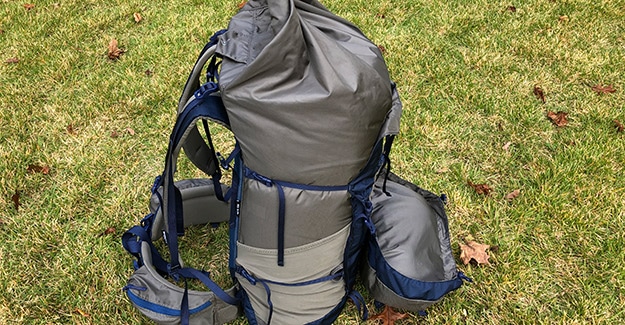 The side pockets on this backpack are made from Robic Nylon. Robic Nylon is not commonly seen on backpack pockets, but I liked these pockets. The material is snug and durable and does not lose its elasticity. The pockets are some of the best I've seen on a backpack.
I easily stored any size water bottle in the deep, wide pockets without worrying about the bottles falling out if I was scrambling or going off-trail. There is even a small strap and buckle to snug up the pockets if needed. A drainage hole on the side pocket is also nice if carrying any wet clothing, etc., that needs to dry out.
The best part of the side pockets was quickly retrieving water bottles while wearing the backpack. The top of the pockets are angled down, and the pockets themselves are large enough to make pulling out the bottles and put them back quickly.
Crown2 60 Backpack Review – Carrying Capacity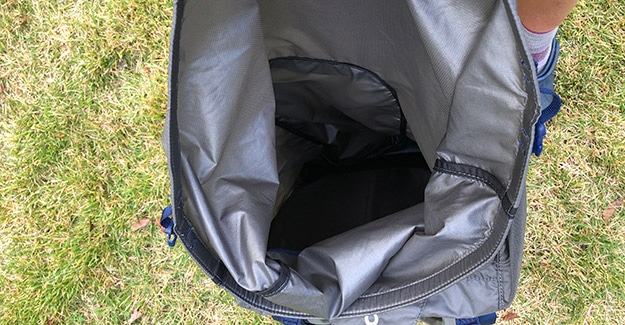 This backpack, at 60 liters, has plenty of carrying capacity. Even though the main pack is one large open sack, plenty of smaller pockets separate your gear.
The lid is 5 liters with a lot of extra room if needed, and it only weighs 2.6 ounces. The lid, combined with the large mesh pocket on the back of the pack and the hip belt pockets, provides even more capacity. Many hikers are going back to using fanny packs, but I prefer having a single unit. It is less for me to leave behind when hitching to and from trail towns.
I would like a slightly larger mesh pocket on the back of the pack. Currently, I keep my tents, tarps, wet clothes, etc., in this mesh pocket and need some space for airflow.
The pocket on the Crown2 60 is too tight. I can't fit my tarp-tent in it, and it allows for minimal airflow if I want to dry out anything like socks, shirts, etc.
On the other hand, I got my silnylon BA UL1 Copper Spur, its poles, and my umbrella in the pocket. Dyneema is not nearly as flexible as silnylon, but more hikers use Dyneema tarp tents and shelters.
Crown2 60 Backpack Review – Materials
Backpack Fabrics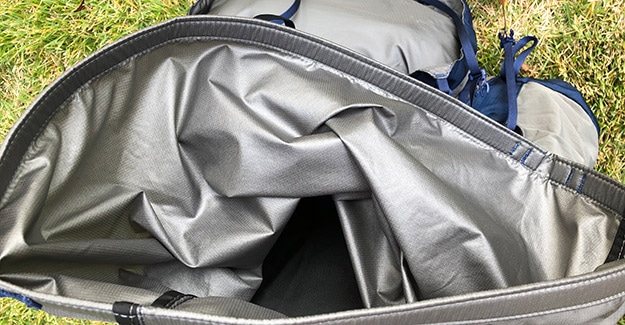 The main body of the Crown2 60 uses 100D High-tenacity nylon. I had to scramble throughout the hike, and there was maybe one brushy area. Overall the hiking was pretty tame, and the material held up fine. It is durable and should hold well in even brushier or more challenging conditions.
The bottom of the pack's material is 210D High-tenacity nylon, which I also found durable and a good solution for this high-wear part of the backpack.
The inside seams are not taped on this backpack, but the manufacturer states that the fabric is treated with "Neverwet" Liquid Repellant. There were periods of rain that were consistent and not very heavy, and the pack stayed relatively dry.
"Waterproofness" is not that big a deal for me. I have used a compactor bag with all my backpacks for years with no issues. I stuff my Down sleeping bag/quilt and clothes into the compactor bag at the bottom of the pack and roll the compactor bag closed. My food, electronics, toiletries, etc., are all in two other waterproof stuff sacks.
I have dropped my backpacks in rivers, hiked in tropical storm conditions, and never got my gear wet.
Crown2 60 Backpack Review – Additional Components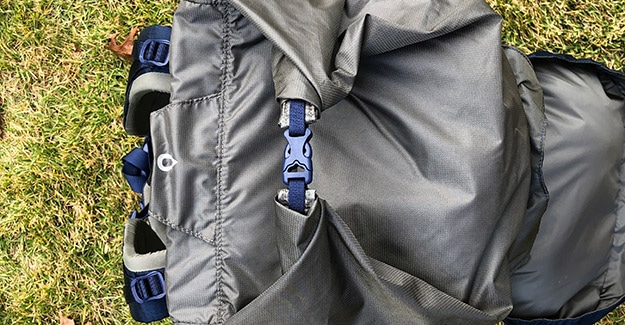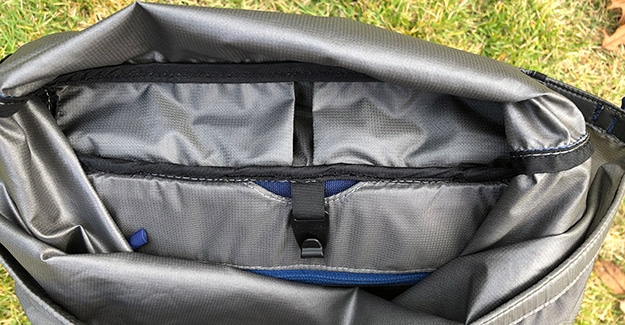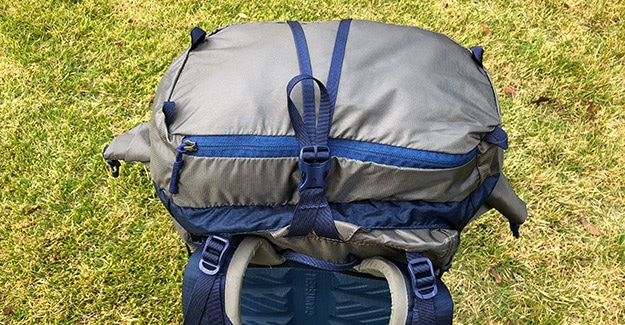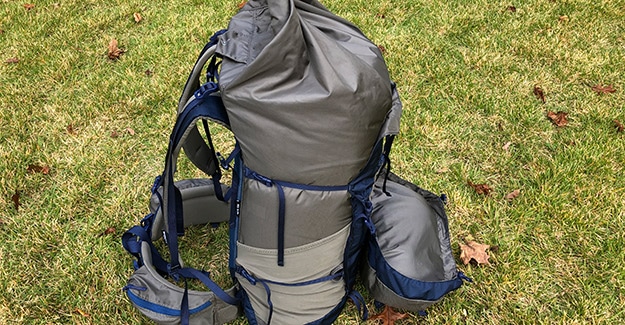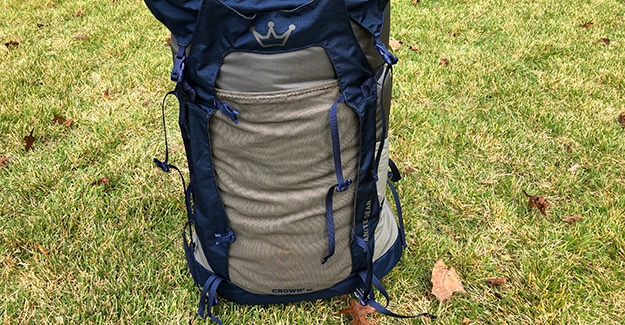 The Crown2 60 provides plenty of options for consolidating your pack load when hiking, starting with its roll-top closure. I prefer the roll-top backpacks. I can continue to reduce the pack's size as I eat my food and the pack gets smaller. The Granite Gear has a nice big sleeve, allowing it to expand well if needed.
The only issue with the roll-top straps is that you can only buckle each side together at the top. There are no buckles on the front side of the pack to snug it down. You only have the top strap to cinch down the top of the pack. Roll-top straps on the sides would be a nice, easy change for Granite Gear to make on this backpack.
The top strap is a double strap, which I like but is not long enough. I use my top straps to cinch down my packs, but I also use them for my bear canisters in those areas that require them. The Crown2 strap is not long enough for me to do that.
There is no lack of straps on the Granite Gear. There are straps across the back to compress the sides and even a strap across each side pocket to keep smaller items from tumbling out if you are tumbling around! Don't forget the standard loops at the bottom of the backpack. It has those also.
Granite Gear states the Crown2 60 has a hydration sleeve, but I could not find one unless I want to remove the frame Sheet and use that sleeve. There is a clip for a hydration pouch and a small slit for the hose at the backpack's top middle section.
Crown2 60 Backpack Review – Final Thoughts
The Granite Gear Crown2 60 Women's Fit is a good choice at its price point. It is a comfortable, well-built backpack with a lot of flexibility and multiple features. Flexibility allows you to adjust this pack for different hikes – long, short, cold weather, etc.
This backpack's weight and durability make it a good choice for long-distance hikes or thru-hiking, all without breaking the bank on an expensive lightweight pack. I would consider this backpack for a first long-distance hike.
Pros:
I was hesitant when I first tried on the backpack, and its foam back pad seemed too hard. It was quite comfortable, though, over time, especially with heavier loads.
The pack allows me to adjust its components for my desired load size.
The side pockets are some of the better side pockets I have used. They are deep and easily allow me to retrieve and insert water bottles.
The shoulder straps are shaped well for my more narrow shoulders.
The hip belt is well-padded and allows me to adjust for whatever width I need.
I like that it is a roll-top backpack.
Cons:
Granite Gear should add Velcro to the edge of the roll-top sleeve. It would make it tighter and easier to close.
The roll-top needs to be able to buckle the ends to the backpack to snug it down.
The Sternum strap is hard to clip closed.
The large mesh pocket on the backpack's back needs to be larger to allow more airflow. It would also make it easier to hold larger Dyneema tarp-tent shelters.
This page has affiliate links for products and gear I purchase and use. If you click on one of these links, I receive a small commission at no extra cost to you. There may also be Amazon links and as an Amazon Associate I earn from qualifying purchases. You can read more about my thoughts on affiliate marketing.