When discussing Waterproof Backpacks, there are three approaches to consider before making a choice. After reviewing these, you may decide you don't need a completely waterproof backpack.
Waterproof Backpack
Pack Cover
Pack Liner
I'll go over each approach and the advantages and disadvantages.
Do I Need My Backpack to be Waterproof?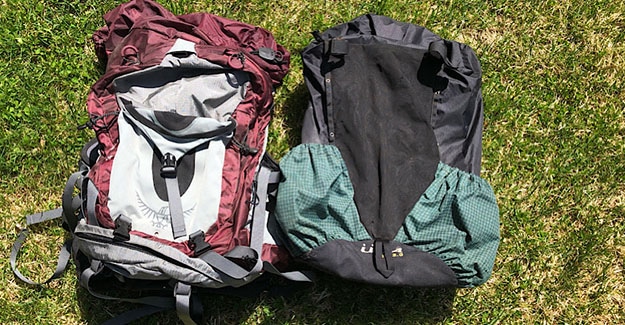 Several questions to consider when determining whether or not you need a waterproof backpack are listed below.
Are you going to be in a consistently wet environment – pack rafting, snow, tropics, etc.?
Will the rain be intermittent?
Will you be in an arid environment?
If you are in a consistently wet environment, like pack rafting, boating, snow, or even tropical climates, you probably want to consider a waterproof backpack or Dry Bag.
Backpacking in a temperate or arid climate where you have intermittent rain may not require a waterproof backpack, but if the temperatures are cold or consistently drop below 50, make sure you keep your clothes and sleeping bag dry.
Waterproof Backpacks
There are not many waterproof backpacks explicitly found for backpacking. There are several highly water-resistant packs and methods for keeping the contents dry, but a completely water-proof backpack will probably include a Drysack.
Those backpacks that are often referred to as "waterproof" are typically made from Dyneema composite fabrics. I'll point out that even if I am using a "waterproof" Dyneema backpack, there are a LOT of points or seams for failure, so I always use a waterproof liner – usually a compactor bag.
Several manufacturers to consider if you want a highly water-resistant or waterproof backpack, include the ones listed below.
Hyperlite Mountain Gear – Hyperlite is well-known for its high-quality backpacks using Dyneema fabrics. They also offer a pod system to just about ensure waterproof protection for your gear. I often use their backpacks on my trips when I know there will be a lot of rain.
Zpacks – Zpacks began with their high-quality shelters and quickly moved into well-made backpacks and sleeping bags. They also use Dyneema materials.
ULA Equipment – ULA makes a real WATERPROOF backpack called the Epic. The backpack uses a Drybag made by SeatoSummit and is specifically designed for wet environments like those found in pack rafting.
Backpack Covers
Backpack rain covers are usually polyester or nylon; silicon-coated covers with elastic or cinch ties keep the covers secured snugly on a backpack. They come in different sizes, and many manufacturers include them when you purchase a new pack.
In my experience, they also make good wind sails. No matter how tight the elastic or cinch cord, when you hit a mountain summit in gale force winds, you are either going to get whipped to death by the rain cover, or it is going flying. In either instance, it is not going to do a good job of keeping your backpack dry.
They also make a good rain funnel. Many rain covers gather at the top, and rain collects in the crevasses waiting to pour down your back when you least expect it.
Needless to say, I don't use pain covers anymore.
Backpack Liners
You can either purchase a plastic pack liner or use a just as effective trash bag. I use a compactor bag. A compactor bag is thicker than a trash bag and generally fits my 50L – 60L backpack perfectly.
When I use a compactor bag, I place it in the backpack and put my sleeping bags and clothes in it before rolling it shut. All of my other gear goes in Silnylon or Dyneema stuff sacks that I place on top of the compactor bag.
I have used this method for 15 years and have not had any instances where my sleeping bag or clothes became wet – even when dropping my backpack in a creek.
When you are backpacking on multi-day trips, having a change of dry clothes and a warm, dry sleeping bag can be the difference between an enjoyable backpacking trip and a miserable backpacking trip. In the case of Hypothermia, it can be the difference between life and death.
What Makes a Waterproof Backpack?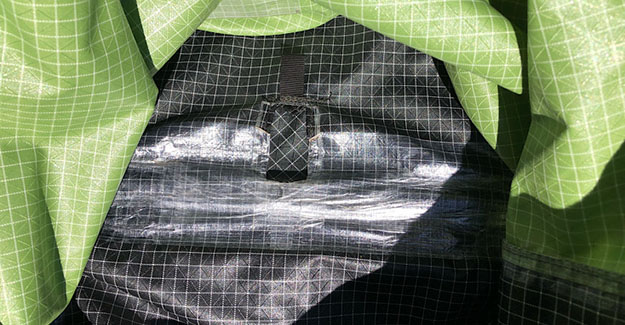 I've discussed the three approaches to "waterproofing" your contents and backpack, but exactly what should you look for in a waterproof backpack?
If you have decided that you definitely want a waterproof backpack for backpacking then consider three different levels of "waterproofness."
Drybag – These are used by boaters and those that are exploring amidst some serious liquid. As mentioned above, ULA Equipment makes the Epic backpack, but you can also check out SeatoSummit (Sold by REI), and Troy has a good article on The Best Drybags over at Core Mountaineering.
Dyneema (DCF) Fabrics – Check out the manufacturers listed above. They use phrases like "innately waterproof" and "highly water-resistant." Some manufacturers do state these materials are waterproof. In my experience, they are not completely water-proof. If you want to ere on the side of caution, then use a liner.
Nylon Fabrics – Cordura, Robic – many of these nylon fabrics are highly abrasion resistant and moisture resistant. Like Zpack, some manufacturers also put a waterproof coating on the inside of the backpacks and tape the seams. You will also want to use a pack liner or plastic bag with these backpacks.
Final Thoughts
Waterproof backpacks are not necessary unless you are in really wet or cold conditions. With taped seams, waterproof coatings, and pack liners, you can make most backpacks highly water-resistant if not waterproof.