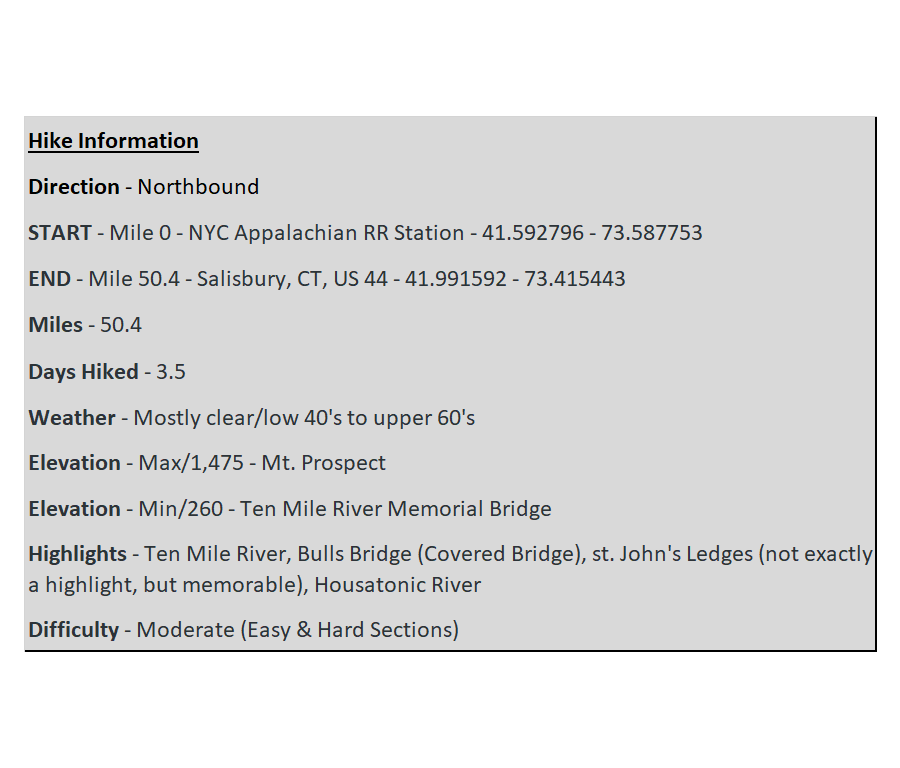 Fall Hike – Day 2
Day 1 had been a nice easy introduction to the Fall hike. Unfortunately, day 2 ended up probably being the most challenging. I climbed up to Caleb's Peak and St. John's Ledges, not stopping but sucking a little wind on the way. The climb down from the ledges was short but steep, and a frustrating fall ended my day early. Thankfully, the last 4-5 miles were a beautiful, easy stretch along the Housatonic River. This is a section of trail that I enjoy taking non-hikers on for some leaf peeping during peak season.
A Fall hike along the Housatonic River on the Appalachian Trail, coupled with lunch in Kent, is a nice Connecticut day trip during foliage season. Although a little pricey, there is a new Farm to Table restaurant in Kent (Swyft), which is worth a visit. Kent has gotten a poor reputation over the last few years with hikers, but I hear they are trying to improve their image.
Early Morning

A rooster sang out loudly in the valley below, and I opened my eyes to glimpse what would be a glorious sunrise, which also hinted at another beautiful day. Changing back into the previous day's hiking clothes was the worst part of the day, so I adjusted quickly. Tucking the damp clothes into my bag with me for 10 minutes to warm them up was key to making the process a little more bearable.
Breakfast was cold oatmeal from Outdoor Herbivore – fuel for the morning. It wasn't too bad, and I especially liked the crispy chia seeds. They broke up all the "mushiness." I gulped the food down, packed it in a flash, and began weaving my way through the rocks, acorns, and leaves to CT 341. I always pack up my down jacket and use it only for camp. This leaves me with only a wind jacket and lightweight shirt to start the day, so I move fast in the mornings to generate some heat!
I did not head over to check out Mt Algo shelter but could see it from the trail. It was not a shelter I had stayed near in the past since it was .3 miles from CT 341. The only thing of note about the shelter was the sign stating that wasps had taken over one of the campsites and to respect the wildlife. Hopefully, they don't also take over the shelter.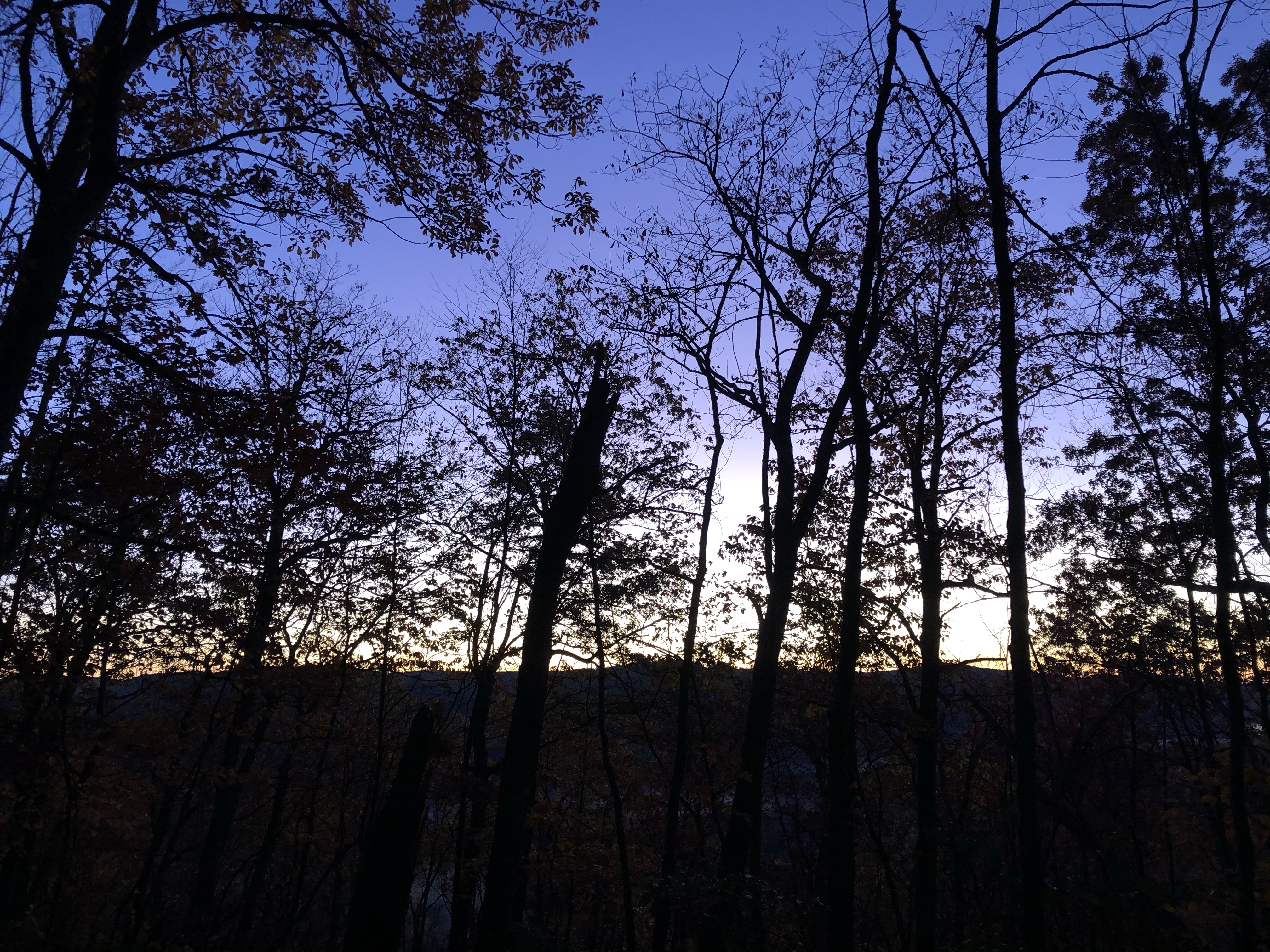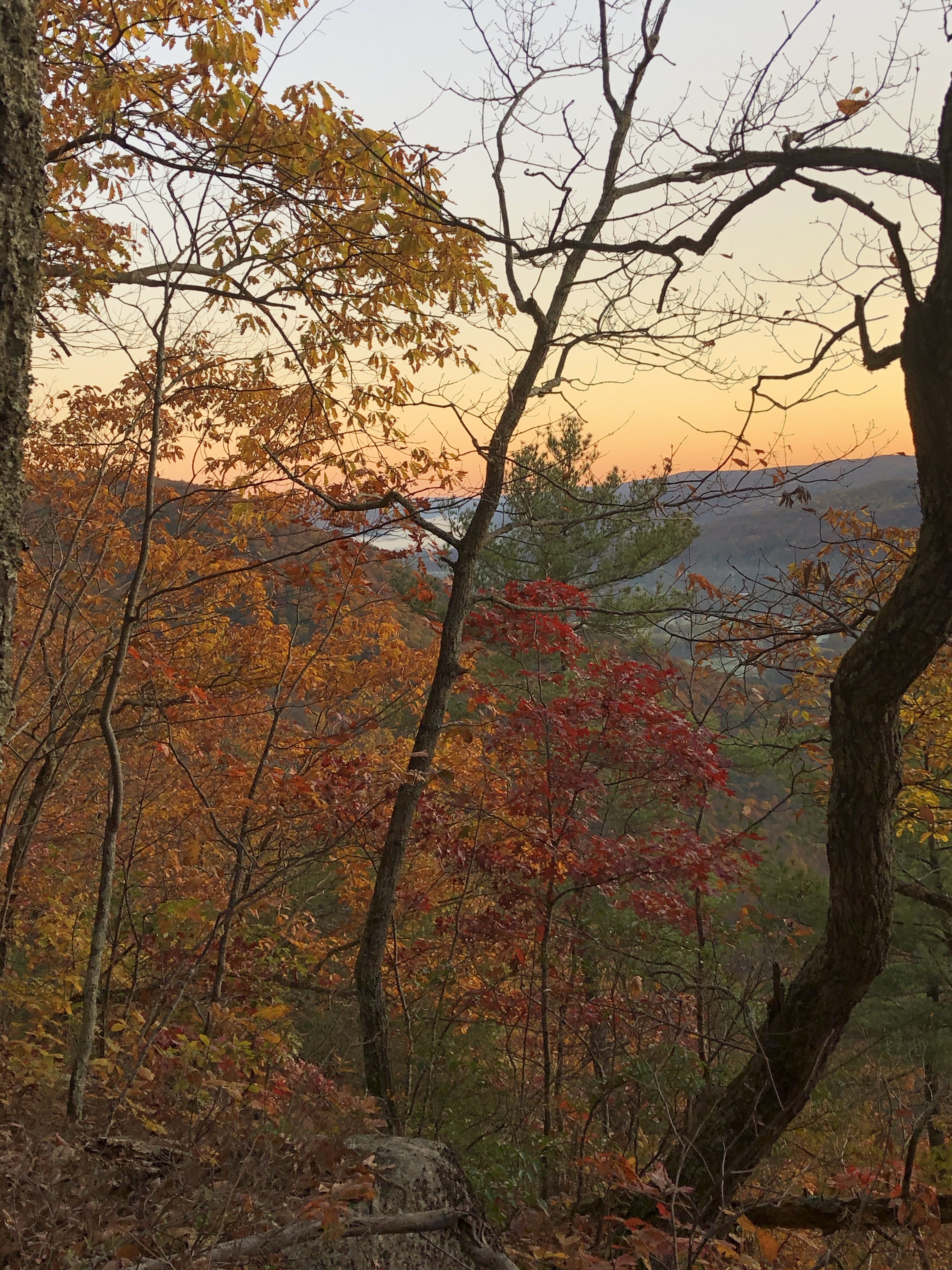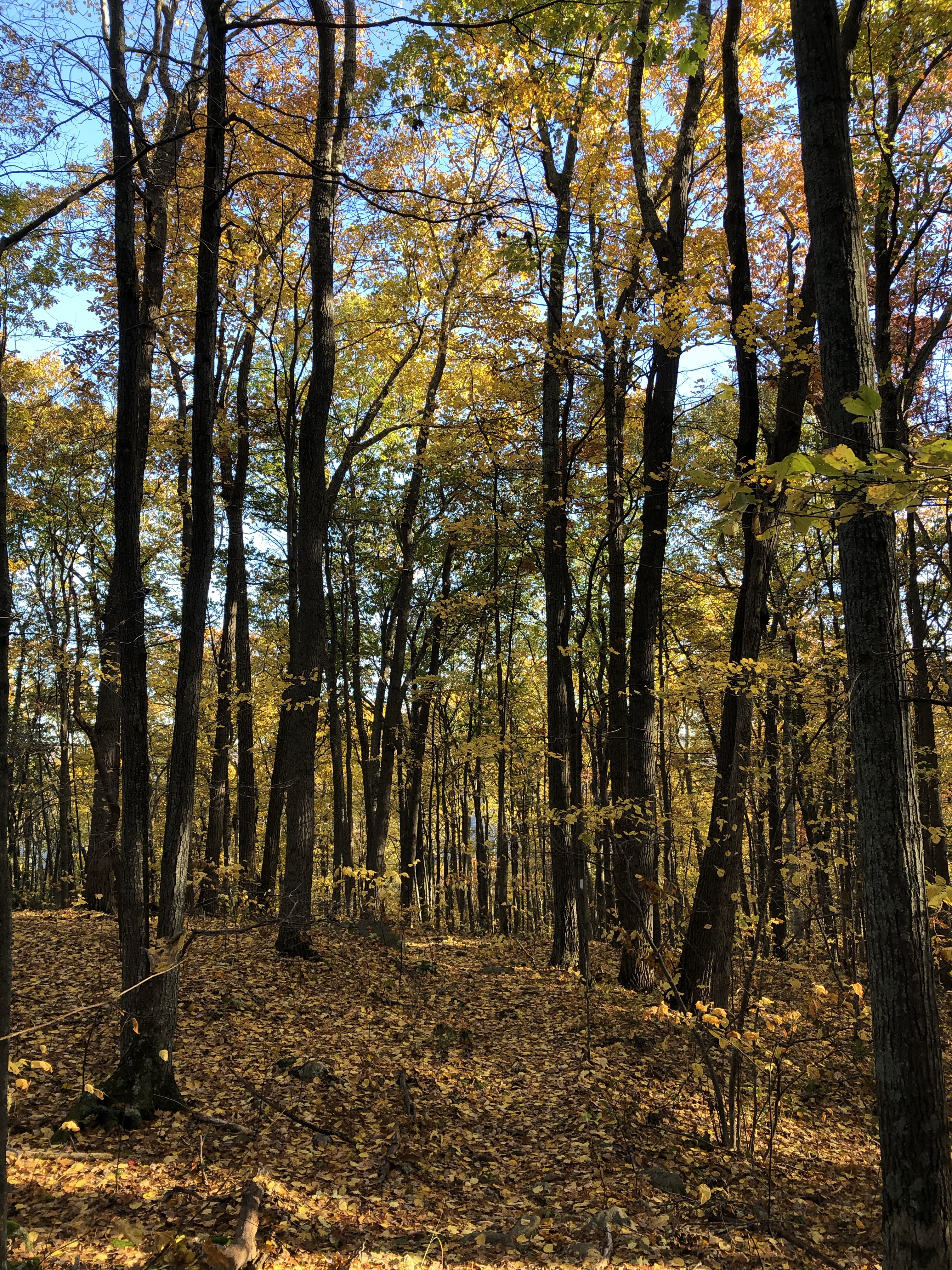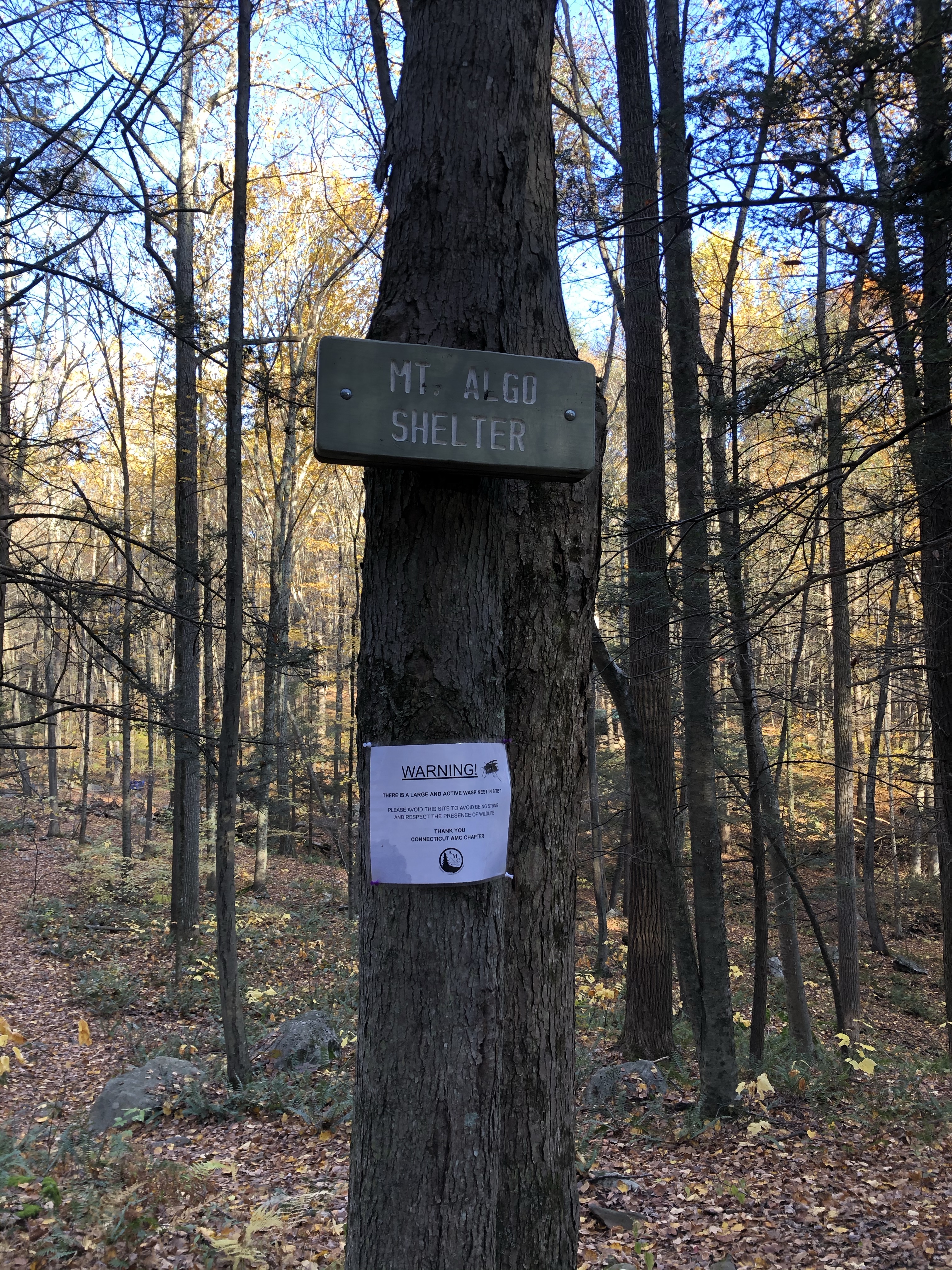 Climb to Caleb's Peak

CT 341 was a quiet road. This was the road where most hikers hitched into Kent if they needed to resupply. There was a small parking area for a few cars but little space. Another small space for a car or two was further up on the left.
I crossed the road, climbed over the stile, and headed across the wet morning field to climb up to Caleb's Peak. Thank goodness it was a short climb. I'm not a morning person, and my legs warm up and hit their stride around mid-morning. Anything before that is a forced march.
I think Caleb's Peak has lovely views – better than St John's Ledges. Unfortunately, there is no easy way to visit. You have to pay the climbing toll. Once I reached the top, the colors were excellent, so I climbed up on a rock and settled down to have a snack and enjoy the scenery. The view stretched down through the valley, with rolling farmland and colorful hills rising on both sides – a mix of green and slightly muted gold, red and orange hues scattered throughout.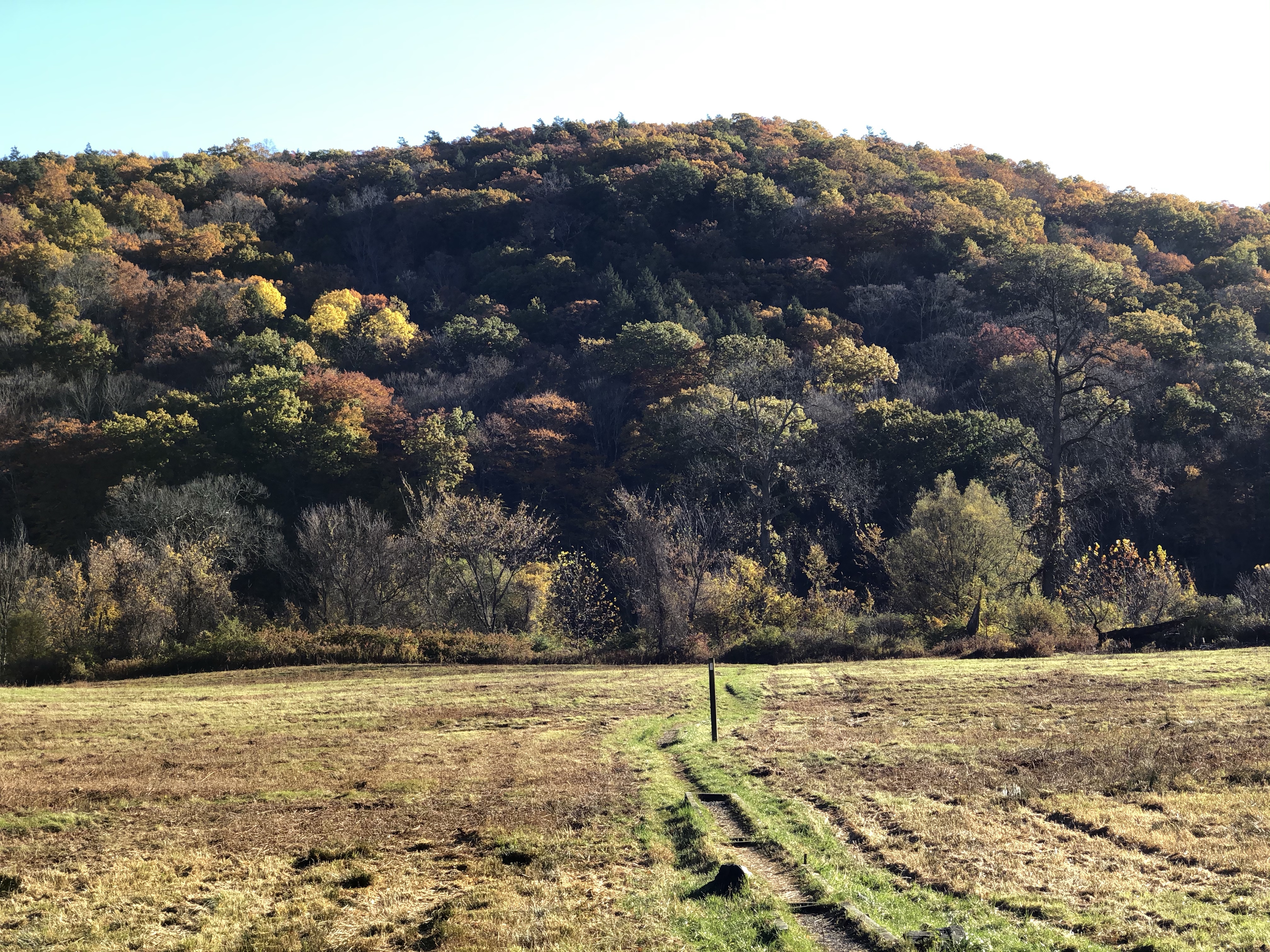 St. John's Ledges
It only took a few minutes to make my way to St. John's Ledges, and I ate lunch for about half an hour. This was just to let my legs rest a little before I began climbing down from the Ledges. I sat on a granite outcropping and watched Vultures swoop and swirl on the air currents in front of me. I hoped they were not an omen preceding the steep descent to River Road.
Leaning out and looking over the top of granite slabs and jumbles of rock, I would pick my way down for the next 500 feet; I let out a big sigh. This climb always reminded me of southern Maine. I spent as much time using my hands and, sometimes, my butt as I did my feet.
There was a second acorn attack on the descent. The fall occurred when I stepped onto a slanted, leaf-covered granite slab. As my foot shot out from under me again, I had a choice – tumble straight down about 15 feet, or fling myself into the rocks beside me. I pushed out hard with the only leg that had any leverage. I sucked in my breath as I crashed into the rocks, hip first, and lay there slowly, moving each limb to ensure they all functioned properly. Again, pain radiated out from my hip, but all seemed in working order.
I would end up having a very impressive bruise on my hip, maybe my largest ever, and show it to whoever would look. If at home, I was reminded each time – "At your age, that is nothing to be proud of!" I no longer show it to anyone in my household.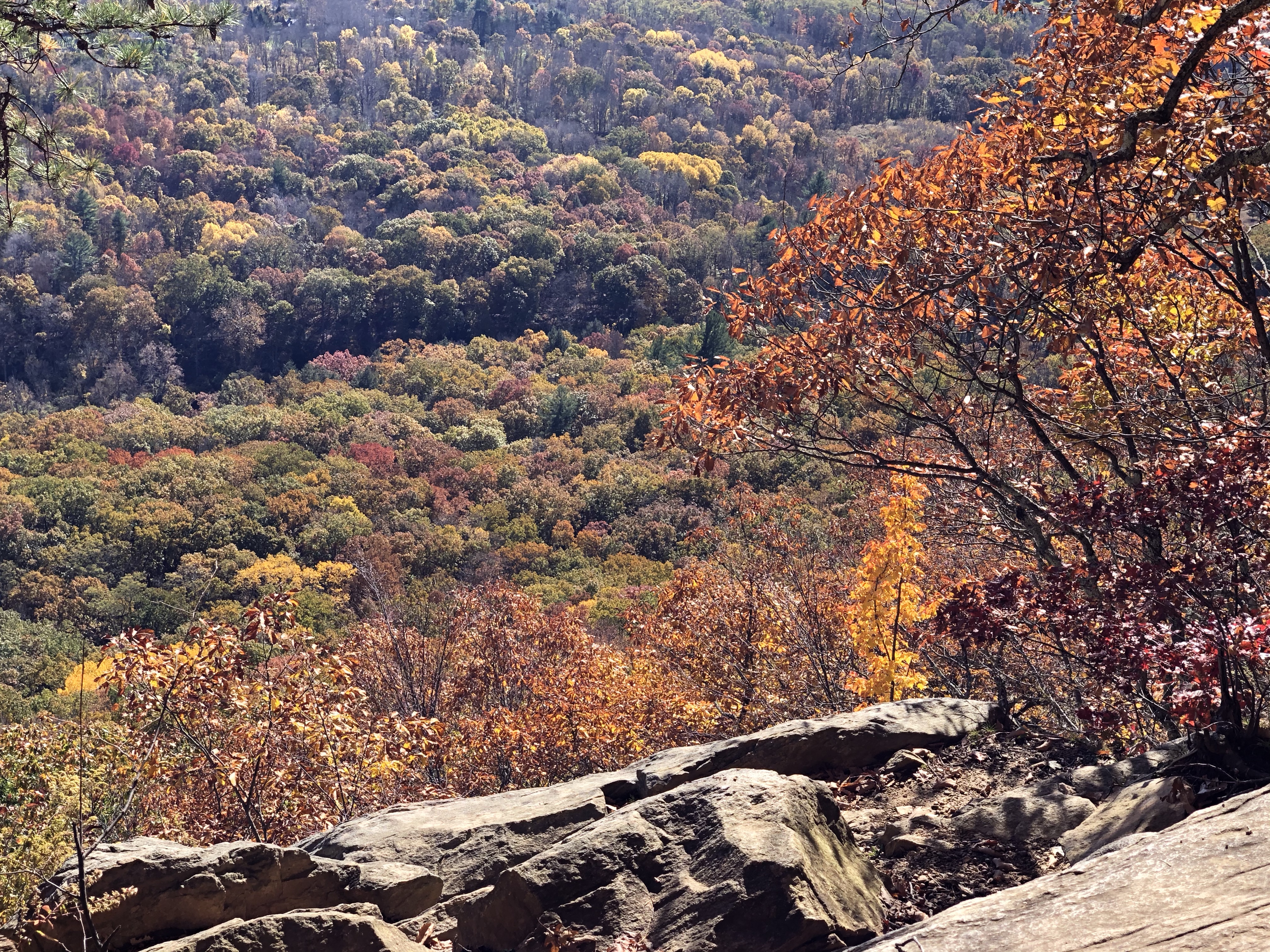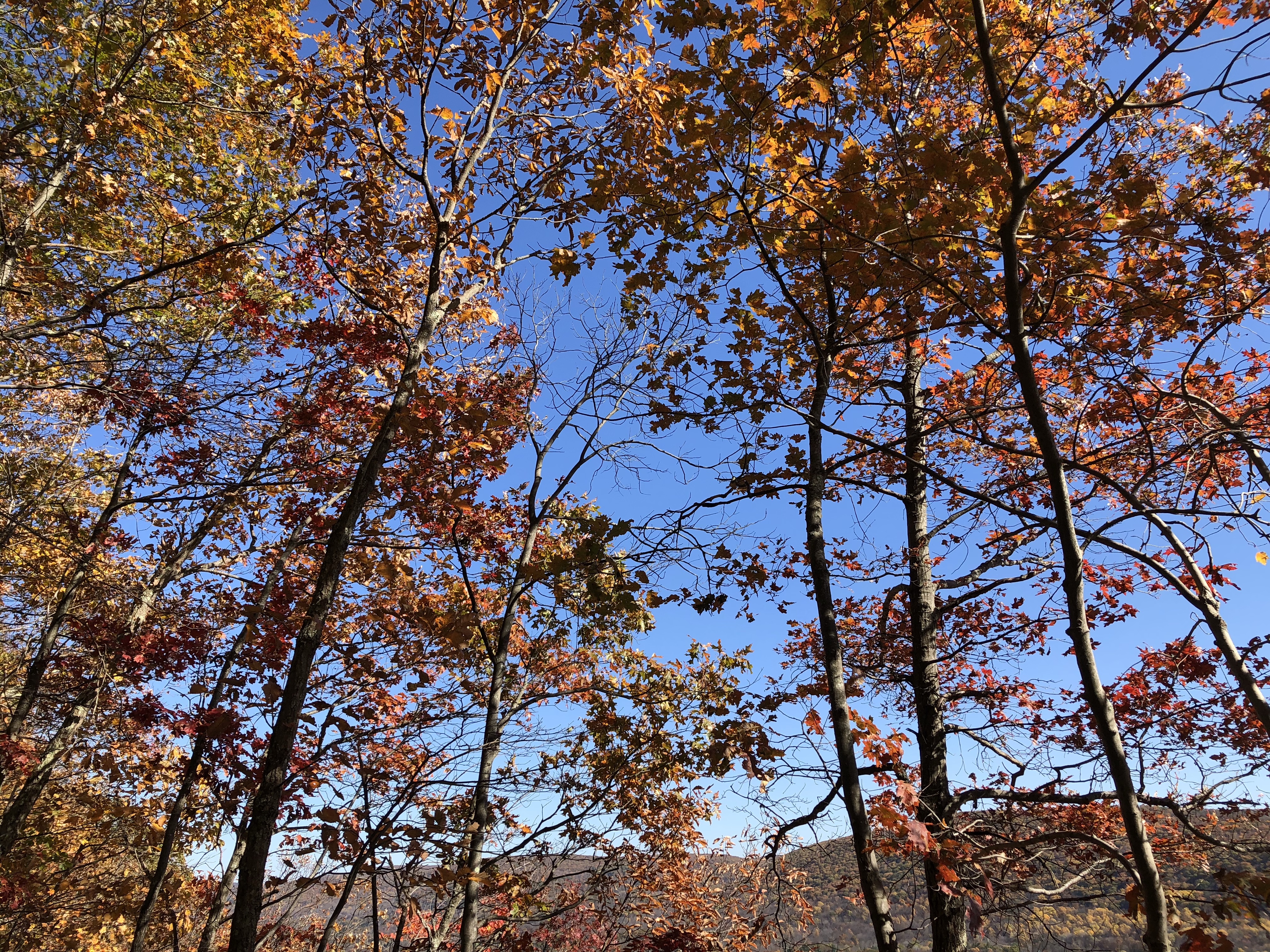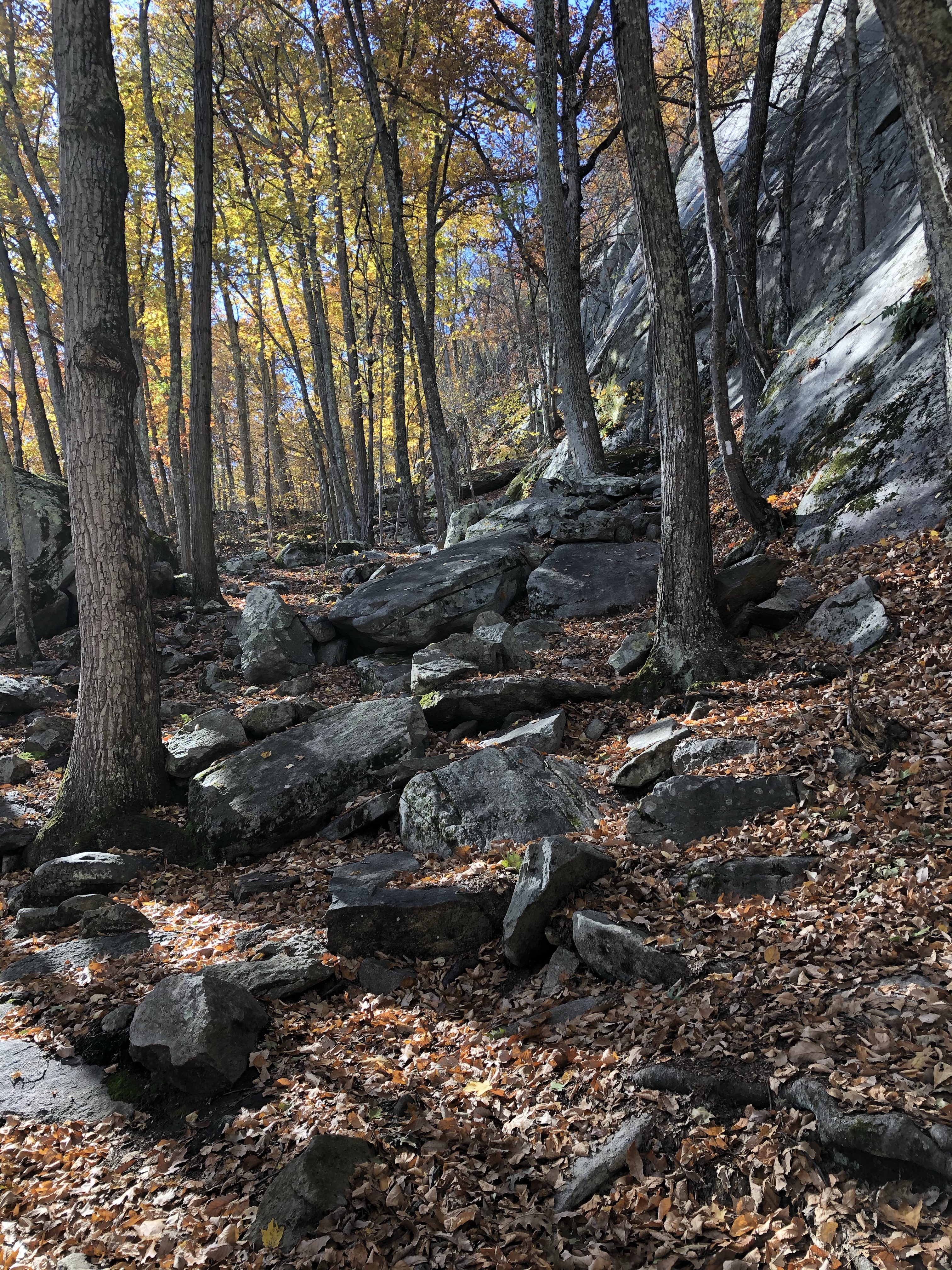 Scrambling Down
Halfway down the rock Jungle Jim, a young woman came bouncing up behind me. She leaped from rock to rock like a brown-haired fairy; dark brown bangs splashed over bright eyes that stared down at me intensely as she flashed me a quick smile. I grimaced back at her as I shifted to move out of her way, making sure I made my move look effortless and pain-free. Pride is a powerful motivator. She said hi and bounded past me, disappearing down and around the next large boulder. I did not see her again and continued my crawl downward, feeling a little older.
Finally reaching the bottom of the rocks, I quickly walked to the dirt road and turned left. As I began to stretch my legs, finding my stride, I felt all of the tense muscles in my body slowly start to relax. A sense of relief washed over me, knowing there were no more significant climbs for the rest of the day. The next 4.7 miles would be a dirt road and a nice flat river walk.
Fall Hiking Along the Housatonic River Walk
The next mile was all dirt road before switching back to trail at the trailhead. The trail was in great shape, and the river was beautiful. There were very few hikers, but I did stop to chat with one older gentleman that asked me if I had climbed up to Caleb's Peak. He grinned when I said yes, and told me the peak was named after his great, great grandfather and that he climbed up there often. I could not help but smile back at his evident pride and contagious grin.
Stewart Hollow Brook Shelter was about 1.3 miles down the trail, and Stony Brook Campsite was about .6 miles past that. Both were in good shape and were lovely places to camp near the river. I always suggest campsites if with a group. This allows for plenty of space and more privacy. Connecticut also prefers that groups use the campsites.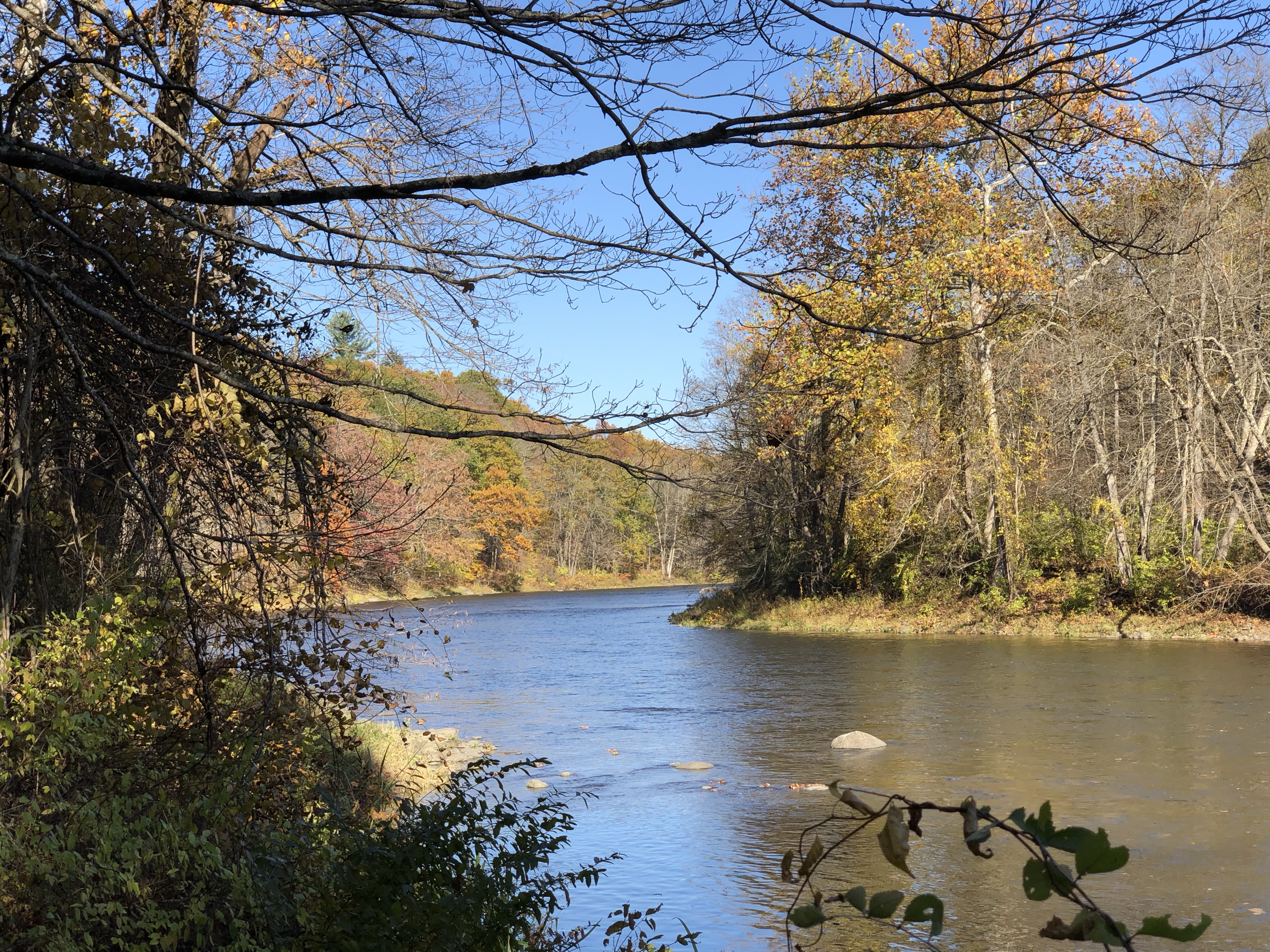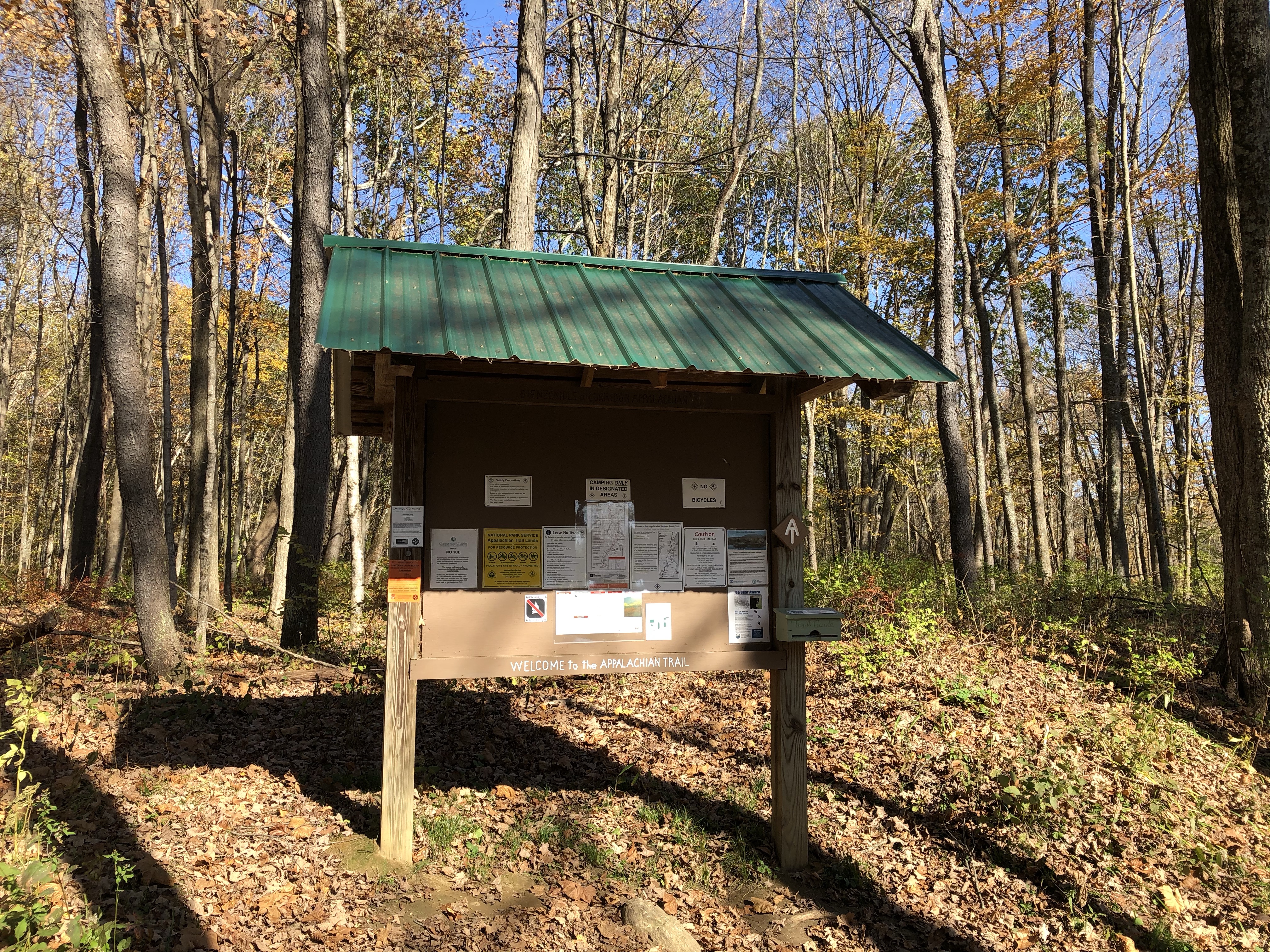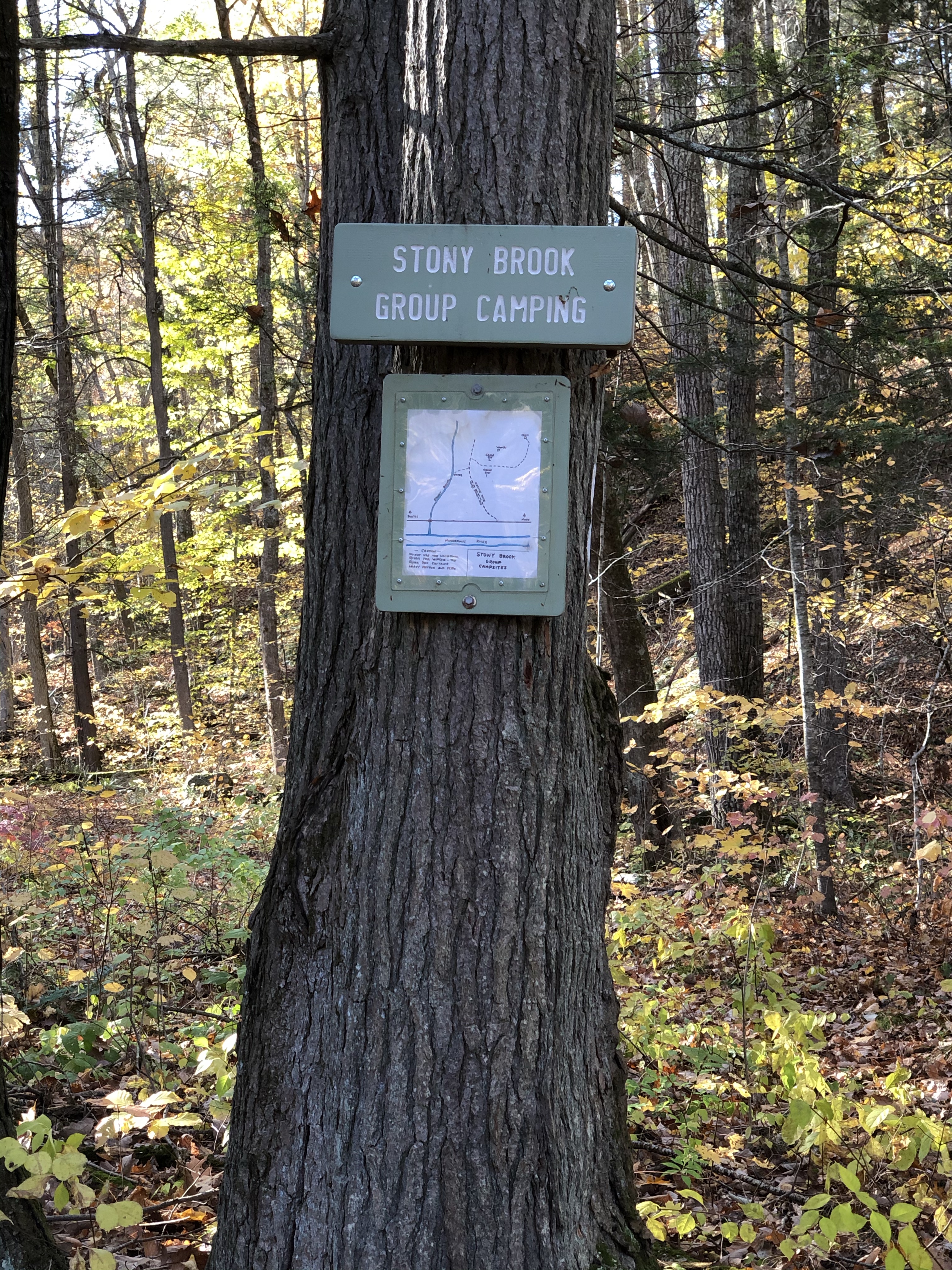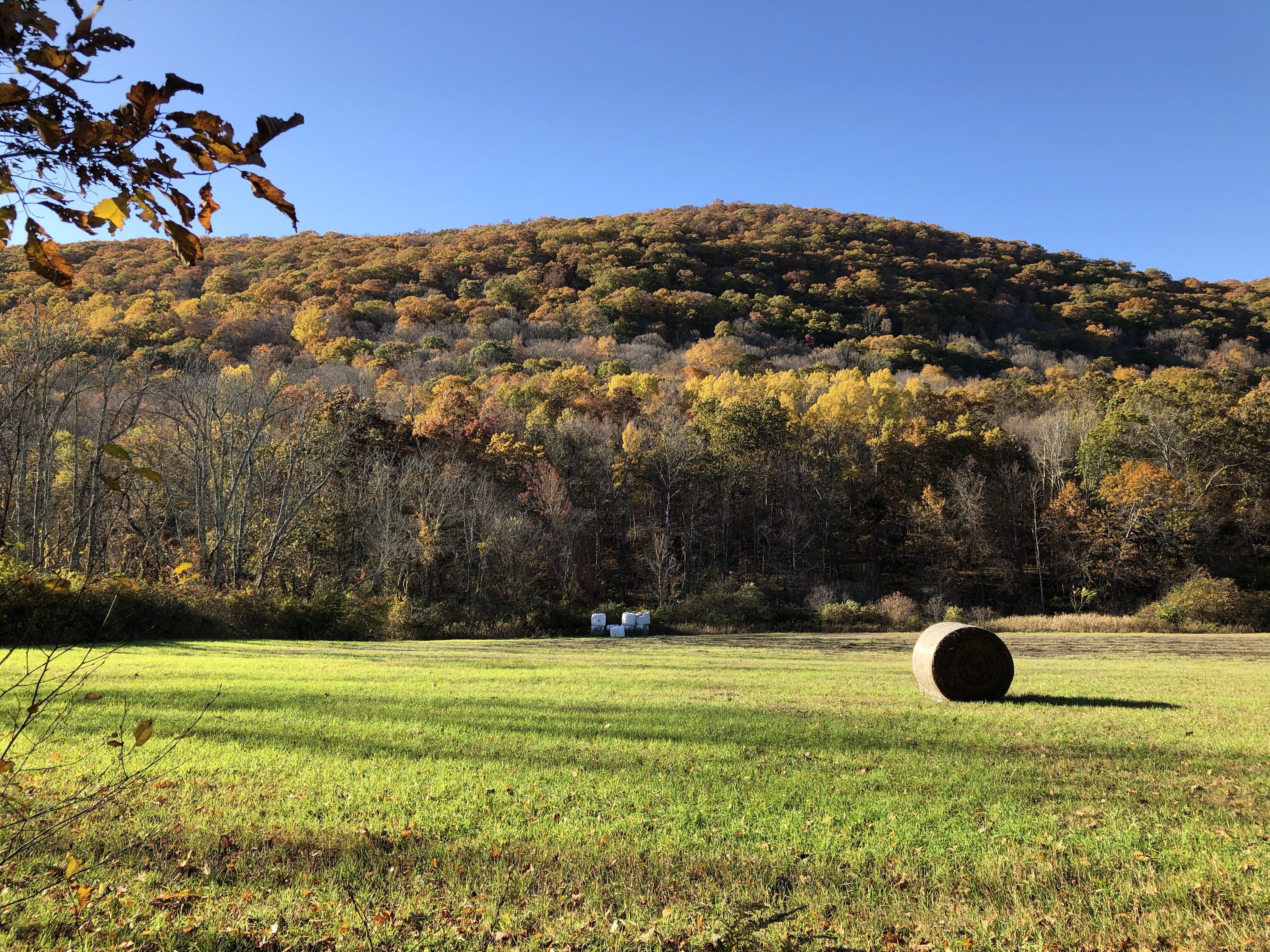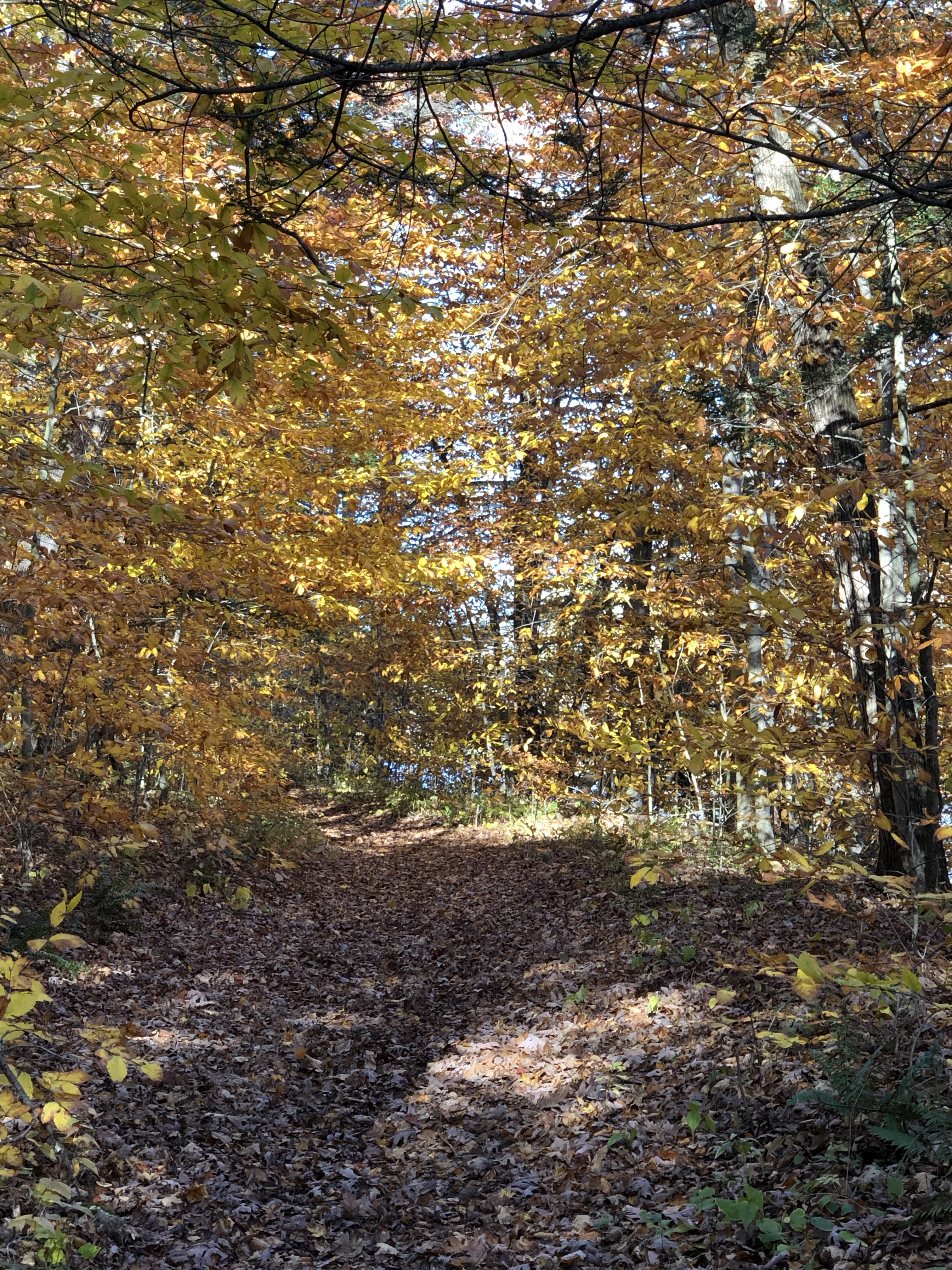 Silver Hill Campsite
I planned to end the day at Caesar Brook Campsite, but my hip hurt, and I was hungry, so I decided to stop at Silver Hill Campsite. This would be about 13.5 miles for the day. The campsite was a little less than a mile up from River Road.
The great, great grandson of Mr. Caleb had informed me that I would probably have the site all to myself, but as I came through the woods and stepped out into the clearing, two people sitting at a picnic table under the small pavilion turned towards me.
I'm an introvert by nature but switched on my extrovert. "Hi! Any water on site?" I said in a loud, cheery, confident voice. I glanced around the site as I spoke. Besides a small pavilion with two picnic tables, there was a deck and swing, along with plenty of camping space. There was also another one of those rusty hand pumps. It was a pretty nice spot, minus the "drinking water."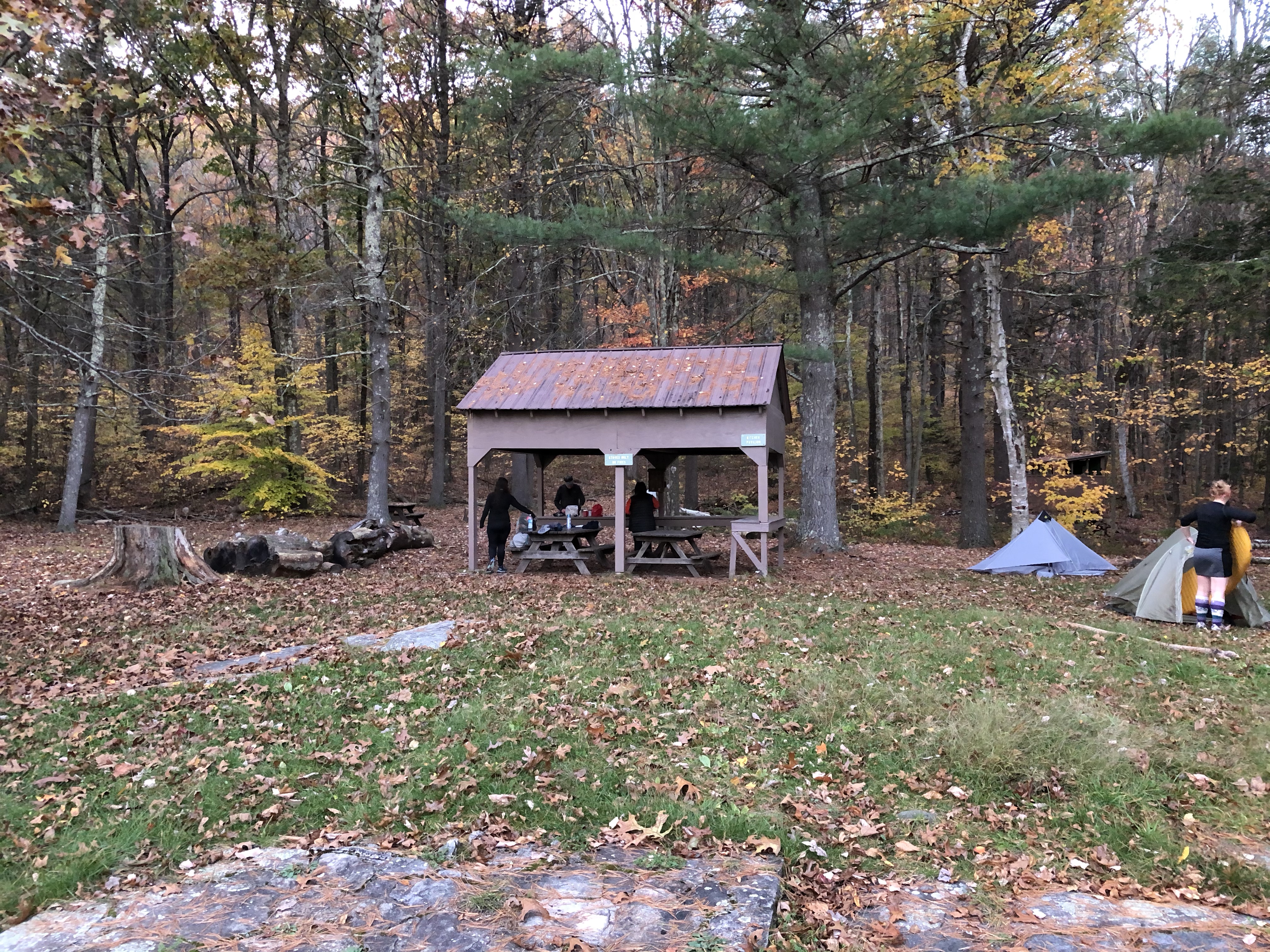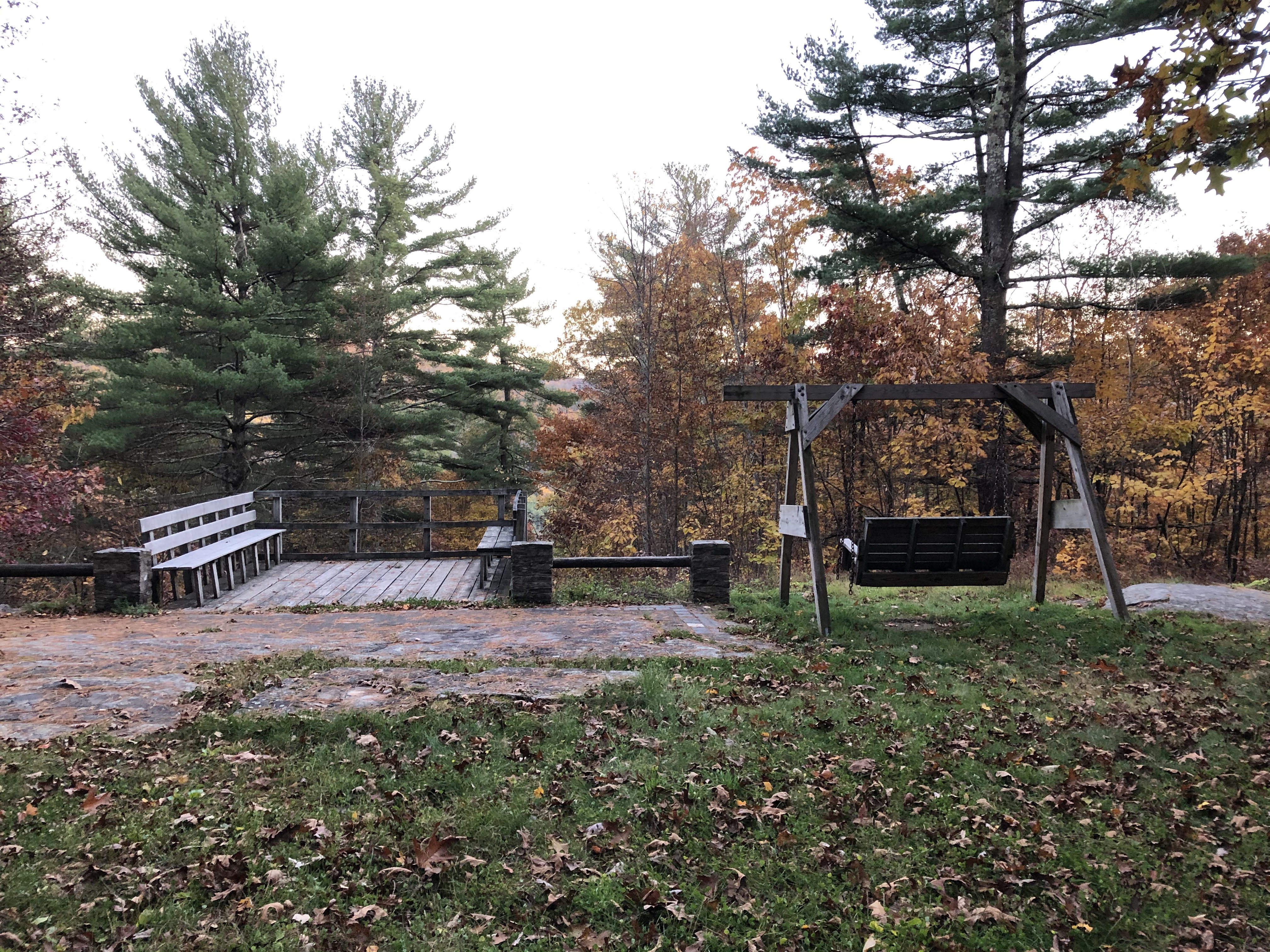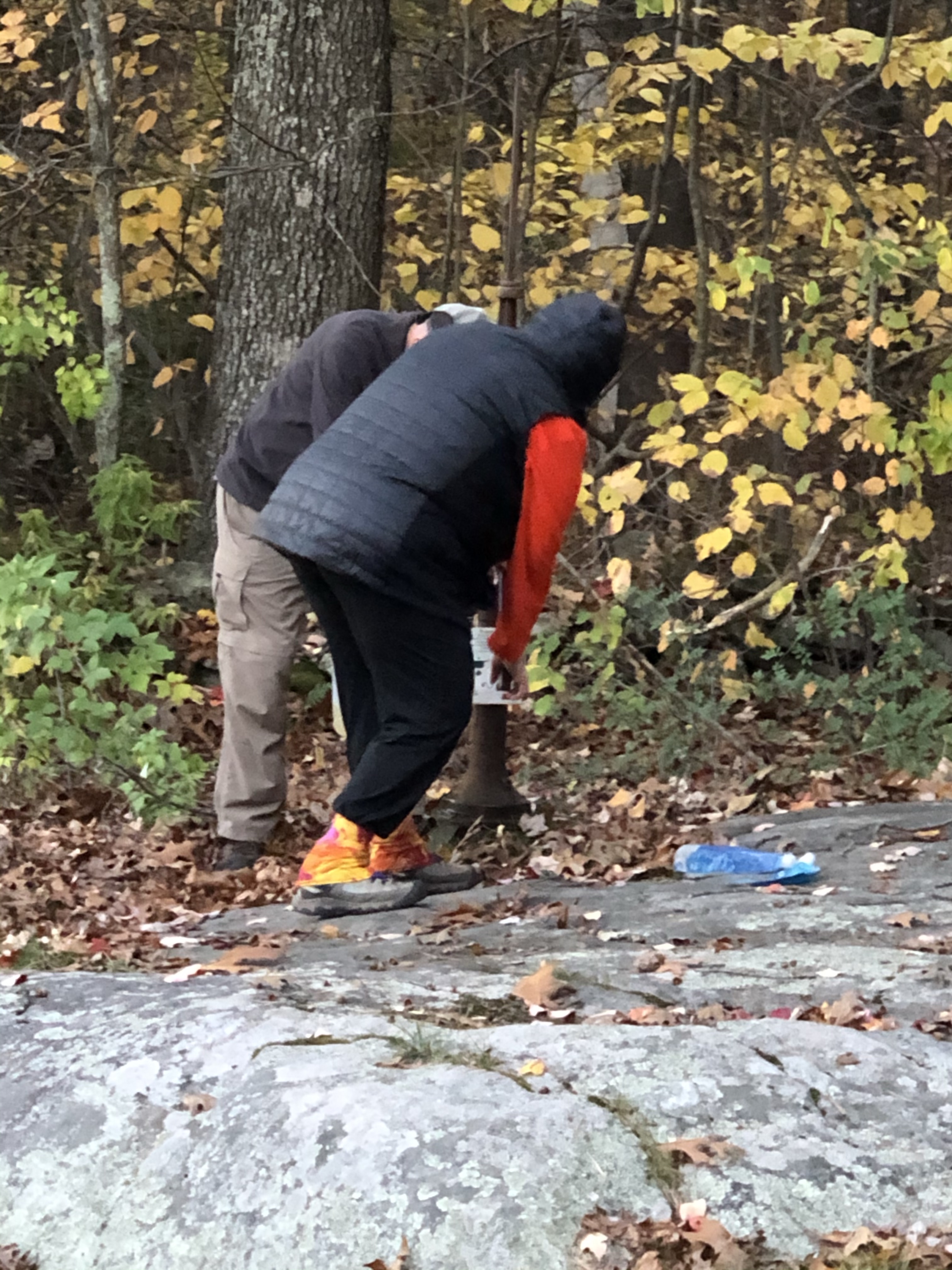 Local Hikers
The two hikers (Linda and Bob) were an older couple from here in Connecticut. They had been to Silver Hill multiple times and even came up on New Year's Eve. Connecticut is COLD at the end of December, so they must love backpacking. Before retiring, they owned a camping store and were trail maintainers in Vermont. They were both pretty easygoing, and it was great talking trail and gear with them as we sat at the two picnic tables cooking our meals.
When I walked up initially, they had raised their 3-gallon container to show me the orange water they had gotten from the pump. That was a lot of iron. Fortunately, they had filtered plenty of water and offered me some for my dinner, so I did not have to go through pumping and filtering. I would probably suggest bringing water up from the stream before Silver Hill.
Southbound Hikers Arrive
As I sat with Linda and Bob, chatting and eating dinner, a young woman arrived and announced that she was a SOBO doing the whole AT. She told us that she and her friend had hung out at the General Store on the road all day and climbed up to camp for the night. She then slumped and let out a big sigh before telling us her blood sugar was dropping. A request for candy immediately followed this. Linda offered her a small chocolate bar. The General Store must have been out of food and candy.
Settling In…
A few minutes later, another young woman arrived. She was also talkative and friendly. I watched as she and her friend walked over to Linda and Bob's tent and started setting their shelters up. A mild look of confusion spread across Linda's face. The campsite was large, with a great deal of space to set up. Linda looked over at me, and I shrugged, smiled, and kept eating. Finally, Linda announced she snored, and unfazed, both girls responded that they had earplugs. I tried not to laugh as Linda frowned, and Bob wisely kept his head lowered, continuing to make dinner.
The girl (I'll call her Sugar) that had arrived finished setting up and walked back over to our table. Looking at Linda, Sugar asked, "Do you have some toenail clippers I can borrow?" I held my breath to keep from laughing, staring into my pot of Chili Mac. Linda pulled some clippers from one of her bags and handed them to the girl, whispering as she sat back down that she would soak them in alcohol when she got home.
End of the Night
Thankfully, I had camped under some spruce trees on the other side of the campsite. I said my goodnights as it grew dark and headed for my tarp tent. The girls were up late giggling, and Linda told me the following day that they had asked to borrow Bob's stove to cook dinner and then asked if they minded them smoking a little weed. I was disappointed I had not been there to watch Linda's facial expressions.