Tennessee is similar to North Carolina, and they share their borders. At times, I was unsure which state I was hiking through on any given day. The terrain is very similar, and I enjoyed some of the same features – the Roan Mountains, Clingman's Dome, etc.
I also met and hiked in Tennessee with some of my favorite hikers – Pig Pen, Big T, etc., stayed in one of my favorite trail towns AND had the BEST breakfast on my AT thru-hike.
My favorite thing about Tennessee was that I finally began to get my trail legs, and Spring began to appear with warmer temperatures and budding trees. Roaming across the Balds and climbing out of the southern Appalachian Gaps finally started to come more easily.
Tennessee Terrain on the Appalachian Trail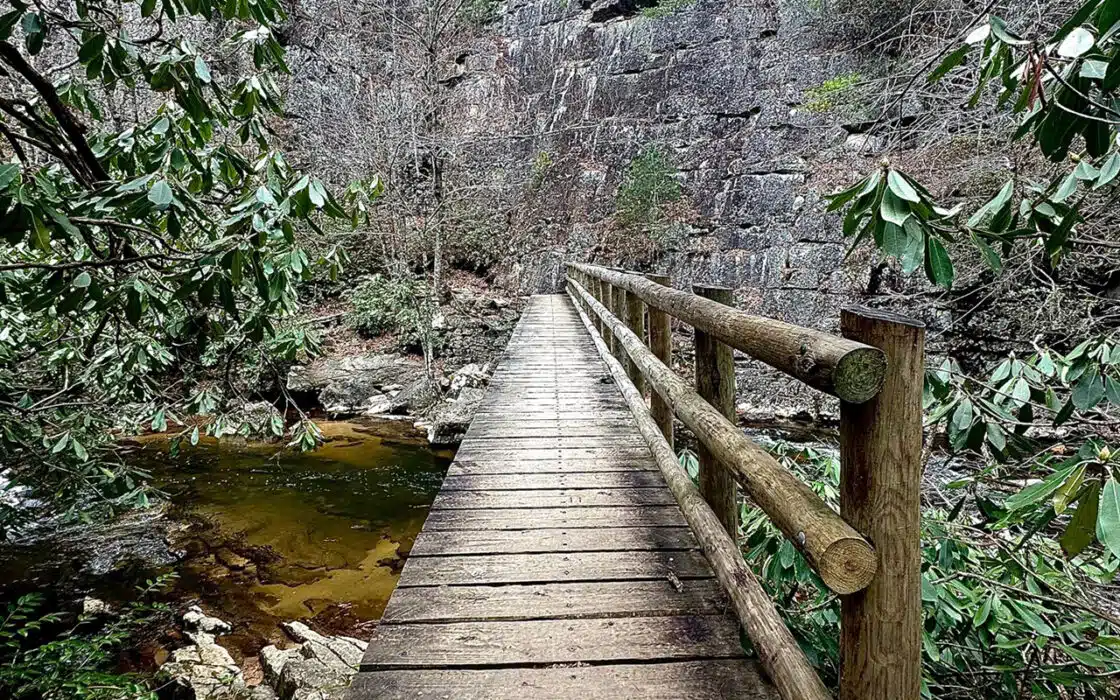 Tennessee shares its rugged bald mountains, big climbs, and raw weather with North Carolina. The trail travels about 75 miles of Tennessee and shares approximately 218 miles of its border with North Carolina. You might be hiking in North Carolina one hour and Tennessee the next.
The Appalachian Trail through Tennessee seemed a little more "wild" to me. The trail was less maintained (or maybe used less) in some sections, and most of the shelters were a little more "rustic," some of them simple concrete shelters.
I described most of the balds in the North Carolina Post, so below are some memorable sections and climbs only in Tennessee.
Nolichucky River – I enjoyed this hike along the ridge before dropping down to Erwin. The grade was nice with switchbacks, and the river and valley views were stellar.
Beauty Spot (4,436′) – This was a beautiful grassy bald with nice benches. I was fortunate to cross it on a sunny day, and the views were gorgeous.
Unaka Mountain (5,183) – This big mountain, with its dark, eerie forests, reminded me of a setting from "Lord of the Rings." I loved the dark woods and moss-covered trees. I would probably not camp in those woods, but it was an interesting climb.
Roan High Knob Shelter (6,286) – This is the highest cabin/shelter on the AT, and this old cabin kept me dry during some pretty intense storms. There is also good camping for large groups, and sunrises from the open spaces around the old Cloudland Hotel are nice.
Laurel Fork Falls – This is a great hike along the stream and Falls, but be careful hiking down to the Falls if the water is high. The high water route is also a nice hike over to the shelter.
Watauga Lake – The 29-mile section between Watauga Lake by Boots Off Hostel and Damascus, Virginia, is a favorite of mine. I love the valley and lake views traveling the mountainous ridge. I recommend this section if you are looking for a long weekend or a section hike.
Tennessee Weather on the Appalachian Trail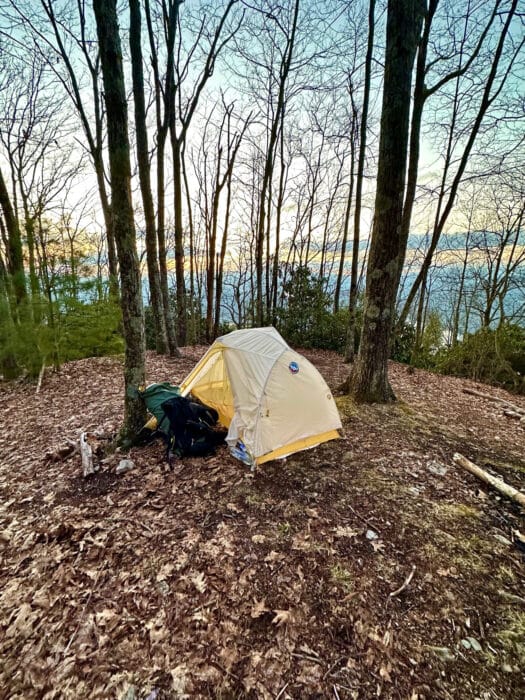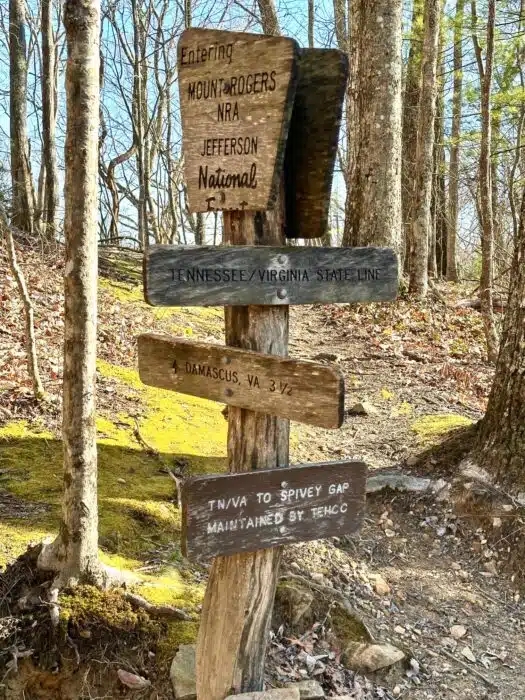 After the Roan Mountains in Tennessee, it began to warm up slightly. This was at the end of March and the very beginning of April. There was still cold weather, but I did not send my cold gear home in Damascus, Virginia, as originally planned. I kept it until I got home to Connecticut, and I think there was only one time I was hot in my fifteen-degree quilt.
I did not get any snow in Tennessee, but I know hikers later than me that did get a dusting, so even into April, there were some cold snaps. That is just an example of the volatility of Spring weather in the South. I hiked above Watauga Lake in shorts and a T-shirt, and rarely had any rain.
Tennessee Towns and Accommodations on the AT
Tennessee has some excellent hostels and several towns where you can resupply. There are also shuttle providers at most large and minor road crossings. The shuttle information is also in the Farout App.
Towns
Tennessee has good towns, but they are not my favorites. I usually stay at hostels or motels along this section of the Appalachian Trail. If I did go into town, it was usually only to resupply and not to stay overnight. This was the case in Roan Mountain, TN. I needed a couple of items that Mountain Harbor did not sell in their store.
Towns in Tennessee include Erwin, Roan Mountain, Hampton, and Elizabethton. Below are the ones where I have first-hand experience.
Erwin, TN – The people in Erwin are exceptionally friendly, but it is not one of my favorite towns. On this last thru-hike, I ended up staying at the Super 8. It was within walking distance of a good grocery store and four fast-food restaurants. I'm not a big fast food fan, but it works if you want to clean up and resupply.
Roan Mountain, TN – I had good pizza from Roan, and you can resupply at Dollar General. This is all I can say since my time was short, but there are other options in Farout.
Hampton, TN – I resupplied in this town years ago, and it had a good grocery store.
Hostels
Tennessee has some excellent hostels. Most notable are Mountain Harbor and Boots Off Hostel. There are others, though, so check out the comments in Farout.
Uncle Johnny's – I stayed here years ago and had a good experience, but I went into town this time. This time the hostel was under relatively new management and still appeared to be working out some kinks. Only one person appeared to be running a packed hostel.
Mountain House Harbor Hostel/B&B – Mountain Harbor has an extensive hostel and a B&B. It also has THE BEST breakfast I've had on any trail, maybe even anywhere. It is pretty amazing! There are other options in Roan – The Station @ 19E and The Refuge. The Station has a reputation as being a party hostel, and comments are hit and miss. The Refuge gets great comments for being clean, cozy, and reasonably priced. I stayed at Mountain Harbor.
Kincora – Dennis is a trail legend and one of the nicest people you will meet, but his hostel was in rough shape when I was there years ago, and it is probably tough for him to keep up with now. The reviews in Farout are not good, but Black Bear Resort down the road is a good option.
Boots Off Hostel – Boots Off is becoming one of those iconic trail hostels that you hear about up and down the trail. I have not stayed there, but I know many hikers that have, and I hear nothing but excellent feedback.
Tennessee Highlights on the Appalachian Trail – Summary
Tennessee is much like North Carolina. The terrain and weather are similar, and it is often where I started seeing the first hints of Spring. The Roan Balds and the 30-mile section into Damascus are two of my favorite sections in the southern Appalachians.
The towns are not on my favorites list, and because of where Hot Springs, NC, and Damascus, VA are located, I usually hike straight through. Hostels like Moutain Harbor and Boots Off Hostel make it easy not to stay in town as you travel through Tennessee.
This page has affiliate links for products and gear I purchase and use. If you click on one of these links, I receive a small commission at no extra cost to you. There may also be Amazon links and as an Amazon Associate I earn from qualifying purchases. You can read more about my thoughts on affiliate marketing.