March 29, 2022
Like lightning, she was off! It was a town day, and Cricket was a woman on a mission. I left about a half-hour after she left camp and never saw her again until I reached the Florence-Kelvin TH, where she had already secured a tentative ride and was waiting to go to town.
A record of 13.7 miles by 2:30 PM. I now knew her capabilities.
This morning was classic desert hiking, winding my way in and out of dry cactus-covered terrain as I climbed into the hills above Kearny. There were still light winds, but nothing compared to previous days, and the hiking was beautiful as I wound along the tops of ridges.
About a mile into easy hiking, I suddenly felt a sharp stabbing pain in the front of my shin, sharp enough to make me gasp and hop ahead on one leg for a few steps. I looked down for the thorn in my leg and saw nothing. I then looked for what had stung me – nothing.
Over the next few miles, I limped down the trail in pain, struggling to keep up some speed. I finally stopped and googled "shin splints." I had never had shin splints, but this had to be what this was, right? This one shin splint was giving me hell, and when I felt the location of the supposed shin splint, I felt what appeared to be a rock under my skin. Nowhere on Google was a shin splint described as "rock-like."
The shin splint continued causing sharp pains for the next few hours, but over the day, the sharp pains became less frequent, and by the time we got to town, I had begun to think I had a rock under my skin. Crazy!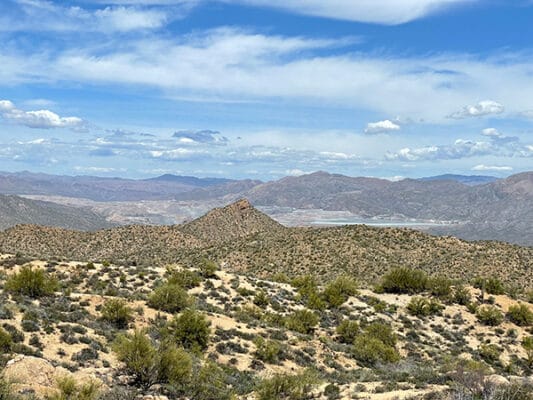 At one point, I looked across the snaking ridgeline and saw Cricket ahead of me where a ridge snaked back in my direction. Since I was close to her, I waited for good views and stopped for lunch under a scraggly oak that offered a little shade. I would have sent her a text to stop simultaneously, but I did not for several reasons.
Cricket used T-mobile and did not often have a good signal out here. We found my service provider Verizon was much better.
Over the last couple of days, when I had caught her on a break, she had announced she had been there for a while and promptly got up and hiked on while I stopped for a break. Since I had seen her ahead of me and knew she was only a few minutes earlier, I had taken my cues and let her hike solo. I enjoyed hiking solo and understood the desire to do my own thing, so I usually waited and caught up at the end of the day when I knew she would begin looking for camp.
I could see the trailhead from about a mile up, and as I wound my way down, I stopped to chat with a couple of mountain bikers. They were riding a section to Picket Post near Superior, AZ, and remarked on how challenging the thru-hike must be over 800 miles. I looked down at their ripped-up legs and said it was nothing compared to what they had clearly been through riding past skin-ripping cactus over the past two days. Their legs were cris-crossed by angry-looking cuts, still seeping blood.
Cricket was waiting at the edge of the parking area when I walked up to the empty lot. I saw the dirt road leading away and knew our chances of getting a ride were slim. However, Cricket said two locals were coming back to give us a ride and then turned to chat with one of the mountain bikers that had just pulled up.
The locals pulled into the dirt parking area (Ed and Clyde) about 10 minutes later, and we climbed into their small station wagon for a ride to town. The 7-mile ride took about a half-hour as we got a tour of the area. We were shown the next trailhead down the trail, and I had a thousand questions about the massive Copper mine we could see while hiking. The two brothers had grown up here and knew a lot about the area.
The tour of the actual town of Kearny took about 30 seconds because we spotted the pizza restaurant and immediately announced we had reached our destination! Sweet Tea was sitting at a table nearby, and he and I started talking while Cricket went inside to check out the restaurant. The motel was full, but Sweet Tea said a woman had just driven by and yelled out that there had been a cancellation. I immediately called and claimed the room! Our reservation was for the next two nights, so we were lucky.
Sweet Tea and I talked for a few minutes. His wife was struggling with some things at home, and he was trying to decide if he should get off the trail and asked my opinion. I listened to him and could tell he was struggling, but I did not have much of a decision.
The trail was going nowhere, and family was always my priority. Finally, he thanked me and began calling to arrange his travel home. I would be sad to see him go, but I could hear and see the relief after his decision.
As Sweet Pea and I continued talking, Gary started chatting with us. He was the pizza restaurant owner, and I instantly liked him. He was pretty outgoing and appeared to know everyone who passed us, which was not surprising since this was one of the only restaurants in town.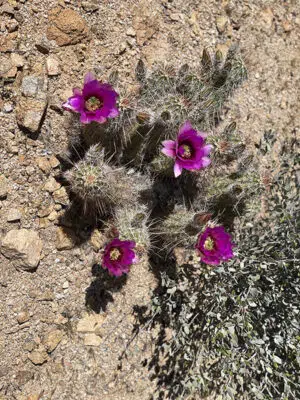 Cricket had come back outside and announced she was going down to the clinic to get antibiotics for what she thought was an infected toe. Gary promptly offered to drive her the three blocks. That was the theme in "The Friendliest Town on the AZT." All of the residents were as friendly as the guidebook claimed. While sitting outside, three people asked me if I needed a place to stay.
Once Cricket returned, we ate our pizzas and then rolled down to our motel room, where we collapsed on our beds in the air conditioning and watched trash TV until I got bored and went grocery shopping and washed my clothes. I then wandered back to the restaurant to eat again before heading back to the motel to crash for the night.
Once back at the motel, I stood in the immaculate courtyard, gazing up into the mountains as the sun fell. Dusk in Arizona was magical, with the cool temperatures and dry, clean air. The skies were so clear, and I loved watching the star show begin.
We were going to spend two zero days in Kearny to give Cricket time to recover. I knew it was necessary, but the mountains were already calling me back.