April 19, 2022
We had an 8 AM shuttle, so Cricket and I were up and hiking by 6:00. Even though we only had 2.2 miles to hike, the trail still threw us a few rocks and small climbs as we worked our way down towards the road.
We chatted along the way and paused to watch a small doe about 10 yards off the trail. She was not scared of us and moved slowly. Sadly, I think she may have been sick, and I murmured to her softly as we moved on down the trail.
Towns are a powerful motivator on the trail. In my case, towns are about hot meals and a shower. There is no other real draw for me, so I don't take many zero days. Instead, I pretty much eat non-stop for the 12-24 hours I'm in town. This includes restaurants and the food I haul back to my motel rooms. Think Ms. PacMan.
Cricket was still dealing with her head cold and feet and had told me on the way to the trailhead that she needed a mental break from hiking. She would take a day or two off in Payson, and I would keep going. This worked out since Puff hiked her speed and was also taking two days off. They would end up hiking out together and forming a group (or what is called a Tramily in today's thru-hiker culture) with two other hikers, and they would all finish the trail together.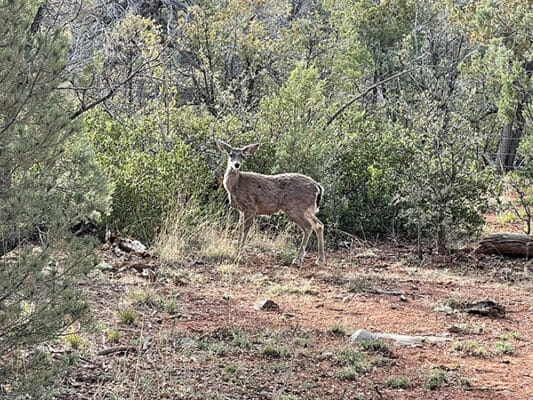 George's Taxi arrived at the Pine, AZ Trailhead and took us to the Pine Post Office to pick up Cricket and Puff's boxes before returning to Payson. There was not a lot in Pine, and I needed to resupply and grab a few things like head cold medicine before getting back on the trail the next morning. Because of this, we decided to go into Payson instead of Pine.
I had woken up with head congestion and a sore throat, having clearly caught Cricket's cold somehow. Head colds hit me like a freight train, and I could tell this was going to be a doozy, so I wanted to stock up on Nyquil before getting back on the trail. Hiking for several days in a constant drugged haze is not my favorite way to hike, so I hoped the famous "hiker heaven plateaus" with flat easy strolls amongst the Ponderosas were real.
We checked into the Best Western in Payson, and I took a shower and then went downstairs to wash clothes. Cricket sent me a text about going to lunch, and I told her I needed about 20 minutes. She said they would go on and eat, and I finished up and joined them at Buffalo Bills.
Buffalo Bills is definitely worth a meal if visiting Payson. It is a classic local bar/restaurant hangout with good sandwiches, burgers, and local brews. The dark interior, with its old-west decor, also has an authentic feel, and the staff is super friendly.
Ninety percent of long-distance hikers like to snap pictures of all their food or tell you everything they have eaten, and I don't want to be left out, so I'll join the herd and contribute.
I had the Brisket Burger, Onion Rings, A Dozen Chicken Wings, and something I can't remember for dessert. As I rolled out of Buffalo Bills, I was planning my walk for supplies and checking my phone to ensure the walk passed several more food establishments. Priorities…
Cricket and Puff headed off to run errands in one direction while I headed out to find groceries and medicine. Our hotel was in a good location with stores and restaurants close by, and the grocery store and pharmacy were only about a half mile away.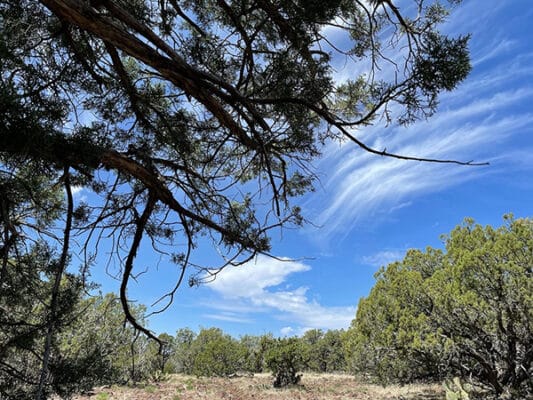 About a quarter mile from the grocery store, I swung into a Chinese restaurant to grab some more food. I was not really hungry, but a mile walk was enough to keep my jacked-up metabolism burning, and I knew it would not be long before I was ready to eat again.
Once back in my room, I inhaled the pint of Talenti ice cream I had purchased and then downed a couple of Nyquil before crashing for the rest of the afternoon and night. I woke up around midnight, ate the now-cold Chinese food, and lay on the bed with a raging headache as I tested breathing out of my nose. Nose breathing was a big old failure, and whining in frustration, I downed a couple more Nyquil and passed out again.
I drifted to sleep and thought about taking tomorrow off but dismissed the idea. Sitting still while colds ran their course was always miserable. If I kept hiking and let colds work themselves out, they seemed to end much more quickly. I'm not a Doctor, but I think my metabolism and immune system function much more efficiently when the machine (my body) works hard.