April 18, 2022
Cricket headed out about a half-hour before me while I poked around camp and did a little writing. I enjoy hiking as the sun rises but continued to let Cricket start ahead of me so she would not feel rushed. Looking across the clearing, I sighed softly when I saw the couple camped near us last night had already left.
The morning was cool but warmed up quickly as the trail left the mountain's shadow and snaked out into the golden, grass-covered Santa Rita hills that had once been home to numerous gold mines. I was fascinated with the old mine equipment, tools, and cave entrances and also excited to come across several kiosks explaining the mining activity that had occurred 100 years ago.
It was a hot day, but soft breezes pushed my sweaty hair back from my face as noon approached. We would be arriving at historical Kentucky Camp soon, and I had passed Cricket earlier, letting her know the camp was coming up. We could take a break there and get water and shade.
Rounding a corner, I came upon a young blonde girl talking on her cell phone. She half-smiled and grimaced up at me from where she sat sitting beneath a tree in the shade. Her face was beet red, and she looked as if the heat was taking a toll on her. Later, I would learn her name was Mango and would run into her several times throughout my AZT hike.
Kentucky camp had oversized rocking chairs on its deep, shady porch, and I collapsed into one as I dropped my backpack beside me on the patio. I rocked slowly as I waited on Cricket. Large, wrap-around porches always reminded me of my home in the south, and I laid my head back and let my thoughts wander back to my grandmother's home.
Cricket was not far behind, and Mango was right behind her. We all sat on the porch chatting when the caretaker walked up and offered us a beer. When I hike, I'm addicted to anything with cold carbonation, but I knew the beer would not sit well as I hiked in the heat. Cricket and Mango had one as we all cooled down. We hung out for a couple of hours, and Mango was staying and waiting for her husband, who would be here the next day.
We left Kentucky Camp and continued hiking on dirt roads for the next couple of miles. ATVs and motorcycles raced past us as weekenders headed for their weekend camps, and as dirt and rock were whipped up against my legs and body, I frequently turned to face away from the road as they passed. None of them were backpackers, but I always waved and grinned as I cursed through gritted teeth. I never knew when I might come across them again with a cooler, grill, and lots of food.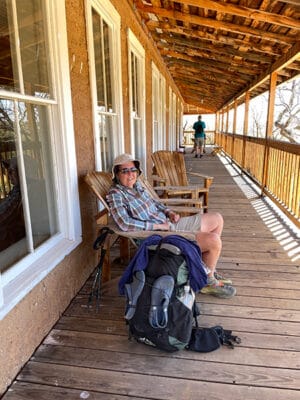 A couple of miles later, we left the road and stopped to camp in Enzenberg Canyon about 3 miles further. There was enough camping for about 50 tents, and although there was no water, this was a very popular camping location. We both chose our campsites, made dinner, and climbed into our tarptents to fall asleep as the sunset.
Out here, my sleep patterns change quickly. I'm usually asleep just after dark or 7:30-8:00 and wake up about 4:00. Of course, I can't leave that early, so if solo, I write until about 5:00 AM and then leave around 5:30. Since I was with Cricket, I would wait and get up between 6:00 and 7:00.
I was already getting restless with my schedule since I only needed about six hours of sleep. My aching joints also began protesting around 2 AM. There is only so much lying around I can do on a two-inch-thick sleeping pad.