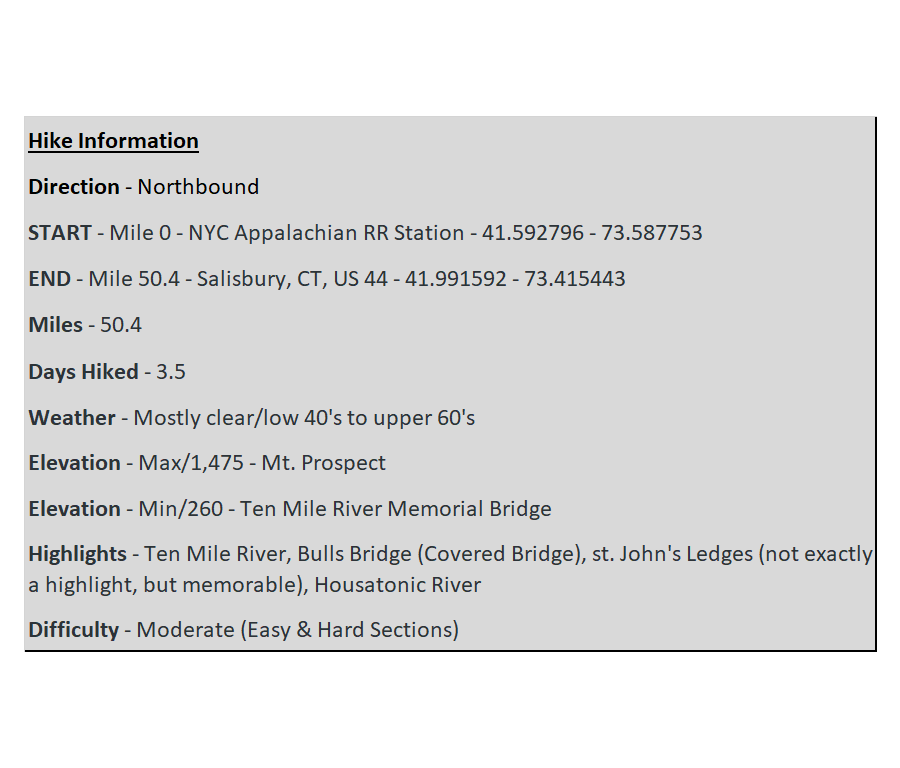 Connecticut Fall Hike – Day 4

I was originally hiking to Great Barrington, MA, but Sunday called for lower temperatures and downpours.  My Connecticut Section Fall hike would end on Day 4 in Salisbury on Saturday.  The hike to town would only be about 10 miles, so I expected to finish around lunch time.
I called Maria McCabe in Salisbury, and asked her if I could clean up and take a shower at her house.  Maria hosts hikers for a fee, and I've stayed with her a couple of times.  She is an amazing woman at 90 years old – a thin slip of a woman with a shock of white hair, and a quick wit.  Originally from the Dolomite's, she will tell you she is German AND Italian.  I only hope to be in that kind of shape when I am her age.
Early Morning Visitors
The morning started when I was rudely awakened from a deep sleep, jarred awake by many small paws shuffling through the leaves outside my tarptent.  This was punctuated by growling and a few yips.  The early morning was still black as ink, but I did not need to see them to know a pack of coyotes was outside. I shook my tarp hard and yelled, listening as they dashed off into the dark.
Bold Coyotes
This was the first pack to visit me on the east coast, although I often saw loners, and had even had a few trail me.  They had been frequent visitors in Southern California, on the Pacific Crest Trail, with their yipping and high pitched singing.  In all my hiking, I've never felt threatened by them.  Recent media stories are not positive though, and I wonder how much is hype, or humans encroaching on more and more of their territory. There are other perspectives also. We hunt much less now, and it seems they are becoming more and more "comfortable" around humans.  I hope we can learn to live together in harmony, but I doubt the media will allow that to happen.
It was early, but I knew I would not go back to sleep, so I slowly started my morning routine.  The only thing I did not do was eat.  I would have a couple of bars later in the morning.  If I was not going to hike a full day, I often did not eat breakfast.  My body warms up later, so I was not usually hungry early in the morning.  When I did eat breakfast, it was purely to feed the machine for energy.
That Privy…
My least favorite part of the morning was the privy – a toilet seat on a box.  Good thing it was dark.  I would have felt so exposed!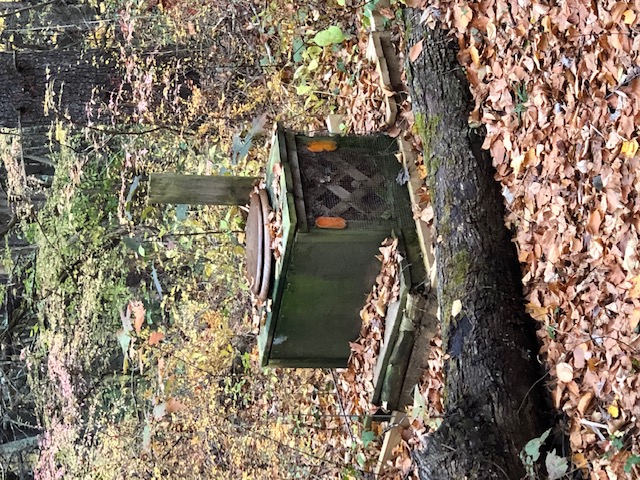 Falls Village
The first 2-3 miles to Falls Village were in the dark.  Again, thank goodness for blazes.  The walk through Falls village was a little eerie in the darkness and fog.  I felt as if I was passing through a horror movie set.  I passed the blue blazed Mohawk Trail, which Guthook also said led to a good Diner.  If I had been thru-hiking, I would definitely have made a side trip, but I wanted to get to Salisbury by lunch.  My appetite was also still semi-normal.
The walk past Falls Village along the rapids, in the dim light of morning, was nice.  Fisherman were setting up, and it was quiet and peaceful.  If hiking in the area, Water's Street has PLENTY of parking.  It is a good place to leave a car, with a very large parking area.
As the sun rose, and fog burned away, I got a cool picture of the Amesville Bride.  This is an old iron bridge that crosses over the Housatonic just below the damn.  I also noted that the shower head on the edge of the damn building was still in place.  I remember seeing a naked hiker there showering once.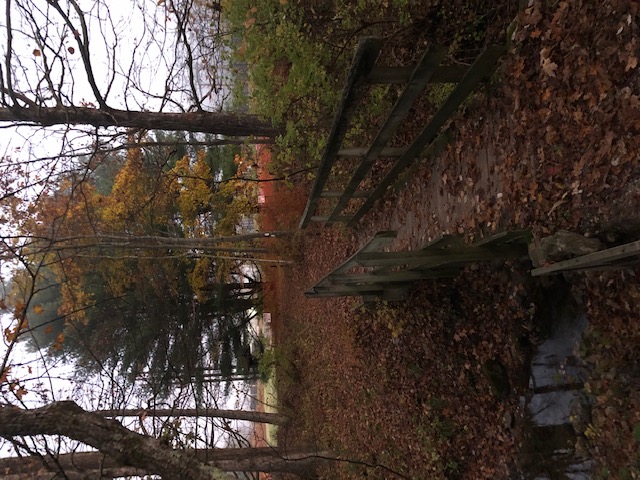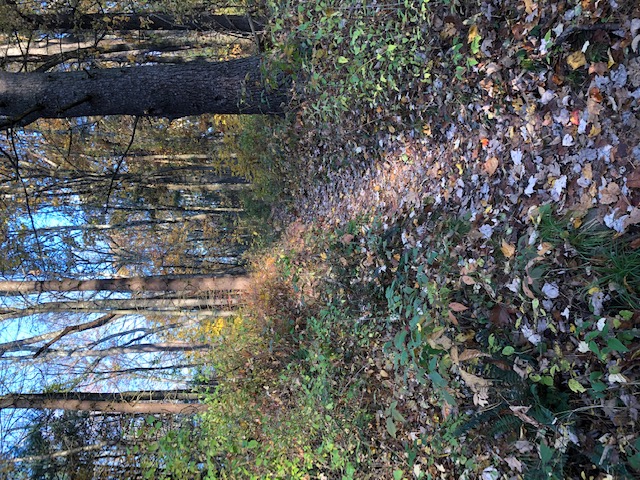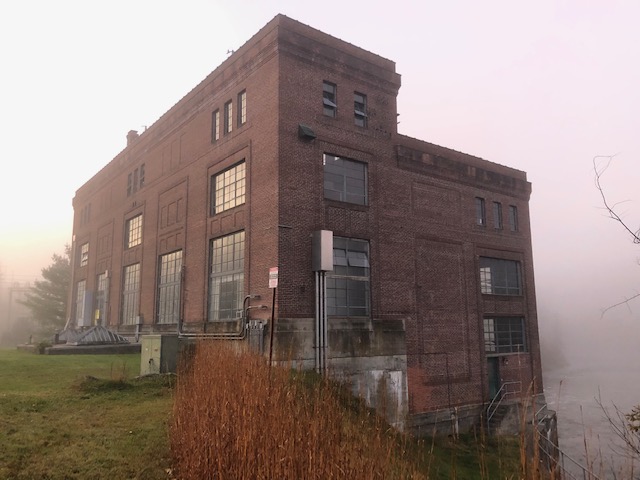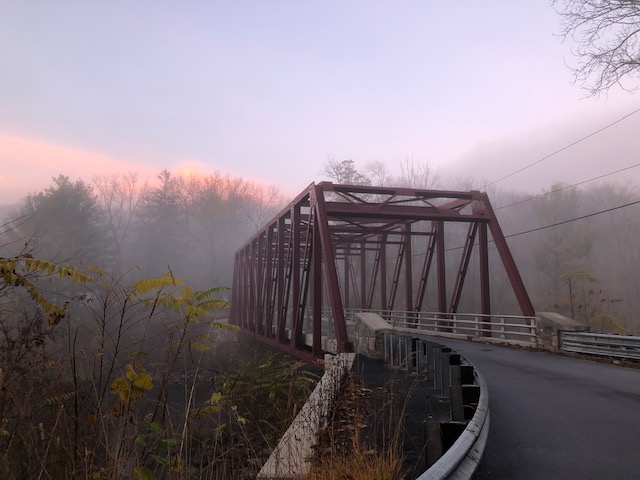 Gorgeous Views
The rest of the hiking was moderate to easy.  There were beautiful Fall views, including Prospect Mountain and Rands View.  Rands view was dramatic because it caught you by surprise.  Stepping out of the woods and into an open field, you are met by a long, sweeping view down through a large valley with mountains on both sides.  I stood there, lost in the image for a few minutes before taking a left and hiking up the pasture and back into the woods.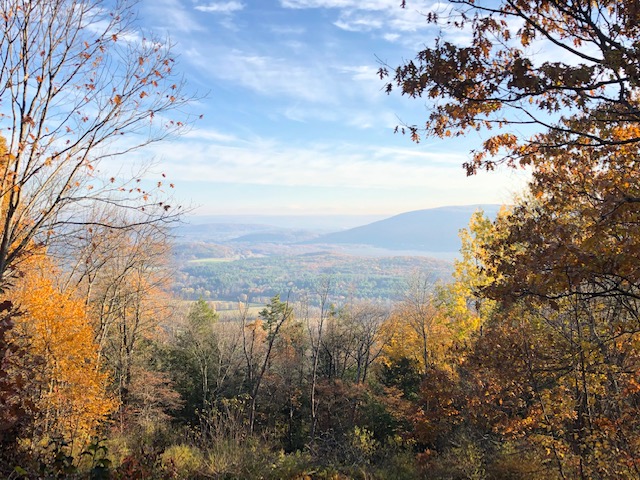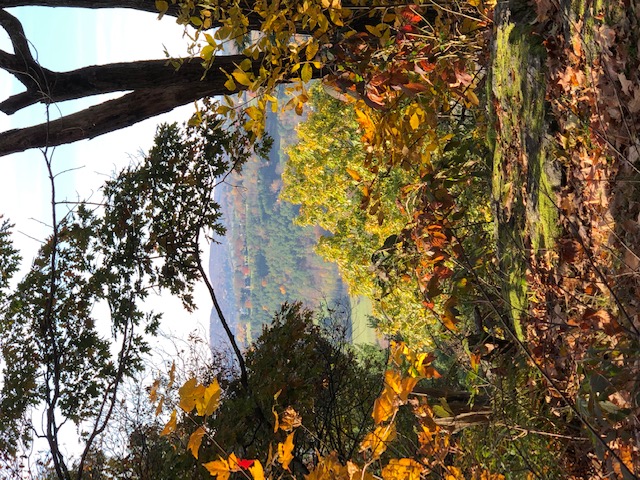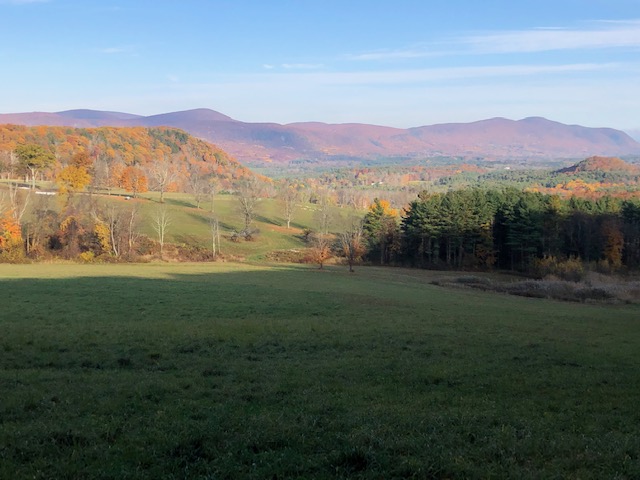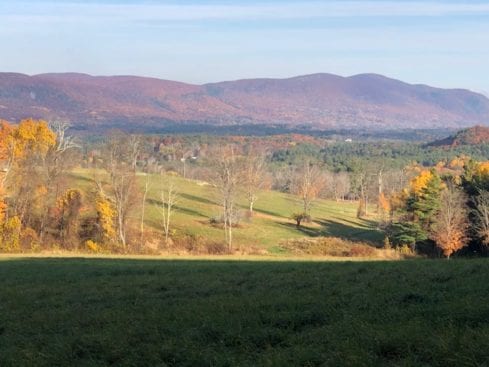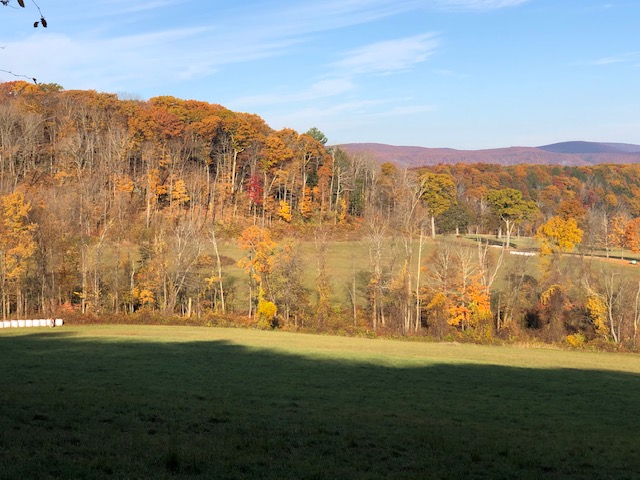 Salisbury, CT
Like many AT approaches to town, I had a quick steep decline before coming out into the meadow next to US 44.  I sat down on a boulder to put on my down jacket and tried to look a little more presentable before starting my .5 mile walk to Ms. McCabe's house.  Seven day hikers passed, and although I said hi to them all (most were in a group) none responded.  It was a beautiful day, and Salisbury is a BIG weekend town, meaning probably 50% of it's weekend inhabitants are from NYC.  I wasn't really surprised at the standoffishness.  I've lived in CT for about 18 years now.  They are not unfriendly, just a little "guarded."  Who was that scruffy person talking to them?!!
Maria McCabe
Since I had called the day before, Maria was expecting me.  The side door to her house swung open as I walked up onto the porch.  She had a big grin on her face, and told me to leave my pack and shoes on the porch.  She then peered down at my socks.  I explained I had put on clean ones that morning, and she looked at me and nodded before turning to walk back inside.
Upon entering the kitchen, Maria told me to sit down and then immediately started trying to feed me.  It was about 10:30, and I had arrived a little earlier than expected, so she offered coffee, eggs, fruit, etc.  I felt as if I had walked into my grandmother's kitchen, and was immediately comfortable as I slid down into a kitchen chair and started chatting with her.  It was always good to see Maria.  She was a warm person that sincerely cared about helping others.  She enjoyed hikers, and lit up as she told stories, laughing throughout the tales.
Time went by quickly, as we laughed and caught up.  I finally headed upstairs to clean up and get ready to leave.  This hike had been just about perfect, with fantastic weather, and enough colors to still make me stop and gape.  I love Fall in New England, and this particular section hike would always be one of my favorites.