This Outdoor Herbivore Review aligns with my ongoing attempt to find healthy dehydrated camping meals that are affordable and easy to make. I will eventually learn to use my own food dehydrator for camping and backpacking food, but time is currently a constraint. Until I learn how to dehydrate my own food, I'm always on the hunt for healthy, dehydrated, freeze-dried foods.
Selection Criteria
My criteria are straightforward but have changed over time. My recent plant-based focus has definitely changed the criteria I use when looking for meals. I still eat some proteins as I transition to a plant-based diet, but this change has definitely mixed things up!
Plant-Based – This year, I've made an effort to eat more plant-based foods and fewer animal proteins. My goal was general health but also to reduce weight and joint pain. I am very happy to report that I achieved all of the above!
Lower Sodium – I've always loved salt! You will see me shaking even before tasting. Recently, having passed the big 50 mark, I've decided to dial back some of my bad habits, and excess salt is one of those.
Price – Price is always a consideration, and these meals vary greatly in their price points.
Light Weight/Less Packaging – Weight is always critical. It is one of the things I like the most about dehydrated and freeze-dried foods. They are light! The packaging is another story, though. I almost ALWAYS have to take it out of its bulky packing and repackage it.
Great Taste – With no salt, taste becomes more critical, so using other ingredients is a plus.
Dehydrated Food Manufacturers Reviewed
I've tried A LOT of different camping food over the years and have never found any that made me go WOW! For this article, I looked at some of the smaller manufacturers. I chose to review Chili or a similar meal type since every company has this dehydrated or freeze-dried meal. Below is how they stacked up. Side note – I reviewed a few small companies that were out of stock or had no comparable products for comparison. I removed these from the list.
Based on data I could easily obtain, I chose Outdoor Herbivore for my next hike. It was a small company that ticked off almost everything I wanted and a few more criteria I had not considered before looking at options. The only drawback was the amount of sodium, which was offset by some other positive attributes like calories, organic ingredients, price point, etc.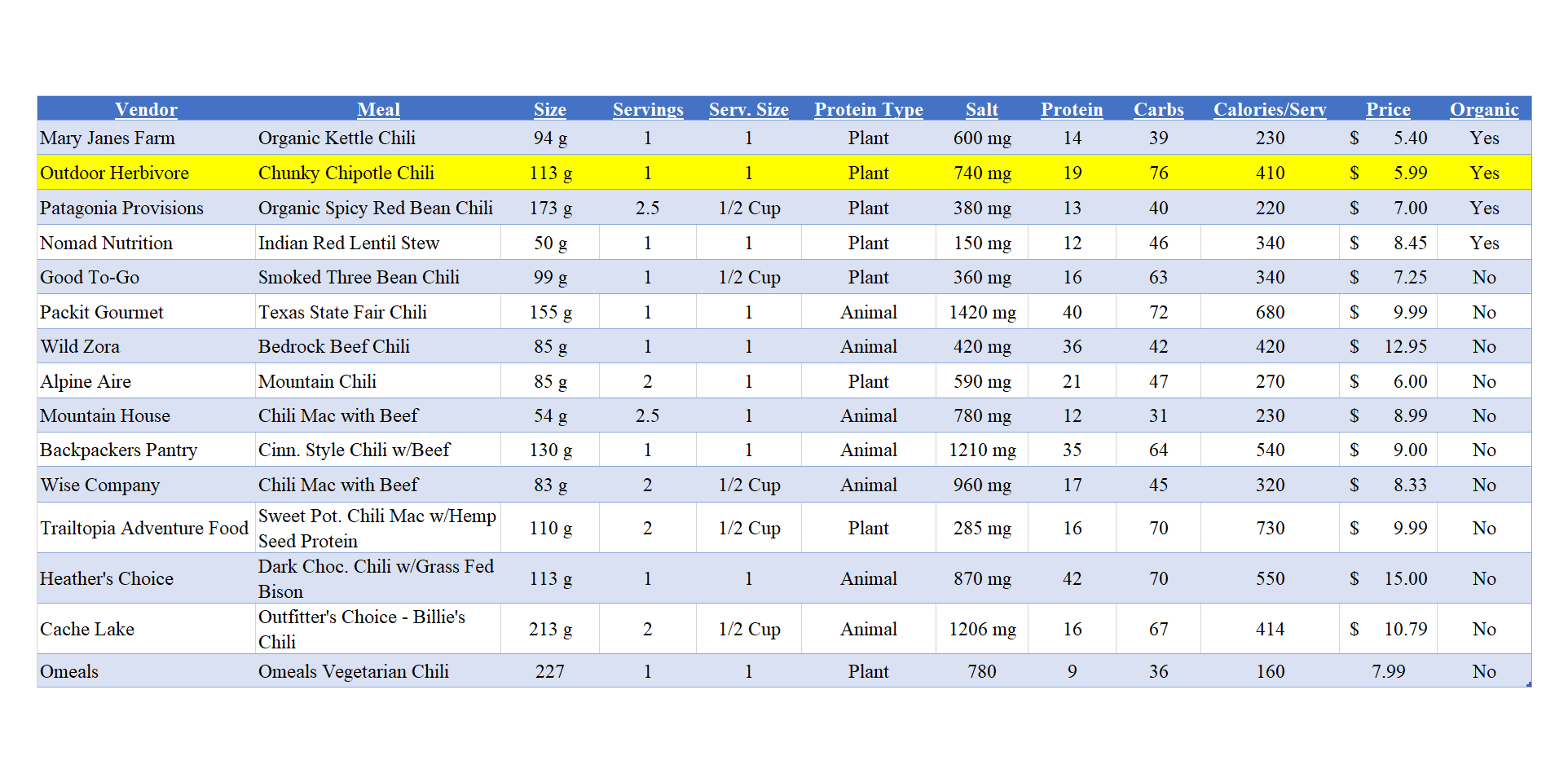 Recent Fall Section Hike
On my recent Fall section hike, I hiked primarily across Connecticut. I often don't cook on my hikes, but I had decided to cook on this one since I would be doing lower mileage. It was also going to be cool, and it is always nice to have a hot meal at the end of the day. The hike was beautiful, and the good food made it even better. Outdoor Herbivore was a good choice, and I will definitely be taking some of their meals on future hikes.
Outdoor Herbivore Breakfast Review
I confirmed on this hike that I still don't like to cook breakfast. I also realized that textures seem to have become more critical. Because of this, chewing on gooey, cold oatmeal was out. That's not to say that the breakfasts I chose were not good. They won't be part of my future meal plans. My favorite breakfast is still Big Sur Bars. I'll review what I did take with me.
I chose two oatmeal-type meals. The last morning I ate a couple of old protein bars I had found in the kitchen cabinet.
Apple Quinoa Oatmeal

– I ate this breakfast on my first morning. It had all the flavors I enjoy – apples, almonds, sunflower seeds, etc. I ate it cold, though, so I could not get past the gooey texture. It probably would have been much better hot. The meal packed a good caloric punch. This was a pleasant surprise and left me full until almost lunchtime.

Chia Oat Crunch

– This meal was eaten hot the morning I stayed at Silver Hill Campsite.  Two things made it much better – heat and the Chia seeds.  I really liked the crunch of the seeds.  This meal was also high in calories and had great flavors – cinnamon, banana, walnuts, etc.  It made me reconsider making breakfast in the morning – almost.
Outdoor Herbivore Lunch Review
I did not take any meals for lunch, but I took Outdoor Herbivore's Instant Hummus, which was really good. It was powdered hummus that came with a packet of olive oil. The flavors were good and were great on my new favorite tortillas that I found at Whole Foods – 365 Multi Grain Tortillas. One of the other things I liked about the hummus was that it was light, and also used light packaging, so I did not have to repack it like I do many other meals.
Outdoor Herbivore Dinner Review
Gear on this hike included mine, and the dinners made it worth carrying a little extra gear. Due to the light packaging, I did not repack these meals, although in the future, I probably will since I need the freezer bag anyway. I currently use a freezer bag for cooking, which eliminates the need to wash the pot. The meals were easy to make and quite tasty.
Chunky Chipotle Chili

– This was definitely my favorite meal. It had rich flavors and is probably one of the better camping meals I've eaten, related to Chili type meals.

Cheesy Sierra Couscous –

Another good meal, and definitely filling. I probably should have added more water so it was not quite thick. The only thing I might have changed was to add a sharper cheese. The flavors were still quite good, though.

Cheddar Mac

– I was interested in this Vegan meal because I LOVE cheese, and it stated "better than cheese." This is the only meal that was just "ok" for me. This might have been my fault since I did not realize the meal had to boil and could not just rehydrate with water added when I purchased it. Since I did not want to clean the pot, I tried to rehydrate it by just adding hot water. This did not work well, and the pasta stayed crunchy even though I let it rehydrate for about 20 minutes.
Summary
Outdoor Herbivore has a lot of positive points – taste, packaging, nutrition (organic), plant-based, price point, etc. This makes them a definite contender for future hikes. One thing that deserves a little more mention is the packaging. It was less bulky than many other companies I've used, which was good. As I try to use less plastic, I may end up moving away from freezer bag cooking. If I do, Outdoor Herbivore meals have packaging that does not require a lot of repackaging.
Finally, inventory was something else that set Outdoor Herbivore apart from some of its competitors. They had a good selection, with entrees, breakfasts, snacks, and condiments, and their items were in stock. Several other companies had a very limited selection or were out of stock on almost every item. Outdoor Herbivore has excellently managed its offerings and found a good balance.
If you are looking for balanced, healthy meals, check them out. I may even be bringing their chili off the trail and into the house!
Related Posts: Backpacking Cooking Kit Review; Appalachian Trail Connecticut Fall Hike – 2019