Table of Contents
Bear Mountain and Lions Head
Bear Mountain and Lions Head are located near Salisbury, in upper Connecticut.  I stomped around the car, trying to stay warm as I gathered my day pack and shoved my lunch into it.  The day was absolutely beautiful!  The middle of the week and chilly temperatures would make this the perfect day for a hike.  I would probably see very few people.
Trailhead
The trailhead for this hike is located on Route 41, about 3 miles north of Salisbury.  There is room for about 12 cars at the trailhead and even a moldering privy.  I checked out the privy.  Try to use the restroom BEFORE you arrive at the trailhead.  A kiosk with maps and trail guides is located just past the parking area, about 20 yards up the blue blaze trail.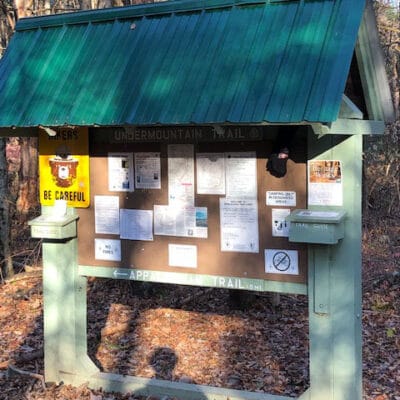 Blue Blaze Trail (Undermountain Trail)
I intended to leave the trailhead on Undermountain Trail and hike two miles up to the Appalachian Trail.  The AT and Undermountain Trails intersect at Riga Junction.  I would then take a right and head north to Bear Mountain before retracing my steps and heading back south to Lions Head.  The total mileage would be about 10.6 miles.
Paradise Lane
The climb up to Riga Junction was strenuous but not overly taxing since the grade was good and the trail was well maintained.  I was excited when I saw the Paradise Lane and Paradise Group site trail signs, thinking it was Riga junction.  The climb had gone much faster than I expected, I thought.  Checking the mileage on the signs, I realized this was not Riga junction, and I still had about a mile left before reaching the AT.  I resumed the climb.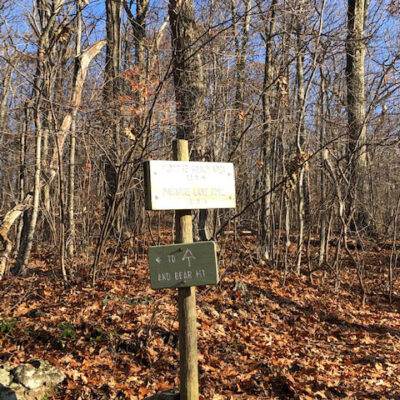 One thing I noted on Undermountain Trail was the abundance of running water.  There was no real need to carry much extra water.  I usually camel up (drink as much as possible) and carry a half liter, stopping to drink more water when I come across it on the trail.  It is second nature to keep the weight as low as possible, even on day hikes.
Riga Junction
The last mile up to the Riga junction maintained a grade that required the same rigorous climbing, and I was glad it was a cold morning. As endorphins coursed through me, I practically ran up the mountain. The climb was invigorating, and as I pulled up in front of the sign at Riga junction, I tilted my head back and laughed out loud! I never for a minute take for granted how fortunate I am to be out here.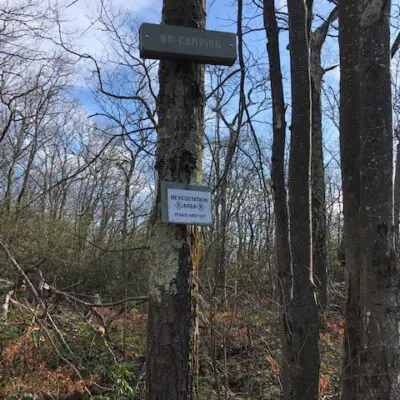 Bear Mountain
Once I reached Riga Junction, I took a right and headed north.  Bear Mountain summit is the highest point in Connecticut @ 2,316 feet, and was about .9 miles further up the Appalachian Trail.  The climb was a solid uphill grade, passing through the increasingly smaller forests before beginning to scramble over slabs of granite and reaching the top.  There were several great views before reaching the large rock wall, with an illegible granite plaque, at the summit of Bear Mountain.
Another route to take, if you prefer a loop, is to take the Paradise Lane Trail, about a mile up from the parking area.  You will travel below Bear mountain and come up the north side.  After reaching the summit, you can continue south down the AT before reaching Riga Junction and heading back down Under Mountain Trail.
Lions Head
After a few snacks, I retraced my steps and began hiking the 3.3 miles south to Lions Head.  The hike between Lions Head and Bear Mountain is nice, with a couple of shelters and group camping areas.  I think the section from Salisbury over to Sages Ravine is a great weekend backpacking trip.  It has plenty of water, places to camp, and some great views and places of interest – Lions Head, Bear Mountain, and Sages Ravine.  Lions Head is also a great Day Hike for a picnic.  It is a strenuous climb but well worth the effort.
The Bear Mountain to Lions Head section is less strenuous and contains more moderate hiking.  Some parts are almost park-like, with hardwood forests, laurels, and small gurgling brooks.  This is a great hike for people being introduced to hiking or backpacking.
One of my favorite shelters in this area is Brassie Brook.  The shelter is on the side of the ridge and near a good water source.  It also has a big, clean privy with actual walls, which is always a plus when the privy faces the shelter.  In addition to Brassie Brook Shelter, there is also a group site.  Past Brassie Brook, before reaching Lions Head, Riga Shelter and another group camping site can be found.  There is no lack of places to stay between Lions Head and Bear Mountain unless hiking during the summer or on the weekends.  It may be a little more crowded during these peak times.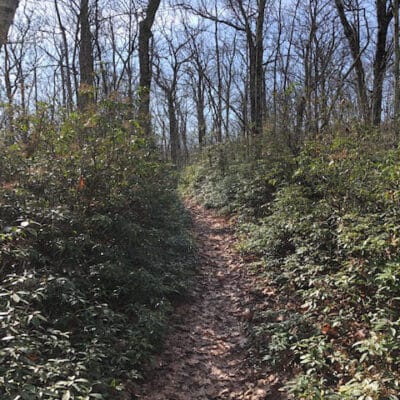 The climb up to Lions Head was similar to Bear Mountain, although not as long. There were the same small scrambles over granite slabs, with more great views on the climb to the summit.
Once at the top, I settled amongst the rock outcroppings to eat lunch.  A new bagel shop opened near the house, and I had an everything bagel loaded with cream cheese, onion, and all those things I only eat when hiking.  Yum!
As I finished the bagel, I heard someone yelling my name repeatedly.  How did anyone know I was here, and what was wrong?!  Suddenly, a young black and white hunting dog came bounding over the rocks and leaped onto my back with both paws on my shoulders.  I began laughing since I love dogs.  The poor owner was mortified as he tried to grab his dog (that had my name).  She bounced around me, dodging him, with a big ole dog grin on her face, exuding pure joy at being outside on this beautiful day.  I held her while he leashed her, and we chatted for a few minutes before they hiked down the mountain.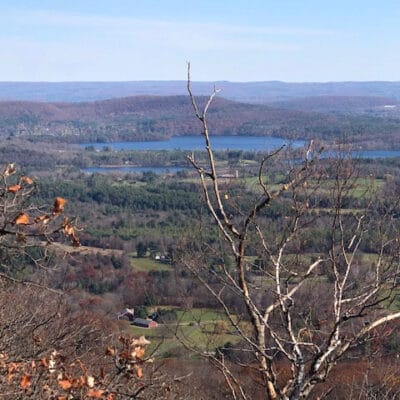 Heading Home
The hike north on the AT, back down Over Mountain Trail, went by quickly.  Bagel carbs powered me!  One of the best things about hiking will always be the ability to eat most anything I want.  I've just got to learn to curve dairy and carbohydrate cravings and try to focus on a few healthier items like veggies and lean proteins.  No luck yet, but I'm going to work on it.
I passed a day hiker going down to the parking area on Over Mountain Trail.  He was the only hiker I saw all day, other than the dog's owner.  I suspect it is probably MUCH busier on the weekends.  Even if busy on the weekends, this is a section of trail I would recommend!