Future Visitors to site 17 in the Katahdin campground should reconsider reserving this site. I failed to note the privy nearby, or rather maybe I just thought it was my own personal site privy. I learned quickly that it was shared by every other camp site around the mountain, and that it also substituted as a phone booth. I was awake all night listening to quiet murmuring in between incessant door slamming.
The next morning I stumbled down the trail in a slightly sleep deprived haze, leaving before Mathew. I had a nice flat easy 10 miles over to Abol Bridge, slapping at bugs the whole way…blood suckers! I kept moving, flailing my arms around, and setting Abol Bridge as my goal to slather on more DEET. I stopped to chat with a Ranger, doing a little mosquitoe dance, and then headed to the Abol Bridge store to grab a turkey sandwich and some ice cream.
I sat out front at the picnic table and chatted with the man digging a trench for the propane tank. I love the Maine accent, so just kept asking questions. I now know more than the average hiker about laying lines for propane tanks, and I'm sure the propane guy now thinks hikers are a tad off.
Some north bounders came over to the table while I was eating, and soon I had met Blue Moon (nice and interesting man), Kermit and Newton (father and son flip floppers), and two female flip floppers that had attempted to summit Katahdin 2 or 3 three times over the past week, and had finally given up and were now headed south.
I spent two and a half hours at Abol chatting, mostly with the Propane guy, and as I was leaving Mathew arrived. He said he was either going to stay at the Abol campground, or go into the Lodge and have them do a gear check. He said he also needed food. I don't think his seeds and nuts were going to last him. I never saw him again on the trail, but that definitely does not mean he did not finish.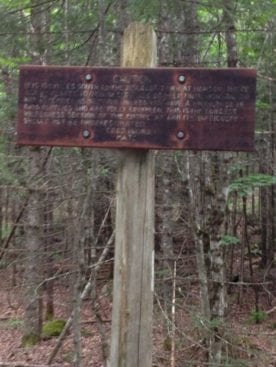 I headed out at a brisk pace, passing the "100 Mile Wilderness" sign and then Hurd Brook Lean-to about 3.3 miles in, but kept moving. It was packed with people, and teens with brightly colored hair milled about. I felt as if I had entered an elven land. I continued on, passing at least six other thru's headed towards the shelter. Hurd Brook was going to be a busy shelter tonight, between the elves and the NB Hobbits.
Rainbow Ledges was up next, and I took a break to have a snack. I propped my pack up against a small boulder, and sat down to eat. The view was beautiful. I was startled by an energetic "hi," and Johnny Blaze sat down next to me to chat. It is amazing how many southerners were thru-hiking. Johnny was from TN and taking a semester off, but said he was ready to head back and finish up school. He was one of many very friendly north bounders I had met, and had a very engaging personality. We chatted about thirty minutes before we both stood and began packing. The pull to move for someone just starting, and someone about to finish, was strong.
I continued on, moving around and over more and more roots and rocks. I was targeting Rainbow Lake Campsites for the night. It was a long day, but I was going to take the miles before the blisters hit. Short days or long days, the blisters were inevitable, so I figured I may as well hike the miles while it was easy to knock them out with no pain.
As I drew close to my stop for the evening, I saw a group of teenagers attempting to hang food bags. I had a feeling I should have taken that nice tent site back at Little Beaver.
Sure enough, the sites were full. There would have been room, but several astro domes had been erected, with room for eight, while housing a couple each. I was going to ask to share, but they may have found that rather odd, although this was Rainbow Lake.
I moved on a couple more miles, scanning the woods for anything flat. Once my feet had realized we were not stopping for the night at mile 21, they had begun to scream. I finally spotted something through the branches, and pushed through the undergrowth to find a clear bumpy spot. It would do, so I began moving branches and rocks to make my nest for the evening. I was pleased to only have two small trees left under the tarp with me, and they were easy enough to curl around.
During the evening I heard several night hikers pass, and on two occasions heard what sounded like four legs go galloping by me rather close. This was clearly a very popular part of the trail for man and beast. I plugged in my ear plugs as the second beast ran past, glad I was not in an established site where whatever they were could see me.
I leaned back and stuck up my right foot for inspection. It appeared something had bitten the top of my foot. It was swollen, and I could not lace my shoe. I have no idea where it could possibly have nipped me, but it was very puffy and red. It may have just been a giant bedbug bite.
I laid back and relaxed, leaving my feet to poke from under my quilt. I still held out that catering to the sensitive babies would prevent the blisters and soreness that always appeared at the beginning of other hikes. The first three weeks were always brutal, no matter what the terrain.
I dozed off to rattles, cracks, pops, and the cacophony (I love that word) of the night world, of which I was no part.
Hi. Average Hiker purchased this product and does not write sponsored posts or receive compensation for reviews. Some of the links in this post are affiliate links which means that when you click on one of these links, I earn a small commission at no extra cost to you. Also, as an Amazon Affiliate, I earn from qualifying purchases. If this review has been helpful, I appreciate you considering your purchase through one of the product links. Thank you.