Appalachian Trail – August 12, 2013
I was up early and looked over to see Sandman's little Wal-Mart pop-up tent bouncing around. He was an early riser like me. Thirty minutes later, we were both packed and headed down the trail. It was bright and early, and we were headed for the town – as visions of town food danced through their heads!
We only had a few miles to reach Rangeley, ME, and I wanted to get to the road since I was unsure how long the hitch would take. Rangeley was one of the Maine towns I liked. It was a quaint little tourist town than some other Maine towns and drew more visitors due to its location on a large lake. Unfortunately, we were slowed down by some root and rock maneuvering and even had a slightly steep downhill with my all-time favorite, rock picking. Shockingly, we also encountered a single switchback, which had to have been an oversight by a novice trail maintainer that knew no better. Unfortunately, the unknowing novice had been stopped before the trail could offer a reasonable incline. I almost walked right off the trail, not expecting it to switch back up in the other direction.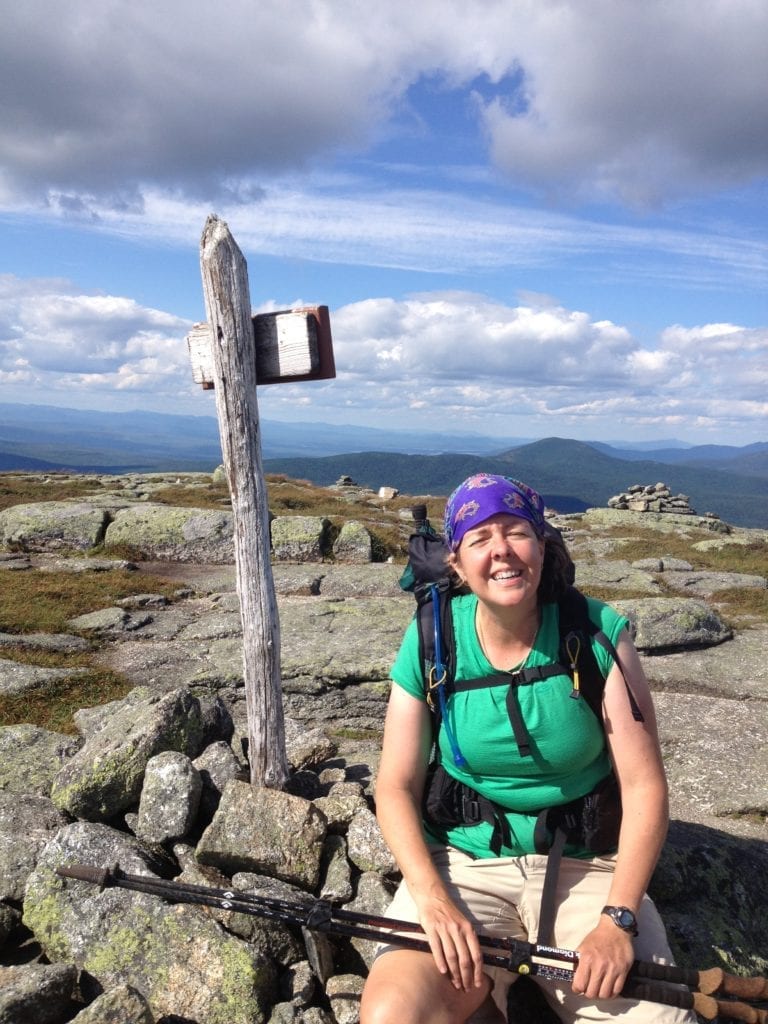 We reached the Piazza shelter just before town and decided to stop and sign the register. It was good to know the proximity of our fellow SOBOs and to announce our location. However, thoughts of Inchworm's disappearance still made me a little uneasy. How could she disappear with no trace? The privy was a nice clean, well-kept lean-to, with plenty of tenting out front and even a few tent platforms. We sat for a minute, but the pull of a hot shower, and real food, was powerful.
We ran into some hikers Sandman knew from his northbound leg (Lava Man, Patriot, etc.) and chatted for a minute before moving on. We also passed a few hikers out for section and day hikes. It was a beautiful day, clear and in the low seventies. I hated we would be in town for most of the day. Robin blue skies, low humidity, and cooler temperatures were not all that common recently, and I hated I would not be out hiking but instead EATING HOT FOOD and COLD, SWEET ICECREAM. HA!
We finally reached the road and walked down it for about .3 of a mile, coming to a handwritten sign claiming this spot would be a better place to hitch. I looked up and down the road and saw zero cars and no more prominent location for a vehicle to pull over. I looked around the sign but saw nothing to indicate a motorist would be more inclined to stop at this point.   It was tranquil and very still in the woods around us. I think I had seen this movie – it was called "Hitchhiker," or something like that. I moved on quickly, glancing back over my shoulder.
There were no cars, but after about 15  minutes, I heard the sound of an engine and stuck out my thumb. I was excited as the first car we saw stopped to give us a ride. The driver took us halfway to town. This was the first time I believe I have ever not been taken the entire way to town. Most drivers felt sorry for me and took me the rest of the way into town. If not for Sandman, I doubt I would have been taken the rest of the way.   As soon as we were dropped off, another truck saw us and stopped almost immediately, bringing us the rest of the way into Rangeley.   I've always found it very easy to get rides in Maine. People are willing to help and are familiar with thru-hikers.
Sandman and I were staying at two different places, so we parted ways, the driver dropping me at my hotel on the outskirts of town and taking Sandman into town, where he had a room on the lake. I immediately unpacked, showered, and headed out to begin my "town" chores. I liked to get everything done so I could relax the rest of the day and into the evening, doing nothing but propping up my legs, journaling, and going zombie on the mindless television pictures.
I walked up the road to the IGA to purchase the groceries I would need for the next section. I preferred to mail my packages but had decided to buy groceries as I went on this trip. I was naturally lazy, and this was a pain in the butt. I much preferred my dehydrated meals mailed to me in a box, waiting for me at a town Post Office or hotel. I sighed as I walked out of the grocery store, my hands full of bags. I always bought about three times more than I needed. I should probably eat before shopping.
I was 20 steps across the parking lot when a woman stopped and offered me a ride back to the hotel. I happily said yes, and hopped in her car. I only had about a mile to walk, but valueless miles were always to be avoided. No trail, no purpose. One day I will start a drone service that drops packages for hikers along the trail, including small shower bags, meals, clean clothes, etc. Backpack – what backpack?!