March 21, 2022
Cricket was asleep when I slipped out of the hotel room door to run a few morning errands. Her feet needed their rest.
Since it was 6 AM, the 24/7 IHOP next door was my first stop. I gorged on carbs and proteins, knowing I would need energy for my race to Colossal Cave today. We had resupply boxes at Colossal Cave, which closed down at 4 PM. I had been nominated "designated runner."
Our Uber back to the trailhead where we had left the trail took about 30 minutes and was interesting. The driver was fascinated with the hike and had many questions. They were not the typical how many miles, what do you carry questions, but a little more reflective. More about why we do what we do.
The last part of the ride was about the driver's journey, a battle with depression, and dealing with side effects from lithium associated with being bipolar. She had thrown a lot of obstacles in her life but was working hard to control her direction and outcome. There are moments and people that make me stop and reflect on my life. She was one of those people.
We battled back through the damn thorns and hiked back down to the underpass. We set our game plan, and I took off to retrieve our packages at Colossal Cave, listening to Cricket cheer from behind me. I had about 5 hours to go 13 miles – not a problem if the terrain stayed relatively gentle.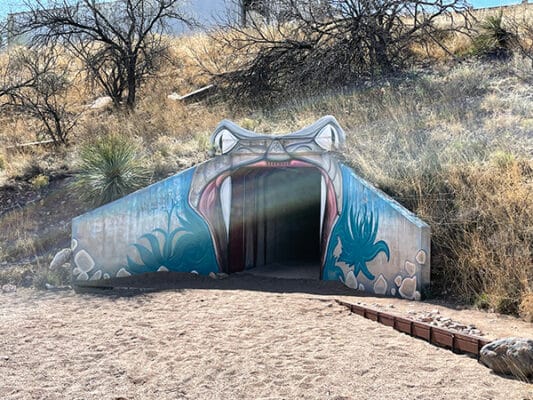 The terrain had mercy on me, and as I passed through "the fangs" near Gabe Zimmerman TH, I was making good time. I even took a break and used the facilities – yucky porta toilets, but still a half-notch above digging a hole in the desert.
Continuing on, I reached Cienega Creek, a beautiful oasis in the desert. I had to pay attention to the trail traveling along the creek but did pause for a short break in the shade to listen to the birds. These oases were not common in the desert, so I always paused to enjoy them.
Climbing out of the creek drainage, I turned on the turbos as the terrain became more roller coastery, going in and out of small washes. As I came over a hill, I saw a typical AZT gate up ahead and traveled through it, walking for about 20 more minutes before my Spidey sense let me know I was not on the trail anymore.
It's interesting how your mind works out here. I was hiking hard and thinking about our packages when my mind said, "something is not right." The trail looked slightly less traveled. There were no footprints. The road off to the left had not been on my map. These things registered at once, and I stopped to consult my maps.
In disgust, I saw I had overshot a sharp right turn.
Coming over a small hill, I saw Cricket hiking towards me. We both stopped, staring at each other in surprise. Argghhhhh, I yelled! I had gone the wrong way twice!
Cricket started laughing as I turned and began hiking in the other direction. I had lost at least an hour!
The last few miles over to the turn-off for Colossal Cave wound in and out of rocky washes, and I stopped every few minutes to look at maps placed throughout the park since I was not exactly sure of the turn-off.
On the way, the only thing of note was a large group of people sitting in the dirt down in one of the washes. I had no idea what they were doing, crouched in a circle, so I ducked down and raced from cactus to cactus, staying out of sight. I'm naturally paranoid, sometimes feeling like prey. Over the years, I've become cautious about things I can't explain.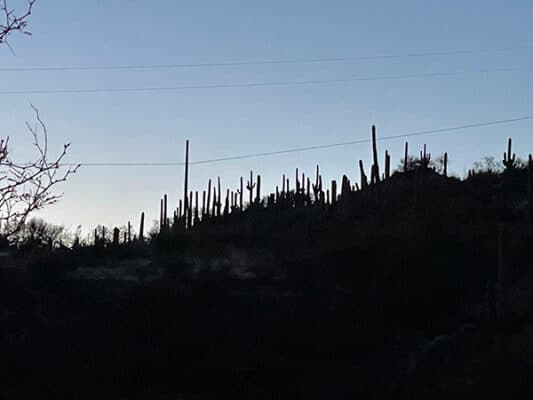 For future AZT hikers, the turn-off was at mile marker 123.6. Once reaching this dirt and gravel road junction, I took a left and followed the road into the campground. I walked about a .5 mile on the road until I saw a 911 sign on a pole. Just past the right pole was a trail leading up to the canteen where you pick up packages. It switchbacks up the hill and is not too difficult.
I forced myself not to head straight for the food stand once I arrived and instead went to the souvenir shop to show mine and Cricket's IDs, pick up our resupply boxes and purchase a tent site. Once that chore was complete, I dumped everything at the closest table and headed for the food stand and an ice-cold soda.
It was 1:50, and I had arrived with time to spare. I am tall and love to stretch my legs, and I really feel the hike sometimes. These mornings IHOP added more than the average calories to my speed.
Cricket rolled in around 3:45, and I immediately grabbed a soda and pizza before everything closed for the day. The staff at Colossal Cave are super nice and stayed open a little longer so we could grab some more treats for the night.
We walked back down the hill to our tent site. We never did find the bathrooms, but we were one of the only sites with a spigot, so score on that! We also were close to the trail and would not have to walk far in the morning. The spigot and short walk made up for the abundance of ants and cat-like animals that shared our campsite with us.
This page has affiliate links for products and gear I purchase and use. If you click on one of these links, I receive a small commission at no extra cost to you. There may also be Amazon links and as an Amazon Associate I earn from qualifying purchases. You can read more about my thoughts on affiliate marketing.