March 27, 2022
I was very quiet when I woke up, quietly packing and creeping around my bedroom. No noises were coming from the house, so when I walked into the kitchen, I was surprised to see Art and Patrice sitting at the table, dressed and ready to go. Clearly, they were earlier risers and had also been creeping.
We had breakfast, and then they took me on a tour of their new RV. I've been curious about these little motorized homes since I know I won't always be able to carry my house on my back. All I can say is that my pack seems MUCH simpler.
Everyone had things to do, so Art and I climbed into his truck and headed back to where we had left the trail. We chatted about the tiny town of Mammoth. Art had worked at the copper mine there, and like many small mining towns in the southwest, once the mine closed, the town slowly began to shut down.
Art offered to drop me off at High Jinks Ranch, where I would be resupplying in a mile and a half, but I wanted to hike the trail into High Jinks. So, saying our goodbyes, I turned to begin climbing. This short mile and a half required a little work, but the views out over the Valley towards Oracle paid dividends, and I paused up top for a snack and long, desert views.
Arriving at a gate to High Jinks ranch, I found a hiker out front. He was hiking a long section and was done with the desert heat. His things were spread out in the shade as he took advantage of water, a bucket to sit on while he waited on the late afternoon, and the ride that would whisk him back to air-condition and hot town meals.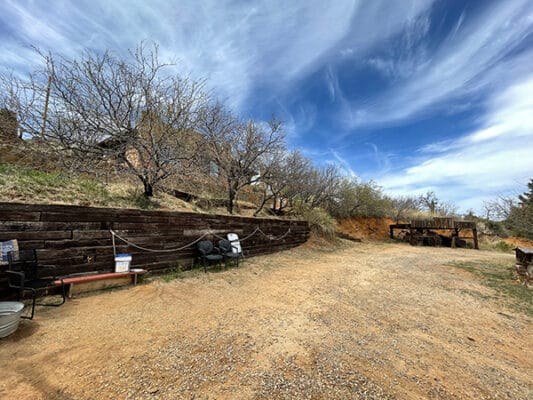 I rang the bell outside the large metal gate and waited on the owner or caretaker to come to check me in, and it was not long before a blonde woman about my age (young, of course) arrived and showed me up to the Casita. Cricket called out, and I looked up to see her waiting on the porch of our small Casita, legs propped up while she went through her phone messages. I was impressed with the views when I looked out over the valley. Our tiny home for the night was in a perfect spot.
Once I settled in, unpacked, and did my chores, I began to pace. Cricket was much better at relaxing and sometimes pointed out that I was not very good at doing nothing. She was probably right, but I was naturally curious, and time moved fast. That was one of the reasons I started hiking before first light and usually did not stop until dark. Camping is very functional for me – a little boring. My joy comes in moving and discovering.
As my mind searched for ways to entertain itself, I wandered around the ranch. The owner had purchased it about a year ago, and it appeared to have little projects everywhere: stacks of "stuff" and piles of brush. Our own home was nice but needed a little TLC. Cricket made fun of me because I could not get passed the used q-tip on the front stoop. Yuck! It was a cool place, though, and had lots of potential.
Finally, I texted the owner and asked if she would take us to town. I also told her we would buy her dinner wherever she wanted. She said she could in about an hour, so I paced a little more and began washing my gear while Cricket sprawled out on a chair with her phone.
At 5 PM on the dot, I herded Cricket down to the gate, where I folded myself into the ranch owner's tiny Subaru. Cricket said these types of Subarus were used for racing, and as we shot down the winding dirt road taking every curve at increasing speeds, I reminded the owner it was a two-lane road. She laughed, so I just gripped the hand grip above my window and closed my eyes. I did not want to see death if it arrived.
Zipping through town, we arrived at a small gourmet store with a little of everything, which was good since I bought a little of everything for breakfast and to snack on later. The food was excellent, and the owner was nice enough to stay open while we shopped. It was an odd little store for what looked like a fairly dilapidated little town. Looks are often deceiving.
Dinner was at a bar called Ore Hill. As we pulled up front, I was not expecting much, but the brisket tacos were outstanding. Hell, the food, in general, was excellent! I reminded myself not to be judgy as we left. I've discovered some of the best restaurants in tiny little trail towns. I still remember the best steak I've ever eaten on the CDT in Lima, MT!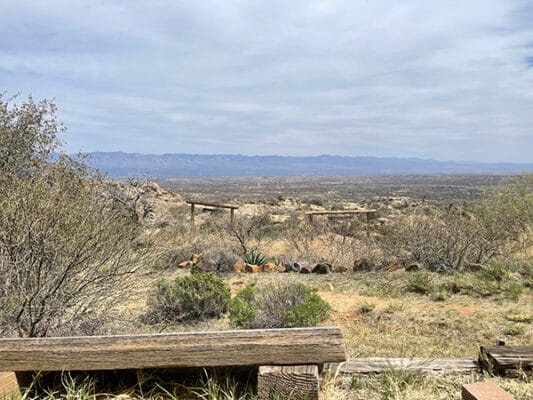 The owner of High Jinks was a character, one of the funniest people I've met in a while. She told us later she had done improv. and I imagine she was good. She had been a Deputy Director in DC before the Trump administration cleaned house, moved out to Oracle, and bought the ranch during Covid. It would be interesting to see how long she kept High Jinks, but she was originally from the area, so it may be longer than I expected. I always meet fascinating people on long-distance trails; she was no exception.
Zipping back up the mountain, my life not guaranteed in the tiny Subaru, we arrived well after dark and hiker midnight. I climbed up to my loft, followed by Icky the cat, and tried to sleep as Icky also tried to sleep on top of my head.