March 26, 2022
Looking through the woods towards the mountain's east face, I saw the sun was beginning to peek over the horizon. Gold and orange rays winked through the early morning mist hanging low across the valley below. The sun was beginning to paint the horizon with shades of yellow, orange, and pink.
I slid out of my bivy, grabbed my little pot of cereal, and walked through the woods to watch the show. Climbing onto a small boulder, I settled down and gazed across the valley. These were the mornings that kept me coming back.
It took five minutes to shove everything into my backpack and take off. I hiked a few more miles and then dropped down to the highway near Bigelow to hitch the last four miles up to Summerhaven. The rangers had told me not to try hiking down the Butterfly trail, so rather than backtrack, I took their advice and searched for – you guessed it – town food.
I stuck out my thumb, and the first truck to pass on the lightly traveled, early morning road picked me up. The driver was out hiking and said he was only going up the road a mile, but as is often the case, he took me the last three miles to town. I've often found that you usually get a hitch to your destination if you offer good conversation. I've even had people drive an hour out of their way.
Walking up to the general store, I sighed and sank onto a chair on the porch. I had another hour until the store opened. It was chilly, so I bundled up in my puffy and took advantage of a good cell phone signal. It was good to call home and talk with a clear signal.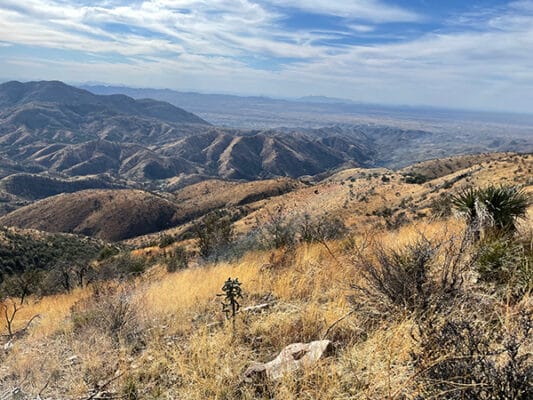 Over the next hour, about ten hikers wandered up, and we all waited patiently for the store to open. Once the doors opened, I grabbed some snacks and a free hot chocolate. Sitting on the porch with my sizeable hot chocolate, fudge, and a few other snacks, I chatted with Sweet Tea, Hat Trick, and Kiosk. Hat Trick and Kiosk were my age, and Sweet Tea was much younger, a mere baby. Sweet Tea and I debated trail runners' virtues while eating.
Hat Trick and Kiosk claim to have met me near Goat Rocks on the PCT, where I told them about passing out in a ditch, but I don't remember meeting them or passing out in a ditch outside Tehachapi. That is not off the table and could have happened. I'm assuming that I probably would not remember if I passed out.
We all hiked out of town together, and they moved on ahead while I made a couple more calls. I'm sure I would see them again. While talking on my phone, a couple with large backpacks passed me. The male member of the team had about eight bottles of water hanging from his backpack, and the woman was not much less. I frowned and hoped there was not something I was missing from the water sources. I plugged in my headphones and scanned my maps while I talked on the phone.
I had about a ten-mile descent out of Summerhaven, and about eight miles in, I walked up on three older day hikers taking a break. They owned a ranch in Mammoth, AZ, not far from High Jinks Ranch, where I was staying tomorrow. They were super nice, and we chatted for a few minutes before they asked me if I would like to stay with them. I politely declined and headed down the trail, but not before Art gave me his cell number.
When I reached the next trailhead, I saw the jeep belonging to the day hikers I had met and paused to consider their offer of a place to stay. Often, the spontaneous experiences out here ended up being the most memorable. They also occurred much more often when I hiked solo.
Pulling out my phone, I texted Art and said I would like to accept his gracious offer. He gladly agreed, and I sat down to wait on them to arrive, assuming it would probably be at least an hour. Thirty minutes later, I looked up the mountain to see Art and Patrice working their way down it. I smiled and watched them move quickly. They were in their 70s and moving more rapidly than many hikers I knew half their age. I hope to be in that kind of shape in 20 years.
While waiting, Cricket texted me to let me know she was about 4-6 hours behind me. She was looking to camp for the night and nervous about some men she had seen in a gap. I told her to keep hiking and that there was a good campsite on the ridge not far from her. So that was where she ended up staying for the night. Cricket has no qualms about camping near roads, but as a single female, I don't camp where crazy humans that are not on foot have access to where I camp.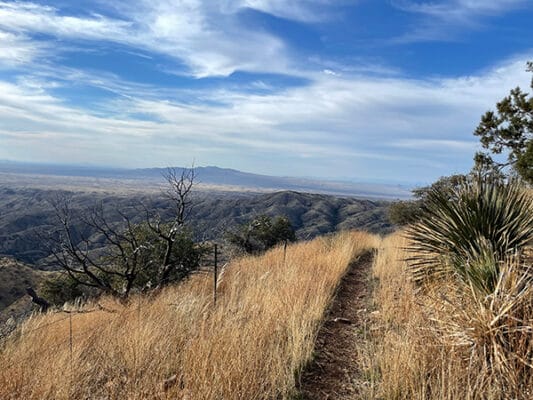 Once they arrived, we shared Tortillas and Craft beers they had in their jeep and then crammed everybody in for a drive to Tucson. The man hiking with them, whose name I can't remember, lived in Tucson, and they were dropping him off at his house.
We arrived back at the ranch house in Mammoth later in the evening. Art had built it himself, and it was a lovely homemade of what looked like a stuccoed brick. If I had to guess, it was probably about 3,000 square feet, and the low, tan dwelling perfectly fit into its desert surroundings.
Art and Patrice showed me to my room, where I took a shower and fell asleep quickly. It had been a long day, and I was tired. Sometimes the steep downhill hikes were more tiring than climbing.