It was still dark as I watched headlamps bob past our campsite, pausing to flash across our shelters. Hiking starts early in the desert.
I felt the slight anxiety that accompanied watching other hikers move on down the trail and sighed deeply as I rolled back over to grab my phone and wait for a couple of hours.
Cricket hiked out of camp before me, and we agreed to meet at the Picket Post trailhead. Unfortunately, she was not feeling good and wanted to go into town for the night. It was probably due to the antibiotics. I responded to a few emails and texts since I had a signal and then grabbed my pack and headed out.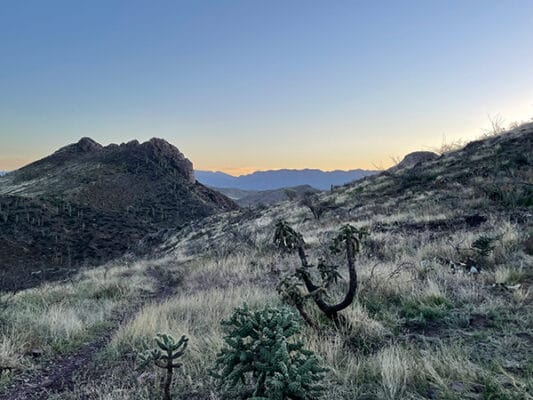 As I dropped out of the Superstitions, I passed through a burn area. Sometimes these old burns are beautiful, and this one was no exception with its contrasting black, charred burn and the splashes of blooming wildflowers.
Picket Post butte is an iconic rock formation, and I began to run into Day hikers about two miles from the trailhead. Everyone wanted to stop and talk about my thru-hike, and it was fun to chat. With the popularity of thru-hiking increasing, awareness of these trails has increased also, so I get asked if I'm thru-hiking much more often than I did ten years ago.
I found Cricket on a picnic table talking to a woman from Montana. Pat and her dog Kira were car camping and had stopped at the trailhead where Cricket had seen her Montana plates and eagerly chatted up a fellow Montanian. As we all stood there hiking, I asked her if she would give us a ride to town, and she happily agreed.
Once in Superior, we started looking for a motel. I usually plan these ahead, but this was not a planned stop since we had just been in Kearny. The first place we stopped to check for vacancy referred us to another motel up the road, The Copper Mountain Motel.
The Copper Mountain Motel was small and appeared to have a mix of long-term and short-term residents. I rang the bell at the desk, and the owner told me they had one room available for the night and it would be ready in an hour. While we waited, there was nothing left to do but find a place to eat.
We passed a small restaurant called Jalapenos and Cricket, and I returned for a late lunch. The food was good, and we drank about a gallon of soda. Soda is the one craving I have on every single trail. I try to restrain myself, but it is hard when it is hot.
An hour later, we were back in our tiny motel room. The motel was old but had gone through renovations, and the room was clean, although still a little worse for wear. I took the roll-out bed under the AC unit, and Cricket took the double bed. I like sleeping under the AC. The continuous noise helps me sleep and drowns out the road sounds from the busy highway in front of the motel.
We watched trash TV for a while, and then I went wandering. Hikers were coming out of Jalapenos, and I chatted with them for a few minutes, exchanging trail gossip before walking on down to the Conaco convenience store, where I got two bags of snacks and more soda.
The snacks mainly consisted of different types of ice cream that might hold me over until dinner. I also had a few bag-a-chip chasers and a lone Reeses Big Cup. I always started these hikes with good intentions and decent food, but unexpected town stops always sent those plans right down the junk food toilet.
I had already scoped out an Italian restaurant on the other side of our motel and would be herding Cricket in that direction soon.