April 6, 2022
I woke up at 5:15 and immediately remembered that Jalapenos opened at 5:30 AM for breakfast. Cricket was sound asleep with a stray wisp of hair poking out from under her quilt and would not move for at least another hour or two. So I slipped on my shoes and quietly slid into the chilly desert morning.
A big breakfast was always essential before leaving town. That and a couple of snacks would hold me until dinner, but as I stared in amazement at the massive burrito plopped down in front of me, I knew I would probably be full until dinner. The burrito was the size of a brick and took up almost the entire plastic plate it sat on. There were no sides, condiments, or sauces – just this massive brick-like burrito. I covered it with Pico sauce and commenced gorging myself – so good!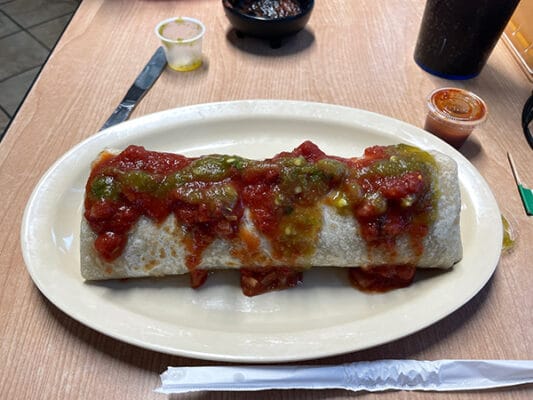 As I rose to leave, I got a text – Please bring me coffee. Cricket was already awake and must be feeling better. Coffee meant she was prepping to move!
The owner of the Copper Mountain motel was Sam. She had left her corporate job, bought the small motel during Covid, and moved in with her parents and two boys. This was a trend we were seeing. The owner of the High Jinx ranch had done the same. Everyone was escaping Covid.
We waved goodbye as Sam drove away and stood looking out across the desert. The hike out of town seemed relatively easy for the first few miles, but it was hot! I hiked behind Cricket, planning to stay with her today and ensure she did not succumb to her antibiotics.
The hiking was beautiful, with rolling sand hills covered with cacti and wildflowers. Cricket squealed as we passed rattling bushes, and as she bolted in the opposite direction, I rushed over with my camera to see if I could get a picture of the camouflaged rattler in the bush. The rattlesnakes were out in force today, but they wanted nothing to do with us and always let us know when we got too close.
After each encounter, we would break out into gales of laughter as the adrenaline coursed through us and then continue down the trail chattering about life and hiking and whatever else came to mind. It was nice to wander along without worrying about a schedule or miles.
The day grew hotter as we wove in and out of the hills, and in a distant ravine, we could see Cottonwood trees peeking over the edges of the hills with their bright, vibrant greens. This usually meant water, and Whitford Creek would be our next break for the day.
Arriving at the creek, we were thrilled to see Mango! Since seeing her at Kentucky Camp, we had not seen her again, although we had seen her in trail logs, and it is always fun to see familiar faces. She came and sat with us in the shade, and we all exchanged trail gossip and laughed for a good hour. These trail communities have so much drama with so few people, and it is always amazing that everyone either knows or has met many of the same people.
Mango was young and fast and sped off up the canyon as Cricket, and I gimped along behind her, discussing our camp for the night. Water had looked a little sketchy for the next few miles, so we packed enough at the creek for dinner.
As we climbed up through the canyon towards our next big climb, we began looking for a place to camp. Suddenly, we smelled the worst stench, and shortly after that, we passed a poor dead cow. OMG, it smelled so bad! We had to get at least a mile or more past the carcass, so we continued walking until we reached the last semi-flat place before the next big climb.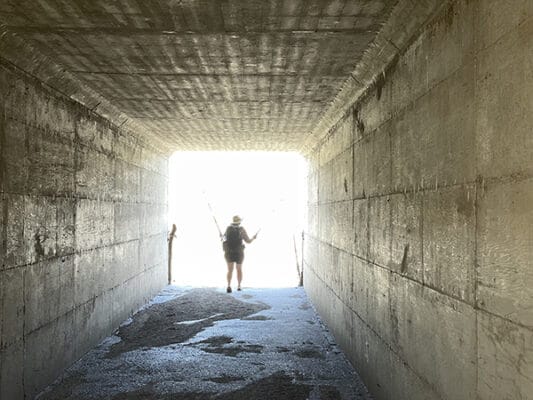 We wandered around the small grassy knoll just off the trail, looking for flat places without thorns and cow paddies, and finally found two spots where the paddies were dry enough to move and the thorns thin enough to set up. Out here, that was a good camp spot.
As we set up, a giant cow wandered over to check us out. Cows are curious animals, and these were no exception, standing 20 feet away and staring at us.
Suddenly, a massive bull charged into their midst, trying to get a little action, and I began screaming at him to find another brothel as I waved my jacket at him. I could see him staggering into my tent in the middle of his passion but was not having much luck shooing him away. Fortunately, the cow ladies were having none of his shenanigans and took off down the hill.
As I lay in my tent, I could hear the wail of the winds above us as they tore across the tops of the mountains, weaving in and out of the ridges. Mango had told us she was camping up on the saddle, and I could not even imagine how she would manage that unless she cowboy camped behind a bush or rock. I was glad I was down in cow valley for the night.