April 11, 2022
It was only about seven miles to Sunflower, where Cricket and I would get picked up for resupply in Phoenix, so I took my time leaving camp and slept in a little. The Jurassic Park frogs had kept me up most of the night. I've never heard frogs croak like that before.
The creek was about 100 yards away, and I needed water, but those scary frogs sent me on my way. I would get water at the next source, maybe one that was not radioactive.
As I climbed the ridge before Sycamore Creek, I saw a large stand of Cottonwood Trees in the distance. That probably meant a good water source, and as I headed in that direction, the trail was well used by hoofed animals – another good sign, although that did not bode well for water quality.
Sycamore Creek was one of the best water sources we had encountered on the trail yet. Wide and shallow with sandy banks, surrounded by bright green Cottonwood trees. I dropped my pack, took off my shoes and socks, and waded around in the water source, splashing like a little kid. The icy cold water felt so good on my skin as I squeezed what I hoped was gooey mud between my toes.
After getting properly soaked, I stretched out on the sandy bank and sent a text to Cricket. Unfortunately, she had that god-awful T-mobile, so it would probably be a bit before I heard back from her. Verizon was such a better carrier out here.
I ate a few snacks and continued towards Sunflower without knowing what to expect. My App just said "Sunflower," so I did not know if I would find a town or a giant flower, but I also did not care since the one thing I did know was that I would be within hitching distance of town food. My trail appetite was in overdrive!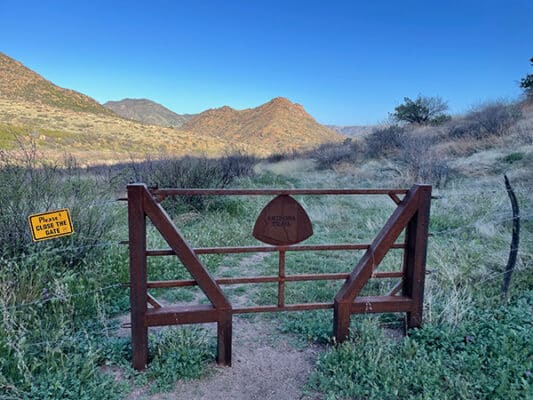 I climbed up to the ridge above Sycamore and continued about another mile before I caught sight of Highway 87. I thought all those tiny little cars could take me to town as I picked up my pace. The trail headed down, and as I reached a junction, I noted that Sunflower appeared to consist of a car repair shop on the side of the highway. There was absolutely nothing to indicate why it was called Sunflower.
About 20 yards before the junction was a shade tree on a small hill. I climbed up, stretched out my Gossamer Gear Thinlight, and laid to nap for a couple of hours and wait on Cricket. I could hear other people talking down by the junction but laid back to snooze.
Waking from a good nap, I saw Cricket had just sent me a text. She was stopping at lunch at Sycamore Creek for lunch. What?! I texted her back and told her to get her ass to the highway so we could hitch into Payson for a late lunch. She responded she was on the way.
Cricket arrived, and we were unsure whether we should go left or right out to the highway, so we left since that was the Arizona Trail. Crossing under the highway, we found Ritz, who was also waiting for a ride into Phoenix. The difference was that hers was today, and ours was tomorrow. We had decided to hitch to Payson and then return to Sunflower and camp for the night.
We climbed over a barbed wire fence and made our way up to the embankment to the highway, where we walked back down the road about a half mile to a turn-off where it would be easier for cars to stop. Unfortunately, though, this was a highway, and everyone was going 80 miles per hour, so nobody would stop.
We stood on the side of the road for a half hour. We took off our hats and sunglasses so drivers could see we were women, and Cricket even sat down on her backpack, looking pitiful. Traffic was moving too fast to stop.
As we stood looking at oncoming traffic, I heard a horn blowing and turned around to see a large back pick-up backing down the emergency lane. At first, I was not sure it was stopping for us since it had gone so far past us, but as it continued weaving backward toward us, I realized this was our little lunch wagon.
The two women picked us up from a local reservation and were super nice. They said they picked us because we were women. We threw our packs in the back of the truck, climbed in behind them, and then hung on for dear life! We zipped down the highway, passing every other car and truck on the road. These women were moving! This had been fun 30 years ago, but now it was terrifying. All I could do was laugh out loud, grip the side of the truck, and scream nonsense at Cricket, who was also laughing.
We finally arrived in Payson, greasy, sandy hair standing straight up on our heads, and hopped out of the back of the truck (ok, fell out stiffly) where they had stopped at Brothers for coffee. I was already scanning the road for food establishments and had googled "Best Steak in Town." That is how we found Fargo.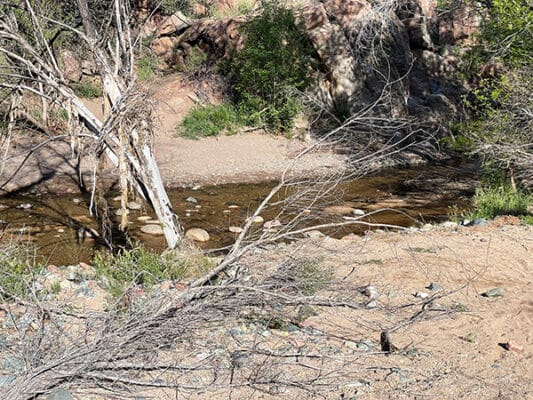 Instead of a steak, I got a Brisket Burger and fries. OMG – it was awesome! After that, we waddled across the street to the Danzeisen Dairy Store for an excellent (although rather small) milkshake, where we also charged our electronics in a little sitting area.
We knew it would be harder to hitch out of busy Payson to Sunflower, so while at Fargo, I asked the waitress if she knew anyone that would give us a paid shuttle back to Sunflower. She returned a few minutes later with a slip of paper with a number. She knew an "unlicensed taxi" that would give us a ride, so I called and got the owner immediately. He would take us in two hours.
After rolling out of Fargo, we stood on the sidewalk, slowly swaying back and forth in a food trance as we looked up and down the busy road. Then, I spotted the word Icecream across the street, and we immediately headed for dessert. I'm sure we could pack in a little more.
The ice cream store was an ice cream version of Starbucks. It had to have been designed by the Starbucks interior designer. There was even a little table and chairs to charge our electronics while we inhaled our milkshakes.
Right on time, the unlicensed taxi pulled up, and we climbed into the SUV to head back down the highway. Once arriving, we hiked back about a mile toward the trail junction. Once the hills flattened out, we climbed back up through the trees to an open space and set up our tarp tents after moving all the cow paddies.
Cricket was incredibly excited about sleeping in the following day, and we lay in our shelters, chattering back and forth. It was nice to relax and relatively warm compared to most other nights.
I leaned back and sighed. Before drifting off to sleep, I thought getting some new shoes would be nice.