Cricket and I slept in this morning. I woke up and wrote until I heard her stirring and then lay watching and harassing her from under the edge of my tarp tent. As she made her morning coffee, I whined a little, and she made me a cup mixed with chocolate Carnation instant mix. It was like a chocolatey expresso. I gagged down the thick mixture and realized why she moved so fast in the mornings.
Once packed, we made our way over to the parking area by the highway and waited on Jim and his wife. Jim and I had met online and chatted about gear and trails for about a year. He was retired, and he and Lynette lived and Phoenix. He had kindly offered to host me and Cricket and run us around to resupply.
We were chatting with another hiker when Jim and Lynette arrived. Jim understood the needs of hikers and had a small cooler with snacks, sodas, and my favorite – Pepsi.
In all my years of long-distance hiking, I've never met a better host/trail angel. We drove back to Phoenix and spent the rest of the day running errands and eating. They took us everywhere we needed and gave us the run of their lovely home.
I'm always amazed by the generosity of people willing to host complete strangers, giving so much and asking for nothing in return. We, of course, paid for meals and gas where they let us, but that in no way compensated for all they provided.
Over the years, I've received more "trail magic" than I can count – houses provided, car keys handed over to run errands, food, drink, hitches, and full meals in the middle of nowhere. All of this has taught me that most people are fundamentally good.
This Phoenix trail magic was some of the best, and if you are reading this, Jim and Lynette, thank you again!
One of the highlights was getting new trail shoes. I tried on every type of HOKA but could not find one that fit like my EVO's, and since HOKA is a crack shoe, like a drug that had sucked me into its cushy comfort, every other shoe – Altra, Salomon, etc., felt like I was wearing a brick on my foot.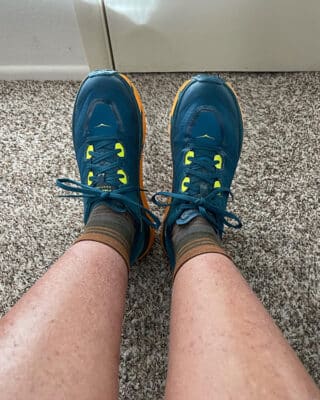 I settled on the HOKA Mafate Speed 3 trail runners. They were expensive and felt tight, but they would loosen, and the tread was terrific. These looked like the little tanks of trail runners, and I was tired of falling with my shoes constantly sliding out from under me. If these lugs could not grip the gravel and rock, then the falling was not shoe related, and I needed to take a more introspective approach to my balance issues.
I was waiting on a new credit card that had been overnighted, and Cricket went to pick up a new antibiotic prescription for her cold, so we did not get to Sunflower until early afternoon. I had eaten way too much rich food over the last couple of days and was miserable on the ride up. My stomach is a little sensitive.
As we drove up the highway, Cricket giggled non-stop at my facial expressions. When traffic stopped due to an accident, the look of horror on my face sent her into gales of laughter. I needed out of the car!
Once we stopped and everyone said their goodbye, I could hear Cricket laughing behind me as I sprinted off into the bushes!
The hike out of Sunflower was dry and rocky, but I was pretty excited about being so close to the Mogollon Rim, which forms the southern edge of the Colorado Plateau. We would climb onto the Rim after Pine, AZ, and supposedly find Nervana – huge Ponderosa Pines, much cooler temperatures, flat hiking, and eventually the Grand Canyon. I would be in heaven if there were also hot dog stands with ice cream for dessert at every road crossing!
The hiking was moderate as we wound in and out of rocky hills and dry washes. We passed a lovely cow tank; fortunately, we carried plenty of water from Sunflower and did not need the cow slime. We got a little turned around near the tank since the cows come from multiple directions and create numerous trails, but we circled the pond and quickly picked up the trail with hoof and trail runner prints.
After Little Saddle Mountain Trail junction, the AZT steepened, traveling beside a mostly dry creek that ran up a steep ravine. We began looking for camping around 5 PM, and coming to a grassy area, we found Toothpick sprawled out on a grassy, semi-flat spot. He said he had hurt his leg, and his friends had moved on ahead, but he hoped to catch them when he felt better.
Toothpick was a young, friendly guy who invited us to a cowboy camp near him. Still, the ground was slanted at an angle, so I headed up into the trees above him, found a little flat spot, and began moving dried cow patties until I had a relatively smooth campsite. Cricket did the same about 20 yards below me.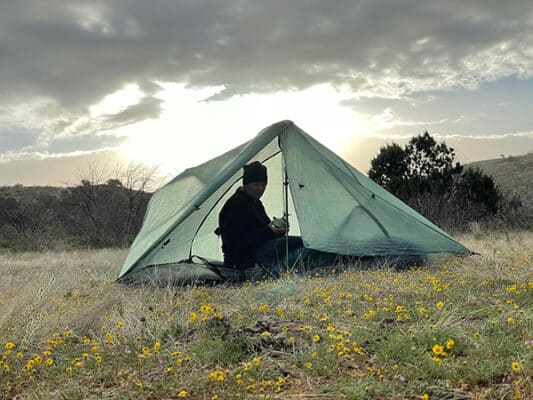 It is funny how the most unassuming camp spots are often the ones I remember. Cricket was asleep about 10 minutes after eating her dinner. I climbed out of my shelter and up about another 20 yards to an open spot where I found a large fallen tree and sat down to watch and listen to the day come to a close.
Rugged red cliffs rose above me, and songbirds were beginning to roost, sending out their sleepy soft songs that I assumed let their family know where to join them in the branches. The night was so peaceful I ended up sitting there listening for over an hour before heading back to my shelter for the night, where I slept like a babe.