Cold Morning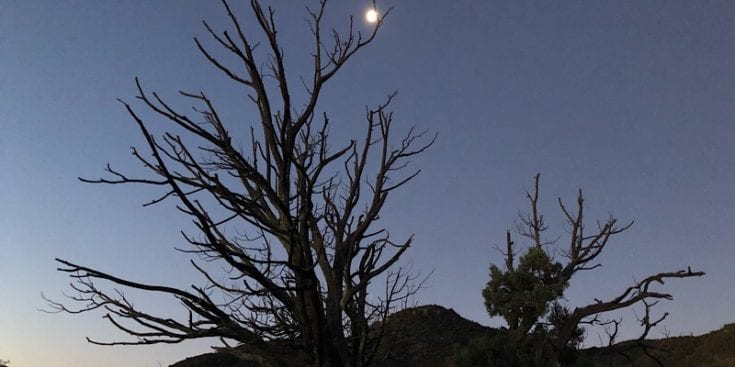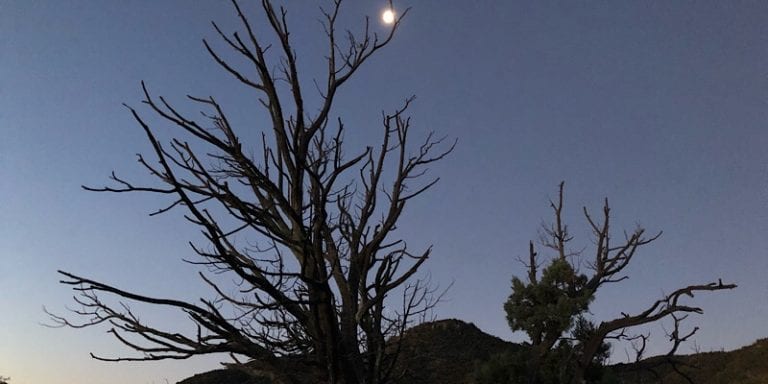 Last night was cold, like totally buried with a small air hole to breathe cold. Once again – thankful for my 10 degree Feathered Friends Lark sleeping bag.
My temp gauge read 41 degrees, and it was breezy, dropping the temps a little more. To guarantee the misery of a southerner, I also camped next to trees amidst long grass, to make sure my tarp-tent was soaked with condensation.
I think I set a packing time record, and my fingers were just beginning to lose all feeling as I snapped shut my Ohm pack. It was time to move!
Creek Dancing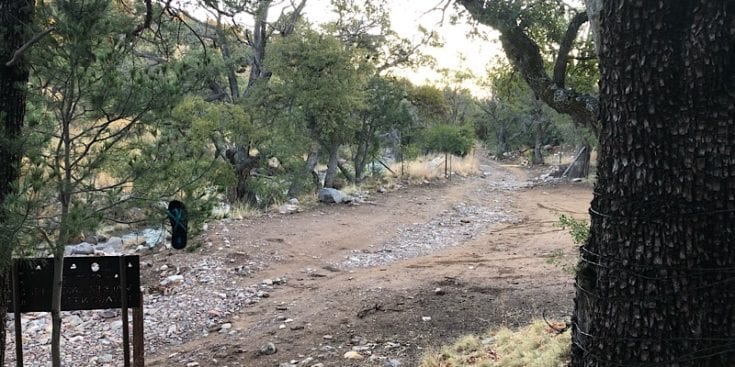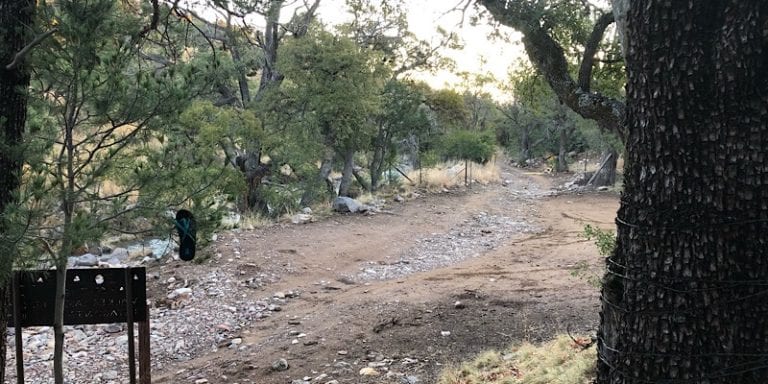 Reaching Tunnel Spring Trailhead, I stepped quickly, dancing my way across small streams as I traveled along an old dirt road that ran along side a large creek.
Occasionally, I would pass clumps of tents with sleeping hikers, lifting my poles to silence the clicking. I love looking at the different types of shelters – bivies, tarps, tarp-tents, Walmart Domes, free standing tents, etc. The most popular right now seem to be either Dyneema tarp-tents, MSR or Big Agnes tents.
As I turned off the dirt road and onto "trail" I saw Pete just sitting up. He had cowboy camped (no shelter) right next to the creek. He looked over at me bleary eyed and grinned a good morning. I wished him a good morning also and clicked off down the trail.
Santa Rita Mining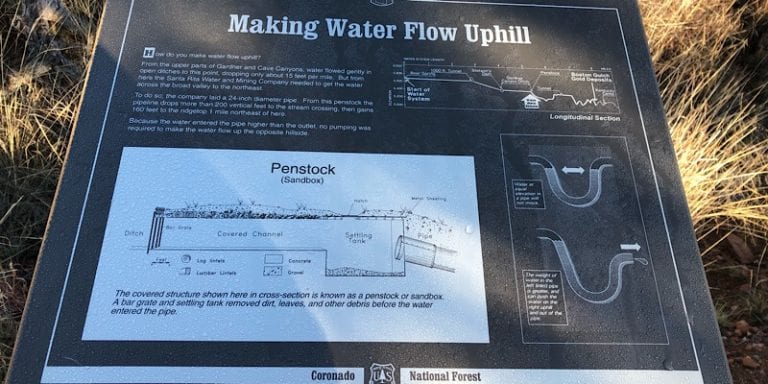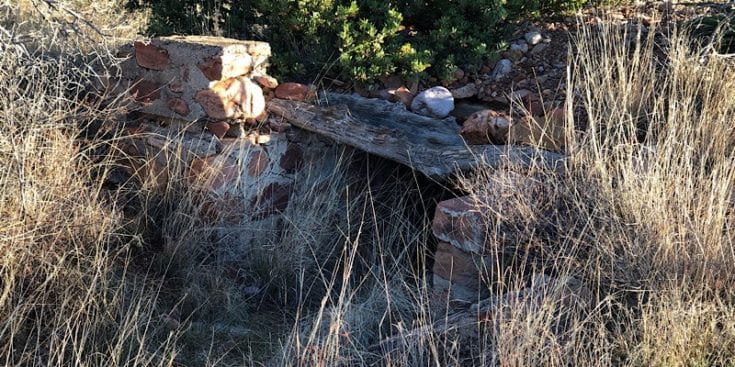 One of the cool things on this section of trail, and a mileage killer for me, is the interpretive plaques. I'm in the Santa Rita mountains, and they have a pretty rich mining history.
The example above is of an old sand box used to carry water. The original box built is still there also, so of course I had examine that more closely. I kept my eyeballs peeled for biting critters. I'm not sure when the rattlers will begin sunning, but I would think soon.
There is also the rabid skunk incident from two weeks ago where a hiker was attacked and bitten by a rabid skunk. I always wonder about the rabid animals. Why could it not just have been a pissed off skunk incident, or a hungry Bobcat event (one chewed on a hikers leg a few months ago). Do they catch the animals? How do they know it's rabies? Any who, I stay alert for moody critters.
Kentucky Camp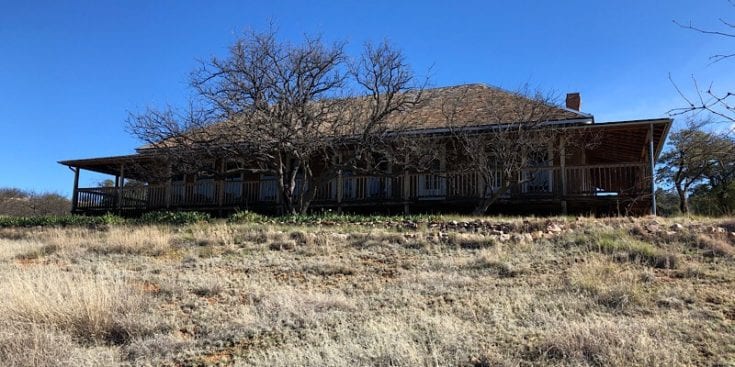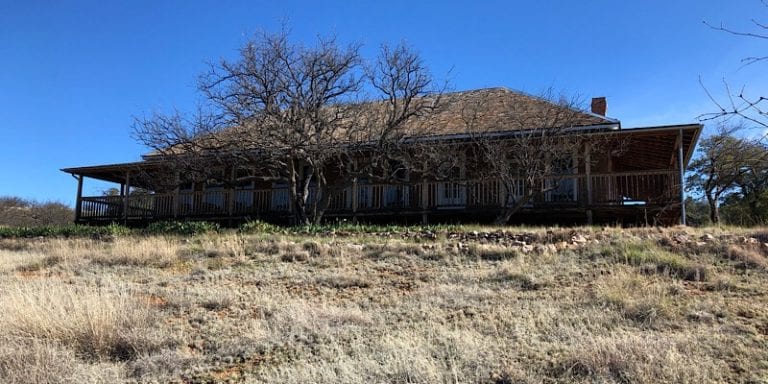 The rest of the morning was a mix of mining lessons, dirt road walking (my personal fav.), and more gorgeous, golden hills. Then Pete caught up with me.
Pete is one of the faster hikers out here. I usually see him when he is taking breaks, but not often when he is actually moving. He is a nice guy from Tucson that is also hiking the trail.
For the last half mile to Kentucky camp I jogged behind Pete while he gave me a guided tour, explaining the history of this land and its Native American peoples. He did all this while walking backwards at times. I still jogged at those times also.
Kentucky Camp is over a 100 years old and currently owned by the National Forest Service. A mining company built it before selling it for use as a ranch. They rent out the headquarters and cabin.
While we were there, a group was also gathering for a wedding. Hikers began to congregate and spread gear everywhere to dry, while wedding goers peered at us curiously. It was like being on the wrong side of the fence at the zoo. The "hikers" were all considered part of the "quaintness" of the location I'm sure.
Shortly after arriving and also blowing up my pack to spread out my tarp-tent and sleeping bag, the caretaker walked up to tell me, and the other hikers, that there were oranges and cookies in the headquarter kitchen. We chatted for a few minutes and he said he was also making coffee if I wanted a cup. I declined politely, and a few seconds later Pete and Steve grumbled about being offered no coffee, after he had walked back down the hill. It's the southern accent I said. Ha!
More Road Walking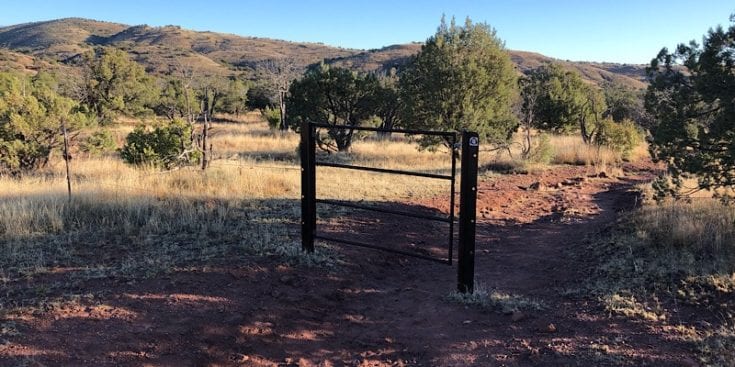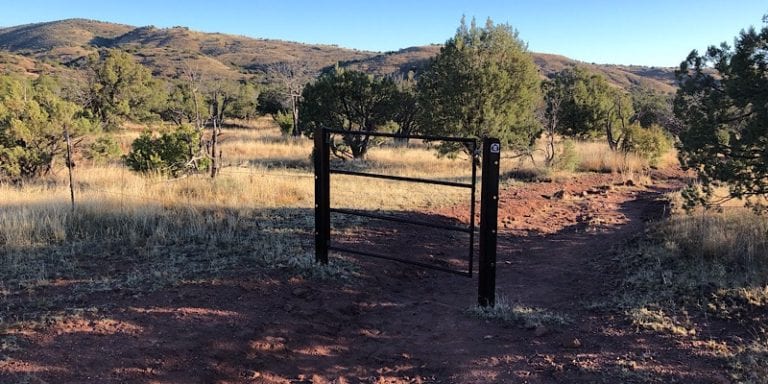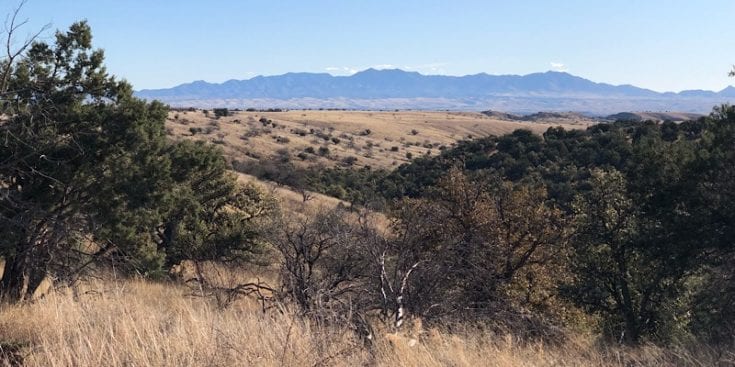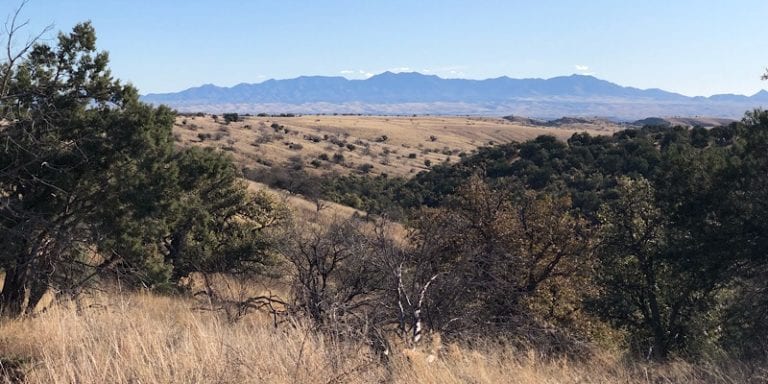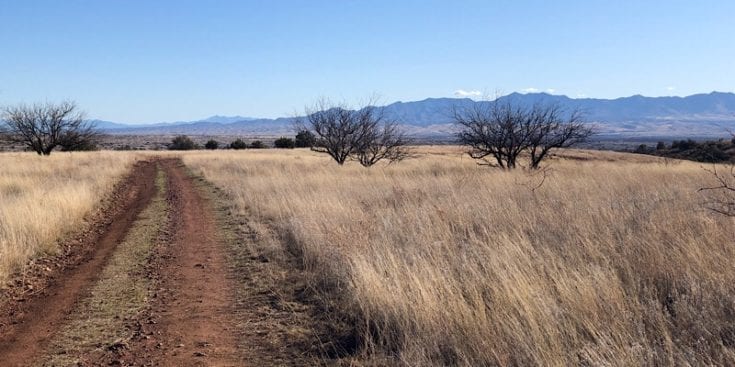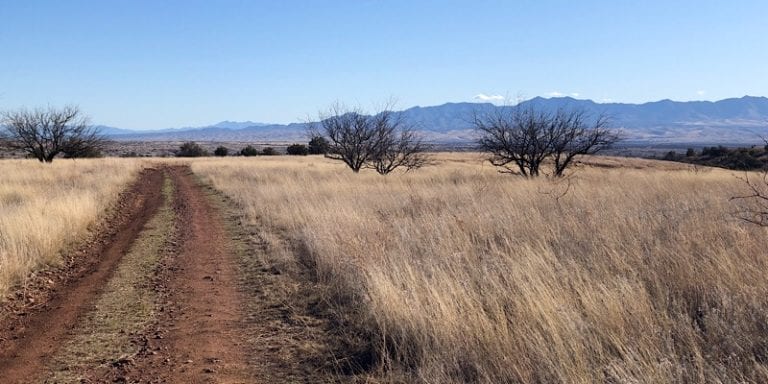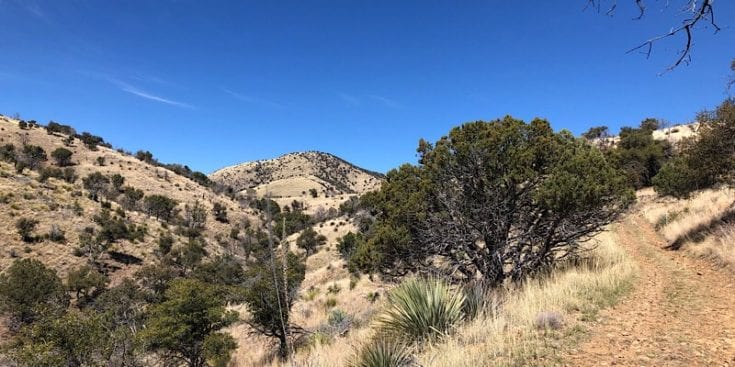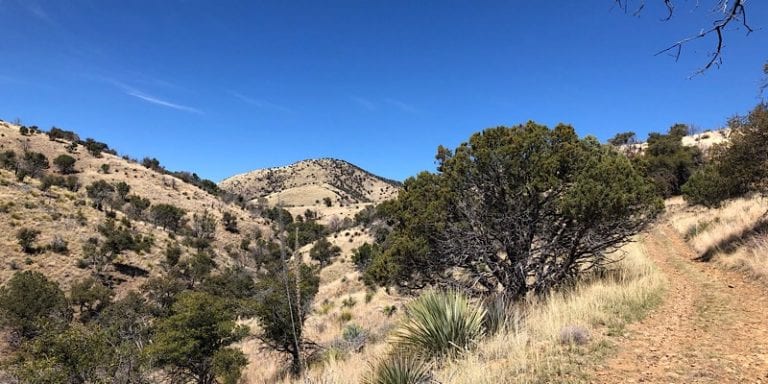 The rest of the day was more dirt roads after Kentucky Camp. Four wheelers and jeeps were everywhere. I had forgotten it was the weekend. The day was still gorgeous, and I again walked until late afternoon. The day had flown by, and I was looking forward to my hot, one pot dinner.
Cow Bed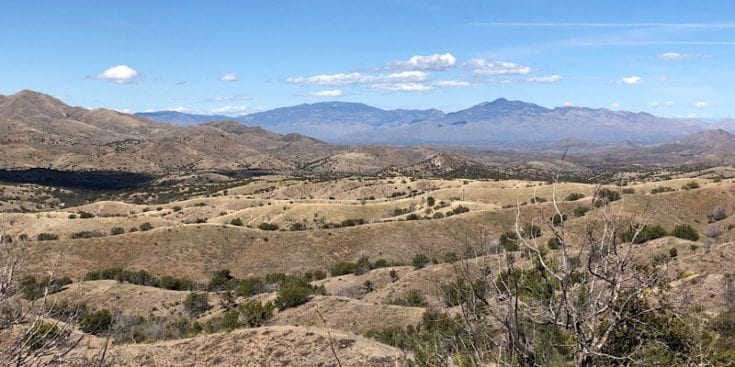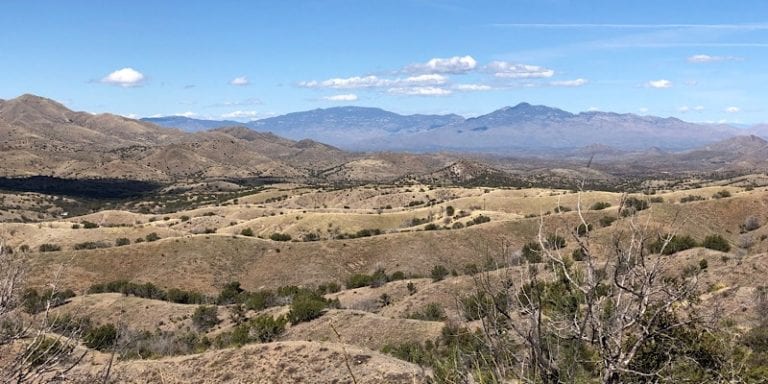 I arrived at the top of another hill to find Steve scoping out sites. I told him I would keep moving on for a bit. He seemed a little surprised as I scooted on past him.
I moved down into a small valley, found a large bush, cleaned out all the cow poos, and set up for the night. It was a nice flat spot, but there were lots of thorny things, so I had to be careful with my Neoair pad. These thorny things had really BIG thorns.
I settled in and had the best dinner yet. It was Spicy Cheddar Bean Dip from Alpine Aire, on tortillas. It was so good, and gets a rare 5/5 stars. Yum!