The Superior Hiking Trail (SHT) is approximately 310 miles long. It travels from the border of Michigan and Wisconsin up to what is referred to as "The 270 Degree Overlook," or the northern terminus.
The trail travels through the headwaters of Lake Superior and the Sawtooth Range, marked by impressive gorges, rivers, waterfalls, and views of Lake Superior. Surrounded by forests full of Spruce, Pine, Maple, Aspen, Oak, and an abundance of wildlife, I often felt I was in a distant wilderness as I listened to the howls of wolves and watched bald eagles soaring above me. In most instances, I was just a few miles from Lake Superior and civilization.
The Superior Trail will take you through eight state parks and private and public lands. Along the way, you will meet local hikers that are obviously proud of the North Shore trail.
I chose to do a Fall hike from September 26th to October 20th. There were nights with cold temperatures down into the mid-teens, but the days were mostly moderate (40's – 60's), and the Fall foliage colors were some of the most amazing I've ever seen.
This guide provides an overview of my hike and includes some of the resources and tools I used to plan the hike. As with any long-distance trail, providers can frequently change, so contact them to confirm any information I have listed.
The "Traditional" Superior Trail Hike
Along my hike, I met other hikers that told me they were hiking the "Traditional" trail. Before the Duluth section, the Superior Hiking Trail extended around Lake Superior to Martin Road Trailhead just north of Duluth, which is what many Minnesota hikers call the "Traditional" trail. Now the Trail extends through Duluth, down to the border of Wisconsin.
Because the 50.2-mile Duluth section does not have free camping, and you are only supposed to stay in fee-based campgrounds, some hikers skip this section. The Trail goes through a very small part of the city, and there are plenty of places to camp before and after the city, but officially you are not supposed to do this.
Best Time to Hike the Trail
I hiked the trail in the Fall, and if I hiked again, I would do another Fall hike. The only thing I would change is the timing. Instead of waiting until the end of September, I would start the second week in September. The temperatures would be warmer, and most campgrounds would still be open.
If you can hike in the Fall, below is what you can expect in the other seasons.
Summer (June – August) is popular due to temperatures and school being out. This is also when bugs (mosquitoes, black flies, ticks, etc.) are at their worst. There may still be muddy conditions at the beginning of the season, and small water sources can dry up near the end of the season.
Fall (September – November) is when I chose to hike. I think mid-September to mid-October is perfect since there are no bugs and very little mud. However, keep in mind that it can get cold and that the Duluth section may close in October or November for the Fall freezing period.
Winter (November – February) is for backpackers with good experience in cold conditions. It can be dangerous to backpack this time of year, and I know I would not enjoy that kind of crazy cold!
Spring (March-May) is when the trail is thawing, and hikers can do a lot of damage to the tread. There is also a lot of mud, and bugs are beginning to wake up. This is a good time not to hike but to allow the trail to thaw and dry out.
Hunting Season is also a consideration when hiking the Superior Trail. I hiked in September, and there was not a single day I did not hear gunshots. Even though it was Grouse season, I heard rifles, handguns, and automatic fire, which I don't think are used for hunting grouse. I wore a neon orange fleece hat, and my backpack sported a neon orange vest.
Sections of the trail are closed during Deer season, and the SHT provides a list of those closures on its "Trail Conditions page." There are also partial closures in some of the state parks.
Trail Navigation
A blue blaze marks the Superior Trail itself. In addition, spur trails and overlooks are marked with white blazes, and intersections with other trails and roads often have a Superior Trail emblem on a nearby tree.
Mostly, I found the trail easy to follow, but some intersections did not have blazes or emblems. Make sure you have maps as a backup to any Apps like Avenza or GaiaGPS.
Also, make sure you regularly check the trail conditions noted on the Superior Hiking Trail Association website. Trail conditions and reroutes are updated periodically and can change during a hike.
On my hike, I used two Apps., GaiaGPS and Avenza. I purchased the maps available through the SHTA and ensured the GaiaGPS track was accurate. I also set waypoints for resupply point exits at road crossings and any spur trails, side trips, or overlooks I wanted to note. Using GaiaGPS for most of my navigation meant I never needed the maps except when I could not find the trail at one intersection south of Duluth (I never found it).
Camping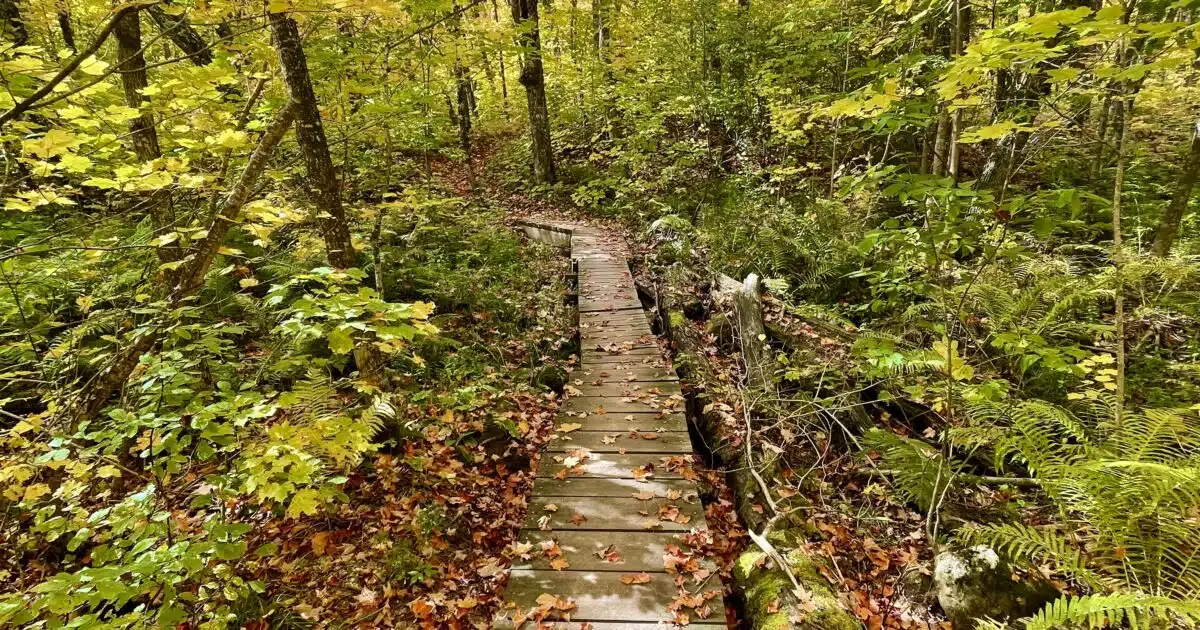 The Superior Hiking Trail Association (SHTA) states there are 94 campsites along the Superior Hiking Trail and that hikers are required to stay in them. This was almost a showstopper for me, but I found them a pleasant surprise for several reasons.
Sharing the campsites was never a problem. There was usually room for 2-8 tents, and I always found a roomy spot. I only camped with other hikers four times, and most of the time, this introvert had a good time.
Open-Air latrines were a bit of a shocker since I'm modest, but campsites were so frequent that I rarely had to use the bathroom in the woods. They were also much cleaner than most privies I have used. The only negative was that sometimes they were too close to the campsites.
Maintenance was impressive. All of the campsites I used were clean. There was no trash in the fire rings or scattered toilet paper and wipes often found around campsites without latrines.
The campsites were convenient, with a fire ring, benches around the ring, a latrine, and often a nearby water source.
In addition to the free SHTA campsites, most state parks also have camping. These fill up fast, but several state parks had walk-up hiker/biker sites. You needed to be there by 5:00 PM to get one, and they were usually at a reduced rate. I did not use them but met other hikers that did.
The SHTA clearly lays out the rules for camping along the Superior Trail.
Spur Trails
The Spur trails are a big part of the SHT experience. They typically have white blazes and are well-marked with good signage. They offer overlooks and views and are very popular on weekends and during the summer. You can expect crowds for some of them, especially during foliage season.
Below are some popular Spur trails. The Superior Hiking Trail Guidebook does an excellent job of describing the Spur Trails, Campsite Spurs, and Trailhead Spurs.
Pincushion Mountain
Carlton Peak and Ted Tofte Overlook
Leveaux Mountain
Oberg Mountain Loop
Fantasia Overlook
Round Mountain Mini-Loop
The famous Bean and Bear Overlook is right off the Trail
Resources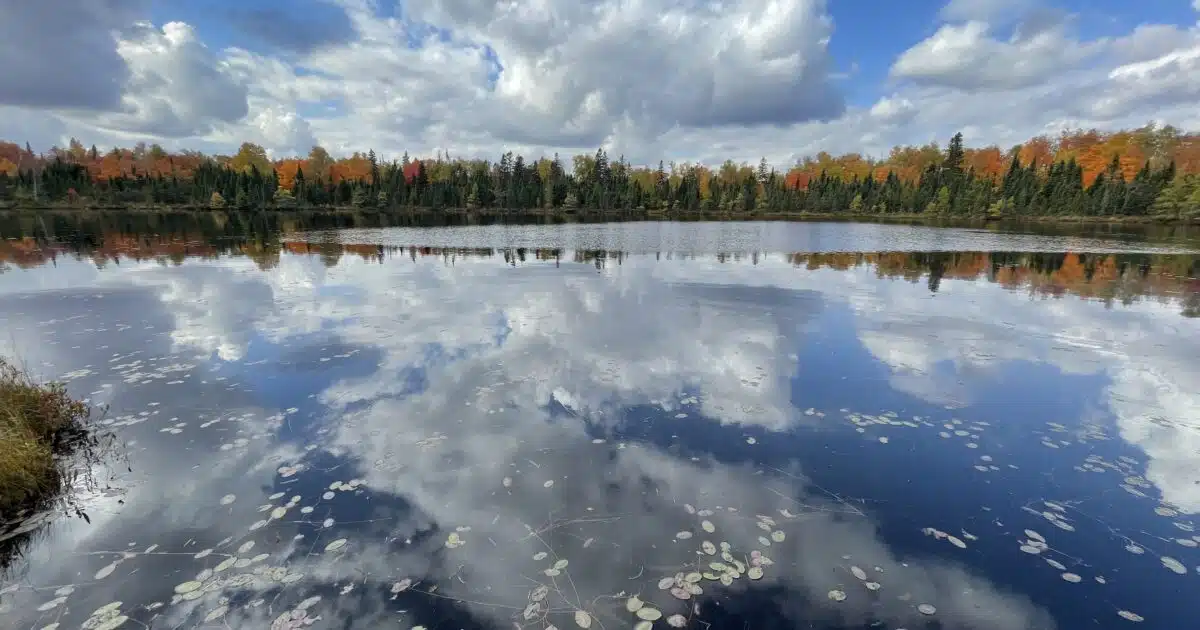 This Trail is not on Farout, which is a very popular App. used by thru-hikers. I use Farout for town services and water, but for topo maps with good detail and surrounding trails and roads, I currently use GaiaGPS.
Guides
I used two guides on this Trail. They included the Superior Hiking Trail Guidebook by the SHTA and Thru-Hike the Superior Hiking Trail by Annie Nelson. Annie works for the SHTA, and I spoke with her when I called for some information. Both guides are excellent, and Annie's guide offers her perspective as a thru-hiker. She also provides excellent town information.
In addition to these two guides Superior Hiking Trail Databook. This guide provides the data points with mileage between each – campsites, water, spur trails, etc.
Maps
I did purchase the Avenza maps, but I only used them once when I updated the track and waypoints in GaiaGPS. If you are not using an App, you will need them, and it is good to carry paper maps as backups.
Electronic Apps
I used GaiaGPS for this hike. I usually have it as a backup for the trails I hike, and I often use it instead of Farout.
Online Community
The Superior Hiking Trail has a terrific group on Facebook. The group name is "Superior Hiking Trail." They are knowledgeable and offer great feedback on almost any question. Members are mostly from Minnesota, so responses will be direct, honest, and pleasant.
SHT Website
Before you do any other research, read the Superior Hiking Trail Association website. This well-maintained, user-friendly site offers great information no matter what kind of hiking you are doing – Day, Section, or Thru-hiking.
Permits
There are no permits required for this Trail.
Local Information
If you are interested in getting more information on the Superior Trail, Boundary Water Trips, or the North Shore in general, AND maybe you have some crazy desire to Winter Backpack, contact SokaOutdoors. Soka has thru-hiked the trail, lives in Minnesota, and offers some great educational resources.
Superior Hiking Trail Journal
My Superior hiking trail journal is an abbreviated daily journal. The best place to follow along is on my website via my Blog or on my Instagram account at #avghiker. Once I finish a trail, I create a Guide for that Trail on Instagram with my daily entries.
Gear I Used
The gear I used changed some due to cold weather, and I explain what I changed near the end of the hike. I also provide a gear list with weights for the gear and clothing I took with me on the trip.
My Itinerary
You can check out my itinerary for the hike, which includes my campsites and daily miles dates, and resupply locations. There are also comments on places of interest like motels, restaurants, etc.
Logistics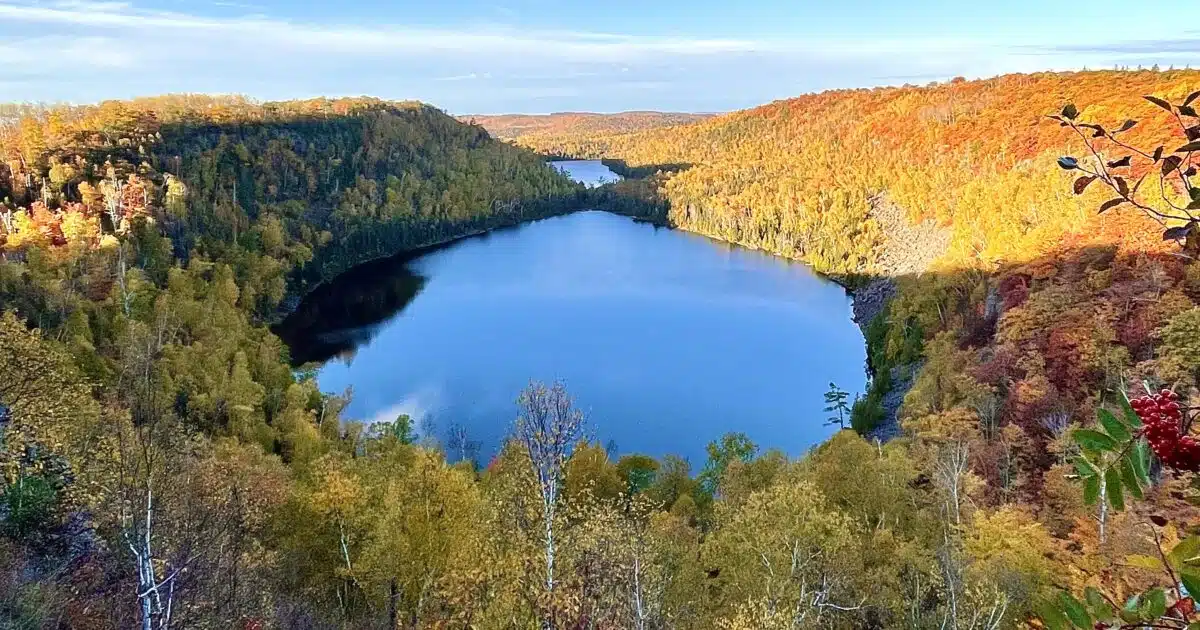 I found the logistics for this Trail easy. If you hike NOBO, you can fly into Duluth and get an Uber or Shuttle to the trailhead south of the city. If you hike SOBO, there are several shuttle options up to the trailhead before the northern terminus. Check the SHTA website for shuttle providers.
Hike North, South, or Flip?
You have a few options, and I'm going to buck the trend and offer my opinion. First, if you have experience, then hike south. The Trail is only 3-4 weeks long, so getting your "trail legs" is not a concern. However, it is nice to start up north with "fresh legs," where it is a little harder. It is also easier to arrange transportation in the south, where you have better cell phone coverage.
If you are a beginner, then hike north. The terrain is more forgiving, and you have better cell phone reception if you need to leave the Trail for any reason. The trailheads are also easier to reach.
If you are starting late in the Fall season, consider flipping in case Duluth closes for the Fall freeze. They close each year between the middle of October and the middle of November for 2-3 weeks to minimize damage to the Trail.
If you are going to flip, then fly into Duluth and hike up to Martin Road Trailhead. Have a shuttle pick you up, take you to the northern terminus, and begin hiking south back to Martin Road Trailhead.
This will allow you to finish the Duluth section, so you don't have to worry about it closing. By flipping up to the north and then hiking south, you will hopefully beat the colder weather as you head back toward Duluth.
Getting to the Northern Terminus
If you don't have someone dropping you off, you can take a shuttle to the northern terminus, and there are a couple of options for shuttles. For example, I flew into Duluth and took a shuttle up to Grand Marais, where I stayed for two nights. I then had the same shuttle provider give me a ride up to Otter Lake Road Trailhead, the last trailhead before the out-and-back hike up to the northern terminus.
I used Harriet Stiles for the shuttle from Duluth to Grand Marais, MN, and from Grand Marais to the northern terminus trailhead. Harriet is a wealth of local knowledge and provides some good stories and advice on the ride north.
Getting to the Southern Terminus
The southern terminus is easy logistically. You can use an Uber from Duluth or use Superior Shuttle Service. I ended up using Superior Shuttle Service. They are very responsive and convenient because they know all the area's trailheads.
Superior Shuttles no longer offer set shuttles, as stated on the SHTA website. You will need to call or email them to reserve a specific shuttle, and at the time I made reservations, they wanted three days' notice. They will shuttle with less notice if they have shuttle drivers available.
Resupply
Resupply is easy on this Trail since towns are close, but keep in mind that some post office hours are limited, and hitchhiking is not always easy on the rural roads due to little traffic. In my itinerary and resupply plan, you will see that I ended up walking into my first two stops and shuttling to my last stop.
I won't list all the towns because Thru-Hike the Superior Hiking Trail by Annie Nelson lists each town, how to get there, and the services they provide. My itinerary offers some information about my stops and the services I used.
What I liked About this Trail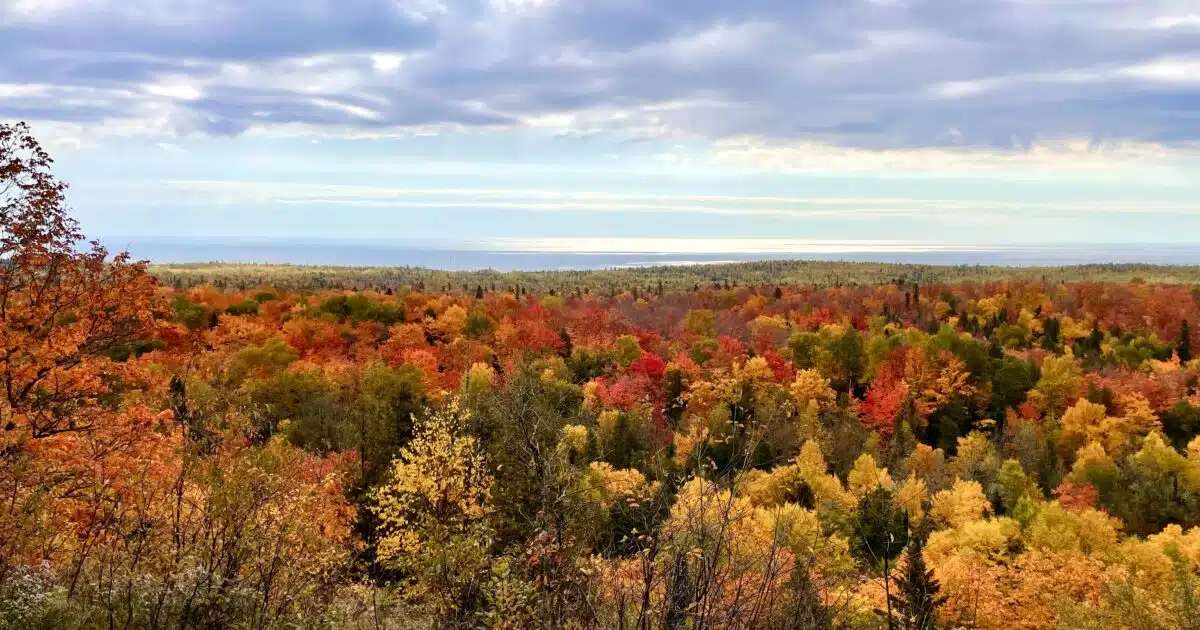 The Fall foliage was some of the most beautiful I've ever seen, rivaling the Northeast US.
Varied terrain – waterfalls, forest (maples, spruce, aspen, pine, oak, beech, etc.), rivers, Lake Superior views, volcanic features, ponds, wildlife.
People – Everyone was very pleasant and interested in the Trail and journey.
Maintenance – Trail maintenance was exceptional, especially the campsites.
Latrines – Unexpectedly, I grew to appreciate the frequency of the latrines and how much they contributed to campsite cleanliness.
Resupply – Towns, and resorts were close to the Trail, making resupplying easy.
Views – I loved that I had so many views of Lake Superior!
Pride – Minnesotans' pride in their Trail is unmatched by many other trails I have hiked. The Arizona Trail might come close.
Trail Challenges
Weather was unpredictable due to the meeting of inland and Lake Superior climates. As a result, my weather App was often incorrect – the weather App showed the sun, but it actually rained!
Temperatures five miles inland could be significantly less than the towns along the shore, and this was misleading if using towns to check your temperatures. For example, it would be 34 in town and 26 or lower on the Trail.
Gunfire is constant (as in I heard it at some point each day), all types of guns. I hiked during the Grouse season, but I don't think rifles and automatic weapons are used for bird hunting. Nevertheless, guns are popular, so plan to wear orange.
Downhill has the right of way. I know, I know, it is usually uphill, but not in Minnesota. It took a few times, but I finally figured this out and learned to move over quickly.
Fall is peak season along the North Shore, and hotel prices are steep. Even the tiny mom-and-pop places are $175-$300/per night. There are towns with campgrounds, though, so make sure you check. Whatever you choose, you must make reservations as far out as possible since everything fills up quickly.
Hitching into town was not always easy, depending on the town and road. There were some roads with pretty limited traffic.
Bugs – I'm told they are ferocious during all seasons but late Fall and Winter.
Summary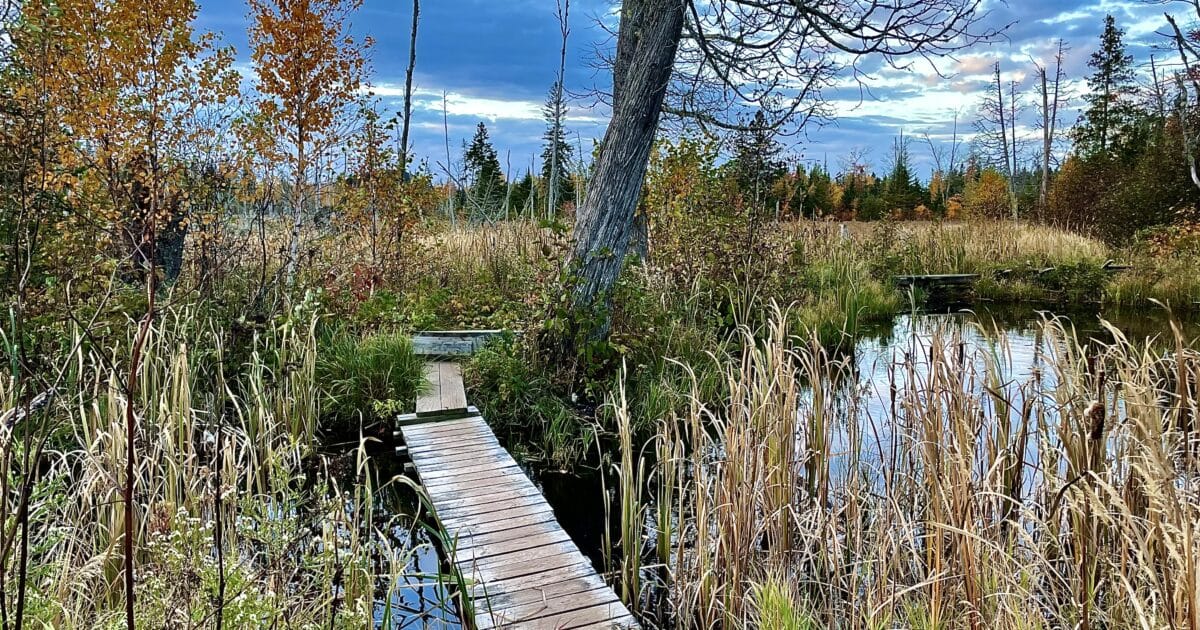 I often get asked if I would hike this Trail again, and my answer is always unequivocally YES! It is a gorgeous trail with a sense of "wildness" I've sometimes not found on longer trails. Laying amongst White Pines as I listen to a Timber Wolves' mournful howl while gazing up at a thick blanket of stars is one of many moments on this trail I won't forget.
FAQ
Most general questions are answered in the guide above. However, below are some of the more specific questions I get asked. You can also contact me at contact@averagehiker.com with any questions you have.
Will I have cell phone coverage?
Cell phone coverage was limited for me near the southern and northern terminus, but otherwise, I had decent service up high on ridges or hilltops.
How much will a shuttle to the Northern Terminus cost from Duluth?
Shuttle prices vary based on gas prices, but in 2022 a shuttle from Duluth to Grand Marais was around $200
Can I stealth camp on the Trail?
Camping outside designated camping areas is discouraged. The Trail travels through private property, and property owners have sometimes taken away the rights to travel across their properties. I had to road walk around a piece of property where this was the case. Finding good places to stealth camp is also challenging, especially up north.
What is the "Traditional" Superior Hiking Trail?
The "Traditional" Trail is between the northern terminus and Martin Road Trailhead.
How many miles per day can I hike on the Superior Trail?
This depends on your physical condition and the section of Trail. I also found campsite locations often dictated mileage. My lowest mile day was around 14 miles, and my highest was 24 miles.
Will I need rain gear on the Superior Hiking Trail?
Yes, yes, and yes. You never know when it will rain, and it will rain at some point. The storms are also often ferocious and cold if a front moves through. If you see a significant temperature drop forecasted, plan on rain and often wind.
Was Water Ever an Issue?
I never had an issue finding water, but make sure you use a filter. Many of the water sources are beaver ponds. There have also been old mining activities and timber harvesting in some areas.